Abstract
To realize molecular-scale electrical operations beyond the von Neumann bottleneck, new types of multifunctional switches are needed that mimic self-learning or neuromorphic computing by dynamically toggling between multiple operations that depend on their past. Here, we report a molecule that switches from high to low conductance states with massive negative memristive behaviour that depends on the drive speed and number of past switching events, with all the measurements fully modelled using atomistic and analytical models. This dynamic molecular switch emulates synaptic behavior and Pavlovian learning, all within a 2.4-nm-thick layer that is three orders of magnitude thinner than a neuronal synapse. The dynamic molecular switch provides all the fundamental logic gates necessary for deep learning because of its time-domain and voltage-dependent plasticity. The synapse-mimicking multifunctional dynamic molecular switch represents an adaptable molecular-scale hardware operable in solid-state devices, and opens a pathway to simplify dynamic complex electrical operations encoded within a single ultracompact component.
Access options
Subscribe to Nature+
Get immediate online access to Nature and 55 other Nature journal
Subscribe to Journal
Get full journal access for 1 year
$119.00
only $9.92 per issue
All prices are NET prices.
VAT will be added later in the checkout.
Tax calculation will be finalised during checkout.
Buy article
Get time limited or full article access on ReadCube.
$32.00
All prices are NET prices.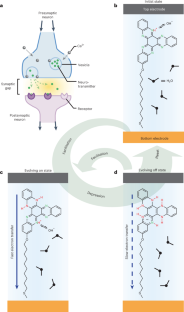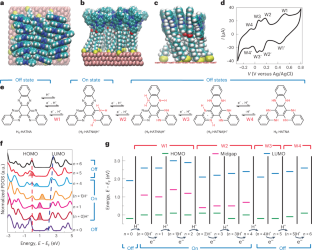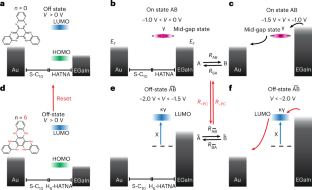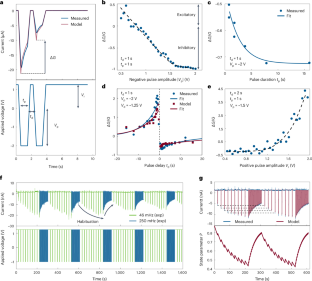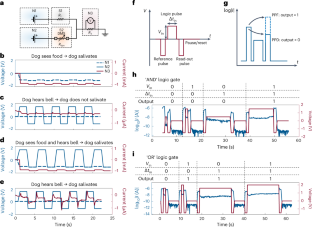 References
Van De Burgt, Y., Melianas, A., Keene, S. T., Malliaras, G. & Salleo, A. Organic electronics for neuromorphic computing. Nat. Electron. 1, 386–397 (2018).

Zhu, J., Zhang, T., Yang, Y. & Huang, R. A comprehensive review on emerging artificial neuromorphic devices. Appl. Phys. Rev. 7, 011312 (2020).

Upadhyay, N. K. et al. Emerging memory devices for neuromorphic computing. Adv. Mater. Technol. 4, 1800589 (2019).

Chen, T. et al. Classification with a disordered dopant-atom network in silicon. Nature 577, 341–345 (2020).

Keene, S. T. et al. A biohybrid synapse with neurotransmitter-mediated plasticity. Nat. Mater. 19, 969–973 (2020).

Oh, S., Hwang, H. & Yoo, I. K. Ferroelectric materials for neuromorphic computing. APL Mater. 7, 91109 (2019).

Wang, L., Lu, S. R. & Wen, J. Recent advances on neuromorphic systems using phase-change materials. Nanoscale Res. Lett. 12, 1–22 (2017).

Wan, Q., Sharbati, M. T., Erickson, J. R., Du, Y. & Xiong, F. Emerging artificial synaptic devices for neuromorphic computing. Adv. Mater. Technol. 4, 1900037 (2019).

Xu, W., Min, S. Y., Hwang, H. & Lee, T. W. Organic core–sheath nanowire artificial synapses with femtojoule energy consumption. Sci. Adv. 2, e1501326 (2016).

Ratera, I. & Veciana, J. Playing with organic radicals as building blocks for functional molecular materials. Chem. Soc. Rev. 41, 303–349 (2012).

Klajn, R. Spiropyran-based dynamic materials. Chem. Soc. Rev. 43, 148–184 (2014).

Bléger, D. & Hecht, S. Visible-light-activated molecular switches. Angew. Chem. Int. Ed. 54, 11338–11349 (2015).

Sorrenti, A., Leira-Iglesias, J., Markvoort, A. J., De Greef, T. F. A. & Hermans, T. M. Non-equilibrium supramolecular polymerization. Chem. Soc. Rev. 46, 5476–5490 (2017).

Van Rossum, S. A. P., Tena-Solsona, M., Van Esch, J. H., Eelkema, R. & Boekhoven, J. Dissipative out-of-equilibrium assembly of man-made supramolecular materials. Chem. Soc. Rev. 46, 5519–5535 (2017).

Bear, M. F., Connors, B. W. & Paradiso, M. A. Neuroscience: Exploring the Brain (Wolters Kluwer, 2016).

Eccles, J. C. & McIntyre, A. K. Plasticity of mammalian monosynaptic reflexes. Nature 167, 466–468 (1951).

Segura, J. L., Juárez, R., Ramos, M. & Seoane, C. Hexaazatriphenylene (HAT) derivatives: from synthesis to molecular design, self-organization and device applications. Chem. Soc. Rev. 44, 6850–6885 (2015).

Wang, R. et al. Cyclic and normal pulse voltammetric studies of 2,3,6,7,10,11-hexaphenylhexazatriphenylene using a benzonitrile thin layer-coated glassy carbon electrode. J. Phys. Chem. B 107, 9452–9458 (2003).

Perrin, M. L. et al. Large negative differential conductance in single-molecule break junctions. Nat. Nanotechnol. 9, 830–834 (2014).

Migliore, A. & Nitzan, A. Irreversibility and hysteresis in redox molecular conduction junctions. J. Am. Chem. Soc. 135, 9420–9432 (2013).

Schwarz, F. et al. Field-induced conductance switching by charge-state alternation in organometallic single-molecule junctions. Nat. Nanotechnol. 11, 170–176 (2016).

Garrigues, A. R. et al. A single-level tunnel model to account for electrical transport through single molecule- and self-assembled monolayer-based junctions. Sci. Rep. 6, 26517 (2016).

Warren, J. J. & Mayer, J. M. in Proton-Coupled Electron Transfer: A Carrefour of Chemical Reactivity Traditions (eds Formosinho, S. & Barroso, M.) 1–31 (The Royal Society of Chemistry, 2012).

Migliore, A., Polizzi, N. F., Therien, M. J. & Beratan, D. N. Biochemistry and theory of proton-coupled electron transfer. Chem. Rev. 114, 3381–3465 (2014).

Mayer, J. M. Understanding hydrogen atom transfer: from bond strengths to Marcus theory. Acc. Chem. Res. 44, 36–46 (2011).

Kim, S. et al. Experimental demonstration of a second-order memristor and its ability to biorealistically implement synaptic plasticity. Nano Lett. 15, 2203–2211 (2015).

Wang, Z. et al. Memristors with diffusive dynamics as synaptic emulators for neuromorphic computing. Nat. Mater. 16, 101–108 (2017).

Thompson, R. in International Encyclopedia of the Social & Behavioral Sciences (eds Smelser, N. J. & Baltes, P. B.) 6458–6462 (Pergamon, 2001).

Van De Burgt, Y. et al. A non-volatile organic electrochemical device as a low-voltage artificial synapse for neuromorphic computing. Nat. Mater. 16, 414–418 (2017).

Ruiz Euler, H. C. et al. A deep-learning approach to realizing functionality in nanoelectronic devices. Nat. Nanotechnol. 15, 992–998 (2020).

Kathan, M. et al. Light-driven molecular trap enables bidirectional manipulation of dynamic covalent systems. Nat. Chem. 10, 1031–1036 (2018).

Chakma, P. & Konkolewicz, D. Dynamic covalent bonds in polymeric materials. Angew. Chem. Int. Ed. 58, 9682–9695 (2019).

Cafferty, B. J. et al. Robustness, entrainment, and hybridization in dissipative molecular networks, and the origin of life. J. Am. Chem. Soc. 141, 8289–8295 (2019).

Ashkenasy, G., Hermans, T. M., Otto, S. & Taylor, A. F. Systems chemistry. Chem. Soc. Rev. 46, 2543–2554 (2017).

Shi, J. et al. The influence of water on the charge transport through self-assembled monolayers junctions fabricated by EGaIn technique. Electrochim. Acta 398, 139304 (2021).

Ai, Y. et al. In-place modulation of rectification in tunneling junctions comprising self-assembled monolayers. Nano Lett. 18, 7552–7559 (2018).

Barber, J. R. et al. Influence of environment on the measurement of rates of charge transport across AgTS/SAM//Ga2O3/EGaIn junctions. Chem. Mater. 26, 3938–3947 (2014).

Han, Y. & Nijhuis, C. A. Functional redox-active molecular tunnel junctions. Chem. Asian J. 15, 3752–3770 (2020).

Han, Y. et al. Electric-field-driven dual-functional molecular switches in tunnel junctions. Nat. Mater. 19, 843–848 (2020).

Egger, D. A., Liu, Z. F., Neaton, J. B. & Kronik, L. Reliable energy level alignment at physisorbed molecule–metal interfaces from density functional theory. Nano Lett. 15, 2448–2455 (2015).

Larsen, C. B. et al. Synthesis and optical properties of unsymmetrically substituted triarylamine hexaazatrinaphthalenes. Eur. J. Org. Chem. 2017, 2432–2440 (2017).

Chen, X. et al. Molecular diodes with rectification ratios exceeding 105 driven by electrostatic interactions. Nat. Nanotechnol. 12, 797–803 (2017).

Yuan, L., Jiang, L., Thompson, D. & Nijhuis, C. A. On the remarkable role of surface topography of the bottom electrodes in blocking leakage currents in molecular diodes. J. Am. Chem. Soc. 136, 6554–6557 (2014).

Yuan, L., Breuer, R., Jiang, L., Schmittel, M. & Nijhuis, C. A. A molecular diode with a statistically robust rectification ratio of three orders of magnitude. Nano Lett. 15, 5506–5512 (2015).

Reus, W. F. et al. Statistical tools for analyzing measurements of charge transport. J. Phys. Chem. C 116, 6714–6733 (2012).

Yuan, L. et al. Transition from direct to inverted charge transport Marcus regions in molecular junctions via molecular orbital gating. Nat. Nanotechnol. 13, 322–329 (2018).
Acknowledgements
We thank the Ministry of Education (MOE, awards no. MOE2018-T2-1-088 and no. MOE2019-T2-1-137) and the Prime Minister's Office, Singapore, under its Medium Sized Centre program for supporting this research. D.T. acknowledges support from Science Foundation Ireland (SFI) under awards no. 15/CDA/3491 and no. 12/RC/2275_P2 and supercomputing resources at the SFI/Higher Education Authority Irish Center for High-End Computing (ICHEC). E.d.B. and C.N. acknowledge support from the US National Science Foundation (grant no. ECCS#1916874). D.Q. acknowledges the support of the Australian Research Council (grant no. FT160100207). C.H. and B.B. gratefully acknowledge funding from the Deutsche Forschungsgemeinschaft (German Research Foundation) Project-ID 433682494-SFB 1459.
Ethics declarations
Competing interests
The authors declare no competing interests.
Peer review
Peer review information
Nature Materials thanks Ferdinand Grozema, Tae-Woo Lee and the other, anonymous, reviewer(s) for their contribution to the peer review of this work.
Additional information
Publisher's note Springer Nature remains neutral with regard to jurisdictional claims in published maps and institutional affiliations.
Supplementary information
Rights and permissions
Springer Nature or its licensor (e.g. a society or other partner) holds exclusive rights to this article under a publishing agreement with the author(s) or other rightsholder(s); author self-archiving of the accepted manuscript version of this article is solely governed by the terms of such publishing agreement and applicable law.
About this article
Cite this article
Wang, Y., Zhang, Q., Astier, H.P.A.G. et al. Dynamic molecular switches with hysteretic negative differential conductance emulating synaptic behaviour. Nat. Mater. 21, 1403–1411 (2022). https://doi.org/10.1038/s41563-022-01402-2
Received:

Accepted:

Published:

Issue Date:

DOI: https://doi.org/10.1038/s41563-022-01402-2