Abstract
Mechanotransduction is a process by which cells sense the mechanical properties of their surrounding environment and adapt accordingly to perform cellular functions such as adhesion, migration and differentiation. Integrin-mediated focal adhesions are major sites of mechanotransduction and their connection with the actomyosin network is crucial for mechanosensing as well as for the generation and transmission of forces onto the substrate. Despite having emerged as major regulators of cell adhesion and migration, the contribution of microtubules to mechanotransduction still remains elusive. Here, we show that talin- and actomyosin-dependent mechanosensing of substrate rigidity controls microtubule acetylation (a tubulin post-translational modification) by promoting the recruitment of α-tubulin acetyltransferase 1 (αTAT1) to focal adhesions. Microtubule acetylation tunes the mechanosensitivity of focal adhesions and Yes-associated protein (YAP) translocation. Microtubule acetylation, in turn, promotes the release of the guanine nucleotide exchange factor GEF-H1 from microtubules to activate RhoA, actomyosin contractility and traction forces. Our results reveal a fundamental crosstalk between microtubules and actin in mechanotransduction that contributes to mechanosensitive cell adhesion and migration.
Relevant articles
Open Access articles citing this article.
Cristian L. Marchant

,

Abdul N. Malmi-Kakkada

…

Elias H. Barriga

Nature Materials Open Access 15 August 2022
Access options
Subscribe to Nature+
Get immediate online access to Nature and 55 other Nature journal
Subscribe to Journal
Get full journal access for 1 year
$119.00
only $9.92 per issue
All prices are NET prices.
VAT will be added later in the checkout.
Tax calculation will be finalised during checkout.
Buy article
Get time limited or full article access on ReadCube.
$32.00
All prices are NET prices.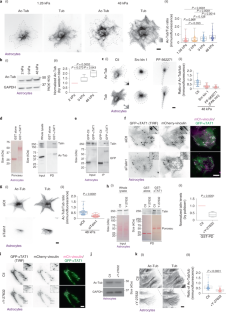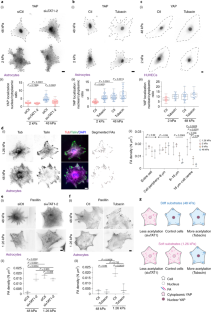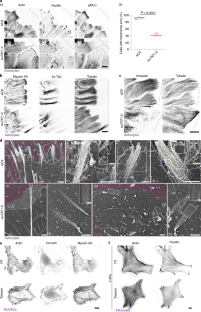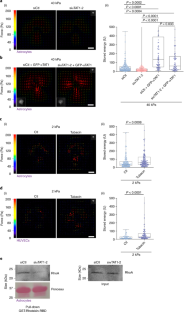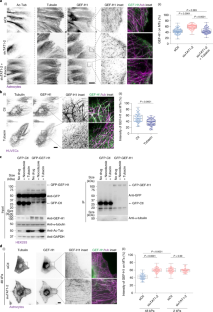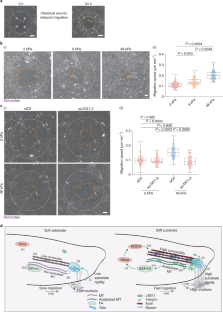 Data availability
The data supporting the findings of this study are available within the manuscript. The mass spectrometry proteomics data have been deposited with the ProteomeXchange Consortium via the PRIDE (refs. 52,53) partner repository with the dataset identifier PXD015871. Source data are provided with this paper. Other raw data generated during this study are available on reasonable request.
Code availability
Codes for focal adhesion distribution and traction forces are available from the authors upon request.
References
Jaalouk, D. E. & Lammerding, J. Mechanotransduction gone awry. Nat. Rev. Mol. Cell Biol. 10, 63–73 (2009).

Sun, Z., Guo, S. S. & Fässler, R. Integrin-mediated mechanotransduction. J. Cell Biol. 215, 445–456 (2016).

Elosegui-Artola, A. et al. Rigidity sensing and adaptation through regulation of integrin types. Nat. Mater. 13, 631–637 (2014).

Ladoux, B., Mège, R.-M. & Trepat, X. Front–rear polarization by mechanical cues: from single cells to tissues. Trends Cell Biol. 26, 420–433 (2016).

Etienne-Manneville, S. Microtubules in cell migration. Annu. Rev. Cell Dev. Biol. 29, 471–499 (2013).

Bouchet, B. P. & Akhmanova, A. Microtubules in 3D cell motility. J. Cell Sci. 130, 39–50 (2017).

Martins, G. G. & Kolega, J. A role for microtubules in endothelial cell protrusion in three‐dimensional matrices. Biol. Cell 104, 271–286 (2012).

Seetharaman, S. & Etienne-Manneville, S. Microtubules at focal adhesions – a double-edged sword. J. Cell Sci. 132, jcs232843 (2019).

Lyle, K. S., Corleto, J. A. & Wittmann, T. Microtubule dynamics regulation contributes to endothelial morphogenesis. Bioarchitecture 2, 220–227 (2012).

Myers, K. A., Applegate, K. T., Danuser, G., Fischer, R. S. & Waterman, C. M. Distinct ECM mechanosensing pathways regulate microtubule dynamics to control endothelial cell branching morphogenesis. J. Cell Biol. 192, 321–334 (2011).

Etienne-Manneville, S. & Hall, A. Integrin-mediated activation of Cdc42 controls cell polarity in migrating astrocytes through PKCζ. Cell 106, 489–498 (2001).

Etienne-Manneville, S. In vitro assay of primary astrocyte migration as a tool to study Rho GTPase function in cell polarization. Methods Enzymol. 406, 565–578 (2006).

Bance, B., Seetharaman, S., Leduc, C., Boëda, B. & Etienne-Manneville, S. Microtubule acetylation but not detyrosination promotes focal adhesion dynamics and astrocyte migration. J. Cell Sci. 132, jcs.225805 (2019).

Coombes, C. et al. Mechanism of microtubule lumen entry for the α-tubulin acetyltransferase enzyme αTAT1. Proc. Natl Acad. Sci. USA 113, E7176–E7184 (2016).

Valenzuela-Fernandez, A., Cabrero, J. R., Serrador, J. M. & Sánchez-Madrid, F. HDAC6: a key regulator of cytoskeleton, cell migration and cell–cell interactions. Trends Cell Biol. 18, 291–297 (2008).

Haggarty, S. J., Koeller, K. M., Wong, J. C., Butcher, R. A. & Schreiber, S. L. Multidimensional chemical genetic analysis of diversity-oriented synthesis-derived deacetylase inhibitors using cell-based assays. Chem. Biol. 10, 383–396 (2003).

Haggarty, S. J., Koeller, K. M., Wong, J. C., Grozinger, C. M. & Schreiber, S. L. Domain-selective small-molecule inhibitor of histone deacetylase 6 (HDAC6)-mediated tubulin deacetylation. Proc. Natl Acad. Sci. USA 100, 4389–4394 (2003).

De Pascalis, C. & Etienne-Manneville, S. Single and collective cell migration: the mechanics of adhesions. Mol. Biol. Cell 28, 1833–1846 (2017).

Seetharaman, S. & Etienne-Manneville, S. Integrin diversity brings specificity in mechanotransduction. Biol. Cell 110, 49–64 (2018).

Cluzel, C. et al. The mechanisms and dynamics of αvβ3 integrin clustering in living cells. J. Cell Biol. 171, 383–392 (2005).

Janke, C. & Montagnac, G. Causes and consequences of microtubule acetylation. Curr. Biol. 27, R1287–R1292 (2017).

Enomoto, T. Microtubule disruption induces the formation of actin stress fibers and focal adhesions in cultured cells: possible involvement of the Rho signal cascade. Cell Struct. Funct. 21, 317–326 (1996).

Bershadsky, A., Chausovsky, A., Becker, E., Lyubimova, A. & Geiger, B. Involvement of microtubules in the control of adhesion-dependent signal transduction. Curr. Biol. 6, 1279–1289 (1996).

Choquet, D., Felsenfeld, D. P. & Sheetz, M. P. Extracellular matrix rigidity causes strengthening of integrin–cytoskeleton linkages. Cell 88, 39–48 (1997).

Wolfenson, H. et al. Tropomyosin controls sarcomere-like contractions for rigidity sensing and suppressing growth on soft matrices. Nat. Cell Biol. 18, 33–42 (2016).

Peglion, F., Llense, F. & Etienne-Manneville, S. Adherens junction treadmilling during collective migration. Nat. Cell Biol. 16, 639–651 (2014).

Dupont, S. et al. Role of YAP/TAZ in mechanotransduction. Nature 474, 179–183 (2011).

Panciera, T., Azzolin, L., Cordenonsi, M. & Piccolo, S. Mechanobiology of YAP and TAZ in physiology and disease. Nat. Rev. Mol. Cell Biol. 18, 758–770 (2017).

Jansen, K. A., Atherton, P. & Ballestrem, C. Mechanotransduction at the cell-matrix interface. Semin. Cell Dev. Biol. 71, 75–83 (2017).

Prager-Khoutorsky, M. et al. Fibroblast polarization is a matrix-rigidity-dependent process controlled by focal adhesion mechanosensing. Nat. Cell Biol. 13, 1457–1465 (2011).

Tran, A. D.-A. et al. HDAC6 deacetylation of tubulin modulates dynamics of cellular adhesions. J. Cell Sci. 120, 1469–1479 (2007).

De Pascalis, C. et al. Intermediate filaments control collective migration by restricting traction forces and sustaining cell–cell contacts. J. Cell Biol. 217, 3031–3044 (2018).

Sakamoto, Y., Boëda, B. & Etienne-Manneville, S. APC binds intermediate filaments and is required for their reorganization during cell migration. J. Cell Biol. 200, 249–258 (2013).

Schiller, H. B. et al. β1- and αv-class integrins cooperate to regulate myosin II during rigidity sensing of fibronectin-based microenvironments. Nat. Cell Biol. 15, 625–636 (2013).

Lawson, C. D. & Ridley, A. J. Rho GTPase signaling complexes in cell migration and invasion. J. Cell Biol. 217, 447–457 (2018).

Krendel, M., Zenke, F. T. & Bokoch, G. M. Nucleotide exchange factor GEF-H1 mediates cross-talk between microtubules and the actin cytoskeleton. Nat. Cell Biol. 4, 294–301 (2002).

Ren, Y., Li, R., Zheng, Y. & Busch, H. Cloning and characterization of GEF-H1, a microtubule-associated guanine nucleotide exchange factor for Rac and Rho GTPases. J. Biol. Chem. 273, 34954–34960 (1998).

Heck, J. N. et al. Microtubules regulate GEF-H1 in response to extracellular matrix stiffness. Mol. Biol. Cell 23, 2583–2592 (2012).

Rafiq, N. B. M. et al. A mechano-signalling network linking microtubules, myosin IIA filaments and integrin-based adhesions. Nat. Mater. 18, 638–649 (2019).

Jiu, Y. et al. Vimentin intermediate filaments control actin stress fiber assembly through GEF-H1 and RhoA. J. Cell Sci. 130, 892–902 (2017).

Trepat, X. et al. Physical forces during collective cell migration. Nat. Phys. 5, 426–430 (2009).

Legerstee, K., Geverts, B., Slotman, J. A. & Houtsmuller, A. B. Dynamics and distribution of paxillin, vinculin, zyxin and VASP depend on focal adhesion location and orientation. Sci. Rep. 9, 10460 (2019).

Barriga, E. H., Franze, K., Charras, G. & Mayor, R. Tissue stiffening coordinates morphogenesis by triggering collective cell migration in vivo. Nature 554, 523–527 (2018).

Leal-Egaña, A. et al. The size-speed-force relationship governs migratory cell response to tumorigenic factors. Mol. Biol. Cell 28, 1612–1621 (2017).

Sunyer, R. et al. Collective cell durotaxis emerges from long-range intercellular force transmission. Science 353, 1157–1161 (2016).

Serra-Picamal, X., Conte, V., Sunyer, R., Muñoz, J. J. & Trepat, X. in Methods in Cell Biology (ed. Paluch, E. K.) Vol. 125, 309–330 (Elsevier, 2015).

Tambe, D. T. et al. Collective cell guidance by cooperative intercellular forces. Nat. Mater. 10, 469–475 (2011).

Heuser, J. The production of 'cell cortices' for light and electron microscopy. Traffic 1, 545–552 (2000).

Martiel, J. L. et al. Measurement of cell traction forces with ImageJ. Methods Cell. Biol. 125, 269–287 (2015).

Poullet, P., Carpentier, S. & Barillot, E. myProMS, a web server for management and validation of mass spectrometry-based proteomic data. Proteomics 7, 2553–2556 (2007).

Valot, B., Langella, O., Nano, E. & Zivy, M. MassChroQ: a versatile tool for mass spectrometry quantification. Proteomics 11, 3572–3577 (2011).

Vizcaino, J. A. et al. 2016 update of the PRIDE database and its related tools. Nucleic Acids Res. 44, D447–D456 (2016).

Perez-Riverol, Y. et al. The PRIDE database and related tools and resources in 2019: improving support for quantification data. Nucleic Acids Res. 47, D442–D450 (2019).
Acknowledgements
This work was supported by the La Ligue contre le cancer (S-CR17017), the Centre National de la Recherche Scientifique and Institut Pasteur. S.S. is funded by an ITN PolarNet Marie Curie grant and the Fondation pour la Recherche Médicale (FDT201904007930) and was enrolled at the Ecole Doctorale FIRE Frontières de l'Innovation en Recherche et Éducation (Frontières du Vivant FdV – Programme Bettencourt), CRI and the Université de Paris. We thank A. Akhmanova and Y.-C. Ammon for providing the GFP-talin construct, C. Leduc for the FA distribution macro and discussions, B. Bance, F. Coumailleau and O. Destaing for discussions, N. M. Rafiq for fixation protocols and discussions, and E. van Bodegraven, F. Peglion and S. Sivaranjani for critical reading of the manuscript and discussions.
Ethics declarations
Competing interests
The authors declare no competing interests.
Additional information
Peer review information Nature Materials thanks Martin Humphries, Guillaume Montagnac and the other, anonymous, reviewer(s) for their contribution to the peer review of this work.
Publisher's note Springer Nature remains neutral with regard to jurisdictional claims in published maps and institutional affiliations.
Supplementary information
About this article
Cite this article
Seetharaman, S., Vianay, B., Roca, V. et al. Microtubules tune mechanosensitive cell responses. Nat. Mater. 21, 366–377 (2022). https://doi.org/10.1038/s41563-021-01108-x
Received:

Accepted:

Published:

Issue Date:

DOI: https://doi.org/10.1038/s41563-021-01108-x
This article is cited by
Cristian L. Marchant
Abdul N. Malmi-Kakkada
Elias H. Barriga

Nature Materials (2022)

Kseniia Porshneva
Guillaume Montagnac

Nature Materials (2022)

Pakorn Kanchanawong
David A. Calderwood

Nature Reviews Molecular Cell Biology (2022)