Nanoporous tripeptide crystals mechanically deform upon water evaporation due to the strengthening of the water hydrogen bonding inside the pores, which causes the distortion of the surrounding supramolecular network, creating stresses that extend through the crystal lattice and result in actuation.
Access options
Subscribe to Journal
Get full journal access for 1 year
$59.00
only $4.92 per issue
All prices are NET prices.
VAT will be added later in the checkout.
Tax calculation will be finalised during checkout.
Rent or Buy article
Get time limited or full article access on ReadCube.
from$8.99
All prices are NET prices.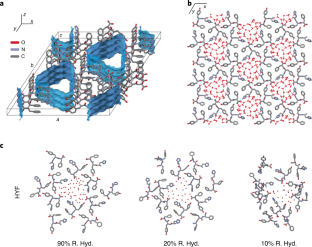 References
1.

Piotrowska, R. et al. Nat. Mater. https://doi.org/10.1038/s41563-020-0799-0 (2020).

2.

Zhang, L., Chizhik, S., Wen, Y. & Naumov, P. Adv. Funct. Mater. 26, 1040–1053 (2016).

3.

Levin, A. et al. Nat. Phys. 12, 926–930 (2016).

4.

Arazoe, H. et al. Nat. Mater. 15, 1084–1089 (2016).

5.

Cavusoglu, A.-H., Chen, X., Gentine, P. & Sahin, O. Nat. Commun. 8, 617 (2017).

6.

Zhang, L. & Naumov, P. Angew. Chem. Int. Ed. 54, 8642–8647 (2015).

7.

Erb, R. M., Sander, J. S., Grisch, R. & Studart, A. R. Nat. Commun. 4, 1712 (2013).
Ethics declarations
Competing interests
The author declares no competing interests.
About this article
Cite this article
Naumov, P. Actuators powered by water hydrogen bonds. Nat. Mater. 20, 287–288 (2021). https://doi.org/10.1038/s41563-021-00948-x