Abstract
Brain-inspired computing paradigms have led to substantial advances in the automation of visual and linguistic tasks by emulating the distributed information processing of biological systems1. The similarity between artificial neural networks (ANNs) and biological systems has inspired ANN implementation in biomedical interfaces including prosthetics2 and brain-machine interfaces3. While promising, these implementations rely on software to run ANN algorithms. Ultimately, it is desirable to build hardware ANNs4,5 that can both directly interface with living tissue and adapt based on biofeedback6,7. The first essential step towards biologically integrated neuromorphic systems is to achieve synaptic conditioning based on biochemical signalling activity. Here, we directly couple an organic neuromorphic device with dopaminergic cells to constitute a biohybrid synapse with neurotransmitter-mediated synaptic plasticity. By mimicking the dopamine recycling machinery of the synaptic cleft, we demonstrate both long-term conditioning and recovery of the synaptic weight, paving the way towards combining artificial neuromorphic systems with biological neural networks.
Access options
Subscribe to Journal
Get full journal access for 1 year
$99.00
only $8.25 per issue
All prices are NET prices.
VAT will be added later in the checkout.
Tax calculation will be finalised during checkout.
Rent or Buy article
Get time limited or full article access on ReadCube.
from$8.99
All prices are NET prices.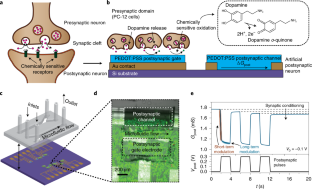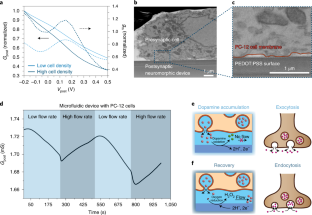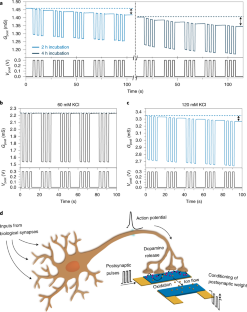 References
1.

Furber, S. Large-scale neuromorphic computing systems. J. Neural Eng. 13, 051001 (2016).

2.

Grahn, P. J. et al. Restoration of motor function following spinal cord injury via optimal control of intraspinal microstimulation: toward a next generation closed-loop neural prosthesis. Front. Neurosci. 8, 1–12 (2014).

3.

Bonifazi, P. et al. In vitro large-scale experimental and theoretical studies for the realization of bi-directional brain-prosthese. Front. Neural Circuits 7, 1–19 (2013).

4.

van Doremaele, E. R. W., Gkoupidenis, P. & van de Burgt, Y. Towards organic neuromorphic devices for adaptive sensing and novel computing paradigms in bioelectronics. J. Mater. Chem. C https://doi.org/10.1039/C9TC03247A (2019).

5.

Fuller, E. J. et al. Parallel programming of an ionic floating-gate memory array for scalable neuromorphic computing. Science 364, 570–574 (2019).

6.

Berco, D. & Shenp Ang, D. Recent progress in synaptic devices paving the way toward an artificial cogni‐retina for bionic and machine vision. Adv. Intell. Syst. 1, 1900012 (2019).

7.

Hebb, D. O. The Organization of Behavior: a Neuropsychological Theory (Wiley, 1949).

8.

Vassanelli, S. & Mahmud, M. Trends and challenges in neuroengineering: toward 'intelligent' neuroprostheses through brain-'brain inspired systems' communication. Front. Neurosci. 10, 438 (2016).

9.

Chiolerio, A., Chiappalone, M., Ariano, P. & Bocchini, S. Coupling resistive switching devices with neurons: state of the art and perspectives. Front. Neurosci. 11, 70 (2017).

10.

Rivnay, J. et al. Organic electrochemical transistors. Nat. Rev. Mater. 3, 17086 (2018).

11.

van de Burgt, Y. et al. A non-volatile organic electrochemical device as a low-voltage artificial synapse for neuromorphic computing. Nat. Mater. 16, 414–418 (2017).

12.

van de Burgt, Y., Melianas, A., Keene, S. T., Malliaras, G. & Salleo, A. Organic electronics for neuromorphic computing. Nat. Electron. 1, 386–397 (2018).

13.

Gkoupidenis, P., Koutsouras, D. A. & Malliaras, G. G. Neuromorphic device architectures with global connectivity through electrolyte gating. Nat. Commun. 8, 15448 (2017).

14.

Asplund, M. et al. Toxicity evaluation of PEDOT/biomolecular composites intended for neural communication electrodes. Biomed. Mater. 4, 045009 (2009).

15.

Santoro, F., van de Burgt, Y., Keene, S. T., Cui, B. & Salleo, A. Enhanced cell-chip coupling by rapid femtosecond laser patterning of soft PEDOT:PSS biointerfaces. ACS Appl. Mater. Interfaces 9, 39116–39121 (2017).

16.

Gualandi, I. et al. Selective detection of dopamine with an all PEDOT:PSS organic electrochemical transistor. Sci. Rep. 6, 2–5 (2016).

17.

Obaid, A. M. et al. Massively parallel microwire arrays integrated with CMOS chips for neural recording. Sci. Adv. 6, 573295 (2020).

18.

Khodagholy, D. et al. NeuroGrid: recording action potentials from the surface of the brain. Nat. Neurosci. 18, 310–315 (2015).

19.

Hess, L. H. et al. Electrical coupling between cells and graphene transistors. Small 11, 1703–1710 (2015).

20.

Juzekaeva, E. et al. Coupling cortical neurons through electronic memristive synapse. Adv. Mater. Technol. 4, 4–9 (2019).

21.

Serb, A. et al. Memristive synapses connect brain and silicon spiking neurons. Sci. Rep. 10, 2590 (2020).

22.

Gupta, I. et al. Sub 100 nW volatile nano-metal-oxide memristor as synaptic-like encoder of neuronal spikes. IEEE Trans. Biomed. Circuits Syst. 12, 351–359 (2018).

23.

Buccelli, S. et al. A neuromorphic prosthesis to restore communication in neuronal networks. iScience 19, 402–414 (2019).

24.

Burns, M. E. & Augustine, G. J. Synaptic structure and function: dynamic organization yields architectural precision. Cell 83, 187–194 (1995).

25.

Calabresi, P., Picconi, B., Tozzi, A. & di Filippo, M. Dopamine-mediated regulation of corticostriatal synaptic plasticity. Trends Neurosci. 30, 211–219 (2007).

26.

Gkoupidenis, P., Schaefer, N., Strakosas, X., Fairfield, J. A. & Malliaras, G. G. Synaptic plasticity functions in an organic electrochemical transistor. Cit. Appl. Phys. Lett. 107, 263302 (2015).

27.

Li, Y. et al. Identification of two functionally distinct endosomal recycling pathways for dopamine D2 receptor. J. Neurosci. 32, 7178–7190 (2012).

28.

Shahrokhian, S. & Bozorgzadeh, S. Electrochemical oxidation of dopamine in the presence of sulfhydryl compounds: application to the square-wave voltammetric detection of penicillamine and cysteine. Electrochim. Acta 51, 4271–4276 (2006).

29.

Keene, S. T. et al. Optimized pulsed write schemes improve linearity and write speed for low-power organic neuromorphic devices. J. Phys. D Appl. Phys. 51, 224002 (2018).

30.

Yakushenko, A., Kätelhön, E. & Wolfrum, B. Parallel on-chip analysis of single vesicle neurotransmitter release. Anal. Chem. 85, 5483–5490 (2013).

31.

Li, X. et al. A nanostructure platform for live-cell manipulation of membrane curvature. Nat. Protoc. 14, 1772–1802 (2019).

32.

Santoro, F. et al. Revealing the cell-material interface with nanometer resolution by focused ion beam/scanning electron microscopy. ACS Nano 11, 8320–8328 (2017).

33.

Keene, S. T., Melianas, A., van de Burgt, Y. & Salleo, A. Mechanisms for enhanced state retention and stability in redox-gated organic neuromorphic devices. Adv. Electron. Mater. 5, 1800686 (2018).

34.

Isaksson, J. et al. Electronic control of Ca2+ signalling in neuronal cells using an organic electronic ion pump. Nat. Mater. 6, 673–679 (2007).
Acknowledgements
A.S. and S.T.K. acknowledge financial support from the National Science Foundation and the Semiconductor Research Corporation, E2CDA Award no. 1739795. Additionally, S.T.K. thanks the Stanford Graduate Fellowship fund for support. A.M. gratefully acknowledges support from the Knut and Alice Wallenberg Foundation (KAW 2016.0494) for postdoctoral research at Stanford University. This work was in part performed at the Stanford Nano Shared Facilities (SNSF) and the nano@Stanford (SNF) labs, which are supported by the National Science Foundation as part of the National Nanotechnology Coordinated Infrastructure under award ECCS‐1542152. Y.v.d.B. gratefully acknowledges funding from the European Union's Horizon 2020 Research and Innovation Programme, grant agreement no. 802615. F.S. thanks the staff of the Cleanroom Facility at the Center Lab of Istituto Italiano di Tecnologia for the use of the dual-beam machine, and the group of A. Offenhäusser at the Institute of Complex Systems (ICS−8) of Jülich Forschungszentrum for providing the PC-12 cell line.
Ethics declarations
Competing interests
The authors declare no competing interests.
Additional information
Publisher's note Springer Nature remains neutral with regard to jurisdictional claims in published maps and institutional affiliations.
Supplementary information
About this article
Cite this article
Keene, S.T., Lubrano, C., Kazemzadeh, S. et al. A biohybrid synapse with neurotransmitter-mediated plasticity. Nat. Mater. 19, 969–973 (2020). https://doi.org/10.1038/s41563-020-0703-y
Received:

Accepted:

Published:

Issue Date: