Abstract
For millennia, humans have exploited the natural property of metals to get stronger or harden when mechanically deformed. Ultimately rooted in the motion of dislocations, mechanisms of metal hardening have remained in the cross-hairs of physical metallurgists for over a century. Here, we performed atomistic simulations at the limits of supercomputing that are sufficiently large to be statistically representative of macroscopic crystal plasticity yet fully resolved to examine the origins of metal hardening at its most fundamental level of atomic motion. We demonstrate that the notorious staged (inflection) hardening of metals is a direct consequence of crystal rotation under uniaxial straining. At odds with widely divergent and contradictory views in the literature, we observe that basic mechanisms of dislocation behaviour are the same across all stages of metal hardening.
Access options
Subscribe to Journal
Get full journal access for 1 year
$209.00
only $17.42 per issue
All prices are NET prices.
VAT will be added later in the checkout.
Rent or Buy article
Get time limited or full article access on ReadCube.
from$8.99
All prices are NET prices.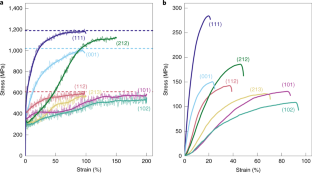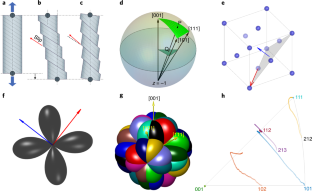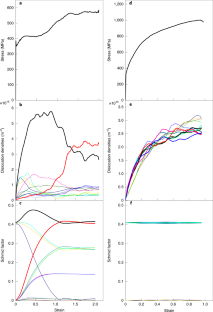 Code availability
The open-source computer code LAMMPS used in this study is developed and maintained at the Sandia National Laboratories. LAMMPS is available at https://lammps.sandia.gov.
References
1.

Kocks, U. F. & Mecking, H. Physics and phenomenology of strain hardening: the FCC case. Prog. Mater. Sci. 48, 171–273 (2003).

2.

Cottrell, A. H. Commentary. A brief view on work hardening. Dislocations Solids 11, vii–xvii (2002).

3.

Takeuchi, T. Work hardening of copper single crystals with multiple glide orientations. Trans. JIM 16, 629–640 (1975).

4.

Lücke, K. & Lange, H. Uber die form der verfestgungskurve von reinstaluminiumkristallen un die bildung von deformationsbandern. Z. Metallk. 43, 55–66 (1952).

5.

Staubwasser, W. Uber die verfestigung von aluminium einkristallen (99.99% Al) und ihre deutung. Acta Metall. 7, 43–50 (1969).

6.

Clarebrough, L. M. & Hargreaves, M. E. The orientation dependence of work-hardening in crystals of face-centered cubic metals. Aust. J. Phys. 13, 316–325 (1960).

7.

Nabarro, F. R. N., Basinski, Z. S. & Holt, D. B. The plasticity of pure single crystals. Adv. Phys. 13, 193–323 (1964).

8.

Noggle, T. S. & Koehler, J. S. Electron microscopy of aluminum crystals deformed at various temperatures. J. Appl. Phys. 28, 53–62 (1957).

9.

Garstone, J., Honeycombe, R. W. K. & Greetham, G. Easy glide of cubic metal crystals. Acta Metall. 4, 485–494 (1956).

10.

Hosford, W. F., Fleischer, R. L. & Backofen, W. A. Tensile deformation of aluminum single crystals at low temperatures. Acta Metall. 8, 187–199 (1960).

11.

Orowan, E. Zur kristallplastizitat. Z. Phys. 89, 605–659 (1934).

12.

Taylor, G. The mechanism of plastic deformation in crystal. Part I: theoretical. Proc. R. Soc. A 145, 363–404 (1934).

13.

Polanyi, M. Über eine art gitterstörung, die einen kristall plastisch machen könnt. Z. Phys. 89, 660–664 (1934).

14.

Hirsch, P. B., Horne, R. W. & Whelan, M. J. Direct observations of the arrangement and motion of dislocations in aluminium. Phil. Mag. 86, 677–684 (1956).

15.

Rosenhain, W. Further observations on slip-bands in metallic fractures: preliminary note. Proc. R. Soc. Lond. 74, 557–562 (1905).

16.

Frenkel, J. Zur theorie der elastizitätsgrenze und der festigkeit kristallinischer körper. Z. Phys. 37, 572–609 (1926).

17.

Schmid, E., Boas, W. Kristallplastizität (Struktur und Eigenschaften der Materie Vol. 17, Julius Springer, 1935).

18.

Schmid, E. Beiträge zur physik und metallographie des magnesiums. Z. Elektrochem. Angew. P. 37, 447–459 (1931).

19.

Mark, H., Polanyi, M. & Schmid, E. Vorgänge bei der dehnung von zinkkristallen. Z. Phys. 12, 78–110 (1923).

20.

Hosford, W. F. Mechanical Behavior of Materials 2nd edn 129–131 (Cambridge Univ. Press, 2009).

21.

Kubin, L. P. & Canova, G. The modeling of dislocation patterns. Scripta Metall. Mater. 27, 957–962 (1991).

22.

Bulatov, V. V. & Cai, W. Computer Simulations of Dislocations 196–240 (Oxford Univ. Press, 2006).

23.

Liu, X.-Y., Ercolessi, F. & Adams, J. B. Aluminium interatomic potential from density functional theory calculations with improved stacking fault energy. Model. Simul. Mater. Sci. Eng. 12, 665–670 (2004).

24.

Zepeda-Ruiz, L. A., Stukowski, A., Oppelstrup, T. & Bulatov, V. V. Probing the limits of metal plasticity with molecular dynamics simulations. Nature 550, 492–495 (2017).

25.

Aubry, S., Rhee, M., Hommes, G., Bulatov, V. V. & Arsenlis, A. Dislocation dynamics in hexagonal close-packed crystals. J. Mech. Phys. Solids 94, 105–126 (2016).

26.

Stricker, M. & Weygand, D. Dislocation multiplication mechanisms—Glissile junctions and their role on the plastic deformation at the microscale. Acta Mater. 99, 130–139 (2015).

27.

Stukowski, A. Visualization and analysis of atomistic simulation data with OVITO—the Open Visualization Tool. Model. Simul. Mater. Sci. Eng. 18, 015012 (2010).

28.

Stukowski, A. & Albe, K. Extracting dislocations and non-dislocation crystal defects from atomistic simulation data. Model. Simul. Mater. Sci. Eng. 18, 085001 (2010).

29.

Miller, W. H. A Treatise on Crystallography (J. & J. J. Deighton, 1839).

30.

Plimpton, S. Fast parallel algorithms for short-range molecular dynamics. J. Comp. Phys. 117, 1–19 (1995).

31.

Parrinello, M. & Rahman, A. Polymorphic transitions in single crystals: a new molecular dynamics method. J. Appl. Phys. 52, 7182–7190 (1981).
Acknowledgements
We acknowledge discussions with W. Cai, E. Tadmor and D. Karls and editorial suggestions from D. Bulatova. This work was funded by the NNSA ASC Program and Technische Universität Darmstadt and was performed under the auspices of the US Department of Energy by Lawrence Livermore National Laboratory under contract number W-7405-Eng-48. Computing support came from the DOE INCITE programme and LLNL Computing Grand Challenge programme. The simulations were performed on Mira and Vulcan supercomputers at the Argonne Laboratory Computational Facility and Livermore Computing Facility, respectively. We dedicate this paper to the memory of A. Argon.
Ethics declarations
Competing interests
The authors declare no competing interests.
Additional information
Publisher's note Springer Nature remains neutral with regard to jurisdictional claims in published maps and institutional affiliations.
Supplementary information
About this article
Cite this article
Zepeda-Ruiz, L.A., Stukowski, A., Oppelstrup, T. et al. Atomistic insights into metal hardening. Nat. Mater. (2020). https://doi.org/10.1038/s41563-020-00815-1
Received:

Accepted:

Published: