Abstract
Stretchable optoelectronic materials are essential for applications in wearable electronics, human–machine interfaces and soft robots. However, intrinsically stretchable optoelectronic devices such as light-emitting capacitors usually require high driving alternating voltages and excitation frequencies to achieve sufficient luminance in ambient lighting conditions. Here, we present a healable, low-field illuminating optoelectronic stretchable (HELIOS) device by introducing a transparent, high permittivity polymeric dielectric material. The HELIOS device turns on at an alternating voltage of 23 V and a frequency below 1 kHz, safe operating conditions for human–machine interactions. We achieved a brightness of 1,460 cd m−2 at 2.5 V µm−1 with stable illumination demonstrated up to a maximum of 800% strain. The materials also self-healed mechanically and electronically from punctures or when severed. We further demonstrate various HELIOS light-emitting capacitor devices in environment sensing using optical feedback. Moreover, our devices can be powered wirelessly, potentially enabling applications for untethered damage-resilient soft robots.
This is a preview of subscription content
Access options
Subscribe to Journal
Get full journal access for 1 year
$99.00
only $8.25 per issue
All prices are NET prices.
VAT will be added later in the checkout.
Tax calculation will be finalised during checkout.
Rent or Buy article
Get time limited or full article access on ReadCube.
from$8.99
All prices are NET prices.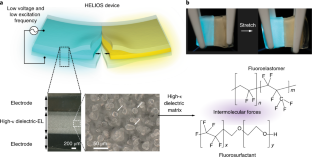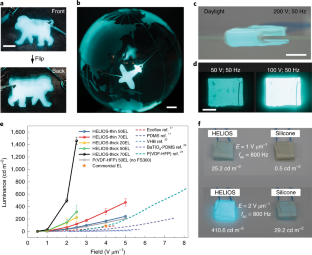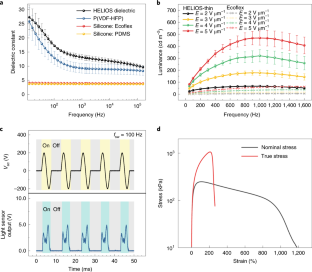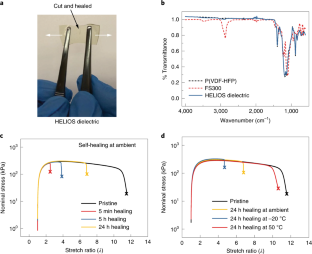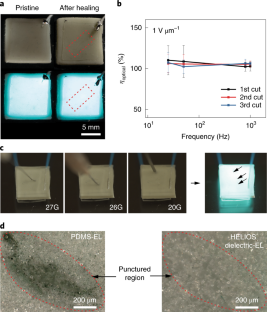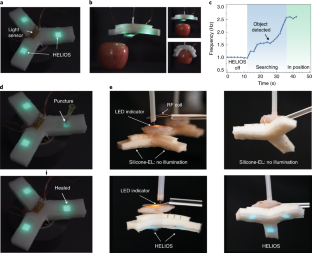 Data availability
The data that support the findings of this study are available from the authors on reasonable request.
References
1.

Tee, B. C. K. et al. A skin-inspired organic digital mechanoreceptor. Science 350, 313–316 (2015).

2.

Yokota, T. et al. Ultraflexible organic photonic skin. Sci. Adv. 2, e1501856–e1501856 (2016).

3.

Hammock, M. L., Chortos, A., Tee, B. C. K., Tok, J. B. H. & Bao, Z. 25th anniversary article: the evolution of electronic skin (e-skin): a brief history, design considerations, and recent progress. Adv. Mater. 25, 5997–6038 (2013).

4.

Sekitani, T. & Someya, T. Stretchable, large-area organic electronics. Adv. Mater. 22, 2228–2246 (2010).

5.

Chou, H.-H. et al. A chameleon-inspired stretchable electronic skin with interactive colour changing controlled by tactile sensing. Nat. Commun. 6, 8011 (2015).

6.

Larson, C. et al. Highly stretchable electroluminescent skin for optical signaling and tactile sensing. Science 351, 1071–1074 (2016).

7.

Lu, N. & Kim, D.-H. Flexible and stretchable electronics paving the way for soft robotics. Soft Robot. 1, 53–62 (2014).

8.

Kim, R.-H. et al. Waterproof AlInGaP optoelectronics on stretchable substrates with applications in biomedicine and robotics. Nat. Mater. 9, 929–937 (2010).

9.

Shepherd, R. F. et al. Multigait soft robot. Proc. Natl Acad. Sci. USA 108, 20400–20403 (2011).

10.

Sekitani, T. et al. Stretchable active-matrix organic light-emitting diode display using printable elastic conductors. Nat. Mater. 8, 494–499 (2009).

11.

Wang, J., Yan, C., Chee, K. J. & Lee, P. S. Highly stretchable and self-deformable alternating current electroluminescent devices. Adv. Mater. 27, 2876–2882 (2015).

12.

Kim, E. H. et al. Organic light emitting board for dynamic interactive display. Nat. Commun. 8, 14964 (2017).

13.

Cao, Y. et al. Self-healing electronic skins for aquatic environments. Nat. Electron 2, 75–82 (2019).

14.

Sekitani, T. et al. A rubberlike stretchable active matrix using elastic conductors. Science 321, 1468–1472 (2008).

15.

Etienne, P. et al. Self-healing stretchable wires for reconfigurable circuit wiring and 3D microfluidics. Adv. Mater. 25, 1589–1592 (2013).

16.

Yin, D. et al. Efficient and mechanically robust stretchable organic light-emitting devices by a laser-programmable buckling process. Nat. Commun. 7, 11573 (2016).

17.

Wang, J. et al. Extremely stretchable electroluminescent devices with ionic conductors. Adv. Mater. 28, 4490–4496 (2016).

18.

Yen, W. M., Shionoya, S. & Yamamoto, H. (eds) Phosphor Handbook 2nd edn (CRC Press/Taylor and Francis Group, 2006).

19.

Tan, Y. J., Wu, J., Li, H. & Tee, B. C. K. Self-healing electronic materials for a smart and sustainable future. ACS Appl. Mater. Interfaces 10, 15331–15345 (2018).

20.

Wallin, T. J., Pikul, J. & Shepherd, R. F. 3D printing of soft robotic systems. Nat. Rev. Mater. 3, 84–100 (2018).

21.

Ribeiro, C. et al. Electroactive poly(vinylidene fluoride)-based structures for advanced applications. Nat. Protoc. 13, 681–704 (2018).

22.

Cao, Y. et al. A transparent, self-healing, highly stretchable ionic conductor. Adv. Mater. 29, 1605099 (2017).

23.

Yang, C. H., Chen, B., Zhou, J., Chen, Y. M. & Suo, Z. Electroluminescence of giant stretchability. Adv. Mater. 28, 4480–4484 (2016).

24.

Zhou, Y. et al. Bright stretchable electroluminescent devices based on silver nanowire electrodes and high-k thermoplastic elastomers. ACS Appl. Mater. Interfaces 10, 44760–44767 (2018).

25.

Tsangaris, G. M., Psarras, G. C. & Kouloumbi, N. Electric modulus and interfacial polarization in composite polymeric systems. J. Mater. Sci. 33, 2027–2037 (1998).

26.

Davis, J., Hsieh, Y.-H. & Lee, H.-C. Humans perceive flicker artifacts at 500 Hz. Sci. Rep. 5, 7861 (2015).

27.

Bredol, M. & Schulze Dieckhoff, H. Materials for powder-based AC-electroluminescence. Materials 3, 1353–1374 (2010).

28.

Stauffer, F. & Tybrandt, K. Bright stretchable alternating current electroluminescent displays based on high permittivity composites. Adv. Mater. 28, 7200–7203 (2016).

29.

Cordier, P., Tournilhac, F., Soulié-Ziakovic, C. & Leibler, L. Self-healing and thermoreversible rubber from supramolecular assembly. Nature 451, 977–980 (2008).

30.

Li, S., Peele, B. N., Larson, C. M., Zhao, H. & Shepherd, R. F. A stretchable multicolor display and touch interface using photopatterning and transfer printing. Adv. Mater. 28, 9770–9775 (2016).

31.

Shepherd, R. F., Stokes, A. A., Nunes, R. M. D. & Whitesides, G. M. Soft machines that are resistant to puncture and that self seal. Adv. Mater. 25, 6709–6713 (2013).

32.

Rich, S. I., Wood, R. J. & Majidi, C. Untethered soft robotics. Nat. Electron 1, 102–112 (2018).

33.

Markvicka, E. J., Bartlett, M. D., Huang, X. & Majidi, C. An autonomously electrically self-healing liquid metal–elastomer composite for robust soft-matter robotics and electronics. Nat. Mater. https://doi.org/10.1038/s41563-018-0084-7 (2018).

34.

Kresse, G. & Furthmüller, J. Efficient iterative schemes for ab initio total-energy calculations using a plane-wave basis set. Phys. Rev. B 54, 11169–11186 (1996).

35.

Daly, S., Kunkel, T., Sun, X., Farrell, S. & Crum, P. Viewer preferences for shadow, diffuse, specular, and emissive luminance limits of high dynamic range displays. SID Int. Symp. Dig. Tech. 44, 563–566 (2013).

36.

Li, C.-H. et al. A highly stretchable autonomous self-healing elastomer. Nat. Chem. 8, 618–624 (2016).
Acknowledgements
B.C.K.T. acknowledges support from the Singapore National Research Fellowship (NRFF2017-08), an NUS Start-up Grant and the Singapore National Robotics Programme (NRP 1822500053). J.Ho acknowledges support from National Research Foundation Singapore (NRFF2017-07) and an NUS Young Investigator Award. We thank Z. Goh for assistance with the illustration in Fig. 1a and W. Lee for photographs in Fig 1b. We thank A. Cheong, X. Tan and H. Li for access to testing equipment.
Ethics declarations
Competing interests
The authors declare no competing interests.
Additional information
Publisher's note Springer Nature remains neutral with regard to jurisdictional claims in published maps and institutional affiliations.
Extended data
(a-b) The brightness of HELIOS 70EL increases with the increase in thickness in the dielectric-EL (t = 100 µm vs t = 1500 µm) when comparing with the same E and frequencies applied. The measurements were repeated on three samples and the error bars represent the standard deviation. The luminance and the operated fields on the HELIOS devices are expressed using the equation of L = Lo exp(−b/E0.5). Insets show the photographs of the oblique view of the HELIOS device. (c-d) Photographs showing that the HELIOS-thick 70EL device is significantly brighter than the HELIOS-thin 70EL device.
(a) The stress-strain curve of the HELIOS dielectric stretched at different speeds. The modulus increases when stretching at higher speed, which is the typical behaviour of supramolecular polymers22,36. (b) Photograph showing tensile bar specimen (Type V) following ASTM standard D638 with 7.62 cm (gauge length) x 3.18 cm (width). (c) Dielectric-EL sample and (d) three-layered HELIOS device samples were subjected to ten loading-unloading cycles (loading at 1 mm s−1 and unloading at 1 mm min−1). These materials recovered to its original length when subjected to a strain of 50% over time.
(a) HELIOS-thin can stretch to ~1.6 times its original length. Scale bar: 5 mm. (b) Photographs showing that HELIOS-thick activated at fac of 200 V and 50 Hz (vaguely visible), and the device is bright when operated at 800 V (and 1000 V) and fac of 50 Hz when operated under daylight condition. Scale bar: 5 mm. (c) The HELIOS-thick device stretches with an increase in light emission and subsequently exhibited stable illumination up to 9 times its original length.
Supplementary information
About this article
Cite this article
Tan, Y.J., Godaba, H., Chen, G. et al. A transparent, self-healing and high-κ dielectric for low-field-emission stretchable optoelectronics. Nat. Mater. 19, 182–188 (2020). https://doi.org/10.1038/s41563-019-0548-4
Received:

Accepted:

Published:

Issue Date: