Thousands of electron diffraction patterns, collected stepwise by scanning transmission electron microscopy, are synchronized and mined to provide unprecedented maps of the nanostructure of ordered domains in organic electronics films.
Access options
Subscribe to Journal
Get full journal access for 1 year
$199.00
only $16.58 per issue
All prices are NET prices.
VAT will be added later in the checkout.
Rent or Buy article
Get time limited or full article access on ReadCube.
from$8.99
All prices are NET prices.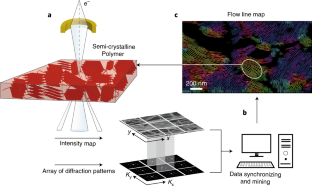 References
1.

Henson, Z. B., Mullen, K. & Bazan, G. C. Nat. Chem. 4, 699–704 (2012).

2.

Ouliana Panona, C. O. et al. Nat. Mater. https://doi.org/10.1038/s41563-019-0387-3 (2019).

3.

Rodenburg, J. M., McCallum, B. C. & Nellist, P. D. Ultramicroscopy 48, 304–314 (1993).

4.

Richter, L. J., DeLongchamp, D. M. & Amassian, A. Chem. Rev. 117, 6332–6366 (2017).

5.

Panova, O. et al. Micron 88, 30–36 (2016).

6.

van der Poll, T. S., Love, J. A., Nguyen, T.-Q. & Bazan, G. C. Adv. Mater. 24, 3646–3649 (2012).

7.

McDowell, C., Abdelsamie, M., Toney, M. F. & Bazan, G. C. Adv. Mater. 30, 1707114 (2018).

8.

McCulloch, I. et al. Nat. Mater. 5, 328–333 (2006).
About this article
Cite this article
Frey, G.L., Kauffmann, Y. Little probe, big data. Nat. Mater. 18, 776–777 (2019) doi:10.1038/s41563-019-0413-5