Microbial gas vesicles have been developed for use as MRI contrast agents whose contrast can be inactivated by applying ultrasound waves to collapse the vesicles.
Access options
Subscribe to Journal
Get full journal access for 1 year
$209.00
only $17.42 per issue
All prices are NET prices.
VAT will be added later in the checkout.
Rent or Buy article
Get time limited or full article access on ReadCube.
from$8.99
All prices are NET prices.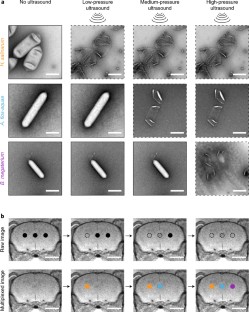 References
1.

Ruiz-Cabello, J., Barnett, B. P., Bottomley, P. A. & Bulte, J. W. NMR Biomed. 24, 114–129 (2011).

2.

Lu, G. J. et al. Nat. Mater. https://doi.org/10.1038/s41563-018-0023-7 (2018).

3.

Zurkiya, O., Chan, A. W. & Hu, X. Magn. Reson. Med. 59, 1225–1231 (2008).

4.

Shapiro, M. G. et al. Nat. Nanotech. 9, 311–316 (2014).

5.

Bourdeau, R. W. et al. Nature 553, 86–90 (2018).

6.

Bulte, J. W. & Kraitchman, D. L. NMR Biomed. 17, 484–499 (2004).

7.

Walczak, P. et al. J. Cereb. Blood Flow Metab. 37, 2346–2358 (2017).
About this article
Cite this article
Bulte, J.W.M. Gas vesicles as collapsible MRI contrast agents. Nature Mater 17, 386–387 (2018). https://doi.org/10.1038/s41563-018-0073-x
Further reading
Jianmin Xiao

,

Guilong Zhang

,

Rui Xu

,

Hui Chen

,

Huijuan Wang

,

Geng Tian

,

Bin Wang

,

Chi Yang

,

Guo Bai

,

Zhiyuan Zhang

,

Hongyi Yang

,

Kai Zhong

,

Duohong Zou

&

Zhengyan Wu

Biomaterials (2019)

Jeff W. M. Bulte

&

Heike E. Daldrup-Link

Radiology (2018)