Abstract
Segregation across social groups is an enduring feature of nearly all human societies and is associated with numerous social maladies. In many countries, reports of growing geographic political polarization raise concerns about the stability of democratic governance. Here, using advances in spatial data computation, we measure individual partisan segregation by calculating the local residential segregation of every registered voter in the United States, creating a spatially weighted measure for more than 180 million individuals. With these data, we present evidence of extensive partisan segregation in the country. A large proportion of voters live with virtually no exposure to voters from the other party in their residential environment. Such high levels of partisan isolation can be found across a range of places and densities and are distinct from racial and ethnic segregation. Moreover, Democrats and Republicans living in the same city, or even the same neighbourhood, are segregated by party.
Access options
Subscribe to Journal
Get full journal access for 1 year
$99.00
only $8.25 per issue
All prices are NET prices.
VAT will be added later in the checkout.
Tax calculation will be finalised during checkout.
Rent or Buy article
Get time limited or full article access on ReadCube.
from$8.99
All prices are NET prices.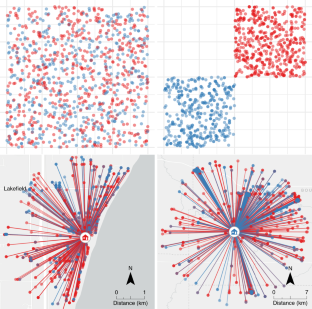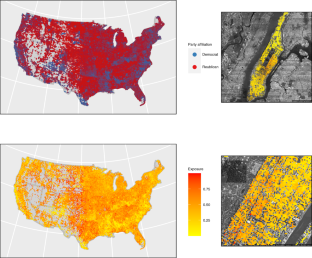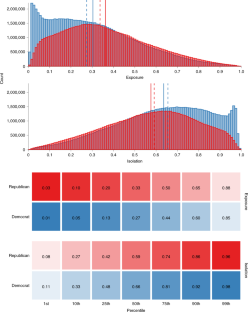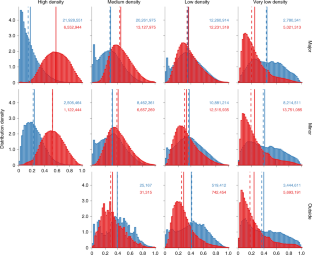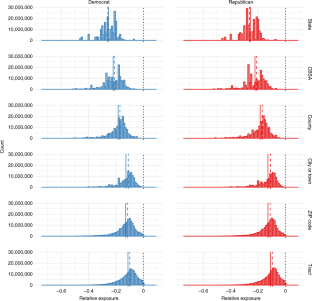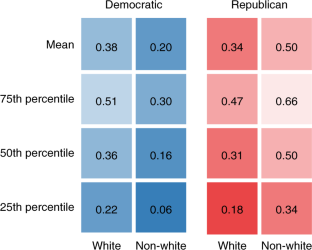 References
1.

Massey, D. S. & Denton, N. A. American Apartheid: Segregation and the Making of the Underclass (Havard Univ. Press, 1993).

2.

Alesina, A., Baqir, R. & Easterly, W. Public goods and ethnic divisions. Q. J. Econ. 114, 1243–1284 (1999).

3.

Trounstine, J. Segregation and inequality in public goods. Am. J. Political Sci. 60, 709–725 (2016).

4.

Enos, R. D. The Space Between Us: Social Geography and Politics (Cambridge Univ. Press, 2017).

5.

Allport, G. W. The Nature of Prejudice (Addison–Wesley, 1954).

6.

Pettigrew, T. F. & Tropp, L. A meta-analytic test of intergroup contact theory. J. Personal. Soc. Psychol. 90, 751–783 (2006).

7.

Centola, D. The spread of behavior in an online social network experiment. Science 329, 1194–1197 (2010).

8.

Putnam, R. D. Bowling Alone: The Collapse and Revival of American Community (Simon & Schuster, 2001).

9.

Fowler, J. H. & Christakis, N. A. Cooperative behavior cascades in human social networks. Proc. Natl Acad. Sci. USA 107, 5334–5338 (2010).

10.

Rand, D. G., Arbesman, S. & Christakis, N. A. Dynamic social networks promote cooperation in experiments with humans. Proc. Natl Acad. Sci. USA 108, 19193–19198 (2011).

11.

Uslaner, E. M. Segregation and Mistrust: Diversity, Isolation, and Social Cohesion (Cambridge Univ. Press, 2012).

12.

Ananat, E. O. The wrong side(s) of the tracks: The causal effects of racial segregation on urban poverty and inequality. Am. Econ. J. Appl. Econ. 3, 34–66 (2011).

13.

Ananat, E. O. & Washington, E. Segregation and black political efficacy. J. Public Econ. 93, 807–822 (2009).

14.

Chen, J. & Rodden, J. Unintentional gerrymandering: political geography and electoral bias in legislatures. Q. J. Political Sci. 8, 239–269 (2013).

15.

Bishop, B. The Big Sort (Houghton Mifflin Harcourt, 2009).

16.

Abrams, S. J. & Fiorina, M. P. The big sort that wasn't: a skeptical reexamination. PS Political Sci. Politics 45, 203–210 (2012).

17.

Nall, C. The political consequences of spatial policies: How interstate highways facilitated geographic polarization. J. Politics 77, 394–406 (2015).

18.

Martin, G. J. & Webster, S. W. Does residential sorting explain geographic polarization? Political Sci. Res. Methods 8, 215–231 (2020).

19.

Green, D. P., Palmquist, B. & Schickler, E. Partisan Hearts and Minds (Yale Univ. Press, 2004).

20.

Achen, C. H. & Bartels, L. M. Democracy for Realists: Why Elections do not Produce Responsive Government (Princeton Univ. Press, 2017).

21.

Hersh, E. D. & Goldenberg, M. N. Democratic and republican physicians provide different care on politicized health issues. Proc. Natl Acad. Sci. USA 113, 11811–11816 (2016).

22.

Chen, M. K. & Rohla, R. The effect of partisanship and political advertising on close family ties. Science 360, 1020–1024 (2018).

23.

Iyengar, S. & Westwood, S. J. Fear and loathing across party lines: new evidence on group polarization. Am. J. Political Sci. 59, 690–707 (2015).

24.

Aarts, H. & Dijksterhuis, A. The silence of the library: environment, situational norm, and social behavior. J. Personal. Soc. Psychol. 84, 18–28 (2003).

25.

Cialdini, R. B., Reno, R. R. & Kallgren, C. A. A focus theory of normative conduct: recycling the concept of norms to reduce littering in public places. J. Personal. Soc. Psychol. 58, 1015–1026 (1990).

26.

Green, D. P. et al. The effects of lawn signs on vote outcomes: results from four randomized field experiments. Elect. Stud. 41, 143–150 (2016).

27.

Bonica, A. Mapping the ideological marketplace. Am. J. Political Sci. 58, 367–386 (2014).

28.

Huckfeldt, R. & Sprague, J. Networks in context: the social flow of political information. Am. Political Sci. Rev. 81, 1197–1216 (1987).

29.

Zaller, J. R. The Nature and Origins of Mass Opinion (Cambridge Univ. Press, 1992).

30.

Converse, P. E. in Ideology and Discontent (ed. Apter, D. E.) 206–261 (Free Press, 1964).

31.

Verba, S., Schlozman, K. L. & Brady, H. E. Voice and Equality: Civic Voluntarism in American Politics (Harvard Univ. Press, 1995).

32.

Enos, R. D. & Gidron, N. Intergroup behavioral strategies as contextually determined: experimental evidence from Israel. J. Politics 78, 851–867 (2016).

33.

Cramer, K. J. The Politics of Resentment: Rural Consciousness in Wisconsin and the Rise of Scott Walker (Univ. Chicago Press, 2016).

34.

Schelling, T. C. Micromotives and Macrobehavior. (Norton, 1971).

35.

Enos, R. D. & Hersh, E. D. Party activists as campaign advertisers: the ground campaign as a principal-agent problem. Am. Political Sci. Rev. 109, 252–278 (2015).

36.

Hersh, E. Hacking the Electorate: How Campaigns Perceive Voters. (Cambridge Univ. Press, 2015).

37.

Niemeyer, G. Tips & tricks. Geohash.org http://geohash.org/site/tips.html (2008).

38.

Reardon, S. F. & O'Sullivan, D. Measures of spatial segregation. Sociological Methodol. 34, 121–162 (2004).

39.

Massey, D. S. & Denton, N. A. The dimensions of residential segregation. Soc. Forces 67, 281–315 (1988).

40.

White, M. J. The measurement of spatial segregation. Am. J. Sociol. 88, 1008–1018 (1983).

41.

Rodden, J. A.Why Cities Lose: The Deep Roots of the Urban–Rural Political Divide (Basic Books, 2019).

42.

Keith, B. E. et al. The Myth of the Independent Voter (Univ. California Press, 1992).

43.

Magleby, D., Nelson, C. & Westlye, M. in Facing the Challenge of Democracy: Explorations in the Analysis of Public Opinion and Political Participation (eds Sniderman, P. M. & Hifhton, B.) 238–263 (Princeton Univ. Press, 2011).

44.

Hawkins, C. B. & Nosek, B. A. Motivated independence? Implicit party identity predicts political judgments among self-proclaimed independents. Personal. Soc. Psychol. Bull. 38, 1437–1452 (2012).

45.

Klar, S. & Krupnikov, Y. Independent Politics (Cambridge Univ. Press, 2016).

46.

Enos, R. D. What the demolition of public housing teaches us about the impact of racial threat on political behavior. Am. J. Political Sci. 60, 123–142 (2016).

47.

Imai, K. & Khanna, K. Improving ecological inference by predicting individual ethnicity from voter registration records. Political Anal. 24, 263–272 (2016).

48.

Converse, P. E. in Elections and the Political Order (eds Campbell, A., et al.) 9–39 (Wiley, 1966).

49.

Ansolabehere, S. & Snyder, J. M. Jr The incumbency advantage in US elections: an analysis of state and federal offices, 1942–2000. Elect. Law J. 1, 315–338 (2002).

50.

Oakes, P. in Rediscovering the Social Group: A Self-categorization Theory (eds Turner, J. C. et al.) 117–141 (Blackwell, 1987).

51.

Farley, R., Steeh, C., Krysan, M., Jackson, T. & Reeves, K. Stereotypes and segregation: neighborhoods in the Detroit area. Am. J. Sociol. 100, 750–780 (1994).

52.

Mummolo, J. & Nall, C. Why partisans do not sort: the constraints on political segregation. J. Politics 79, 45–59 (2017).

53.

Hetherington, M. & Weiler, J. Prius Or Pickup? How the Answers to Four Simple Questions Explain America's Great Divide (Houghton Mifflin, 2018).
Acknowledgements
The authors received no specific funding for this work. We thank B. Lewis and D. Kakkar at the Harvard Center for Geographic Analysis, the Harvard MIT Data Center, and A. Dagonel for research assistance; M. Schwenzfeier and J. Rodden for advice on research design; A. Agadjanian for help making sense of the precinct data; N. Cohn for providing survey data on the age distribution of voters in Wisconsin; and seminar participants at the University of Pittsburgh, New York University, Northeastern University, Princeton University, Brown University, University of Massachusetts at Amherst and Harvard University.
Ethics declarations
Competing interests
The authors declare no competing interests.
Additional information
Peer review information Nature Human Behaviour thanks M. Keith Chen and the other, anonymous, reviewer(s) for their contribution to the peer review of this work. Primary Handling Editor: Aisha Bradshaw.
Publisher's note Springer Nature remains neutral with regard to jurisdictional claims in published maps and institutional affiliations.
Supplementary information
Supplementary Methods, Supplementary Results, Supplementary Figs. 1–27, Supplementary Tables 1–20 and Supplementary References.
About this article
Cite this article
Brown, J.R., Enos, R.D. The measurement of partisan sorting for 180 million voters. Nat Hum Behav (2021). https://doi.org/10.1038/s41562-021-01066-z
Received:

Accepted:

Published: