Twitter announced on 18 June 2019 that it would remove the precise geotagging feature in tweets. In addition to protecting the location privacy of users, this change also affects human behaviour studies based on geotagged tweets. We discuss the potential impact of Twitter's decision and how researchers can respond to this change.
Access options
Subscribe to Journal
Get full journal access for 1 year
$119.00
only $9.92 per issue
All prices are NET prices.
VAT will be added later in the checkout.
Tax calculation will be finalised during checkout.
Rent or Buy article
Get time limited or full article access on ReadCube.
from$8.99
All prices are NET prices.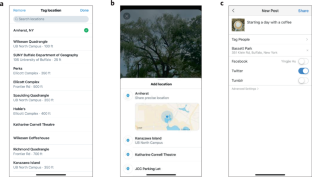 References
1.

Huang, B. & Carley, K.M. in Proc. of Int. Conf. on Adv. Soc. Netw. Anal. Min. (eds Spezzano, F., Chen, W. & Xiao, X.) 365–373 (IEEE/ACM, 2019).

2.

Crooks, A., Croitoru, A., Stefanidis, A. & Radzikowski, J. Trans. GIS 17, 124–147 (2013).

3.

Padmanabhan, A. et al. Concurr. Comput. 26, 2253–2265 (2014).

4.

Rashidi, T. H., Abbasi, A., Maghrebi, M., Hasan, S. & Waller, T. S. Transp. Res., Part C Emerg. Technol. 75, 197–211 (2017).

5.

Hobbs, W. & Lajevardi, N. Am. Polit. Sci. Rev. 113, 270–276 (2019).

6.

Dahal, B., Kumar, S. A. & Li, Z. Soc. Netw. Anal. Min. 9, 24 (2019).

7.

Sloan, L. et al. Sociol. Res. Online 18, 74–84 (2013).

8.

Keßler, C. & McKenzie, G. Trans. GIS 22, 3–19 (2018).

9.

Phillips, N.E., Levy, B.L., Sampson, R.J., Small, M.L. & Wang, R.Q. Socio. Meth. Res. https://doi.org/10.1177/0049124119852386 (2019).

10.

Wallgrün, J. O., Karimzadeh, M., MacEachren, A. M. & Pezanowski, S. Int. J. Geogr. Inf. Sci. 32, 1–29 (2018).
Ethics declarations
Competing interests
The authors declare no competing interests.
About this article
Cite this article
Hu, Y., Wang, RQ. Understanding the removal of precise geotagging in tweets. Nat Hum Behav 4, 1219–1221 (2020). https://doi.org/10.1038/s41562-020-00949-x