Abstract
For many years, scientists have studied culture by comparing societies, regions or social groups within a single point in time. However, culture is always changing, and this change affects the evolution of cognitive processes and behavioural practices across and within societies. Studies have now documented historical changes in sexism1, individualism2,3, language use4 and music preferences5 within the United States and around the world6. Here we build on these efforts by examining changes in cultural tightness–looseness (the strength of cultural norms and tolerance for deviance) over time, using the United States as a case study. We first develop a new linguistic measure to measure historical changes in tightness–looseness. Analyses show that America grew progressively less tight (i.e., looser) from 1800 to 2000. We next examine how changes in tightness–looseness relate to four indicators of societal order: debt (adjusted for inflation), adolescent pregnancies, crime, and high school attendance, as well as four indicators of creative output: registered patents, trademarks, feature films produced, and baby-naming conformity. We find that cultural tightness correlates negatively with each measure of creativity, and correlates positively with three out of four measures of societal order (fewer adolescent pregnancies, less debt and higher levels of school attendance). These findings imply that the historical loosening of American culture was associated with a trade-off between higher creativity but lower order.
Relevant articles
Open Access articles citing this article.
Alexandra S. Wormley

,

Jung Yul Kwon

…

Michael E. W. Varnum

Scientific Data Open Access 11 October 2022

Sifan Hu

,

Yu Cheng

…

Tien Ming Lee

Ambio Open Access 28 December 2021
Access options
Subscribe to Nature+
Get immediate online access to Nature and 55 other Nature journal
Subscribe to Journal
Get full journal access for 1 year
$119.00
only $9.92 per issue
All prices are NET prices.
VAT will be added later in the checkout.
Tax calculation will be finalised during checkout.
Buy article
Get time limited or full article access on ReadCube.
$32.00
All prices are NET prices.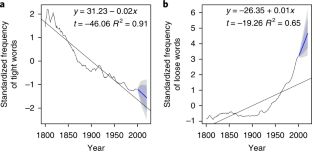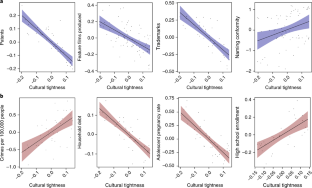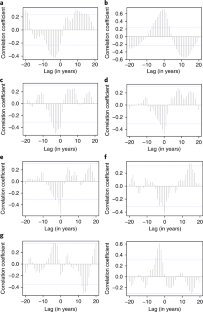 Code availability
The R code for these analyses—and all other analyses in the paper—is publicly available at https://osf.io/x2uzn/.
References
Varnum, M. E. W. & Grossmann, I. Pathogen prevalence is associated with cultural changes in gender equality. Nat. Human Behav. 1, 0003 (2016).

Greenfield, P. M. The changing psychology of culture from 1800 through 2000. Psychol. Sci. 24, 1722–1731 (2013).

Grossmann, I. & Varnum, M. E. W. Social structure, infectious diseases, disasters, secularism, and cultural change in America. Psychol. Sci. 26, 311–324 (2015).

Akpinar, E. & Berger, J. Drivers of cultural success: the case of sensory metaphors. J. Pers. Soc. Psychol. 109, 20–34 (2015).

Berger, J. & Packard, G. Are atypical things more popular?. Psychol. Sci. 29, 1178–1184 (2018).

Santos, H. C., Varnum, M. E. & Grossmann, I. Global increases in individualism. Psychol. Sci. 28, 1228–1239 (2017).

Pelto, P. J. The differences between "tight" and "loose" societies. Trans Action 5, 37–40 (1968).

Gelfand, M. J. et al. Differences between tight and loose cultures: a 33-nation study. Science 332, 1100–1104 (2011).

Harrington, J. R. & Gelfand, M. J. Tightness–looseness across the 50 united states. Proc. Natl Acad. Sci. USA 111, 7990–7995 (2014).

Gelfand, M. J., Nishii, L. H. & Raver, J. L. On the nature and importance of cultural tightness–looseness. J. Appl. Psychol. 91, 1225–1244 (2006).

Finan, C. M. From the Palmer Raids to the Patriot Act: A History of the Fight for Free Speech in America (Beacon, Boston, 2007).

Wolfson, E. Why Marriage Matters: America, Equality, and Gay People's Right to Marry (Simon and Schuster, New York, 2007).

West, E. M. The right to religion-based exemptions in early America: the case of conscientious objectors to conscription. J. Law Relig. 10, 367–401 (1993).

Clemente, D. Dress Casual: How College Students redefined American Style (UNC Books, Chapel Hill, NC, USA, 2014).

Ferree, M. M., & Hess, B. Controversy and Coalition: The new Feminist Movement across Four Decades of Change (Routledge, New York, 2002).

Zinn, H. A People's History of the United States: 1492–Present (Routledge, London, 2015).

Chua, R. Y., Roth, Y. & Lemoine, J. F. The impact of culture on creativity: how cultural tightness and cultural distance affect global innovation crowdsourcing work. Adm. Sci. Q. 60, 189–227 (2015).

Mu, Y., Kitayama, S., Han, S. & Gelfand, M. J. How culture gets embrained: cultural differences in event-related potentials of social norm violations. Proc. Natl Acad. Sci. USA 112, 15348–15353 (2015).

Mikolov, T., Deoras, A., Povey, D., Burget, L. & Cernocky, J. Strategies for training large scale neural network language models. In Proc. Automatic Speech Recognition and Understanding 196–201 (2011).

Hamilton, W. L., Leskovec, J. & Jurafsky, D. Diachronic word embeddings reveal statistical laws of semantic change. Preprint at ArXiv https://arxiv.org/abs/1605.09096 (2016).

Klingenstein, S., Hitchcock, T. & DeDeo, S. The civilizing process in London's Old Bailey. Proc. Natl Acad. Sci. USA 111, 9419–9424 (2014).

Michel, J.-B. et al. Quantitative analysis of culture using millions of digitized books. Science 331, 176–182 (2011).

Pechenick, E. A., Danforth, C. M. & Dodds, P. S. Characterizing the Google Books corpus: strong limits to inferences of socio-cultural and linguistic evolution. PloS One 10, e0137041 (2015).

Weisburd, D. & Eck, J. E. What can police do to reduce crime, disorder, and fear? Ann. Am. Acad. Pol. Soc. Sci. 593, 42–65 (2004).

Gelfand, M. G., Jackson, J. C. & Harrington, J. H. Trump culture: threat, fear, and the tightening of the American mind. Scientific American https://www.scientificamerican.com/article/trump-culture-threat-fear-and-the-tightening-of-the-american-mind/ (2016).

Norenzayan, A. et al. The cultural evolution of prosocial religions. Behav. Brain Sci. 39, E1 (2016).

Baumeister, R. F. & Heatherton, T. F. Self-regulation failure: an overview. Psychol. Inq. 7, 1–15 (1996).

Vohs, K. D. & Faber, R. J. Spent resources: self-regulatory resource availability affects impulse buying. J. Consum. Res. 33, 537–547 (2007).

Baron, S. W. Order, social consequences, and criminal behavior: street youth and the general theory of crime. J. Res. Crime Delinq. 40, 403–425 (2003).

Junger, M. & Tremblay, R. E. Order, accidents, and crime. Crim. Justice Behav. 26, 485–501 (1999).

Tremblay, R. E., Boulerice, B., Arse-Neault, L. & Niscale, M. Does low self‐control during childhood explain the association between delinquency and accidents in early adolescence? Crim. Behav. Ment. Health 5, 439–451 (1995).

Bissell, M. Socio-economic outcomes of teen pregnancy and parenthood: a review of the literature. Can. J. Hum. Sex. 9, 191–204 (2000).

Herold, E. S., Goodwin, M. S. & Lero, D. S. Self-esteem, locus of control, and adolescent contraception. J. Psychol. 101, 83–88 (1979).

Gilhooly, K. J., Fioratou, E., Anthony, S. H. & Wynn, V. Divergent thinking: strategies and executive involvement in generating novel uses for familiar objects. Br. J. Psychol. 98, 611–625 (2007).
Acknowledgements
We thank C. Fahmi and A. Veeragandham for research assistance. This study was supported by a National Science Foundation Graduate Research Fellowship to J.C.J., a Thomas S. and Caroline H. Royster Fellowship to J.C.J. and a Humboldt Foundation grant to M.G. No funding agency was involved in the conceptualization, design, data collection, analysis, decision to publish, or preparation of this manuscript, and the views expressed in this manuscript do not necessarily reflect the views of our funding agencies. Language used in this paper does not reflect the opinions of the authors, the funders or Nature Human Behaviour.
Ethics declarations
Competing interests
The authors declare no competing interests.
Additional information
Publisher's note: Springer Nature remains neutral with regard to jurisdictional claims in published maps and institutional affiliations.
Supplementary information
Supplementary Discussion, Supplementary Tables 1–7, Supplementary Fig. 1, and Supplementary References 1–23
About this article
Cite this article
Jackson, J.C., Gelfand, M., De, S. et al. The loosening of American culture over 200 years is associated with a creativity–order trade-off. Nat Hum Behav 3, 244–250 (2019). https://doi.org/10.1038/s41562-018-0516-z
Received:

Accepted:

Published:

Issue Date:

DOI: https://doi.org/10.1038/s41562-018-0516-z
This article is cited by
Alexandra S. Wormley
Jung Yul Kwon
Michael E. W. Varnum

Scientific Data (2022)

Sifan Hu
Yu Cheng
Tien Ming Lee

Ambio (2022)

Nature Human Behaviour (2019)