Performance data is dominating education policy, with many researchers and policymakers convinced that a data-based approach results in improved performance. The implications of this should be questioned by the research community to promote debate and consideration of choices excluded by data dependency.
Access options
Subscribe to Journal
Get full journal access for 1 year
$119.00
only $9.92 per issue
All prices are NET prices.
VAT will be added later in the checkout.
Tax calculation will be finalised during checkout.
Rent or Buy article
Get time limited or full article access on ReadCube.
from$8.99
All prices are NET prices.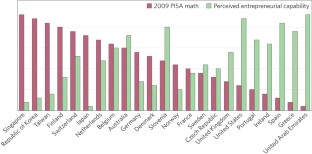 References
1

Molla, T. in Governing Knowledge: Comparison, Knowledge-based Technologies and Expertise in the Regulation of Education (eds Fenwick, T., Mangez, E. & Ozga, J. ) 75–86 (World Yearbook of Education 2014, Routledge, 2014).

2

Piattoeva, N. J. Educ. Policy 30, 316–334 (2014).

3

Finn, M. Cult. Geogr. 23, 29–49 (2016).

4

Koyama, J. & Menken, K. Biling. Res. J. 36, 82–99 (2013).

5

Selwyn, N. Learn. Media Technol. 40, 64–82 (2014).

6

Lawn, M. & Ozga, J. The Sleep of Reason Breeds Monsters: Data and Education Governance in England CES Briefing No. 52 (Centre for Educational Sociology, 2009).

7

Grek, S. & Lindgren, J. (eds) Governing by Inspection (Routledge, 2015).

8

Carvalho, L. M. EERJ 11, 172–189 (2012).

9

Carney, S., Rapplye, J. & Silova, I. Comp. Educ. Rev. 56, 366–393 (2012).

10

Ozga, J., Dahler-Larsen, P., Segerholm, C., Simola, H. (eds) Fabricating Quality in Education: Data and Governance in Europe (Routledge, 2011).

11

Zhao, Y. World Class Learners: Educating Creative and Entrepreneurial Students (Corwin, 2012).
About this article
Cite this article
Ozga, J. Education policy should not be driven by performance data. Nat Hum Behav 1, 0014 (2017). https://doi.org/10.1038/s41562-016-0014