Abstract
Megathrust earthquakes release and transfer stress that has accumulated over hundreds of years, leading to large aftershocks that can be highly destructive. Understanding the spatiotemporal pattern of megathrust aftershocks is key to mitigating the seismic hazard. However, conflicting observations show aftershocks concentrated either along the rupture surface itself, along its periphery or well beyond it, and they can persist for a few years to decades. Here we present aftershock data following the four largest megathrust earthquakes since 1960, focusing on the change in seismicity rate following the best-recorded 2011 Tohoku earthquake, which shows an initially high aftershock rate on the rupture surface that quickly shuts down, while a zone up to ten times larger forms a ring of enhanced seismicity around it. We find that the aftershock pattern of Tohoku and the three other megathrusts can be explained by rate and state Coulomb stress transfer. We suggest that the shutdown in seismicity in the rupture zone may persist for centuries, leaving seismicity gaps that can be used to identify prehistoric megathrust events. In contrast, the seismicity of the surrounding area decays over 4–6 decades, increasing the seismic hazard after a megathrust earthquake.
This is a preview of subscription content
Access options
Subscribe to Nature+
Get immediate online access to the entire Nature family of 50+ journals
Subscribe to Journal
Get full journal access for 1 year
$99.00
only $8.25 per issue
All prices are NET prices.
VAT will be added later in the checkout.
Tax calculation will be finalised during checkout.
Buy article
Get time limited or full article access on ReadCube.
$32.00
All prices are NET prices.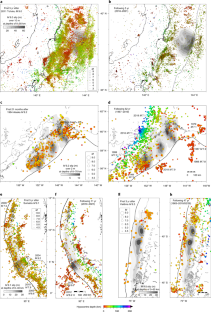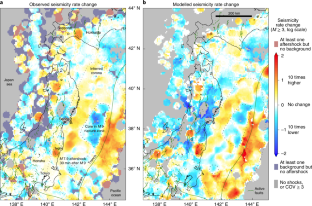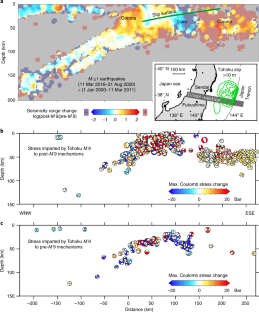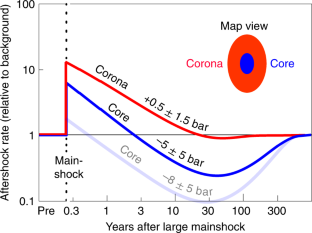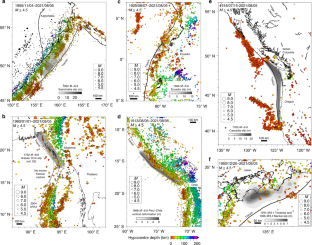 Data availability
We used the USGS ANSS catalogue (https://earthquake.usgs.gov/earthquakes/search/), the JMA catalogue (https://www.data.jma.go.jp/svd/eqev/data/daily_map/index.html and https://www.data.jma.go.jp/svd/eqev/data/bulletin/eqdoc.html) and the NIED F-net focal mechanism catalogue (https://www.fnet.bosai.go.jp/event/search). We also used a published 1960 Chile earthquake catalogue25, and a published 1960–1966 Alaska earthquake catalogue43. All seismic slip ('finite fault') models are published and cited; those also available from http://equake-rc.info/SRCMOD/searchmodels/allevents/ include the 2003 Tokachi-oki57 and 2011 Tohoku58 earthquakes (used for Coulomb calculations) and 1944 Tonankai53, 1946 Nankai53 and 2010 Maule59 (used for display in figures). Seismic slip models available only from publications include the 1700 M ~9.0 Cascadia52, 1762 M ~8.8 Arakan49, 1868 M ~9.0 Arica, Peru–Chile51, 1906 M ~8.8 Ecuador50, 1952 Kamchatka48, 1960 Valdivia24, 1964 Prince William Sound44 and 2004 Sumatra45 earthquakes. Source data are provided with this paper.
References
Ryder, I. et al. Large extensional aftershocks in the continental forearc triggered by the 2010 Maule earthquake, Chile. Geophys. J. Int. 188, 879–890 (2012).

Kato, A. & Igarashi, T. Regional extent of the large coseismic slip zone of the 2011 Mw 9.0 Tohoku-oki earthquake delineated by on-fault aftershocks. Geophys. Res. Lett. 39, L15301 (2012).

Henry, C. & Das, S. Aftershock zones of large shallow earthquakes: fault dimensions, aftershock area expansion and scaling relations. Geophys. J. Int. 147, 272–293 (2001).

Kanamori, H. Rupture processes of subduction-zone. Annu. Rev. Earth Planet Sci. 14, 293–322 (1986).

Rietbrock, A. et al. Aftershock seismicity of the 2010 Maule Mw = 8.8, Chile, earthquake: correlation between co-seismic slip models and aftershock distribution? Geophys. Res. Lett. 39, L08310 (2012).

Bilek, S. L. & Lay, T. Subduction zone megathrust earthquakes. Geosphere 14, 1468–1500 (2018).

Lengliné, O., Enescu, B., Peng, Z. & Shiomi, K. Decay and expansion of the early aftershock activity following the 2011, Mw9.0 Tohoku earthquake. Geophys. Res. Lett. 39, L18309 (2012).

Thatcher, W. Order and diversity in the modes of circum-Pacific earthquake recurrence. J. Geophys. Res. 95, 2609–2623 (1990).

Woessner, J., Schorlemmer, D., Wiemer, S. & Mai, P. M. Spatial correlation of aftershock locations and on-fault main shock properties. J. Geophys. Res. 111, B08301 (2006).

Wetzler, N., Lay, T., Brodsky, E. E. & Kanamori, H. Systematic deficiency of aftershocks in areas of high coseismic slip for large subduction zone earthquakes. Sci. Adv. 4, eaao3225 (2018).

Parsons, T. Global Omori law decay of triggered earthquakes: large aftershocks outside the classical aftershock zone. J. Geophys. Res. 107, 2199 (2002).

Hainzl, S., Christophersen, A., Rhoades, D. & Harte, D. Statistical estimation of the duration of aftershock sequences. Geophys. J. Int. 205, 1180–1189 (2016).

Lay, T., Astiz, L., Kanamori, H. & Christensen, D. H. Temporal variation of large intraplate earthquakes in coupled subduction zones. Phys. Earth Planet. Int. 54, 258–312 (1989).

Ogata, Y. Space–time point-process models for earthquake occurrences. Ann. Inst. Stat. Math. 50, 379–402 (1998).

Stein, R. S. The role of stress transfer in earthquake occurrence. Nature 402, 605–609 (1999).

Harris, R. A. & Simpson, R. W. Suppression of large earthquakes by stress shadows: a comparison of Coulomb and rate-and-state failure. J. Geophys. Res. 103, 24439–24451 (1998).

Toda, S., Stein, R. S., Beroza, G. & Marsan, D. Aftershocks halted by static stress shadows. Nat. Geosci. 5, 410–413 (2012).

Woessner, J. & Wiemer, S. Assessing the quality of earthquake catalogues: estimating the magnitude of completeness and its uncertainty. Bull. Seismol. Soc. Am. 95, 684–698 (2005).

Iinuma, T. et al. Coseismic slip distribution of the 2011 off the Pacific Coast of Tohoku Earthquake (M9.0) refined by means of seafloor geodetic data. J. Geophys. Res. 117, B07409 (2012).

Lin, J. & Stein, R. S. Stress triggering in thrust and subduction earthquakes and stress interaction between the southern San Andreas and nearby thrust and strike–slip faults. J. Geophys. Res. 109, B02303 (2004).

Dieterich, J. H. A constitutive law for the rate of earthquake production and its application to earthquake clustering. J. Geophys. Res. 99, 2601–2618 (1994).

Hardebeck, J. L., Nazareth, J. J. & Hauksson, E. The static stress change triggering model: constraints from two southern California aftershock sequences. J. Geophys. Res. 103, 24427–24437 (1998).

Helmstetter, A. & Shaw, B. E. Relation between stress heterogeneity and aftershock rate in the rate-and-state model. J. Geophys. Res. 111, B07304 (2006).

Barrientos, S. E. & Ward, S. N. The 1960 Chile earthquake: inversion for slip distribution from surface deformation. Geophys. J. Int. 103, 589–598 (1990).

Cifuentes, I. L. The 1960 Chilean earthquakes. J. Geophys. Res. 94, 665–680 (1989).

Scholz, C. H. Mechanisms of seismic quiescences. Pure Appl. Geophys. 126, 701–718 (1988).

Mogi, K. Some features of recent seismic activity in and near Japan (2) Activity before and after great earthquakes. Bull. Earthq. Res. Inst. 47, 395–417 (1969).

Schurr, B. et al. Forming a Mogi doughnut in the years prior to and immediately before the 2014 M8.1 Iquique, northern Chile earthquake. Geophys. Res. Lett. 47, e2020GL088351 (2020).

Pollitz, F. F., Stein, R. S., Sevilgen, V. & Bürgmann, R. The 11 April 2012 east Indian Ocean earthquake triggered large aftershocks worldwide. Nature 490, 250–253 (2012).

Freed, A. M. & Lin, J. Accelerated stress buildup on the southern San Andreas fault and surrounding regions caused by Mojave Desert earthquakes. Geology 30, 571–574 (2002).

Bürgmann, R., Uchida, N., Hu, Y. & Matsuzawa, T. Tohoku rupture reloaded? Nat. Geosci. 9, 183 (2016).

Iinuma, T. et al. Seafloor observations indicate spatial separation of coseismic and postseismic slips in the 2011 Tohoku earthquake. Nat. Commun. 7, 13506 (2016).

Hu, Y. & Wang, T. Spherical-earth finite element model of short-term postseismic deformation following the 2004 Sumatra earthquake. J. Geophys. Res. 117, B0504 (2012).

Baba, T., Hirata, K., Hori & Sakaguchi, H. Offshore geodetic data conducive to the estimation of the afterslip distribution following the 2003 Tokachi-oki earthquake. Earth Planet. Sci. Lett. 241, 281–292 (2006).

Neo, J. C., Huang, Y., Yao, D. & Wei, S. Is the aftershock zone area a good proxy for the mainshock rupture area? Bull. Seismol. Soc. Am. 111, 424–438 (2020).

McCann W. R., Nishenko S. P., Sykes L. R. & Krause, J. in Earthquake Prediction and Seismicity Patterns. Contributions to Current Research in Geophysics (ed. Wyss, M.) 1082-1147 (Birkhäuser, 1979).

Toda, S. & Stein, R. S. Recent large Japan quakes are aftershocks of the 2011 Tohoku earthquake. Temblor https://doi.org/10.32858/temblor.175 (2021).

Wang, K. & Bilek, S. L. Invited review paper: Fault creep caused by subduction of rough seafloor relief. Tectonophysics 610, 1–24 (2014).

Obana, K. et al. Earthquake activity in northern Cascadia subduction zone off Vancouver Island revealed by ocean‐bottom seismograph observations. Bull. Seismol. Soc. Am. 105, 489–495 (2014).

Gomberg, J. & Bodin, P. The productivity of Cascadia aftershock sequences. Bull. Seismol. Soc. Am. 111, 1494–1507 (2021).

Lutikov, A. I., Rogozhin, E. A., Dontsova, G., Yu & Zhukovets, V. N. The Mw 7.8 earthquake of July 17, 2017 off the Commander Islands and other large earthquakes at the western segment of the Aleutian Island Arc. J. Volcanol. Seismol. 13, 112–123 (2019).

Okal, E. A. & Synolakis, C. E. Far-field tsunami hazard from mega-thrust earthquakes in the Indian Ocean. Geophys. J. Int. 172, 995–1015 (2008).

Page, R. Aftershocks and microaftershocks of the great Alaska earthquake of 1964. Bull. Seismol. Soc. Am. 58, 1131–1168 (1968).

Ichinose, G., Somerville, P., Thio, H. K., Graves, R. & O'Connell, D. Rupture process of the 1964 Prince William Sound, Alaska, earthquake from the combined inversion of seismic, tsunami, and geodetic data. J. Geophys. Res. 112, B07306 (2007).

Banerjee, P., Pollitz, F., Nagarajan, B. & Bürgmann, R. Coseismic slip distributions of the 26 December 2004 Sumatra–Andaman and 28 March 2005 Nias earthquakes from GPS static offsets. Bull. Seismol. Soc. Am. 97, S86–S102 (2007).

Tajima, F., Mori, J. & Kennett, B. L. N. A review of the 2011 Tohoku-oki earthquake (Mw 9.0): large-scale rupture across heterogeneous plate coupling. Tectonophysics 586, 15–34 (2013).

Obana, K. et al. Seismic velocity structure and its implications for oceanic mantle hydration in the trench—outer rise of the Japan Trench. Geophys. J. Int. 217, 1629–1642 (2019).

MacInnes, B. T., Weiss, R., Bourgeois, J. & Pinegina, T. K. Slip distribution of the 1952 Kamchatka great earthquake based on near-field tsunami deposits and historical records. Bull. Seismol. Soc. Am. 100, 1695–1709 (2010).

Cummins, P. R. The potential for giant tsunamigenic earthquakes in the northern Bay of Bengal. Nature 449, 75–78 (2007).

Yoshimoto, M. et al. Depth-dependent rupture mode along the Ecuador–Colombia subduction zone. Geophys. Res. Lett. 44, 2203–2210 (2017).

Okal, E. A., Borrero, J. C. & Synolakis, C. E. Evaluation of tsunami risk from regional earthquakes at Pisco, Peru. Bull. Seismol. Soc. Am. 96, 1634–1648 (2006).

Wang, K. & Trehu, A. M. Invited review paper: Some outstanding issues in the study of great megathrust earthquakes—the Cascadia example. J. Geodyn. 98, 1–18 (2016).

Sagiya, T. & Thatcher, W. Coseismic slip resolution along a plate boundary megathrust: the Nankai Trough, southwest Japan. J. Geophys. Res. 104, 1111–1129 (1999).

Wells, D. & Coppersmith, K. J. New empirical relationships among magnitude, rupture length, rupture width, rupture area, and surface displacement. Bull. Seismol. Soc. Am. 84, 974–1002 (1994).

Toda, S., Stein, R. S., Richards-Dinger, K. & Bozkurt, S. B. Forecasting the evolution of seismicity in southern California: animations built on earthquake stress transfer. J. Geophys. Res. 110, B05S16 (2005).

Toda, S. & Stein, R. S. Long- and short-term stress interaction of the 2019 Ridgecrest sequence and Coulomb-based earthquake forecasts. Bull. Seismol. Soc. Am. 110, 1765–1780 (2020).

Yagi, Y. Source rupture process of the 2003 Tokachi-oki earthquake determined by joint inversion of teleseismic body wave and strong ground motion data. Earth Planets Space 56, 311–316 (2004).

Ide, S., Baltay, A. & Beroza, G. C. Shallow dynamic overshoot and energetic deep rupture in the 2011 Mw 9.0 Tohoku-oki earthquake. Science 332, 1426–1429 (2011).

Lorito, S. et al. Limited overlap between the seismic gap and coseismic slip of the great 2010 Chile earthquake. Nat. Geosci. 4, 173–177 (2011).

Toda, S., Stein, R. S., Sevilgen, V. & Lin, J. Coulomb 3.3, Graphic-Rich Deformation and Stress Change Software for Earthquake, Tectonic, and Volcano Research and Teaching—User Guide Open-File Report 2011-1060 (USGS, 2011).

Lin, Y.-N. N. et al. Coseismic and postseismic slip associated with the 2010 Maule earthquake, Chile: characterizing the Arauco Peninsula barrier effect. J. Geophys. Res. 118, 3142–3159 (2013).

Lobkovsky, L. I. et al. The Komandor seismic gap: earthquake prediction and tsunami computation. Oceanology 54, 519–531 (2014).

Byrne, D. E., Sykes, L. R. & Davis, D. M. Great thrust earthquakes and aseismic slip along the plate boundary of the Makran Subduction Zone. J. Geophys. Res. 97, 449–478 (1992).

Yeats, R. S. Active Faults of the World 332–334 (Cambridge Univ. Press, 2012).
Acknowledgements
We thank C. Scholz, T. Parsons and W. Thatcher for insightful comments on the manuscript. We gratefully acknowledge support from the SBIR programme of the US National Science Foundation (R.S.S.) and the WTW Research Network (R.S.S.). The funders were provided with the manuscript upon submission, but had no role in study design, data collection and analysis, decision to publish or preparation of the manuscript.
Ethics declarations
Competing interests
The authors declare no competing interests.
Peer review
Peer review information
Nature Geoscience thanks Lingling Ye, Olaf Zielke and the other, anonymous, reviewer(s) for their contribution to the peer review of this work. Primary Handling Editor: Louise Hawkins, in collaboration with the Nature Geoscience team.
Additional information
Publisher's note Springer Nature remains neutral with regard to jurisdictional claims in published maps and institutional affiliations.
About this article
Cite this article
Toda, S., Stein, R.S. Central shutdown and surrounding activation of aftershocks from megathrust earthquake stress transfer. Nat. Geosci. 15, 494–500 (2022). https://doi.org/10.1038/s41561-022-00954-x
Received:

Accepted:

Published:

Issue Date:

DOI: https://doi.org/10.1038/s41561-022-00954-x