The remaining carbon budget consistent with limiting warming to 1.5 °C allows 20 more years of current emissions according to one study, but is already exhausted according to another. Both are defensible. We need to move on from a unique carbon budget, and face the nuances.
Access options
Subscribe to Journal
Get full journal access for 1 year
$99.00
only $8.25 per issue
All prices are NET prices.
VAT will be added later in the checkout.
Tax calculation will be finalised during checkout.
Rent or Buy article
Get time limited or full article access on ReadCube.
from$8.99
All prices are NET prices.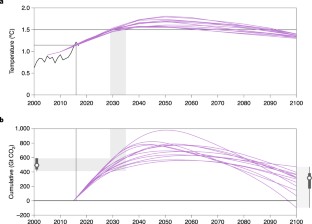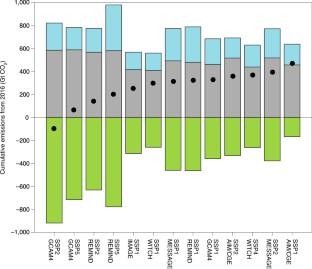 References
1.

Millar, R. J. et al. Nat. Geosci. 10, 741–747 (2017).

2.

Goodwin, P. et al. Nat. Geosci. 11, 102–107 (2018).

3.

Tokarska, K. B. & Gillett, N. P. Nat. Clim. Change 8, 296–299 (2018).

4.

IPCC Climate Change 2014: Synthesis Report (eds Core Writing Team, Pachauri, R. K. & Meyer, L. A.) (IPCC, 2014).

5.

Rogelj, J. et al. Nature 534, 631–639 (2016).

6.

Rogelj, J. et al. Nat. Clim. Change 8, 325–332 (2018).

7.

Geden, O. Nat. Geosci. https://doi.org/10.1038/s41561-018-0143-3 (2018).

8.

Allen, M. R. et al. Nature 458, 1163–1166 (2009).

9.

Peters, G. P. Nat. Clim. Change 6, 646–649 (2016).

10.

Rogelj, J. et al. Nat. Clim. Change 6, 245–252 (2016).

11.

Friedlingstein, P. et al. J. Clim. 19, 3337–3353 (2006).

12.

Jones, C. et al. J. Clim. 26, 4398–4413 (2013).

13.

Meinshausen, M., Raper, S. C. B. & Wigley, T. M. L. Atmos. Chem. Phys. 11, 1417–1456 (2011).

14.

Geden, O. & Löschel, A. Nat. Geosci. 10, 881–882 (2017).

15.

Schurer, A. P., Mann, M. E., Hawkins, E., Tett, S. F. B. & Hegerl, G. C. Nat. Clim. Change 7, 563 (2017).

16.

Hawkins, E. et al. Bull. Am. Met. Soc. 98, 1841–1856 (2017).

17.

Schurer, A. P. et al. Nat. Geosci. 11, 220–221 (2018).

18.

Millar, R. J. et al. Reply to 'Interpretations of the Paris climate target'. Nat. Geosci. 11, 222–222 (2018).

19.

van Vuuren, D. P. et al. Clim. Change 109, 95–116 (2011).

20.

van Vuuren, D. P. et al. Nat. Clim. Change https://doi.org/10.1038/s41558-018-0119-8 (2018).

21.

Shindell, D. et al. Science 335, 183–189 (2012).

22.

Geden, O. Nat. Geosci. 9, 340–342 (2016).

23.

Peters, G. P., Andrew, R. M., Solomon, S. & Friedlingstein, P. Environ. Res. Lett. 10, 105004 (2015).

24.

Tanaka, K. & O'Neill, B. C. Nat. Clim. Change 8, 319–324 (2018).

25.

Robiou du Pont, Y. et al. Nat. Clim. Change 7, 38–43 (2016).

26.

Meinshausen, M. et al. Clim. Change 109, 213–241 (2011).

27.

Hansen, J., Ruedy, R., Sato, M. & Lo, K. Rev. Geophys. 48, RG4004 (2010).

28.

GISS Surface Temperature Analysis (GISTEMP) (NASA GISS, accessed 27 March 2018); https://data.giss.nasa.gov/gistemp/
About this article
Cite this article
Peters, G.P. Beyond carbon budgets. Nature Geosci 11, 378–380 (2018). https://doi.org/10.1038/s41561-018-0142-4