Experimental data reveal that Earth's mantle melts more readily than previously thought, and may have remained mushy until two to three billion years ago.
Access options
Subscribe to Journal
Get full journal access for 1 year
$99.00
only $8.25 per issue
All prices are NET prices.
VAT will be added later in the checkout.
Tax calculation will be finalised during checkout.
Rent or Buy article
Get time limited or full article access on ReadCube.
from$8.99
All prices are NET prices.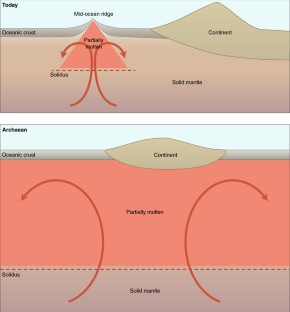 References
1.

Andrault, D. et al. Nat. Geosci. https://doi.org/10.1038/s41561-017-0053-9 (2018).

2.

Iwamori, H., McKenzie, D. & Takahashic, E. Earth Planet. Sci. Lett. 134, 253–266 (1995).

3.

Herzberg, C., Raterron, P. & Zhang, J. Geochem. Geophys. Geosyst. 1, 1051 (2000).

4.

O'Neill, C., Lenardic, A. & Condie, K. C. Geol. Soc. Lond. Spec. Publ. 389, 17–40 (2013).

5.

Hirschmann, M. M., Asimow, P. D., Ghiorso, M. S. & Stolper, E. M. J. Petrol. 40, 831–851 (1999).
About this article
Cite this article
Parman, S. An Archaean mushy mantle. Nature Geosci 11, 85–86 (2018). https://doi.org/10.1038/s41561-018-0060-5