Abstract
Factors that drive continental-scale variation in root microbiota and plant adaptation are poorly understood. We monitored root-associated microbial communities in Arabidopsis thaliana and co-occurring grasses at 17 European sites across 3 years. We observed strong geographic structuring of the soil biome, but not of the root microbiota. A few phylogenetically diverse and geographically widespread bacteria consistently colonized plant roots. Among-site and across-year similarity in microbial community composition was stronger for the bacterial root microbiota than for filamentous eukaryotes. In a reciprocal transplant between two A. thaliana populations in Sweden and Italy, we uncoupled soil from location effects and tested their contributions to root microbiota variation and plant adaptation. Community differentiation in plant roots was explained primarily by location for filamentous eukaryotes and by soil origin for bacteria, whereas host genotype effects were marginal. Strong local adaptation between the two A. thaliana populations was observed, with differences in soil properties and microbes of little importance for the observed magnitude of adaptive differentiation. Our results suggest that, across large spatial scales, climate is more important than soil conditions for plant adaptation and variation in root-associated filamentous eukaryotic communities, whereas soil properties are primary drivers of bacterial community differentiation in roots.
Access options
Subscribe to Journal
Get full journal access for 1 year
$99.00
only $8.25 per issue
All prices are NET prices.
VAT will be added later in the checkout.
Rent or Buy article
Get time limited or full article access on ReadCube.
from$8.99
All prices are NET prices.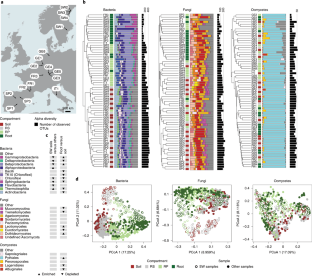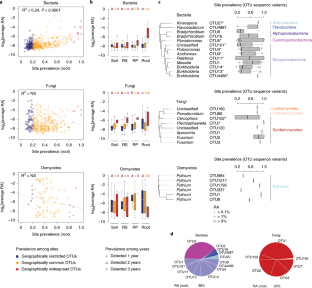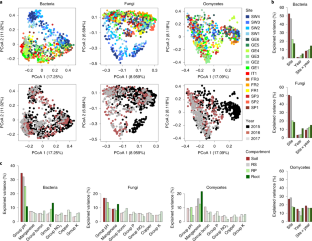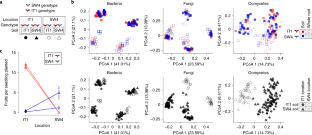 Data availability
Sequencing reads of samples from the European transect experiment and reciprocal transplant experiment (MiSeq 16S rRNA and ITS reads) have been deposited in the European Nucleotide Archive under accession numbers ERP115101 and ERP115102, respectively.
References
1.

Agler, M. T. et al. Microbial hub taxa link host and abiotic factors to plant microbiome variation. PLoS Biol. 14, e1002352 (2016).

2.

Hassani, M. A., Durán, P. & Hacquard, S. Microbial interactions within the plant holobiont. Microbiome 6, 58 (2018).

3.

Durán, P. et al. Microbial interkingdom interactions in roots promote Arabidopsis survival. Cell 175, 973–983.e14 (2018).

4.

Berendsen, R. L., Pieterse, C. M. J. & Bakker, P. A. H. M. The rhizosphere microbiome and plant health. Trends Plant Sci. 17, 478–486 (2012).

5.

Berendsen, R. L. et al. Disease-induced assemblage of a plant-beneficial bacterial consortium. ISME J. 12, 1496–1507 (2018).

6.

Lebeis, S. L. et al. Salicylic acid modulates colonization of the root microbiome by specific bacterial taxa. Science 349, 860–864 (2015).

7.

Haichar, F. et al. Plant host habitat and root exudates shape soil bacterial community structure. ISME J. 2, 1221–1230 (2008).

8.

Stringlis, I. A. et al. MYB72-dependent coumarin exudation shapes root microbiome assembly to promote plant health. Proc. Natl Acad. Sci. USA 115, E5213–E5222 (2018).

9.

Bahram, M. et al. Structure and function of the global topsoil microbiome. Nature 560, 233–237 (2018).

10.

Fierer, N. & Jackson, R. B. The diversity and biogeography of soil bacterial communities. Proc. Natl Acad. Sci. USA 103, 626–631 (2006).

11.

Karimi, B. et al. Biogeography of soil bacteria and archaea across France. Sci. Adv. 4, eaat1808 (2018).

12.

Delgado-Baquerizo, M. et al. Ecological drivers of soil microbial diversity and soil biological networks in the Southern Hemisphere. Ecology 99, 583–596 (2018).

13.

Tedersoo, L. et al. Global diversity and geography of soil fungi. Science 346, 1256688 (2014).

14.

Leimu, R. & Fischer, M. A meta-analysis of local adaptation in plants. PLoS ONE 3, e4010 (2008).

15.

Ågren, J. & Schemske, D. W. Reciprocal transplants demonstrate strong adaptive differentiation of the model organism Arabidopsis thaliana in its native range. New Phytol. 194, 1112–1122 (2012).

16.

Fournier-Level, A. et al. A map of local adaptation in Arabidopsis thaliana. Science 334, 86–89 (2011).

17.

Wadgymar, S. M. et al. Identifying targets and agents of selection: innovative methods to evaluate the processes that contribute to local adaptation. Methods Ecol. Evol. 8, 738–749 (2017).

18.

Brachi, B. et al. Investigation of the geographical scale of adaptive phenological variation and its underlying genetics in Arabidopsis thaliana. Mol. Ecol. 22, 4222–4240 (2013).

19.

Wagner, M. R. et al. Natural soil microbes alter flowering phenology and the intensity of selection on flowering time in a wild Arabidopsis relative. Ecol. Lett. 17, 717–726 (2014).

20.

Panke-Buisse, K., Poole, A. C., Goodrich, J. K., Ley, R. E. & Kao-Kniffin, J. Selection on soil microbiomes reveals reproducible impacts on plant function. ISME J. 9, 980–989 (2015).

21.

Lu, T. et al. Rhizosphere microorganisms can influence the timing of plant flowering. Microbiome 6, 231 (2018).

22.

Robbins, C. et al. Root-associated bacterial and fungal community profiles of Arabidopsis thaliana are robust across contrasting soil P levels. Phytobiomes J. 2, 24–34 (2018).

23.

Fitzpatrick, C. R., Mustafa, Z. & Viliunas, J. Soil microbes alter plant fitness under competition and drought. J. Evol. Biol. 32, 438–445 (2019).

24.

Frachon, L. et al. Intermediate degrees of synergistic pleiotropy drive adaptive evolution in ecological time. Nat. Ecol. Evol. 1, 1551–1561 (2017).

25.

Busoms, S. et al. Salinity is an agent of divergent selection driving local adaptation of Arabidopsis to coastal habitats. Plant Physiol. 168, 915–929 (2015).

26.

Edgar, R. C. UNOISE2: improved error-correction for Illumina 16S and ITS amplicon sequencing. Preprint at bioRxiv https://www.biorxiv.org/content/10.1101/081257v1 (2016).

27.

Glassman, S. I. & Martiny, J. B. H. Broadscale ecological patterns are robust to use of exact sequence variants versus operational taxonomic units. MSphere 3, e00148-18 (2016).

28.

CBOL Plant Working Groupet al. A DNA barcode for land plants. Proc. Natl Acad. Sci. USA 106, 12794–12797 (2009).

29.

Thiergart, T. et al. Lotus japonicus symbiosis genes impact microbial interactions between symbionts and multikingdom commensal communities. mBio 10, e01833 (2019).

30.

Castrillo, G. et al. Root microbiota drive direct integration of phosphate stress and immunity. Nature 543, 513–518 (2017).

31.

Finkel, O. M. et al. The effects of soil phosphorus content on plant microbiota are driven by the plant phosphate starvation response. PLoS Biol. 17, e3000534 (2019).

32.

Chaw, S. M., Chang, C. C., Chen, H. L. & Li, W. H. Dating the monocot–dicot divergence and the origin of core eudicots using whole chloroplast genomes. J. Mol. Evol. 58, 424–441 (2004).

33.

Ågren, J., Oakley, C. G., McKay, J. K., Lovell, J. T. & Schemske, D. W. Genetic mapping of adaptation reveals fitness tradeoffs in Arabidopsis thaliana. Proc. Natl Acad. Sci. USA 110, 21077–21082 (2013).

34.

Schlaeppi, K., Dombrowski, N., Oter, R. G., Ver Loren van Themaat, E. & Schulze-Lefert, P. Quantitative divergence of the bacterial root microbiota in Arabidopsis thaliana relatives. Proc. Natl Acad. Sci. USA 111, 585–592 (2014).

35.

Edwards, J. et al. Structure, variation, and assembly of the root-associated microbiomes of rice. Proc. Natl Acad. Sci. USA 112, E911–E920 (2015).

36.

Fitzpatrick, C. R. et al. Assembly and ecological function of the root microbiome across angiosperm plant species. Proc. Natl Acad. Sci. USA 115, E1157–E1165 (2018).

37.

Yeoh, Y. K. et al. Evolutionary conservation of a core root microbiome across plant phyla along a tropical soil chronosequence. Nat. Commun. 8, 215 (2017).

38.

Xu, L. et al. Drought delays development of the sorghum root microbiome and enriches for monoderm bacteria. Proc. Natl Acad. Sci. USA 115, E4284–E4293 (2018).

39.

Hacquard, S. et al. Microbiota and host nutrition across plant and animal kingdoms. Cell Host Microbe 17, 603–616 (2015).

40.

Levy, A. et al. Genomic features of bacterial adaptation to plants. Nat. Genet. 50, 138–150 (2018).

41.

Karasov, T. L. et al. Arabidopsis thaliana and Pseudomonas pathogens exhibit stable associations over evolutionary timescales. Cell Host Microbe 24, 168–179.e4 (2018).

42.

Kwak, M.-J. et al. Rhizosphere microbiome structure alters to enable wilt resistance in tomato. Nat. Biotechnol. 36, 1100–1109 (2018).

43.

Garrido-Oter, R. et al. Modular traits of the rhizobiales root microbiota and their evolutionary relationship with symbiotic rhizobia. Cell Host Microbe 24, 155–167.e5 (2018).

44.

Poupin, M. J., Timmermann, T., Vega, A., Zuñiga, A. & González, B. Effects of the plant growth-promoting bacterium Burkholderia phytofirmans PsJN throughout the life cycle of Arabidopsis thaliana. PLoS ONE 8, e69435 (2013).

45.

Bai, Y. et al. Functional overlap of the Arabidopsis leaf and root microbiota. Nature 528, 364–369 (2015).

46.

Anderson, L. C. et al. Bacteria and fungi respond differently to multifactorial climate change in a temperate heathland, traced with 13C-glycine and FACE CO2. PLoS ONE 9, e85070 (2014).

47.

Peay, K. G. et al. Convergence and contrast in the community structure of Bacteria, Fungi and Archaea along a tropical elevation–climate gradient. FEMS Microbiol. Ecol. 93, 5 (2017).

48.

Talbot, J. M. et al. Endemism and functional convergence across the North American soil mycobiome. Proc. Natl Acad. Sci. USA 111, 6341–6346 (2014).

49.

Coleman-Derr, D. et al. Plant compartment and biogeography affect microbiome composition in cultivated and native Agave species. New Phytol. 209, 798–811 (2016).

50.

Lundberg, D. S. et al. Defining the core Arabidopsis thaliana root microbiome. Nature 488, 86–90 (2012).

51.

Wagner, M. R. et al. Host genotype and age shape the leaf and root microbiomes of a wild perennial plant. Nat. Commun. 7, 12151 (2016).

52.

Cregger, M. A. et al. The Populus holobiont: dissecting the effects of plant niches and genotype on the microbiome. Microbiome 6, 31 (2018).

53.

Wright, K. M. et al. Adaptation to heavy-metal contaminated environments proceeds via selection on pre-existing genetic variation. Preprint at bioRxiv https://www.biorxiv.org/content/10.1101/029900v2 (2015).

54.

Wright, J. W., Stanton, M. L. & Scherson, R. Local adaptation to serpentine and non-serpentine soils in Collinsia sparsiflora. Evol. Ecol. Res. 8, 1–21 (2006).

55.

Busoms, S. et al. Fluctuating selection on migrant adaptive sodium transporter alleles in coastal Arabidopsis thaliana. Proc. Natl Acad. Sci. USA 115, E12443–E12452 (2018).

56.

Postma, F. M. & Ågren, J. Early life stages contribute strongly to local adaptation in Arabidopsis thaliana. Proc. Natl Acad. Sci. USA 113, 7590–7595 (2016).

57.

Postma, F. M. & Ågren, J. Among-year variation in selection during early life stages and the genetic basis of fitness in Arabidopsis thaliana. Mol. Ecol. 27, 2498–2511 (2018).

58.

Ågren, J., Oakley, C. G., Lundemo, S. & Schemske, D. W. Adaptive divergence in flowering time among natural populations of Arabidopsis thaliana: estimates of selection and QTL mapping. Evolution 71, 550–564 (2017).

59.

Oakley, C. G., Ågren, J., Atchison, R. A. & Schemske, D. W. QTL mapping of freezing tolerance: links to fitness and adaptive trade-offs. Mol. Ecol. 23, 4304–4315 (2014).

60.

Méndez-Vigo, B., Gomaa, N. H., Alonso-Blanco, C. & Picó, F. X. Among- and within-population variation in flowering time of Iberian Arabidopsis thaliana estimated in field and glasshouse conditions. New Phytol. 197, 1332–1343 (2013).

61.

Bartoli, C. et al. In situ relationships between microbiota and potential pathobiota in Arabidopsis thaliana. ISME J. 12, 2024–2038 (2018).

62.

Caporaso, J. G. et al. QIIME allows analysis of high-throughput community sequencing data. Nat. Methods 7, 335–336 (2010).

63.

Edgar, R. C. Search and clustering orders of magnitude faster than BLAST. Bioinformatics 26, 2460–2461 (2010).

64.

DeSantis, T. Z. et al. Greengenes, a chimera-checked 16S rRNA gene database and workbench compatible with ARB. Appl. Environ. Microbiol. 72, 5069–5072 (2006).

65.

Wang, Q., Garrity, G. M., Tiedje, J. M. & Cole, J. R. Naive Bayesian classifier for rapid assignment of rRNA sequences into the new bacterial taxonomy. Appl. Environ. Microbiol. 73, 5261–5267 (2007).

66.

Deshpande, V. et al. Fungal identification using a Bayesian classifier and the Warcup training set of internal transcribed spacer sequences. Mycologia 108, 1–5 (2016).

67.

Paulson, J. N., Stine, O. C., Bravo, H. C. & Pop, M. Differential abundance analysis for microbial marker-gene surveys. Nat. Methods 10, 1200–1202 (2013).

68.

Nilsson, R. H. et al. The UNITE database for molecular identification of fungi: handling dark taxa and parallel taxonomic classifications. Nucleic Acids Res. 47, D259–D264 (2019).
Acknowledgements
This work was supported by funds from a European Research Council starting grant (MICRORULES) to S.H., a European Research Council advanced grant (ROOTMICROBIOTA) to P.S.-L. and grants from the Swedish Research Council to J.Å. S.H. and P.S.-L. were also supported by funds from the Max Planck Society, the 'Priority Programme 2125 DECRyPT' funded by the Deutsche Forschungsgemeinschaft and the 'Cluster of Excellence on Plant Sciences' programme funded by the Deutsche Forschungsgemeinschaft. The laboratory of C.A.-B. was funded by grant BIO2016-75754-P (AEI/FEDER). We thank N. Donnelly for scientific English editing.
Ethics declarations
Competing interests
The authors declare no competing interests.
Additional information
Publisher's note Springer Nature remains neutral with regard to jurisdictional claims in published maps and institutional affiliations.
Supplementary information
About this article
Cite this article
Thiergart, T., Durán, P., Ellis, T. et al. Root microbiota assembly and adaptive differentiation among European Arabidopsis populations. Nat Ecol Evol 4, 122–131 (2020). https://doi.org/10.1038/s41559-019-1063-3
Received:

Accepted:

Published:

Issue Date: