Temperature differences between cities and the countryside have been regarded as useful surrogates for ecological responses to climate warming. However, research reveals mismatch between the phenological responses to spatial and temporal temperature gradients as well as complex interactions between urbanization and climate.
Access options
Subscribe to Journal
Get full journal access for 1 year
$104.00
only $8.67 per issue
All prices are NET prices.
VAT will be added later in the checkout.
Rent or Buy article
Get time limited or full article access on ReadCube.
from$8.99
All prices are NET prices.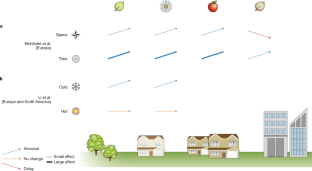 References
1.

Wohlfahrt, G., Tomelleri, E. & Hammerle, A. Nat. Ecol. Evol. https://doi.org/10.1038/s41559-019-1017-9 (2019).

2.

Li, D., Stucky, B. J., Deck, J., Baiser, B. & Guralnick, R. P. Nat. Ecol. Evol. https://doi.org/10.1038/s41559-019-1004-1 (2019).

3.

Manoli, G. et al. Nature 573, 55–60 (2019).

4.

Cleland, E. E., Chuine, I., Menzel, A., Mooney, H. A. & Schwartz, M. D. Trends Ecol. Evol. 22, 357–365 (2007).

5.

Keenan, T. F. et al. Nat. Clim. Change 4, 598–604 (2014).

6.

Renner, S. S. & Zohner, C. M. Annu. Rev. Ecol. Evol. Syst. 49, 165–182 (2018).

7.

Chuine, I. Phil. Trans. R. Soc. B 365, 3149–3160 (2010).

8.

Richardson, A. D. et al. Agric. For. Meteorol. 169, 156–173 (2013).

9.

Templ, B. et al. Int. J. Biometeorol. 62, 1109–1113 (2018).

10.

Elmendorf, S. C. et al. Ecosphere 7, e01303 (2016).

11.

Betancourt, J. et al. Eos Trans. 86, 539 (2005).
Ethics declarations
Competing interests
The author declares no competing interests.
About this article
Cite this article
Zohner, C.M. Phenology and the city. Nat Ecol Evol 3, 1618–1619 (2019) doi:10.1038/s41559-019-1043-7