As Bolivia approaches presidential elections in October 2019, the country's environmental leadership is at stake. We discuss urgent challenges and opportunities for reconciling conservation and societal needs in this mega-diverse country.
Access options
Subscribe to Journal
Get full journal access for 1 year
$99.00
only $8.25 per issue
All prices are NET prices.
VAT will be added later in the checkout.
Rent or Buy article
Get time limited or full article access on ReadCube.
from$8.99
All prices are NET prices.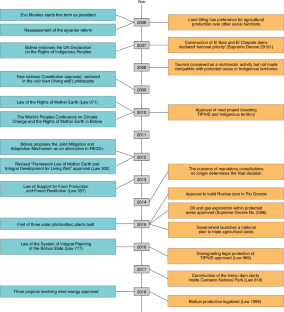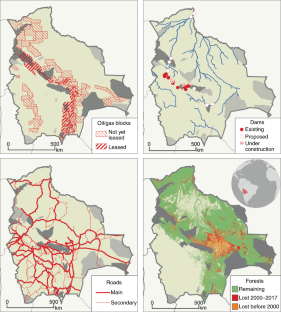 References
1.

Borie, M. & Hulme, M. Environ. Sci. Policy 54, 487–496 (2015).

2.

Hope, J. Extr. Ind. Soc. 3, 922–929 (2016).

3.

Ibisch, P. L. & Mérida, G. (eds) Biodiversidad: La Riqueza de Bolivia (Editorial FAN, 2003).

4.

Morales-Hidalgo, D., Oswalt, S. N. & Somanathan, E. Ecol. Manag. 352, 68–77 (2015).

5.

Lalander, R. Int. J. Hum. Rights 21, 464–481 (2017).

6.

Jones, K. R. et al. Science 360, 788–791 (2018).

7.

Finer, M. et al. Environ. Res. Lett. 10, 024003 (2015).

8.

Identidad Madidi & SERNAP. Informe Científico 2015. Relevamientos de Biodiversidad en el Parque Nacional y Área Natural de Manejo Integrado Madidi (Wildlife Conservation Society and Servicio Nacional de Áreas Protegidas, Bolivia, 2016).

9.

Butt, N. et al. Science 342, 425–426 (2013).

10.

Anderson, E. P. et al. Sci. Adv. 4, eaao1642 (2018).

11.

Fernández-Llamazares, Á. et al. Curr. Biol. 28, R15–R16 (2018).

12.

Tejada, G. et al. Environ. Res. 144, 49–63 (2016).

13.

Kalamandeen, M. et al. Sci. Rep. 8, 1600 (2018).

14.

Lambin, E. F. & Meyfroidt, P. Proc. Natl Acad. Sci. USA 108, 3465–3472 (2011).

15.

Laurance, W. F., Sayer, J. & Cassman, K. G. Trends Ecol. Evol. 29, 107–116 (2014).

16.

Rodríguez Osuna, V., Navarro Sánchez, G., Sommer, J. H. & Biber-Freudenberger, L. (eds.) Towards the Integration of Biodiversity in Environmental Impact Assessments of Bolivia (Center for Development Research (ZEF)-University of Bonn and Universidad Católica Boliviana, 2017).

17.

Kabir, E. et al. Renew. Sustain. Energy Rev. 82, 894–900 (2018).
Acknowledgements
We thank T. Kuemmerle, J. Geldman and A. Ghodoussi for helpful discussions and comments on previous versions of the manuscript, as well as A. Balmford, V. Reyes-García and R. Rocha for enlightening discussions about conservation policies. A. Gyawali provided cartographic assistance. A.R.-M. acknowledges financial support from the German Research Foundation (grant no. KU 2458/5-1) and the German Ministry of Education and Research (grant no. 031B0034A), and A.F.-L. acknowledges financial support from the Academy of Finland (grant agreement no. 311176).
Ethics declarations
Competing interests
The authors declare no competing interests.
Supplementary information
About this article
Cite this article
Romero-Muñoz, A., Fernández-Llamazares, Á., Moraes R., M. et al. A pivotal year for Bolivian conservation policy. Nat Ecol Evol 3, 866–869 (2019). https://doi.org/10.1038/s41559-019-0893-3