Abstract
Priority effects are commonly used to describe a broad suite of phenomena capturing the influence of species arrival order on the diversity, composition and function of ecological communities. Several studies have suggested reframing priority effects around the stabilizing and equalizing concepts of coexistence theory. We show that the only compatible priority effects are those characterized by positive frequency-dependence, irrespective of whether they emerge in equilibrium or non-equilibrium systems.
Access options
Subscribe to Journal
Get full journal access for 1 year
$119.00
only $9.92 per issue
All prices are NET prices.
VAT will be added later in the checkout.
Tax calculation will be finalised during checkout.
Rent or Buy article
Get time limited or full article access on ReadCube.
from$8.99
All prices are NET prices.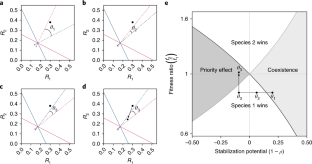 References
1.

Chase, J. M. Oecologia 136, 489–498 (2003).

2.

Fukami, T. Annu. Rev. Ecol. Evol. Syst. 46, 1–23 (2015).

3.

Slatkin, M. Ecology 55, 128–134 (1974).

4.

Lewontin, R. C. Brookhaven Sym. Biol. 22, 13–24 (1969).

5.

May, R. M. Math. Biosci. 12, 59–79 (1971).

6.

Petraitis, P. Multiple Stable States in Natural Ecosystems (Oxford Univ. Press, Oxford, 2013).

7.

Mordecai, E. A. Ecol. Monogr. 81, 429–441 (2011).

8.

Fukami, T., Mordecai, E. A. & Ostling, A. J. Veg. Sci. 27, 655–657 (2016).

9.

Letten, A. D., Ke, P.-J. & Fukami, T. Ecol. Monogr. 87, 161–177 (2017).

10.

Chesson, P. Annu. Rev. Ecol. Syst. 31, 343–366 (2000).

11.

Chesson, P. Theor. Popul. Biol. 37, 26–38 (1990).

12.

Chesson P. & Leemans, R. in Ecological Systems (ed. Leemans, R.) 223–256 (Springer, New York, 2013).

13.

Tilman, D. Resource Competition and Community Structure (Monographs in Population Biology Vol. 17, (Princeton Univ. Press, Princeton, 1982).

14.

Chesson, P. & Kuang, J. J. Nature 456, 235–238 (2008).

15.

Chase, J. & Leibold, M. Ecological Niches: Linking Classical and Contemporary Approaches (Univ. Chicago Press, Chicago, 2003).

16.

Chesson, P. J. Biol. Dynam. 3, 149–163 (2009).

17.

Schreiber, S., Yamamichi, M. & Strauss, S. Preprint at bioRxiv https://doi.org/10.1101/161919 (2017).

18.

Fukami, T. & Nakajima, M. Ecol. Lett. 14, 973–984 (2011).

19.

Soetaert, K., Petzoldt, T. & Setzer, R. W. J. Stat. Softw. 33, 1–25 (2010).
Acknowledgements
We thank T. Fukami, T. Grainger and D. Stouffer for helpful comments. P.-J.K. was supported by Stanford University and the Studying Abroad Scholarship from the Ministry of Education, Taiwan. A.D.L. was supported by a postdoctoral fellowship from the Center for Computational, Evolutionary, and Human Genomics of Stanford University.
Ethics declarations
Competing interests
The authors declare no competing interests.
Additional information
Publisher's note: Springer Nature remains neutral with regard to jurisdictional claims in published maps and institutional affiliations.
Supplementary information
Supplementary Methods, Supplementary References
About this article
Cite this article
Ke, PJ., Letten, A.D. Coexistence theory and the frequency-dependence of priority effects. Nat Ecol Evol 2, 1691–1695 (2018). https://doi.org/10.1038/s41559-018-0679-z
Received:

Accepted:

Published:

Issue Date:
Further reading
Na Zhang

,

Naoise Nunan

,

Penny R. Hirsch

,

Bo Sun

,

Jizhong Zhou

&

Yuting Liang

Biology and Fertility of Soils (2021)