Adaptive certification is the best remaining option for the trophy hunting industry in Africa to demonstrate sustainable and ethical hunting practices that benefit local communities and wildlife conservation.
Access options
Subscribe to Journal
Get full journal access for 1 year
$99.00
only $8.25 per issue
All prices are NET prices.
VAT will be added later in the checkout.
Rent or Buy article
Get time limited or full article access on ReadCube.
from$8.99
All prices are NET prices.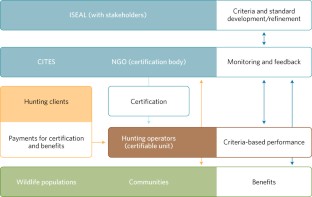 References
1.

Lindsey, P., Balme, G., Funston, P., Henschel, P. & Hunter, L. T. B. Conserv. Lett. 9, 296–301 (2016).

2.

Di Minin, E., Leader-Williams, N. & Bradshaw, C. J. A. Trends Ecol. Evol. 31, 99–102 (2016).

3.

Lindsey, P. A., Frank, L. G., Alexander, R., Mathieson, A. & Romanach, S. S. Conserv. Biol. 21, 880–883 (2007).

4.

Packer, C. Lions in the Balance: Man-Eaters, Manes and Men with Guns (Univ. Chicago Press, 2015).

5.

Gullison, R. E. Oryx 37, 153–165 (2003).

6.

Bush, S. R. & Oosterveer, P. Sustainability 7, 1861–1883 (2015).

7.

Potts, J. et al. State of Sustainability Initiatives Review 2014: Standards and the Green Economy (International Institute for Sustainable Development, Manitoba, 2014).

8.

Gutierrez, N. L. et al. PLoS ONE 7, e43765 (2012).

9.

Tuck, S. L. et al. J. Appl. Ecol. 51, 746–755 (2014).

10.

Blackman, A. & Rivera, J. Conserv. Biol. 25, 1176–1185 (2011).

11.

Christian, C. et al. Biol. Conserv. 161, 10–17 (2013).

12.

McGrath, D. G., Castello, L., Almeida, O. T. & Estupinan, G. M. B. Soc. Nat. Resour. 28, 513–529 (2015).

13.

Fischer, A., Weldesemaet, Y. T., Czajkowski, M., Tadie, D. & Hanley, N. Conserv. Biol. 29, 1111–1121 (2015).

14.

Armitage, D. R. et al. Front. Ecol. Environ. 7, 95–102 (2009).

15.

Tscharntke, T. et al. Conserv. Lett. 8, 14–23 (2015).
Acknowledgements
T.C.W. was funded by the Swedish University of Agricultural Sciences. L.W.T. was supported by a Carnegie Corporation of New York Fellowship through the Global Change and Sustainability Research Institute, University of the Witwatersrand (grant B8749.R01). T.T. was supported by the DFG-CRC 990 EFForTS and the BMBF project Limpopo Living Landscapes. T.C.W. thanks M. Fortin-McCuaig for initial discussions on the topic.
Ethics declarations
Competing interests
The authors declare no competing financial interests.
About this article
Cite this article
Wanger, T.C., Traill, L.W., Cooney, R. et al. Trophy hunting certification. Nat Ecol Evol 1, 1791–1793 (2017). https://doi.org/10.1038/s41559-017-0387-0