An 'underwater elevator' takes research 10,000 m under the sea and reveals a pollution legacy in remote oceanic trenches.
This is a preview of subscription content
Access options
Subscribe to Journal
Get full journal access for 1 year
$119.00
only $9.92 per issue
All prices are NET prices.
VAT will be added later in the checkout.
Tax calculation will be finalised during checkout.
Rent or Buy article
Get time limited or full article access on ReadCube.
from$8.99
All prices are NET prices.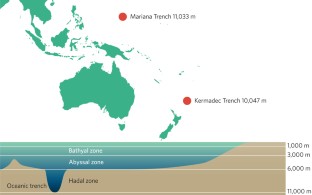 References
1

Jamieson, A. J., Malkocs, T., Piertney, S. B., Fujii, T. & Zhang, Z. Nat. Ecol. Evol. 1, 0051 (2017).

2

Sandwell, D. T., Muller, R. D., Smith, W. H. F., Garcia, E. & Francis, R. Science 346, 65–67 (2014).

3

Jamieson, A. J., Fujii, T., Mayor, D. J., Solan, M. & Priede, I. G. Trends Ecol. Evol. 25, 190–197 (2010).

4

Jamieson, A. J., Solan, M. & Fujii, T. Sea Technol. 50, 41–46 (2009).

5

Lutts, R. H. Environ. Rev. 9, 210–225 (1985).

6

Mackay, D. & Wania, F. Sci. Total Environ. 160/161 25–38 (1995).

7

Jones, K. C. & de Voogt, P. Environ. Pollut. 100, 209–221 (1999).
Ethics declarations
Competing interests
The author declares no competing financial interests.
About this article
Cite this article
Dafforn, K. Ecotoxicology: Pollutants plumb the depths. Nat Ecol Evol 1, 0075 (2017). https://doi.org/10.1038/s41559-017-0075