Raising agricultural productivity has been essential for global food security and conserving land. Now, research quantifies how climate change has slowed agricultural productivity growth around the world.
This is a preview of subscription content
Access options
Subscribe to Journal
Get full journal access for 1 year
$99.00
only $8.25 per issue
All prices are NET prices.
VAT will be added later in the checkout.
Tax calculation will be finalised during checkout.
Rent or Buy article
Get time limited or full article access on ReadCube.
from$8.99
All prices are NET prices.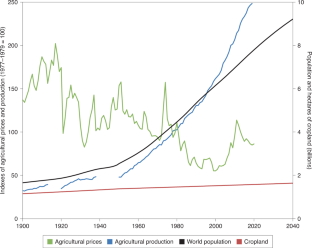 References
1.

Malthus, T. R. An Essay on the Principle of Population (J. Johnson, 1798).

2.

Ortiz-Bobea, A., Ault, T. R., Carrillo, C. M., Chambers, R. G. & Lobell, D. B. Nat. Clim. Change https://doi.org/10.1038/s41558-021-01000-1 (2021).

3.

Hertel, T. W. & de Lima, C. Z. Food Policy 95, 101954 (2020).

4.

Giovanni, F. Feeding the World: An Economic History of Agriculture, 1800–2000 (Princeton Univ. Press, 2005).

5.

Villoria, N. Environ. Res. Lett. 14, 125002 (2019).

6.

Alston, J. M., Beddow, J. M. & Pardey, P. G. Science 325, 1209–1210 (2009).

7.

Willet, W. et al. Lancet 393, 447–492 (2019).

8.

Fuglie, K., Gautam, M., Goyal, A. & Maloney, W. F. Harvesting Prosperity: Technology and Productivity Growth in Agriculture (World Bank, 2019).
Acknowledgements
The views expressed are the author's own and should not be attributed to the Economic Research Service or the USDA.
Ethics declarations
Competing interests
The author declares no competing interests.
About this article
Cite this article
Fuglie, K. Climate change upsets agriculture. Nat. Clim. Chang. 11, 294–295 (2021). https://doi.org/10.1038/s41558-021-01017-6