Abstract
Rivers originating in the Tibetan Plateau provide freshwater to downstream populations, yet runoff projections from warming are unclear due to precipitation uncertainties. Here, we use a historical atmospheric circulation–precipitation relationship to constrain future modelled wet-season precipitation over the Tibetan Plateau. Our constraint reduces precipitation increases to half of those from the unconstrained ensemble and reduces spread by around a factor of three. This constrained precipitation is used with estimated glacier melt contributions to constrain future runoff for seven rivers. We estimate runoff increases of 1.0–7.2% at the end of the twenty-first century for global mean warming of 1.5–4 °C above pre-industrial levels. Because population projections diverge across basins, this runoff increase will reduce the population fraction living under water scarcity conditions in the Yangtze and Yellow basins but not in the Indus and Ganges basins, necessitating improved water security through climate change adaptation policies in these regions at higher risk.
Relevant articles
Open Access articles citing this article.
Qing He

,

Kwok Pan Chun

…

Xicai Pan

Theoretical and Applied Climatology Open Access 06 August 2022

Ziming Chen

,

Tianjun Zhou

…

Liwei Zou

Nature Communications Open Access 10 May 2022
Access options
Subscribe to Nature+
Get immediate online access to Nature and 55 other Nature journal
Subscribe to Journal
Get full journal access for 1 year
$99.00
only $8.25 per issue
All prices are NET prices.
VAT will be added later in the checkout.
Tax calculation will be finalised during checkout.
Buy article
Get time limited or full article access on ReadCube.
$32.00
All prices are NET prices.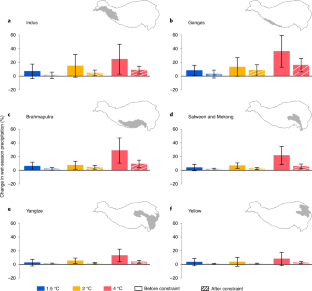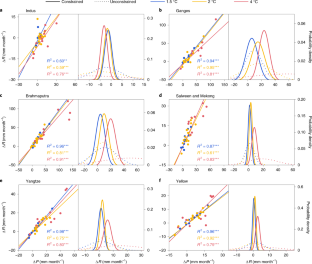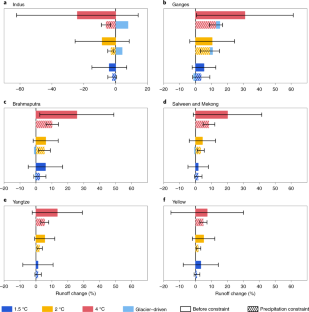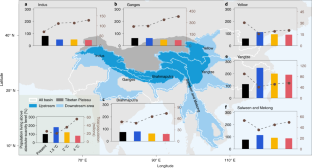 References
Immerzeel, W. W. et al. Importance and vulnerability of the world's water towers. Nature 577, 364–369 (2020).

Tian, L. et al. Stable isotopic variations in west China: a consideration of moisture sources. J. Geophys. Res. 112, D10112 (2007).

Schiemann, R., Lüthi, D. & Schär, C. Seasonality and interannual variability of the westerly jet in the Tibetan Plateau region. J. Clim. 22, 2940–2957 (2009).

Yao, T. et al. A review of climatic controls on δ18O in precipitation over the Tibetan Plateau: observations and simulations. Rev. Geophys. 51, 525–548 (2013).

Huss, M. & Hock, R. Global-scale hydrological response to future glacier mass loss. Nat. Clim. Change 8, 135–140 (2018).

Shea, J. M. & Immerzeel, W. W. An assessment of basin-scale glaciological and hydrological sensitivities in the Hindu Kush-Himalaya. Ann. Glaciol. 57, 308–318 (2016).

Kraaijenbrink, P. D. A., Bierkens, M. F. P., Lutz, A. F. & Immerzeel, W. W. Impact of a global temperature rise of 1.5 degrees Celsius on Asia's glaciers. Nature 549, 257–260 (2017).

Immerzeel, W. W., Van, B. L. P. & Bierkens, M. F. Climate change will affect the Asian water towers. Science 328, 1382–1385 (2010).

Bookhagen, B. & Burbank, D. W. Toward a complete Himalayan hydrological budget: spatiotemporal distribution of snowmelt and rainfall and their impact on river discharge. J. Geophys. Res. F 115, F03019 (2010).

Mukhopadhyay, B. & Khan, A. A reevaluation of the snowmelt and glacial melt in river flows within upper Indus basin and its significance in a changing climate. J. Hydrol. 527, 119–132 (2015).

Yao, T. et al. Different glacier status with atmospheric circulations in Tibetan plateau and surroundings. Nat. Clim. Change 2, 663–667 (2012).

Yang, K. et al. Response of hydrological cycle to recent climate changes in the Tibetan plateau. Climatic Change 109, 517–534 (2011).

Yang, W., Guo, X., Yao, T., Zhu, M. & Wang, Y. Recent accelerating mass loss of southeast Tibetan glaciers and the relationship with changes in macroscale atmospheric circulations. Clim. Dynam. 47, 805–815 (2016).

Cuo, L., Zhang, Y., Zhu, F. & Liang, L. Characteristics and changes of streamflow on the Tibetan Plateau: a review. J. Hydrol. 2, 49–68 (2014).

Wang, Y. et al. Contrasting runoff trends between dry and wet parts of eastern Tibetan Plateau. Sci. Rep. 7, 15458 (2017).

Lutz, A. F., Immerzeel, W. W., Shrestha, A. B. & Bierkens, M. F. P. Consistent increase in high Asia's runoff due to increasing glacier melt and precipitation. Nat. Clim. Change 4, 587–592 (2014).

Lutz, A. F., Immerzeel, W. W., Kraaijenbrink, P. D., Shrestha, A. B. & Bierkens, M. F. Climate change impacts on the upper Indus hydrology: sources, shifts and extremes. PLoS ONE 11, e0165630 (2016).

Immerzeel, W. W. & Bierkens, M. F. P. Asia's water balance. Nat. Geosci. 5, 841–842 (2012).

Pepin, N. et al. Elevation-dependent warming in mountain regions of the world. Nat. Clim. Change 5, 424–430 (2015).

Turner, A. G. & Annamalai, H. Climate change and the South Asian summer monsoon. Nat. Clim. Change 2, 587–595 (2012).

Schott, F. A. & McCreary Jr, J. P. The monsoon circulation of the Indian Ocean. Prog. Oceanogr. 51, 1–123 (2001).

Gao, J., Masson-Delmotte, V., Risi, C., He, Y. & Yao, T. What controls precipitation δ18O in the southern Tibetan Plateau at seasonal and intra-seasonal scales? A case study at Lhasa and Nyalam. Tellus B 65, 21043–21055 (2013).

Zhang, L., Su, F., Yang, D., Hao, Z. & Tong, K. Discharge regime and simulation for the upstream of major rivers over Tibetan Plateau. J. Geophys. Res. D 118, 8500–8518 (2013).

Immerzeel, W. W., Droogers, P., De Jong, S. M. & Bierkens, M. F. P. Large-scale monitoring of snow cover and runoff simulation in Himalayan river basins using remote sensing. Remote Sens. Environ. 113, 40–49 (2009).

Kääb, A., Berthier, E., Nuth, C., Gardelle, J. & Arnaud, Y. Contrasting patterns of early twenty-first-century glacier mass change in the Himalayas. Nature 488, 495–498 (2012).

Falkenmark, et al. On the Verge of a New Water Scarcity: A Call for Good Governance and Human Ingenuity (Stockholm International Water Institute, 2007).

Pritchard, H. D. Asia's shrinking glaciers protect large populations from drought stress. Nature 569, 649–654 (2019).

Falkenmark, M. Meeting water requirements of an expanding world population. Philos. Trans. R. Soc. Lond. B 352, 929–936 (1997).

Jones, B. & O'Neill, B. C. Spatially explicit global population scenarios consistent with the shared socioeconomic pathways. Environ. Res. Lett. 11, 084003 (2016).

Taylor, K. E., Stouffer, R. J. & Meehl, G. A. An overview of CMIP5 and the experiment design. Bull. Am. Meteorol. Soc. 93, 485–498 (2012).

O'Neill, B. C. et al. The scenario model intercomparison project (ScenarioMIP) for CMIP6. Geosci. Model Dev. 9, 3461–3482 (2016).

Van Vuuren, D. P. et al. The representative concentration pathways: an overview. Climatic Change 109, 5–31 (2011).

Hawkins, E. & Sutton, R. The potential to narrow uncertainty in regional climate predictions. Bull. Am. Meteorol. Soc. 90, 1095–1107 (2009).

Anav, A. et al. Evaluating the land and ocean components of the global carbon cycle in the CMIP5 earth system models. J. Clim. 26, 6801–6843 (2013).

Navarro, R. C. et al. High-resolution and bias-corrected CMIP5 projections for climate change impact assessments. Sci. Data 7, 1–14 (2020).

Seager, R., Naik, N. & Vecchi, G. A. Thermodynamic and dynamic mechanisms for large-scale changes in the hydrological cycle in response to global warming. J. Clim. 23, 4651–4668 (2010).

Tibshirani, R. Regression shrinkage and selection via the lasso. J. R. Stat. Soc. B 58, 267–288 (1996).

Allan, R. & Ansell, T. A new globally complete monthly historical gridded mean sea level pressure dataset (HadSLP2): 1850–2004. J. Clim. 19, 5816–5842 (2006).

Cox, P. et al. Sensitivity of tropical carbon to climate change constrained by carbon dioxide variability. Nature 494, 341–344 (2013).

O'Callaghan, J. F. & Mark, D. M. The extraction of drainage networks from digital elevation data.Computer Vision Graphics Image Process. 28, 323–344 (1984).

Rogelj, J. et al. Energy system transformations for limiting end-of-century warming to below 1.5 °C. Nat. Clim. Change 5, 519–527 (2015).

Samir, K. C. & Lutz, W. The human core of the shared socioeconomic pathways: population scenarios by age, sex, and level of education for all countries to 2100. Glob. Environ. Change 42, 181–192 (2017).
Acknowledgements
This study was supported by the Second Tibetan Plateau Scientific Expedition and Research Programme (2019QZKK0208), the NSFC project Basic Science Centre for Tibetan Plateau Earth System (41988101-04), Key Research and Development Programmes for Global Change and Adaptation (2017YFA0603604) and the National Natural Science Foundation of China (41922004 and 41871104). We acknowledge the support of Kathmandu Centre for Research and Education, Chinese Academy of Sciences–Tribhuvan University.
Ethics declarations
Competing interests
The authors declare no competing interests.
Additional information
Peer review information Nature Climate Change thanks Daniel Farinotti, Santosh Nepal and the other, anonymous, reviewer(s) for their contribution to the peer review of this work.
Publisher's note Springer Nature remains neutral with regard to jurisdictional claims in published maps and institutional affiliations.
Supplementary information
About this article
Cite this article
Wang, T., Zhao, Y., Xu, C. et al. Atmospheric dynamic constraints on Tibetan Plateau freshwater under Paris climate targets. Nat. Clim. Chang. 11, 219–225 (2021). https://doi.org/10.1038/s41558-020-00974-8
Received:

Accepted:

Published:

Issue Date:

DOI: https://doi.org/10.1038/s41558-020-00974-8