Abstract
Continuous-rotation 3D electron diffraction methods are increasingly popular for the structure analysis of very small organic molecular crystals and crystalline inorganic materials. Dynamical diffraction effects cause non-linear deviations from kinematical intensities that present issues in structure analysis. Here, a method for structure analysis of continuous-rotation 3D electron diffraction data is presented that takes multiple scattering effects into account. Dynamical and kinematical refinements of 12 compounds—ranging from small organic compounds to metal–organic frameworks to inorganic materials—are compared, for which the new approach yields significantly improved models in terms of accuracy and reliability with up to fourfold reduction of the noise level in difference Fourier maps. The intrinsic sensitivity of dynamical diffraction to the absolute structure is also used to assign the handedness of 58 crystals of 9 different chiral compounds, showing that 3D electron diffraction is a reliable tool for the routine determination of absolute structures.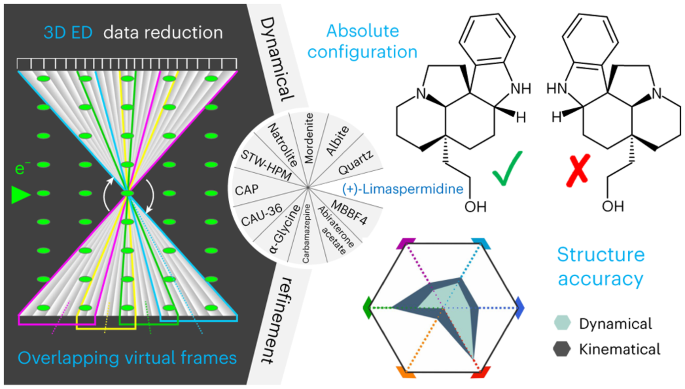 Data availability
Raw experimental data (quartz, natrolite, CAP, abiraterone acetate, STW_HPM-1) are available together with data reduction files for PETS2 at https://doi.org/10.5281/zenodo.5579792, a data repository hosted by Zenodo50. Relevant PETS2 output files and JANA refinement files for all compounds listed in Table 1 are available at the same repository. Source data are provided with this paper.
Code availability
All used programs are available free of charge for academic purposes and all their features reported in this Article are included in the publicly available versions. The PETS2 software can be downloaded from http://pets.fzu.cz. The software package for structure solution (Superflip) and (dynamical) refinement with Dyngo and Jana2006/Jana2020 can be downloaded from http://jana.fzu.cz. Introductory step-by-step tutorials for data processing and structure refinement are available at http://pets.fzu.cz. The source code of Dyngo is available from L.P. upon request.
References
Sheldrick, G. M. A short history of SHELX. Acta Crystallogr. A 64, 112–122 (2008).

Mugnaioli, E., Gorelik, T. & Kolb, U. 'Ab initio' structure solution from electron diffraction data obtained by a combination of automated diffraction tomography and precession technique. Ultramicroscopy 109, 758–765 (2009).

Palatinus, L. et al. Specifics of the data processing of precession electron diffraction tomography data and their implementation in the program PETS2.0. Acta Crystallogr. B 75, 512–522 (2019).

Gruene, T., Holstein, J. J., Clever, G. H. & Keppler, B. Establishing electron diffraction in chemical crystallography. Nat. Rev. Chem. 5, 660–668 (2021).

Gemmi, M. et al. 3D electron diffraction: the nanocrystallography revolution. ACS Central Sci. 5, 1315–1329 (2019).

Prince, E. International Tables for Crystallography Volume C: Mathematical, Physical and Chemical Tables (International Union of Crystallography, 2006); https://doi.org/10.1107/97809553602060000103

Bethe, H. Theorie der Beugung von Elektronen an Kristallen. Ann. Phys. 392, 55–129 (1928).

Zuo, J. M. & Spence, J. C. H. Electron Microdiffraction (Springer, 1992).

Own, C. S., Marks, L. D. & Sinkler, W. Precession electron diffraction 1: multislice simulation. Acta Crystallogr. A 62, 434–443 (2006).

Oleynikov, P., Hovmöller, S. & Zou, X. Precession electron diffraction: observed and calculated intensities. Ultramicroscopy 107, 523–533 (2007).

Spence, J. C. H., Zuo, J. M., O'Keeffe, M., Marthinsen, K. & Hoier, R. On the minimum number of beams needed to distinguish enantiomorphs in X-ray and electron diffraction. Acta Crystallogr. A 50, 647–650 (1994).

Inui, H., Fujii, A., Tanaka, K., Sakamoto, H. & Ishizuka, K. New electron diffraction method to identify the chirality of enantiomorphic crystals. Acta Crystallogr. B 59, 802–810 (2003).

Ma, Y., Oleynikov, P. & Terasaki, O. Electron crystallography for determining the handedness of a chiral zeolite nanocrystal. Nat. Mater. 16, 755–759 (2017).

Brazda, P., Palatinus, L. & Babor, M. Electron diffraction determines molecular absolute configuration in a pharmaceutical nanocrystal. Science 364, 667–669 (2019).

Palatinus, L., Petříček, V. & Corrêa, C. A. Structure refinement using precession electron diffraction tomography and dynamical diffraction: theory and implementation. Acta Crystallogr. A 71, 235–244 (2015).

Wang, B. et al. A porous cobalt tetraphosphonate metal-organic framework: accurate structure and guest molecule location determined by continuous-rotation electron diffraction. Chemistry 24, 17429–17433 (2018).

Rojas, A., Arteaga, O., Kahr, B. & Camblor, M. A. Synthesis, structure, and optical activity of HPM-1, a pure silica chiral zeolite. J. Am. Chem. Soc. 135, 11975–11984 (2013).

Tang, L. et al. A zeolite family with chiral and achiral structures built from the same building layer. Nat. Mater. 7, 381–385 (2008).

Frojdh, E. et al. Discrimination of aluminum from silicon by electron crystallography with the JUNGFRAU detector. Crystals 10, 1148 (2020).

Nakane, T. et al. Single-particle cryo-EM at atomic resolution. Nature 587, 152–156 (2020).

Gruza, B., Chodkiewicz, M. L., Krzeszczakowska, J. & Dominiak, P. M. Refinement of organic crystal structures with multipolar electron scattering factors. Acta Crystallogr. A 76, 92–109 (2020).

Wang, B. et al. Absolute configuration determination of pharmaceutical crystalline powders by MicroED via chiral salt formation. Chem. Commun. 58, 4711–4714 (2022).

Le Page, Y., Gabe, E. J. & Gainsford, G. J. A robust alternative to η refinement for assessing the hand of chiral compounds. J. Appl. Cryst. 23, 406–411 (1990).

Broadhurst, E. T. et al. Polymorph evolution during crystal growth studied by 3D electron diffraction. IUCrJ 7, 5–9 (2020).

Dong, Z. & Ma, Y. Atomic-level handedness determination of chiral crystals using aberration-corrected scanning transmission electron microscopy. Nat. Commun. 11, 1588 (2020).

Gruene, T. et al. Rapid structure determination of microcrystalline molecular compounds using electron diffraction. Angew. Chem. Int. Ed. 57, 16313–16317 (2018).

Gemmi, M., La Placa, M. G. I., Galanis, A. S., Rauch, E. F. & Nicolopoulos, S. Fast electron diffraction tomography. J. Appl. Crystallogr. 48, 718–727 (2015).

Parsons, S., Flack, H. D. & Wagner, T. Use of intensity quotients and differences in absolute structure refinement. Acta Crystallogr. B 69, 249–259 (2013).

Escudero-Adán, E. C., Benet-Buchholz, J. & Ballester, P. The use of Mo Kα radiation in the assignment of the absolute configuration of light-atom molecules; the importance of high-resolution data. Acta Crystallogr. B 70, 660–668 (2014).

Latychevskaia, T. & Abrahams, J. P. Inelastic scattering and solvent scattering reduce dynamical diffraction in biological crystals. Acta Crystallogr. B 75, 523–531 (2019).

Cichocka, M. O., Angstrom, J., Wang, B., Zou, X. & Smeets, S. High-throughput continuous rotation electron diffraction data acquisition via software automation. J. Appl. Crystallogr. 51, 1652–1661 (2018).

Jones, C. G. et al. The CryoEM method MicroED as a powerful tool for small molecule structure determination. ACS Cent. Sci. 4, 1587–1592 (2018).

Allen, F. H. & Bruno, I. J. Bond lengths in organic and metal-organic compounds revisited: X-H bond lengths from neutron diffraction data. Acta Crystallogr. B 66, 380–386 (2010).

Yanagisawa, H., Yamashita, K., Nureki, O. & Kikkawa, M. MicroED datasets of hemin and biotin collected on Ceta camera. Zenodo https://doi.org/10.5281/zenodo.3366892 (2019).

Thompson, E. & Jenkins, H. T. 3DED/microED datasets of biotin (Glacios/Ceta-D). Zenodo https://doi.org/10.5281/zenodo.4895412 (2021).

Bruhn, J. F. et al. Small molecule microcrystal electron diffraction for the pharmaceutical industry–lessons learned from examining over fifty samples. Front. Mol. Biosci. 8, 354 (2021).

Pastero, L., Turci, F., Leinardi, R., Pavan, C. & Monopoli, M. Synthesis of α-quartz with controlled properties for the investigation of the molecular determinants in silica toxicology. Cryst. Growth Des. 16, 2394–2403 (2016).

Palatinus, L. et al. Hydrogen positions in single nanocrystals revealed by electron diffraction. Science 355, 166–169 (2017).

Zaarour, M. et al. Synthesis of new cobalt aluminophosphate framework by opening a cobalt methylphosphonate layered material. CrystEngComm 19, 5100–5105 (2017).

Zhou, H. et al. Programming conventional electron microscopes for solving ultrahigh-resolution structures of small and macro-molecules. Anal. Chem. 91, 10996–11003 (2019).

Plana-Ruiz, S. et al. Fast-ADT: a fast and automated electron diffraction tomography setup for structure determination and refinement. Ultramicroscopy 211, 112951 (2020).

Roslova, M. et al. InsteaDMatic: towards cross-platform automated continuous rotation electron diffraction. J. Appl. Crystallogr. 53, 1217–1224 (2020).

Bortolini, C. et al. Atomic structure of amyloid crystals. Zenodo https://doi.org/10.5281/zenodo.5303223 (2022).

Clabbers, M. T. B., Gruene, T., van Genderen, E. & Abrahams, J. P. Reducing dynamical electron scattering reveals hydrogen atoms. Acta Crystallogr. A 75, 82–93 (2019).

Knudsen, E. B., Sørensen, H. O., Wright, J. P., Goret, G. & Kieffer, J. FabIO: easy access to two-dimensional X-ray detector images in Python. J. Appl. Cryst. 46, 537–539 (2013).

Palatinus, L. & Chapuis, G. SUPERFLIP – a computer program for the solution of crystal structures by charge flipping in arbitrary dimensions. J. Appl. Cryst. 40, 786–790 (2007).

Petříček, V., Dušek, M. & Palatinus, L. Crystallographic computing system JANA2006: general features. Z. Kristallogr. Cryst. Mater. 229, 345–352 (2014).

Palatinus, L. et al. Structure refinement using precession electron diffraction tomography and dynamical diffraction: tests on experimental data. Acta Crystallogr. B 71, 740–751 (2015).

Palatinus, L. et al. Structure refinement from precession electron diffraction data. Acta Crystallogr. A 69, 171–188 (2013).

Klar, P. B. et al. Data for accurate structure models and absolute configuration determination using dynamical effects in continuous-rotation 3D ED data. Zenodo https://doi.org/10.5281/zenodo.5579792 (2021).
Acknowledgements
We thank T. Grüne, J. Wennmacher, J. Bruhn, C. G. Jones, H. M. Nelson, E. Thompson, H. Jenkins, H. Yanagisawa and K. Yamashita for sharing their diffraction data and support with the data formats. Samples of quartz provided by F. Turci (University of Turin) and of abiraterone acetate provided by M. Babor (Zentiva) are highly appreciated. We thank Y. Luo (Stockholm university) for checking the mordenite sample by infrared spectroscopy. We acknowledge the assistance of T. Grüne (University of Vienna), J. P. Abrahams, E. van Genderen (Paul Scherrer Institute) and E. Maddox (Amsterdam Scientific) in understanding the confusion around the determination of absolute structure of epicorazine A and dehydrocurvularin. We are grateful to T. Wagner and P. Piechon (Novartis) for confirming the absolute structure of epicorazine A and dehydrocurvularin by single-crystal XRD. We thank H. Jenkins for indicating a conversion problem with one of the data sets we shared. The work was supported by the Knut and Alice Wallenberg Foundation, grant numbers 2012.0112 and 2018.0237 (X.Z.) and Czech Science Foundation, grant numbers 19-08032S (P.B.K., L.P.) and 21-05926X (G.S., L.P.). G.S., P.B.K. and L.P. acknowledge the CzechNanoLab Research Infrastructure supported by MEYS CR (LM2018110) and the support of the Operational Programme Research, Development and Education financed by European Structural and Investment Funds and MEYS CR (project number SOLID21 CZ.02.1.01/0.0/0.0/16_019/0000760). The funders had no role in study design, data collection and analysis, decision to publish or preparation of the manuscript.
Ethics declarations
Competing interests
L.P. and P.B.K. are among the inventors of a patent application covering the method of crystal structure determination presented in this work, including the determination of absolute structure by dynamical refinement against 3D ED data. Patent applicant: Institute of Physics of the Czech Academy of Sciences Inventors: L. Palatinus, P. B. Klar, P. Brazda. Patent submitted at: Industrial property office of the Czech Republic, file number PV 2021-403. United States Patent and Trademark Office: application US17565624. European Patent Office: application PCT/CZ2022/050084.
Peer review
Peer review information
Nature Chemistry thanks Tarik Drevon, Toms Rekis and the other, anonymous, reviewer(s) for their contribution to the peer review of this work.
Additional information
Publisher's note Springer Nature remains neutral with regard to jurisdictional claims in published maps and institutional affiliations.
Extended data
(a) Combination of experimental frames into overlapping virtual frames. In this illustration, seven frames contribute to one virtual frame, which overlap by two experimental frames. Reflections are marked by a dot with the colour of the corresponding virtual frame to which the reflection is assigned. (b) Experimental (blue) and calculated (red) rocking curve of reflections −3 3 2 and −16 0 2 of mordenite. Though experimental and calculated rocking curve shapes differ substantially due to the crystal mosaicity, integrated intensities are in good agreement.
Illustration of non-linear dependence of calculated intensities on modelled crystal thickness and crystal orientation relative to the primary beam applying the dynamical theory of diffraction. Reflections are assigned to the same virtual frame and integrated intensities were normalised so that the average intensity of all reflections of the virtual frame is 100. Calculations based on crystal structure model of progesterone (blue) and the inverted model of progesterone (orange) without refining any parameter. (a) Calculated (integrated) intensities for six reflections of progesterone as a function of the thickness. (b) Calculated (integrated) intensities for six reflections of progesterone as a function of the crystal orientation. Here, the rotation axis is tilted by 5° into a direction given by the crystal tilt direction.
Structural formulas of the 9 molecules relevant for the demonstration of absolute structure determination.
Supplementary information
Rights and permissions
Open Access This article is licensed under a Creative Commons Attribution 4.0 International License, which permits use, sharing, adaptation, distribution and reproduction in any medium or format, as long as you give appropriate credit to the original author(s) and the source, provide a link to the Creative Commons license, and indicate if changes were made. The images or other third party material in this article are included in the article's Creative Commons license, unless indicated otherwise in a credit line to the material. If material is not included in the article's Creative Commons license and your intended use is not permitted by statutory regulation or exceeds the permitted use, you will need to obtain permission directly from the copyright holder. To view a copy of this license, visit http://creativecommons.org/licenses/by/4.0/.
About this article
Cite this article
Klar, P.B., Krysiak, Y., Xu, H. et al. Accurate structure models and absolute configuration determination using dynamical effects in continuous-rotation 3D electron diffraction data. Nat. Chem. (2023). https://doi.org/10.1038/s41557-023-01186-1
Received:

Accepted:

Published:

DOI: https://doi.org/10.1038/s41557-023-01186-1