Abstract
Proteins that contain repeat phenylalanine-glycine (FG) residues phase separate into oncogenic transcription factor condensates in malignant leukaemias, form the permeability barrier of the nuclear pore complex and mislocalize in neurodegenerative diseases. Insights into the molecular interactions of FG-repeat nucleoporins have, however, remained largely elusive. Using a combination of NMR spectroscopy and cryoelectron microscopy, we have identified uniformly spaced segments of transient β-structure and a stable preformed α-helix recognized by messenger RNA export factors in the FG-repeat domain of human nucleoporin 98 (Nup98). In addition, we have determined at high resolution the molecular organization of reversible FG–FG interactions in amyloid fibrils formed by a highly aggregation-prone segment in Nup98. We have further demonstrated that amyloid-like aggregates of the FG-repeat domain of Nup98 have low stability and are reversible. Our results provide critical insights into the molecular interactions underlying the self-association and phase separation of FG-repeat nucleoporins in physiological and pathological cell activities.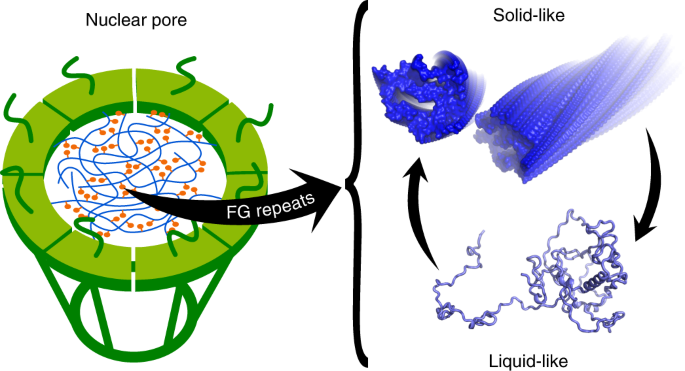 Data availability
Data supporting the main findings of this study are available in the main text and the Supplementary Information. NMR chemical shifts are included in the Supplementary Information. Cryo-EM maps have been deposited in the Electron Microscopy Data Bank (EMDB) under the accession numbers EMD-13851 (pm1), EMD-13852 (pm2), EMD-13853 (pm3) and EMD-13854 (pm4). The corresponding atomic models have been deposited in the PDB under the accession numbers: 7Q64 (pm1), 7Q65 (pm2), 7Q66 (pm3) and 7Q67 (pm4). PDB accession codes 6XYO, 6IC3, 6SHS, 6NZN, 6VPS, 6SDZ, 6ZRF, 6XFM, 6MST, 6GK3, 7KWZ, 5O3O, 6TUB, 2RNM, 7BX7, 6WQK, 6UUR and 5V7Z cited in the text are publicly available in the PDB. Source data are provided with this paper.
References
Gorlich, D. & Kutay, U. Transport between the cell nucleus and the cytoplasm. Annu. Rev. Cell Dev. Biol. 15, 607–660 (1999).

Iwamoto, M., Asakawa, H., Hiraoka, Y. & Haraguchi, T. Nucleoporin Nup98: a gatekeeper in the eukaryotic kingdoms. Genes Cells 15, 661–669 (2010).

Shinkai, Y., Kuramochi, M. & Miyafusa, T. New family members of FG repeat proteins and their unexplored roles during phase separation. Front. Cell Dev. Biol. 9, 708702 (2021).

Terry, L. J. & Wente, S. R. Flexible gates: dynamic topologies and functions for FG nucleoporins in nucleocytoplasmic transport. Eukaryot. Cell 8, 1814–1827 (2009).

Schmidt, H. B. & Gorlich, D. Nup98 FG domains from diverse species spontaneously phase-separate into particles with nuclear pore-like permselectivity. Elife 4, e04251 (2015).

Heinß, N., Sushkin, M., Yu, M. & Lemke, E. A. Multifunctionality of F-rich nucleoporins. Biochem. Soc. Trans. 48, 2603–2614 (2020).

Schmidt, H. B. & Gorlich, D. Transport selectivity of nuclear pores, phase separation, and membraneless organelles. Trends Biochem. Sci. 41, 46–61 (2016).

Beck, M. & Hurt, E. The nuclear pore complex: understanding its function through structural insight. Nat. Rev. Mol. Cell Biol. 18, 73–89 (2017).

Ahn, J. H. et al. Phase separation drives aberrant chromatin looping and cancer development. Nature 595, 591–595 (2021).

Mittag, T. & Ansari, A. Z. Fusion proteins form onco-condensates. Nat. Struct. Mol. Biol. 28, 543–545 (2021).

Terlecki-Zaniewicz, S. et al. Biomolecular condensation of NUP98 fusion proteins drives leukemogenic gene expression. Nat. Struct. Mol. Biol. 28, 190–201 (2021).

Chandra, B. et al. Phase separation mediates NUP98 fusion oncoprotein leukemic transformation. Cancer Discov. 12, 1152–1169 (2022).

Chou, C. C. et al. TDP-43 pathology disrupts nuclear pore complexes and nucleocytoplasmic transport in ALS/FTD. Nat. Neurosci. 21, 228–239 (2018).

Eftekharzadeh, B. et al. Tau protein disrupts nucleocytoplasmic transport in Alzheimera's disease. Neuron 99, 925–940 (2018).

Gough, S. M., Slape, C. I. & Aplan, P. D. NUP98 gene fusions and hematopoietic malignancies: common themes and new biologic insights. Blood 118, 6247–6257 (2011).

Celetti, G. et al. The liquid state of FG-nucleoporins mimics permeability barrier properties of nuclear pore complexes. J. Cell Biol. 219, e201907157 (2020).

Frey, S. & Gorlich, D. A saturated FG-repeat hydrogel can reproduce the permeability properties of nuclear pore complexes. Cell 130, 512–523 (2007).

Frey, S. et al. Surface properties determining passage rates of proteins through nuclear pores. Cell 174, 202–217 (2018).

Frey, S., Richter, R. P. & Gorlich, D. FG-rich repeats of nuclear pore proteins form a three-dimensional meshwork with hydrogel-like properties. Science 314, 815–817 (2006).

Labokha, A. A. et al. Systematic analysis of barrier-forming FG hydrogels from Xenopus nuclear pore complexes. EMBO J. 32, 204–218 (2013).

Van Lindt, J. et al. A generic approach to study the kinetics of liquid-liquid phase separation under near-native conditions. Commun. Biol. 4, 77 (2021).

Xia, F., Nagrath, D. & Cramer, S. M. Effect of pH changes on water release values in hydrophobic interaction chromatographic systems. J. Chromatogr. A 1079, 229–235 (2005).

Ren, Y., Seo, H. S., Blobel, G. & Hoelz, A. Structural and functional analysis of the interaction between the nucleoporin Nup98 and the mRNA export factor Rae1. Proc. Natl Acad. Sci. USA 107, 10406–10411 (2010).

Wang, X. et al. The mitotic checkpoint protein hBUB3 and the mRNA export factor hRAE1 interact with GLE2p-binding sequence (GLEBS)-containing proteins. J. Biol. Chem. 276, 26559–26567 (2001).

Terol, P. A., Kumita, J. R., Hook, S. C., Dobson, C. M. & Esbjorner, E. K. Solvent exposure of Tyr10 as a probe of structural differences between monomeric and aggregated forms of the amyloid-β peptide. Biochem. Biophys. Res. Commun. 468, 696–701 (2015).

Milles, S. et al. Facilitated aggregation of FG nucleoporins under molecular crowding conditions. EMBO Rep. 14, 178–183 (2013).

Ader, C. et al. Amyloid-like interactions within nucleoporin FG hydrogels. Proc. Natl Acad. Sci. USA 107, 6281–6285 (2010).

Hughes, M. P. et al. Atomic structures of low-complexity protein segments reveal kinked β sheets that assemble networks. Science 359, 698–701 (2018).

Li, D. & Liu, C. Hierarchical chemical determination of amyloid polymorphs in neurodegenerative disease. Nat. Chem. Biol. 17, 237–245 (2021).

Eisenberg, D. & McLachlan, A. D. Solvation energy in protein folding and binding. Nature 319, 199–203 (1986).

Kato, M. et al. Cell-free formation of RNA granules: low complexity sequence domains form dynamic fibers within hydrogels. Cell 149, 753–767 (2012).

Sawaya, M. R., Hughes, M. P., Rodriguez, J. A., Riek, R. & Eisenberg, D. S. The expanding amyloid family: structure, stability, function, and pathogenesis. Cell 184, 4857–4873 (2021).

Ragonis-Bachar, P. & Landau, M. Functional and pathological amyloid structures in the eyes of 2020 cryo-EM. Curr. Opin. Struct. Biol. 68, 184–193 (2021).

Najbauer, E. E., Ng, S. C., Griesinger, C., Gorlich, D. & Andreas, L. B. Atomic resolution dynamics of cohesive interactions in phase-separated Nup98 FG domains. Nat. Commun. 13, 1494 (2022).

Stanley, G. J., Fassati, A. & Hoogenboom, B. W. Biomechanics of the transport barrier in the nuclear pore complex. Semin. Cell Dev. Biol. 68, 42–51 (2017).

Sakiyama, Y., Panatala, R. & Lim, R. Y. H. Structural dynamics of the nuclear pore complex. Semin. Cell Dev. Biol. 68, 27–33 (2017).

Nedelsky, N. B. & Taylor, J. P. Bridging biophysics and neurology: aberrant phase transitions in neurodegenerative disease. Nat. Rev. Neurol. 15, 272–286 (2019).

Goddard, T. D. & Kneller, D. G. SPARKY 3 (Univ. California, 2014).

Shen, Y. & Bax, A. Protein backbone and sidechain torsion angles predicted from NMR chemical shifts using artificial neural networks. J. Biomol. NMR 56, 227–241 (2013).

Tegunov, D. & Cramer, P. Real-time cryo-electron microscopy data preprocessing with Warp. Nat. Methods 16, 1146–1152 (2019).

Zivanov, J., Nakane, T. & Scheres, S. H. W. Estimation of high-order aberrations and anisotropic magnification from cryo-EM data sets in RELION-3.1. IUCrJ 7, 253–267 (2020).

He, S. & Scheres, S. H. W. Helical reconstruction in RELION. J. Struct. Biol. 198, 163–176 (2017).

Rohou, A. & Grigorieff, N. CTFFIND4: fast and accurate defocus estimation from electron micrographs. J. Struct. Biol. 192, 216–221 (2015).

Rosenthal, P. B. & Henderson, R. Optimal determination of particle orientation, absolute hand, and contrast loss in single-particle electron cryomicroscopy. J. Mol. Biol. 333, 721–745 (2003).

Scheres, S. H. & Chen, S. Prevention of overfitting in cryo-EM structure determination. Nat. Methods 9, 853–854 (2012).

Emsley, P. & Cowtan, K. Coot: model-building tools for molecular graphics. Acta Crystallogr. D 60, 2126–2132 (2004).

Afonine, P. V. et al. Real-space refinement in PHENIX for cryo-EM and crystallography. Acta Crystallogr. D 74, 531–544 (2018).

Liebschner, D. et al. Macromolecular structure determination using X-rays, neutrons and electrons: recent developments in Phenix. Acta Crystallogr. D 75, 861–877 (2019).

Chen, V. B. et al. MolProbity: all-atom structure validation for macromolecular crystallography. Acta Crystallogr. D 66, 12–21 (2010).
Acknowledgements
We thank D. S. Eisenberg and M. Sawaya for the code to calculate the atomic solvation energies. Access to the FEI Titan Krios cryoelectron microscope equipped with a K3 detector was kindly provided by P. Cramer at the MPI for Biophysical Chemistry, Göttingen, Germany. M.Z. was supported by the European Research Council (ERC) under the EU Horizon 2020 Research and Innovation Programme (grant agreement no. 787679). B.F., J.A.G. and G.F.S. are grateful for the computational support and infrastructure provided by the Zentrum für Informations und Medientechnologie (ZIM) at the Heinrich Heine University Düsseldorf and the computing time provided by Forschungszentrum Jülich on the supercomputer JURECA/JURECA-DC at the Jülich Supercomputing Centre (JSC).
Funding
Open access funding provided by Max Planck Society.
Ethics declarations
Competing interests
The authors declare no competing interests.
Peer review
Peer review information
Nature Chemistry thanks Meytal Landau and the other, anonymous, reviewer(s) for their contribution to the peer review of this work.
Additional information
Publisher's note Springer Nature remains neutral with regard to jurisdictional claims in published maps and institutional affiliations.
Supplementary information
Supplementary Figs. 1–15 and Tables 1–3.
Numerical source data file for Supplementary Figs. 1–15.
Source data
CD data and secondary structure propensity data.
Peptide aggregation data and FRAP data.
Stability calculations and soluble protein concentration data.
Rights and permissions
Open Access This article is licensed under a Creative Commons Attribution 4.0 International License, which permits use, sharing, adaptation, distribution and reproduction in any medium or format, as long as you give appropriate credit to the original author(s) and the source, provide a link to the Creative Commons license, and indicate if changes were made. The images or other third party material in this article are included in the article's Creative Commons license, unless indicated otherwise in a credit line to the material. If material is not included in the article's Creative Commons license and your intended use is not permitted by statutory regulation or exceeds the permitted use, you will need to obtain permission directly from the copyright holder. To view a copy of this license, visit http://creativecommons.org/licenses/by/4.0/.
About this article
Cite this article
Ibáñez de Opakua, A., Geraets, J.A., Frieg, B. et al. Molecular interactions of FG nucleoporin repeats at high resolution. Nat. Chem. 14, 1278–1285 (2022). https://doi.org/10.1038/s41557-022-01035-7
Received:

Accepted:

Published:

Issue Date:

DOI: https://doi.org/10.1038/s41557-022-01035-7