Abstract
Bacteria of the Burkholderia pseudomallei (BP) group pose a global health threat, causing the infectious diseases melioidosis, a common cause of pneumonia and sepsis, and glanders, a contagious zoonosis. A trait of BP bacteria is a conserved gene cluster coding for the biosynthesis of polyketides (malleicyprols) with a reactive cyclopropanol unit that is critical for virulence. Enzymes building this warhead represent ideal targets for antivirulence strategies but the biochemical basis of cyclopropanol formation is unknown. Here we describe the formation of the malleicyprol warhead. We show that BurG, an unusual NAD+-dependent member of the ketol-acid reductoisomerase family, constructs the strained cyclopropanol ring. Biochemical assays and a suite of eight crystal structures of native and mutated BurG with bound analogues and inhibitors provide snapshots of each step of the complex reaction mechanism, involving a concealed oxidoreduction and a C–S bond cleavage. Our findings illustrate a remarkable case of neofunctionalisation, where a biocatalyst from central metabolism has been evolutionarily repurposed for warhead production in pathogens.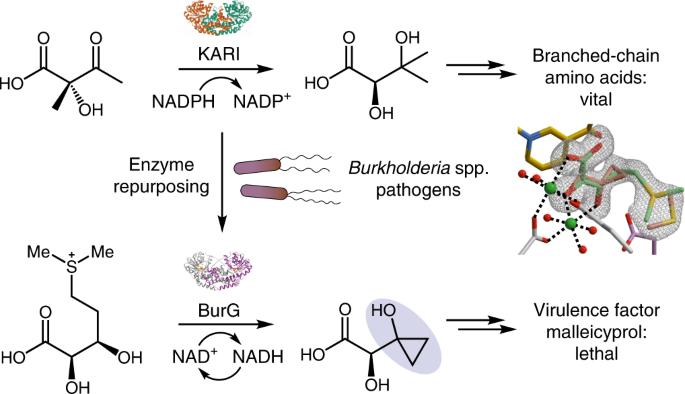 Data availability
NMR raw files of natural gonydiol and MS raw files used for comparative metabolomics analysis (Fig. 2a and Supplementary Fig. 1) are deposited on Zenodo. (https://doi.org/10.5281/zenodo.6554506) and are available without restrictions. All other data are available in the main text, the Supplementary Information, the respective source data files or via the RCSB PDB (7PCC, 7PCE, 7PCG, 7PCI, 7PCL, 7PCM, 7PCN, 7PCO, 7PCT). Source data are provided with this paper.
References
Galyov, E. E., Brett, P. J. & DeShazer, D. Molecular insights into Burkholderia pseudomallei and Burkholderia mallei pathogenesis. Annu. Rev. Microbiol. 64, 495–517 (2010).

Cruz-Migoni, A. et al. A Burkholderia pseudomallei toxin inhibits helicase activity of translation factor eIF4A. Science 334, 821–824 (2011).

Franke, J., Ishida, K. & Hertweck, C. Evolution of siderophore pathways in human pathogenic bacteria. J. Am. Chem. Soc. 136, 5599–5602 (2014).

Franke, J., Ishida, K. & Hertweck, C. Plasticity of the malleobactin pathway and its impact on siderophore action in human pathogenic bacteria. Chem. Eur. J. 21, 8010–8014 (2015).

Franke, J., Ishida, K., Ishida-Ito, M. & Hertweck, C. Nitro versus hydroxamate in siderophores of pathogenic bacteria: effect of missing hydroxylamine protection in malleobactin biosynthesis. Angew. Chem. Int. Ed. 52, 8271–8275 (2013).

Biggins, J. B., Kang, H. S., Ternei, M. A., DeShazer, D. & Brady, S. F. The chemical arsenal of Burkholderia pseudomallei is essential for pathogenicity. J. Am. Chem. Soc. 136, 9484–9490 (2014).

Klaus, J. R. et al. Secondary metabolites from the Burkholderia pseudomallei complex: structure, ecology, and evolution. J. Ind. Microbiol. Biotechnol. 47, 877–887 (2020).

Biggins, J. B., Ternei, M. A. & Brady, S. F. Malleilactone, a polyketide synthase-derived virulence factor encoded by the cryptic secondary metabolome of Burkholderia pseudomallei group pathogens. J. Am. Chem. Soc. 134, 13192–13195 (2012).

Franke, J., Ishida, K. & Hertweck, C. Genomics-driven discovery of burkholderic acid, a noncanonical, cryptic polyketide from human pathogenic Burkholderia species. Angew. Chem. Int. Ed. 51, 11611–11615 (2012).

Gutierrez, M. G., Yoder-Himes, D. R. & Warawa, J. M. Comprehensive identification of virulence factors required for respiratory melioidosis using Tn-seq mutagenesis. Front. Cell. Infect. Microbiol. 5, 78 (2015).

Moule, M. G. et al. Characterization of new virulence factors involved in the intracellular growth and survival of Burkholderia pseudomallei. Infect. Immun. 84, 701–710 (2016).

Klaus, J. R. et al. Malleilactone is a Burkholderia pseudomallei virulence factor regulated by antibiotics and quorum sensing. J. Bacteriol. 200, e00008–e00018 (2018).

Trottmann, F. et al. Cyclopropanol warhead in malleicyprol confers virulence of human- and animal-pathogenic Burkholderia species. Angew. Chem. Int. Ed. 58, 14129–14133 (2019).

Nicolaev, A. & Orellana, A. Transition-metal-catalyzed C–C and C–X bond-forming reactions using cyclopropanols. Synthesis 48, 1741–1768 (2016).

Rosa, D., Nikolaev, A., Nithiy, N. & Orellana, A. Palladium-catalyzed cross-coupling reactions of cyclopropanols. Synlett 26, 441–448 (2015).

Shunsuke, C., Zhengyan, C., Atta Atta, E. B. S. & Koichi, N. Generation of β-keto radicals from cyclopropanols catalyzed by AgNO3. Chem. Lett. 35, 18–19 (2006).

Trottmann, F. et al. Sulfonium acids loaded onto an unusual thiotemplate assembly line construct the cyclopropanol warhead of a Burkholderia virulence factor. Angew. Chem. Int. Ed. 59, 13511–13515 (2020).

Ueoka, R., Bortfeld-Miller, M., Morinaka, B. I., Vorholt, J. A. & Piel, J. Toblerols: cyclopropanol-containing polyketide modulators of antibiosis in methylobacteria. Angew. Chem. Int. Ed. 57, 977–981 (2018).

Patel, K. M. et al. Crystal structures of Staphylococcus aureus ketol-acid reductoisomerase in complex with two transition state analogues that have biocidal activity. Chem. Eur. J. 23, 18289–18295 (2017).

Brown, S. P. et al. Compounds that inhibit MCL-1 protein. Patent WO2017/147410A1 (2017).

Kolb, H. C., VanNieuwenhze, M. S. & Sharpless, K. B. Catalytic asymmetric dihydroxylation. Chem. Rev. 94, 2483–2547 (1994).

Gabler, F. et al. Protein sequence analysis using the MPI bioinformatics toolkit. Curr. Protoc. Bioinform. 72, e108 (2020).

Brinkmann-Chen, S. et al. General approach to reversing ketol-acid reductoisomerase cofactor dependence from NADPH to NADH. Proc. Natl Acad. Sci. USA 110, 10946–10951 (2013).

Brinkmann-Chen, S., Cahn, J. K. B. & Arnold, F. H. Uncovering rare NADH-preferring ketol-acid reductoisomerases. Metab. Eng. 26, 17–22 (2014).

Stein, A. J. & Geiger, J. H. The crystal structure and mechanism of 1-l-myo-inositol-1-phosphate synthase. J. Biol. Chem. 277, 9484–9491 (2002).

Thoden, J. B., Frey, P. A. & Holden, H. M. Molecular structure of the NADH/UDP-glucose abortive complex of UDP-galactose 4-epimerase from Escherichia coli: implications for the catalytic mechanism. Biochemistry 35, 5137–5144 (1996).

Yamauchi, N. & Kakinuma, K. Enzymic carbocycle formation in microbial secondary metabolism. The mechanism of the 2-deoxy-scyllo-inosose synthase reaction as a crucial step in the 2-deoxystreptamine biosynthesis in Streptomyces fradiae. J. Org. Chem. 60, 5614–5619 (2002).

Holzer, H. & Holldorf, A. in Methods of Enzymatic Analysis (ed. Bergmeyer, H.-U.) 260–262 (Academic Press, 1965).

Tadrowski, S. et al. Metal ions play an essential catalytic role in the mechanism of ketol-acid reductoisomerase. Chem. Eur. J. 22, 7427–7436 (2016).

Gu, L. et al. Metamorphic enzyme assembly in polyketide diversification. Nature 459, 731–735 (2009).

Jin, W. B., Wu, S., Jian, X. H., Yuan, H. & Tang, G. L. A radical S-adenosyl-l-methionine enzyme and a methyltransferase catalyze cyclopropane formation in natural product biosynthesis. Nat. Commun. 9, 2771 (2018).

Neumann, C. S. & Walsh, C. T. Biosynthesis of (−)-(1S,2R)-allocoronamic acyl thioester by an Fe(II)-dependent halogenase and a cyclopropane-forming flavoprotein. J. Am. Chem. Soc. 130, 14022–14023 (2008).

Ramalingam, K., Lee, K. M., Woodard, R. W., Bleecker, A. B. & Kende, H. Stereochemical course of the reaction catalyzed by the pyridoxal phosphate-dependent enzyme 1-aminocyclopropane-1-carboxylate synthase. Proc. Natl Acad. Sci. USA 82, 7820–7824 (1985).

Vaillancourt, F. H., Yeh, E., Vosburg, D. A., O'Connor, S. E. & Walsh, C. T. Cryptic chlorination by a non-haem iron enzyme during cyclopropyl amino acid biosynthesis. Nature 436, 1191–1194 (2005).

Zha, L. et al. Colibactin assembly line enzymes use S-adenosylmethionine to build a cyclopropane ring. Nat. Chem. Biol. 13, 1063–1065 (2017).

Vizcaino, M. I. & Crawford, J. M. The colibactin warhead crosslinks DNA. Nat. Chem. 7, 411–417 (2015).

Wilson, M. R. et al. The human gut bacterial genotoxin colibactin alkylates DNA. Science 363, eaar7785 (2019).

Thibodeaux, C. J., Chang, W. C. & Liu, H. W. Enzymatic chemistry of cyclopropane, epoxide, and aziridine biosynthesis. Chem. Rev. 112, 1681–1709 (2012).

Coelho, P. S., Brustad, E. M., Kannan, A. & Arnold, F. H. Olefin cyclopropanation via carbene transfer catalyzed by engineered cytochrome P450 enzymes. Science 339, 307–310 (2013).

Katoh, K., Rozewicki, J. & Yamada, K. D. MAFFT online service: multiple sequence alignment, interactive sequence choice and visualization. Brief. Bioinform. 20, 1160–1166 (2017).

Nguyen, L.-T., Schmidt, H. A., von Haeseler, A. & Minh, B. Q. IQ-TREE: a fast and effective stochastic algorithm for estimating maximum-likelihood phylogenies. Mol. Biol. Evol 32, 268–274 (2014).

Kalyaanamoorthy, S., Minh, B. Q., Wong, T. K. F., von Haeseler, A. & Jermiin, L. S. ModelFinder: fast model selection for accurate phylogenetic estimates. Nat. Methods 14, 587–589 (2017).

Minh, B. Q., Nguyen, M. A. T. & von Haeseler, A. Ultrafast approximation for phylogenetic bootstrap. Mol. Biol. Evol. 30, 1188–1195 (2013).

Kumar, S., Stecher, G. & Tamura, K. MEGA7: molecular evolutionary genetics analysis version 7.0 for bigger datasets. Mol. Biol. Evol. 33, 1870–1874 (2016).

Taber, D. F., DeMatteo, P. W. & Hassan, R. A. Simplified preparation of dimethyldioxirane (DMDO). Org. Synth. 90, 350–357 (2013).

Esnouf, R. M. An extensively modified version of MolScript that includes greatly enhanced coloring capabilities. J. Mol. Graph. Model. 15, 132–134 (1997).

Kabsch, W. XDS. Acta Crystallogr. D 66, 125–132 (2010).

McCoy, A. J. et al. Phaser crystallographic software. J. Appl. Crystallogr. 40, 658–674 (2007).

Emsley, P. & Cowtan, K. Coot: model-building tools for molecular graphics. Acta Crystallogr. D 60, 2126–2132 (2004).

Murshudov, G. N. et al. REFMAC5 for the refinement of macromolecular crystal structures. Acta Crystallogr. D 67, 355–367 (2011).

Langer, G., Cohen, S. X., Lamzin, V. S. & Perrakis, A. Automated macromolecular model building for X-ray crystallography using ARP/wARP version 7. Nat. Protoc. 3, 1171–1179 (2008).

Chen, V. B. et al. MolProbity: all-atom structure validation for macromolecular crystallography. Acta Crystallogr. D 66, 12–21 (2010).
Acknowledgements
We thank H. Heinecke and A. Perner for NMR and LC-MS measurements, respectively. We thank A. König for support in the protein crystallization experiments. We thank G. Lackner for provision of material for chiral HPLC and F. Kloss for provision of a Tycho NT.6. We are grateful to J. Franke for helpful discussions. Financial support from the Deutsche Forschungsgemeinschaft (DFG, German Research Foundation), Project-ID 239748522–SFB 1127, and Leibniz Award (to C.H.), DFG Project-ID 325871075–SFB 1309 (to M.G.) and the European Regional Development Fund (ERDF) (MassNat) are gratefully acknowledged. H.K. received fellowships from the Daimler and Benz Foundation and the Fonds der Chemischen Industrie (FCI).
Ethics declarations
Competing interests
The authors declare no competing interests.
Peer review
Peer review information
Nature Chemistry thanks Satish Nair, Kenichi Yokoyama and the other, anonymous, reviewer(s) for their contribution to the peer review of this work.
Additional information
Publisher's note Springer Nature remains neutral with regard to jurisdictional claims in published maps and institutional affiliations.
Supplementary information
Synthetic procedures, distinct crystallization parameters, nucleotide sequence of synthetic burG E232Q, Supplementary Figs. 1–35, Tables 1–6 and references.
Source Data for the Supplementary Information
Rights and permissions
Open Access This article is licensed under a Creative Commons Attribution 4.0 International License, which permits use, sharing, adaptation, distribution and reproduction in any medium or format, as long as you give appropriate credit to the original author(s) and the source, provide a link to the Creative Commons license, and indicate if changes were made. The images or other third party material in this article are included in the article's Creative Commons license, unless indicated otherwise in a credit line to the material. If material is not included in the article's Creative Commons license and your intended use is not permitted by statutory regulation or exceeds the permitted use, you will need to obtain permission directly from the copyright holder. To view a copy of this license, visit http://creativecommons.org/licenses/by/4.0/.
About this article
Cite this article
Trottmann, F., Ishida, K., Ishida-Ito, M. et al. Pathogenic bacteria remodel central metabolic enzyme to build a cyclopropanol warhead. Nat. Chem. 14, 884–890 (2022). https://doi.org/10.1038/s41557-022-01005-z
Received:

Accepted:

Published:

Issue Date:

DOI: https://doi.org/10.1038/s41557-022-01005-z
This article is cited by
Elijah Abraham
Rebecca A. Butcher

Nature Chemistry (2022)