Abstract
Substantial evidence now exists to support that formation of DNA G-quadruplexes (G4s) is coupled to altered gene expression. However, approaches that allow us to probe G4s in living cells without perturbing their folding dynamics are required to understand their biological roles in greater detail. Herein, we report a G4-specific fluorescent probe (SiR-PyPDS) that enables single-molecule and real-time detection of individual G4 structures in living cells. Live-cell single-molecule fluorescence imaging of G4s was carried out under conditions that use low concentrations of SiR-PyPDS (20 nM) to provide informative measurements representative of the population of G4s in living cells, without globally perturbing G4 formation and dynamics. Single-molecule fluorescence imaging and time-dependent chemical trapping of unfolded G4s in living cells reveal that G4s fluctuate between folded and unfolded states. We also demonstrate that G4 formation in live cells is cell-cycle-dependent and disrupted by chemical inhibition of transcription and replication. Our observations provide robust evidence in support of dynamic G4 formation in living cells.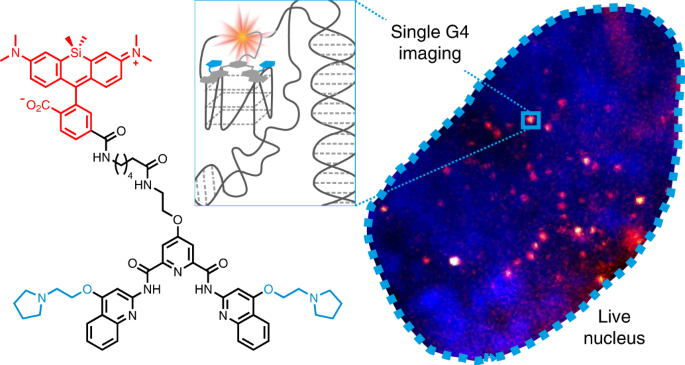 Access options
Subscribe to Journal
Get full journal access for 1 year
$160.00
only $13.33 per issue
All prices are NET prices.
VAT will be added later in the checkout.
Rent or Buy article
Get time limited or full article access on ReadCube.
from$8.99
All prices are NET prices.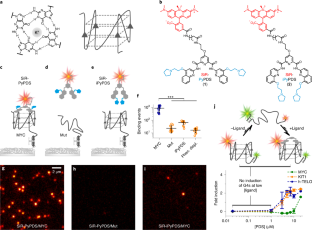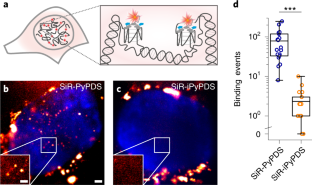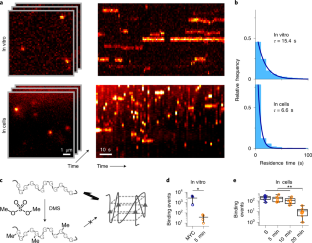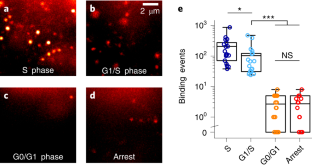 Data availability
All data generated during this study are included in this published Article and its Supplementary Information.
References
1.

Sen, D. & Gilbert, W. Formation of parallel four-stranded complexes by guanine-rich motifs in DNA and its implications for meiosis. Nature 334, 364–366 (1988).

2.

Hänsel-Hertsch, R., Di Antonio, M. & Balasubramanian, S. DNA G-quadruplexes in the human genome: detection, functions and therapeutic potential. Nat. Rev. Mol. Cell Biol. 18, 279–284 (2017).

3.

Chambers et al. High-throughput sequencing of DNA G-quadruplex structures in the human genome. Nat. Biotechnol. 33, 877–881 (2015).

4.

Schaffitzel, C. et al. In vitro generated antibodies specific for telomeric guanine-quadruplex DNA react with Stylonychia lemnae macronuclei. Proc. Natl Acad. Sci. USA 98, 8572–8577 (2001).

5.

Biffi, G., Tannahill, D., McCafferty, J. & Balasubramanian, S. Quantitative visualization of DNA G-quadruplex structures in human cells. Nat. Chem. 3, 182–186 (2013).

6.

Hänsel-Hertsch, R. et al. G-quadruplex structures mark human regulatory chromatin. Nat. Genet. 48, 1267–1272 (2016).

7.

Chen, X. C. et al. Tracking the dynamic folding and unfolding of RNA G-quadruplexes in live cells. Angew. Chem. Int. Ed. 57, 4702–4706 (2018).

8.

Laguerre, A. et al. Visualization of RNA G-quadruplexes in live cells. J. Am. Chem. Soc. 137, 8521–8525 (2015).

9.

Zhang, S. et al. Real-time monitoring of DNA G-quadruplexes in living cells with a small-molecule fluorescent probe. Nucleic Acids Res. 46, 7522–7532 (2018).

10.

Shivalingam, A. et al. The interactions between a small-molecule and G-quadruplexes are visualized by fluorescence lifetime imaging microscopy. Nat. Commun. 6, 8178 (2015).

11.

Lukinavičius, G. et al. A near-infrared fluorophore for live-cell super-resolution microscopy of cellular proteins. Nat. Chem. 5, 132–139 (2013).

12.

Rodriguez, R. et al. A novel small molecule that alters shelterin integrity and triggers a DNA-damage response at telomeres. J. Am. Chem. Soc. 130, 15758–15759 (2008).

13.

De Cian, A., Delemos, E., Mergny, J. L., Teulade-Fichou, M. P. & Monchaud, D. Highly efficient G-quadruplex recognition by bisquinolinium compounds. J. Am. Chem. Soc. 129, 1856–1857 (2007).

14.

Ying, L., Green, J. J., Li, H., Klenerman, D. & Balasubramanian, S. Studies on the structure and dynamics of the human telomeric G-quadruplex by single-molecule fluorescence resonance energy transfer. Proc. Natl Acad. Sci. USA 100, 14629–14634 (2003).

15.

Tokunaga, M., Imamoto, N. & Sakata-Sogawa, K. Highly inclined thin illumination enables clear single-molecule imaging in cells. Nat. Methods 5, 159–161 (2008).

16.

Etheridge, T. J. et al. Quantification of DNA-associated proteins inside eukaryotic cells using single-molecule localization microscopy. Nucleic Acids Res. 42, e146 (2014).

17.

Guo, J. U. & Bartel, D. P. RNA G-quadruplexes are globally unfolded in eukaryotic cells and depleted in bacteria. Science 353, aaf537 (2016).

18.

Rodriguez, R. et al. Small-molecule-induced DNA damage identifies alternative DNA structures in human genes. Nat. Chem. Biol. 8, 301–310 (2012).

19.

Chandradoss, S. D. et al. Surface passivation for single-molecule protein studies. J. Vis. Exp. 86, 50549 (2014).

20.

Tinevez, J.-Y. et al. TrackMate: an open and extensible platform for single-particle tracking. Methods 115, 80–90 (2017).

21.

Ponjavic, A. et al. Single-molecule light-sheet imaging of suspended T cells. Biophys. J. 114, 2200–2211 (2018).

22.

Ponjavic, A., Ye, Y., Laue, E., Lee, S. F. & Klenerman, D. Sensitive light-sheet microscopy in multiwell plates using an AFM cantilever. Biomed. Opt. Express 9, 5863–5880 (2018).

23.

Chen, J. et al. Single-molecule dynamics of enhanceosome assembly in embryonic stem cells. Cell 156, 1274–1285 (2014).
Acknowledgements
This work was supported by programme grant funding from Cancer Research UK (C9681/A18618, to S.B.), core funding from Cancer Research UK (C14303/A17197, to S.B.), a Royal Society University Research Fellowship (UF120277, to S.F.L.), a Research Professorship (RP150066, D.K.), the EPSRC (EP/L027631/1, to D.K.) and a BBSRC David Phillips Fellowship (BB/R011605/1, to M.D.A.).
Ethics declarations
Competing interests
S.B. is a founder and shareholder of Cambridge Epigenetix Ltd.
Additional information
Publisher's note Springer Nature remains neutral with regard to jurisdictional claims in published maps and institutional affiliations.
Supplementary information
About this article
Cite this article
Di Antonio, M., Ponjavic, A., Radzevičius, A. et al. Single-molecule visualization of DNA G-quadruplex formation in live cells. Nat. Chem. (2020). https://doi.org/10.1038/s41557-020-0506-4
Received:

Accepted:

Published: