There is an ongoing discussion about the participation of women in science and particularly astronomy. Demographic data from NASA's robotic planetary spacecraft missions show women scientists to be consistently under-represented.
Access options
Subscribe to Journal
Get full journal access for 1 year
$99.00
only $8.25 per issue
All prices are NET prices.
VAT will be added later in the checkout.
Rent or Buy article
Get time limited or full article access on ReadCube.
from$8.99
All prices are NET prices.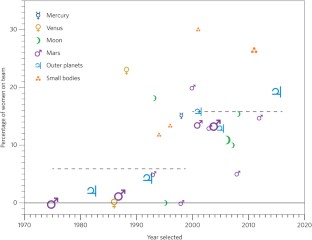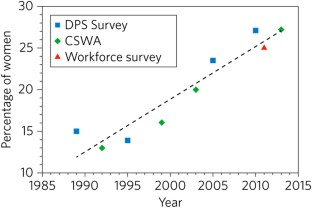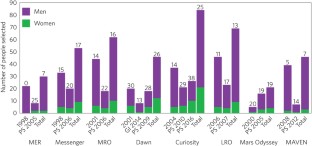 References
1

Shen, H. Nature 495, 22–24 (2013).

2

Dutt, K., Pfaff, D. L., Bernstein, A. F., Dillard, J. S. & Block, C. J. Nat. Geosci. 9, 805–808 (2016).

3

Merton, R. K. Science 159, 56–63 (1968).

4

Caplar, N., Tacchella, S. & Birrer, S. Nat. Astron. 1, 0141 (2017).

5

Rathbun, J. A. et al. In 47th Meeting of the Division for Planetary Science 312.01 (AAS, 2015).

6

Rathbun, J. A. et al. In 48th Meeting of the Division for Planetary Science 332.01 (AAS, 2016).

7

Kanter, R. Men and Women of the Corporation (Basic Books, 1977).

8

DPS Employment Survey Results (AAS, 1989); http://go.nature.com/2p8NYFX

9

DPS Survey Results (AAS, 2010); http://go.nature.com/2pFnXiE

10

Hughes, A. M. Portrait of a Generation of Women in Astronomy (CSWA, 2013); http://go.nature.com/2p8MqvN

11

White, S., Chu, R. Y. & Ivie, R. 2011 Survey of the Planetary Science Workforce (LASP, 2011); http://go.nature.com/2p8Gr9X
About this article
Cite this article
Rathbun, J. Participation of women in spacecraft science teams. Nat Astron 1, 0148 (2017). https://doi.org/10.1038/s41550-017-0148