Abstract
High temperature is one of the major environmental stresses affecting plant growth and fitness. Heat stress transcription factors (HSFs) play critical roles in regulating the expression of heat-responsive genes. However, how HSFs are regulated remains obscure. Here, we show that ALBA4, ALBA5 and ALBA6, which phase separate into stress granules (SGs) and processing bodies (PBs) under heat stress, directly bind selected messenger RNAs, including HSF mRNAs, and recruit them into SGs and PBs to protect them from degradation under heat stress in Arabidopsis. The alba456 triple mutants, but not single and double mutants, display pleiotropic developmental defects and hypersensitivity to heat stress. Mutations in XRN4, a cytoplasmic 5′ to 3′ exoribonuclease, can rescue the observed developmental and heat-sensitive phenotypes of alba456 seedlings. Our study reveals a new layer of regulation for HSFs whereby HSF mRNAs are stabilized by redundant action of ALBA proteins in SGs and PBs for plant thermotolerance.
Access options
Subscribe to Nature+
Get immediate online access to Nature and 55 other Nature journal
Subscribe to Journal
Get full journal access for 1 year
$119.00
only $9.92 per issue
All prices are NET prices.
VAT will be added later in the checkout.
Tax calculation will be finalised during checkout.
Buy article
Get time limited or full article access on ReadCube.
$32.00
All prices are NET prices.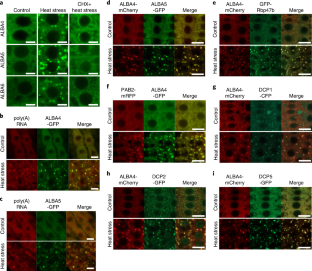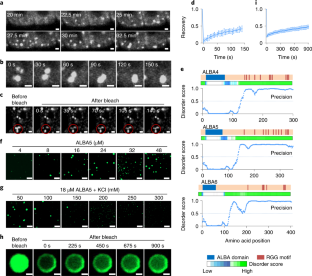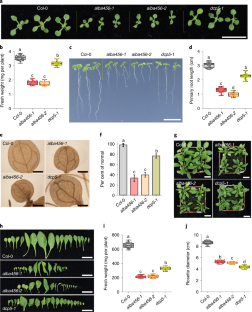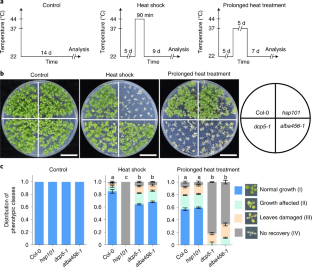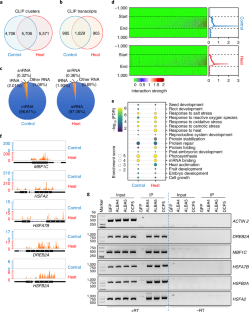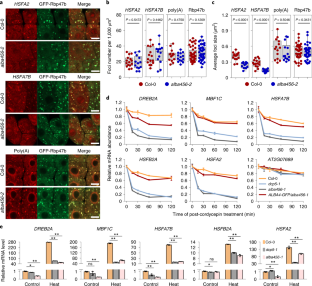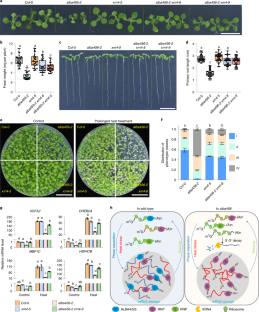 Data availability
The eCLIP-seq sequencing data generated in this study have been deposited in the NCBI Sequence Read Archive under the accession number PRJNA750641. The eCLIP-seq data for Pro35S:GFP at 22 °C were downloaded from GEO (GSE128619). No new code was generated in this study. The accession numbers of the genes used in this research are as follows: ALBA4 (AT1G20220), ALBA5 (AT1G76010), ALBA6 (AT3G07030), DCP5 (AT1G26110), PAB2 (AT4G34110), PAB4 (AT2G23350), Rbp47b (AT3G19130), DCP1 (AT1G08370), DCP2 (AT5G13570), EIF4A1 (AT3G13920), PAT1 (AT1G79090), XRN4/EIN5 (AT1G54490), HSP101 (AT1G74310), HSFA7B (AT3G63350), HSFA2 (AT2G26150), HSFB2A (AT5G62020), MBF1C (AT3G24500), DREB2A (AT5G05410), ACTIN2 (AT3G18780). Source data are provided with this paper.
References
Hasanuzzaman, M., Nahar, K., Alam, M. M., Roychowdhury, R. & Fujita, M. Physiological, biochemical, and molecular mechanisms of heat stress tolerance in plants. Int. J. Mol. Sci. 14, 9643–9684 (2013).

Ding, Y., Shi, Y. & Yang, S. Molecular regulation of plant responses to environmental temperatures. Mol. Plant 13, 544–564 (2020).

Guo, M. et al. The plant heat stress transcription factors (HSFs): structure, regulation, and function in response to abiotic stresses. Front. Plant Sci. 7, 114 (2016).

Buchan, J. R. & Parker, R. Eukaryotic stress granules: the ins and outs of translation. Mol. Cell 36, 932–941 (2009).

Chantarachot, T. et al. DHH1/DDX6-like RNA helicases maintain ephemeral half-lives of stress-response mRNAs. Nat. Plants 6, 675–685 (2020).

Gutierrez-Beltran, E., Moschou, P. N., Smertenko, A. P. & Bozhkov, P. V. Tudor staphylococcal nuclease links formation of stress granules and processing bodies with mRNA catabolism in Arabidopsis. Plant Cell 27, 926–943 (2015).

Weber, C., Nover, L. & Fauth, M. Plant stress granules and mRNA processing bodies are distinct from heat stress granules. Plant J. 56, 517–530 (2008).

Sorenson, R. & Bailey-Serres, J. Selective mRNA sequestration by OLIGOURIDYLATE-BINDING PROTEIN 1 contributes to translational control during hypoxia in Arabidopsis. Proc. Natl Acad. Sci. USA 111, 2373–2378 (2014).

Belostotsky, D. A. & Sieburth, L. E. Kill the messenger: mRNA decay and plant development. Curr. Opin. Plant Biol. 12, 96–102 (2009).

Aizer, A. et al. Quantifying mRNA targeting to P-bodies in living human cells reveals their dual role in mRNA decay and storage. J. Cell Sci. 127, 4443–4456 (2014).

Jang, G. J., Yang, J. Y., Hsieh, H. L. & Wu, S. H. Processing bodies control the selective translation for optimal development of Arabidopsis young seedlings. Proc. Natl Acad. Sci. USA 116, 6451–6456 (2019).

Decker, C. J. & Parker, R. P-bodies and stress granules: possible roles in the control of translation and mRNA degradation. Cold Spring Harb. Perspect. Biol. 4, a012286 (2012).

Xu, J., Yang, J. Y., Niu, Q. W. & Chua, N. H. Arabidopsis DCP2, DCP1, and VARICOSE form a decapping complex required for postembryonic development. Plant Cell 18, 3386–3398 (2006).

Thomas, M. G., Loschi, M., Desbats, M. A. & Boccaccio, G. L. RNA granules: the good, the bad and the ugly. Cell Signal. 23, 324–334 (2011).

Anderson, P. & Kedersha, N. RNA granules: post-transcriptional and epigenetic modulators of gene expression. Nat. Rev. Mol. Cell Biol. 10, 430–436 (2009).

Vanderweyde, T., Youmans, K., Liu-Yesucevitz, L. & Wolozin, B. Role of stress granules and RNA-binding proteins in neurodegeneration: a mini-review. Gerontology 59, 524–533 (2013).

Iserman, C. et al. Condensation of Ded1p promotes a translational switch from housekeeping to stress protein production. Cell 181, 818–831 (2020).

Laurens, N. et al. Alba shapes the archaeal genome using a delicate balance of bridging and stiffening the DNA. Nat. Commun. 3, 1328 (2012).

Zhang, N., Guo, L. & Huang, L. The Sac10b homolog from Sulfolobus islandicus is an RNA chaperone. Nucleic Acids Res. 48, 9273–9284 (2020).

Mani, J. et al. Alba-domain proteins of Trypanosoma brucei are cytoplasmic RNA-binding proteins that interact with the translation machinery. PLoS One 6, e22463 (2011).

Aravind, L., Iyer, L. M. & Anantharaman, V. The two faces of Alba: the evolutionary connection between proteins participating in chromatin structure and RNA metabolism. Genome Biol. 4, R64 (2003).

Yuan, W. et al. ALBA protein complex reads genic R-loops to maintain genome stability in Arabidopsis. Sci. Adv. 5, eaav9040 (2019).

Thandapani, P., O'Connor, T. R., Bailey, T. L. & Richard, S. Defining the RGG/RG motif. Mol. Cell 50, 613–623 (2013).

Jang, G. J., Jang, J. C. & Wu, S. H. Dynamics and functions of stress granules and processing bodies in plants. Plants (Basel) 9, 1122 (2020).

Xu, J. & Chua, N. H. Arabidopsis decapping 5 is required for mRNA decapping, P-body formation, and translational repression during postembryonic development. Plant Cell 21, 3270–3279 (2009).

Motomura, K. et al. Diffuse decapping enzyme DCP2 accumulates in DCP1 foci under heat stress in Arabidopsis thaliana. Plant Cell Physiol. 56, 107–115 (2015).

Perea-Resa, C. et al. The LSM1-7 Complex gifferentially regulates Arabidopsis tolerance to abiotic stress conditions by promoting selective mRNA decapping. Plant Cell 28, 505–520 (2016).

Yan, C., Yan, Z., Wang, Y., Yan, X. & Han, Y. Tudor-SN, a component of stress granules, regulates growth under salt stress by modulating GA20ox3 mRNA levels in Arabidopsis. J. Exp. Bot. 65, 5933–5944 (2014).

Banani, S. F., Lee, H. O., Hyman, A. A. & Rosen, M. K. Biomolecular condensates: organizers of cellular biochemistry. Nat. Rev. Mol. Cell Biol. 18, 285–298 (2017).

Lin, Y., Protter, D. S., Rosen, M. K. & Parker, R. Formation and maturation of phase-separated liquid droplets by RNA-binding proteins. Mol. Cell 60, 208–219 (2015).

Molliex, A. et al. Phase separation by low complexity domains promotes stress granule assembly and drives pathological fibrillization. Cell 163, 123–133 (2015).

Oates, M. E. et al. D(2)P(2): database of disordered protein predictions. Nucleic Acids Res. 41, D508–D516 (2013).

Jones, D. T. & Cozzetto, D. DISOPRED3: precise disordered region predictions with annotated protein-binding activity. Bioinformatics 31, 857–863 (2015).

McLoughlin, F., Kim, M., Marshall, R. S., Vierstra, R. D. & Vierling, E. HSP101 interacts with the proteasome and promotes the clearance of ubiquitylated protein aggregates. Plant Physiol. 180, 1829–1847 (2019).

Zhu, D. et al. The features and gegulation of co-transcriptional splicing in Arabidopsis. Mol. Plant 13, 278–294 (2020).

Kosmacz, M. et al. Protein and metabolite composition of Arabidopsis stress granules. New Phytol. 222, 1420–1433 (2019).

Kastenmayer, J. P. & Green, P. J. Novel features of the XRN-family in Arabidopsis: evidence that AtXRN4, one of several orthologs of nuclear Xrn2p/Rat1p, functions in the cytoplasm. Proc. Natl Acad. Sci. USA 97, 13985–13990 (2000).

Souret, F. F., Kastenmayer, J. P. & Green, P. J. AtXRN4 degrades mRNA in Arabidopsis and its substrates include selected miRNA targets. Mol. Cell 15, 173–183 (2004).

Markmiller, S. et al. Context-dependent and disease-specific diversity in protein interactions within stress granules. Cell 172, 590–604 (2018).

Gutierrez-Beltran, E. et al. Tudor staphylococcal nuclease is a docking platform for stress granule components and is essential for SnRK1 activation in Arabidopsis. EMBO J. 40, e105043 (2021).

Aulas, A. et al. Stress-specific differences in assembly and composition of stress granules and related foci. J. Cell Sci. 130, 927–937 (2017).

Unsworth, H., Raguz, S., Edwards, H. J., Higgins, C. F. & Yague, E. mRNA escape from stress granule sequestration is dictated by localization to the endoplasmic reticulum. FASEB J. 24, 3370–3380 (2010).

Hubstenberger, A. et al. P-Body purification reveals the condensation of repressed mRNA regulons. Mol. Cell 68, 144–157 (2017).

Khong, A. et al. The stress granule transcriptome reveals principles of mRNA accumulation in stress granules. Mol. Cell 68, 808–820 (2017).

Goyal, M., Banerjee, C., Nag, S. & Bandyopadhyay, U. The Alba protein family: structure and function. Biochim. Biophys. Acta 1864, 570–583 (2016).

Mateju, D. et al. Single-molecule imaging reveals translation of mRNAs localized to stress granules. Cell 183, 1801–1812 (2020).

Verma, J. K. et al. OsAlba1, a dehydration-responsive nuclear protein of rice (Oryza sativa L. ssp. indica), participates in stress adaptation. Phytochemistry 100, 16–25 (2014).

Chene, A. et al. PfAlbas constitute a new eukaryotic DNA/RNA-binding protein family in malaria parasites. Nucleic Acids Res. 40, 3066–3077 (2012).

Wang, L. C. et al. Arabidopsis HIT4 encodes a novel chromocentre-localized protein involved in the heat reactivation of transcriptionally silent loci and is essential for heat tolerance in plants. J. Exp. Bot. 64, 1689–1701 (2013).

Wang, Z. P. et al. Egg cell-specific promoter-controlled CRISPR/Cas9 efficiently generates homozygous mutants for multiple target genes in Arabidopsis in a single generation. Genome Biol. 16, 144 (2015).

Clough, S. J. & Bent, A. F. Floral dip: a simplified method for Agrobacterium-mediated transformation of Arabidopsis thaliana. Plant J. 16, 735–743 (1998).

Li, Q. et al. Regulation of active DNA demethylation by a methyl-CpG-binding domain protein in Arabidopsis thaliana. PLoS Genet. 11, e1005210 (2015).

Ramírez, F. et al. deepTools2: a next generation web server for deep-sequencing data analysis. Nucleic Acids Res. 44, W160–W165 (2016).

Quinlan, A. R. & Hall, I. M. BEDTools: a flexible suite of utilities for comparing genomic features. Bioinformatics 26, 841–842 (2010).

Heinz, S. et al. Simple combinations of lineage-determining transcription factors prime cis-regulatory elements required for macrophage and B cell identities. Mol. Cell 38, 576–589 (2010).

Khan, A. & Mathelier, A. Intervene: a tool for intersection and visualization of multiple gene or genomic region sets. BMC Bioinformatics 18, 287 (2017).

Gu, Z., Eils, R., Schlesner, M. & Ishaque, N. EnrichedHeatmap: an R/Bioconductor package for comprehensive visualization of genomic signal associations. BMC Bioinformatics 18, 287 (2017).

Robinson, J. T. et al. Integrative genomics viewer. Nat. Biotechnol. 29, 24–26 (2011).

Tian, T. et al. agriGO v2.0: a GO analysis toolkit for the agricultural community, 2017 update. Nucleic Acids Res. 45, W122–w129 (2017).

Kuret, K., Amalietti, A. G. & Ule, J. Positional motif analysis reveals the extent of specificity of protein-RNA interactions observed by CLIP. Preprint at bioRxiv https://doi.org/10.1101/2021.12.07.471544 (2021).
Acknowledgements
We thank Q.-J. Chen for the CRISPR–Cas9 system. This study was supported by the National Key R&D Programme of China to W.Q. (grant no. 2018YFE0204700) and the National Natural Science Foundation of China to L.-M.F. (grant no. 32170285) and W.Q. (grant no. 31970614).
Ethics declarations
Competing interests
The authors declare no competing interests.
Peer review
Peer review information
Nature Plants thanks Chung-Mo Park, Hong-Xuan Lin and the other, anonymous, reviewer(s) for their contribution to the peer review of this work.
Additional information
Publisher's note Springer Nature remains neutral with regard to jurisdictional claims in published maps and institutional affiliations.
Supplementary information
About this article
Cite this article
Tong, J., Ren, Z., Sun, L. et al. ALBA proteins confer thermotolerance through stabilizing HSF messenger RNAs in cytoplasmic granules. Nat. Plants 8, 778–791 (2022). https://doi.org/10.1038/s41477-022-01175-1
Received:

Accepted:

Published:

Issue Date:

DOI: https://doi.org/10.1038/s41477-022-01175-1