Abstract
Developmental boundaries play an important role in coordinating the growth and patterning of lateral organs. In plants, specification of dorsiventrality is critical to leaf morphogenesis. Despite its central importance, the mechanism by which leaf primordia acquire adaxial versus abaxial cell fates to establish dorsiventrality remains a topic of much debate. Here, by combining time-lapse confocal imaging, cell lineage tracing and molecular genetic analyses, we demonstrate that a stable boundary between adaxial and abaxial cell fates is specified several plastochrons before primordium emergence when high auxin levels accumulate on a meristem prepattern formed by the AS2 and KAN1 transcription factors. This occurrence triggers a transient induction of ARF3 and an auxin transcriptional response in AS2-marked progenitors that distinguishes adaxial from abaxial identity. As the primordium emerges, dynamic shifts in auxin distribution and auxin-related gene expression gradually resolve this initial polarity into the stable regulatory network known to maintain adaxial–abaxial polarity within the developing organ. Our data show that spatial information from an AS2–KAN1 meristem prepattern governs the conversion of a uniform auxin input into an ARF-dependent binary auxin response output to specify adaxial–abaxial polarity. Auxin thus serves as a single morphogenic signal that orchestrates distinct, spatially separated responses to coordinate the positioning and emergence of a new organ with its patterning.
Access options
Access Nature and 54 other Nature Portfolio journals
Get Nature+, our best-value online-access subscription
$29.99 per month
cancel any time
Subscribe to this journal
Receive 12 digital issues and online access to articles
$119.00 per year
only $9.92 per issue
Rent or buy this article
Get just this article for as long as you need it
$39.95
Prices may be subject to local taxes which are calculated during checkout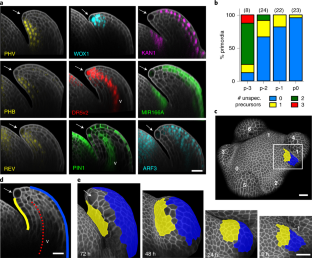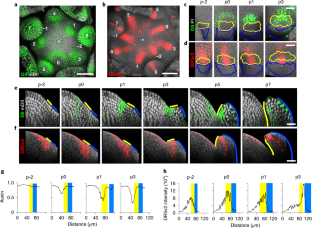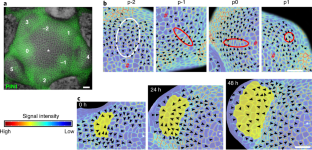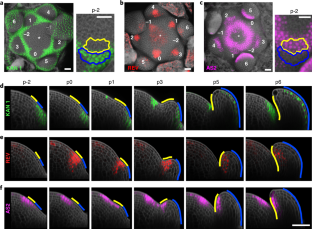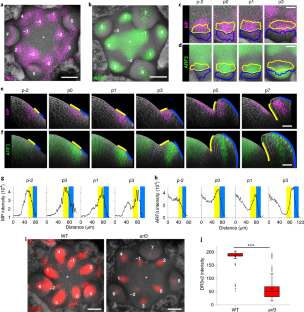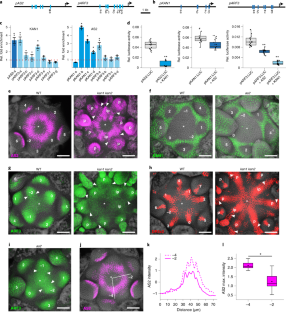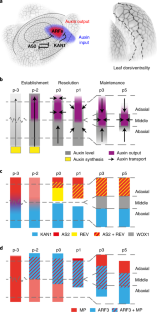 Data availability
Data for the current study are available from the paper and its Supplementary Information or from the corresponding author on reasonable request.
References
Waites, R. & Hudson, A. phantastica: a gene required for dorsoventrality of leaves in Antirrhinum majus. Development 121, 2143–2154 (1995).

Whitewoods, C. D. et al. Evolution of carnivorous traps from planar leaves through simple shifts in gene expression. Science 367, 91–96 (2020).

Kuhlemeier, C. & Timmermans, M. C. The Sussex signal: insights into leaf dorsiventrality. Development 143, 3230–3237 (2016).

Chitwood, D. H. et al. Pattern formation via small RNA mobility. Genes Dev. 23, 549–554 (2009).

Skopelitis, D. S., Benkovics, A. H., Husbands, A. Y. & Timmermans, M. C. P. Boundary formation through a direct threshold-based readout of mobile small RNA gradients. Dev. Cell 43, 265–273 (2017).

Kuhlemeier, C. Phyllotaxis. Trends Plant Sci. 12, 143–150 (2007).

Echevin, E. et al. Growth and biomechanics of shoot organs. J. Exp. Bot. 70, 3573–3585 (2019).

Qi, J. et al. Auxin depletion from leaf primordia contributes to organ patterning. Proc. Natl Acad. Sci. USA 111, 18769–18774 (2014).

Sussex, I. Experiments on the cause of dorsiventrality in leaves. Nature 167, 651–652 (1951).

Reinhardt, D., Frenz, M., Mandel, T. & Kuhlemeier, C. Microsurgical and laser ablation analysis of leaf positioning and dorsoventral patterning in tomato. Development 132, 15–26 (2005).

Caggiano, M. P. et al. Cell type boundaries organize plant development. eLife 6, e27421 (2017).

Bhatia, N., Ahl, H., Jonsson, H. & Heisler, M. G. Quantitative analysis of auxin sensing in leaf primordia argues against proposed role in regulating leaf dorsoventrality. eLife 8, e39298 (2019).

Burian, A., Barbier de Reuille, P. & Kuhlemeier, C. Patterns of stem cell divisions contribute to plant longevity. Curr. Biol. 26, 1385–1394 (2016).

Galvan-Ampudia, C. S. et al. Temporal integration of auxin information for the regulation of patterning. eLife 9, e55832 (2020).

Nakata, M. et al. Roles of the middle domain-specific WUSCHEL-RELATED HOMEOBOX genes in early development of leaves in Arabidopsis. Plant Cell 24, 519–535 (2012).

Liao, C. Y. et al. Reporters for sensitive and quantitative measurement of auxin response. Nat. Methods 12, 207–210 (2015).

Benková, E. et al. Local, efflux-dependent auxin gradients as a common module for plant organ formation. Cell 115, 591–602 (2003).

Heisler, M. G. et al. Patterns of auxin transport and gene expression during primordium development revealed by live imaging of the Arabidopsis inflorescence meristem. Curr. Biol. 15, 1899–1911 (2005).

Barbier de Reuille, P. et al. MorphoGraphX: a platform for quantifying morphogenesis in 4D. eLife 4, 05864 (2015).

Bhatia, N. et al. Auxin acts through MONOPTEROS to regulate plant cell polarity and pattern phyllotaxis. Curr. Biol. 26, 3202–3208 (2016).

Kierzkowski, D., Lenhard, M., Smith, R. & Kuhlemeier, C. Interaction between meristem tissue layers controls phyllotaxis. Dev. Cell 26, 616–628 (2013).

Wang, Q., Kohlen, W., Rossmann, S., Vernoux, T. & Theres, K. Auxin depletion from the leaf axil conditions competence for axillary meristem formation in Arabidopsis and tomato. Plant Cell 26, 2068–2079 (2014).

Huang, T. et al. Arabidopsis KANADI1 acts as a transcriptional repressor by interacting with a specific cis-element and regulates auxin biosynthesis, transport, and signaling in opposition to HD-ZIPIII factors. Plant Cell 26, 246–262 (2014).

Merelo, P. et al. Genome-wide identification of KANADI1 target genes. PLoS ONE 8, e77341 (2013).

Yu, T. et al. Dynamic patterns of gene expression during leaf initiation. J. Genet. Genomics 44, 599–601 (2017).

Husbands, A. Y., Benkovics, A. H., Nogueira, F. T., Lodha, M. & Timmermans, M. C. The ASYMMETRIC LEAVES complex employs multiple modes of regulation to affect adaxial–abaxial patterning and leaf complexity. Plant Cell 27, 3321–3335 (2015).

Wu et al. KANADI1 regulates adaxial–abaxial polarity in Arabidopsis by directly repressing the transcription of ASYMMETRIC LEAVES2. Proc. Natl Acad. Sci. USA 105, 16392–16397 (2008).

Ram, H. et al. An integrated analysis of cell-type specific gene expression reveals genes regulated by REVOLUTA and KANADI1 in the Arabidopsis shoot apical meristem. PLoS Genet. 16, e1008661 (2020).

Simonini, S., Bencivenga, S., Trick, M. & Ostergaard, L. Auxin-Induced modulation of ETTIN activity orchestrates gene expression in Arabidopsis. Plant Cell 29, 1864–1882 (2017).

Chung, Y. et al. Auxin response factors promote organogenesis by chromatin-mediated repression of the pluripotency gene SHOOTMERISTEMLESS. Nat. Commun. 10, 886 (2019).

Pekker, I., Alvarez, J. P. & Eshed, Y. Auxin response factors mediate Arabidopsis organ asymmetry via modulation of KANADI activity. Plant Cell 17, 2899–2910 (2005).

Guan, C. et al. Spatial auxin signaling controls leaf flattening in Arabidopsis. Curr. Biol. 27, 2940–2950 (2017).

Zhao, F. & Traas, J. Stable establishment of organ polarity occurs several plastochrons before primordium outgrowth in Arabidopsis. Development 148, dev198820 (2021).

Simonini, S. et al. A noncanonical auxin-sensing mechanism is required for organ morphogenesis in Arabidopsis. Genes Dev. 30, 2286–2296 (2016).

Guan, C., Du, F., Xiong, Y. & Jiao, Y. The 35S promoter‐driven mDII auxin control sensor is uniformly distributed in leaf primordia. J. Integr. Plant Biol. 61, 1114–1120 (2019).

Wolpert, L., Tickle, C. & Arias, A. M. Principles of Development (Oxford Univ. Press, 2015).

Smith, R. S. et al. A plausible model of phyllotaxis. Proc. Natl Acad. Sci. USA 103, 1301–1306 (2006).

Robert, H. S. et al. Local auxin sources orient the apical–basal axis in Arabidopsis embryos. Curr. Biol. 23, 2506–2512 (2013).

Stepanova, A. N. et al. TAA1-mediated auxin biosynthesis is essential for hormone crosstalk and plant development. Cell 133, 177–191 (2008).

Lampropoulos, A. et al. GreenGate—a novel, versatile, and efficient cloning system for plant transgenesis. PLoS ONE 8, e83043 (2013).

Lau, S., De Smet, I., Kolb, M., Meinhardt, H. & Jurgens, G. Auxin triggers a genetic switch. Nat. Cell Biol. 13, 611–615 (2011).

Hamant, O., Das, P. & Burian, A. Time-lapse imaging of developing shoot meristems using a confocal laser scanning microscope. Methods Mol. Biol. 1992, 257–268 (2019).

Mehlhorn, D. G., Wallmeroth, N., Berendzen, K. W. & Grefen, C. in The Plant Endoplasmic Reticulum: Methods and Protocols (eds Hawes, C. & Kriechbaumer, V.) 139–158 (Springer, 2018).
Acknowledgements
We thank our colleagues in Tübingen and Katowice who have contributed ideas and thoughtful comments to the manuscript. We also thank C. Kuhlemeier for constructive discussions, D. Vranjkovic and A. Feller for technical assistance, R. Smith and A.-L. Routier-Kierzkowska for their help with MorphoGraphX, C. Brancato and K. Berendzen for protoplast production, G. Jürgens for sharing the pLucTraP and pJIT60 plasmids and C. Kuhlemeier, L. Ostergaard, Y. Jiao, J. Long, B. Möller and D. Weijers for sharing materials. A.B. and M.R-S are supported by a research grant SONATA BIS 6 (2016/22/E/NZ3/00342) from the National Science Centre, Poland. Work on leaf polarity in M.T.'s laboratory is supported through an Alexander von Humboldt Professorship.
Ethics declarations
Competing interests
The authors declare no competing interests.
Peer review
Peer review information
Nature Plants thanks Lars Østergaard, Dolf Weijers, José Luis Micol and the other, anonymous, reviewer(s) for their contribution to the peer review of this work.
Additional information
Publisher's note Springer Nature remains neutral with regard to jurisdictional claims in published maps and institutional affiliations.
Supplementary information
Supplementary Fig. 1 and Tables 1–3.
About this article
Cite this article
Burian, A., Paszkiewicz, G., Nguyen, K.T. et al. Specification of leaf dorsiventrality via a prepatterned binary readout of a uniform auxin input. Nat. Plants 8, 269–280 (2022). https://doi.org/10.1038/s41477-022-01111-3
Received:

Accepted:

Published:

Issue Date:

DOI: https://doi.org/10.1038/s41477-022-01111-3