Abstract
In flowering plants, different lineages have independently transitioned from the ancestral hermaphroditic state into and out of various sexual systems1. Polyploidizations are often associated with this plasticity in sexual systems2,3. Persimmons (the genus Diospyros) have evolved dioecy via lineage-specific palaeoploidizations. More recently, hexaploid D. kaki has established monoecy and also exhibits reversions from male to hermaphrodite flowers in response to natural environmental signals (natural hermaphroditism, NH), or to artificial cytokinin treatment (artificial hermaphroditism, AH). We sought to identify the molecular pathways underlying these polyploid-specific reversions to hermaphroditism. Co-expression network analyses identified regulatory pathways specific to NH or AH transitions. Surprisingly, the two pathways appeared to be antagonistic, with abscisic acid and cytokinin signalling for NH and AH, respectively. Among the genes common to both pathways leading to hermaphroditic flowers, we identified a small-Myb RADIALIS-like gene, named DkRAD, which is specifically activated in hexaploid D. kaki. Consistently, ectopic overexpression of DkRAD in two model plants resulted in hypergrowth of the gynoecium. These results suggest that production of hermaphrodite flowers via polyploidization depends on DkRAD activation, which is not associated with a loss-of-function within the existing sex determination pathway, but rather represents a new path to (or reinvention of) hermaphroditism.
Relevant articles
Open Access articles citing this article.
Xiu-qin Hu

,

Han Song

…

Yong-qing Zhang

BMC Genomics Open Access 21 February 2023
Access options
Access Nature and 54 other Nature Portfolio journals
Get Nature+, our best-value online-access subscription
$29.99 / 30 days
cancel any time
Subscribe to this journal
Receive 12 digital issues and online access to articles
$119.00 per year
only $9.92 per issue
Rent or buy this article
Get just this article for as long as you need it
$39.95
Prices may be subject to local taxes which are calculated during checkout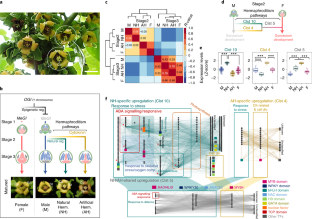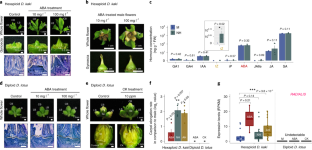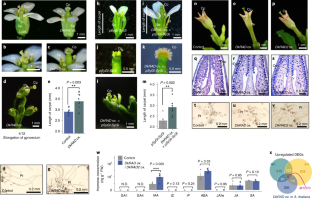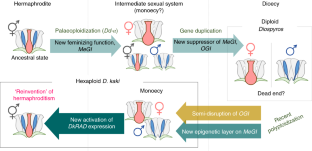 Data availability
The data that support the findings of this study are available from the corresponding author upon request. All sequence data generated in the context of this manuscript have been deposited in the appropriate DNA Database of Japan: Illumina reads for mRNA-seq in the Short Read Archives (SRA) database (SRA Submission ID: DRA013154, Run IDs: DRR332477–332618).
References
Käfer, J., Marais, G. A. & Pannell, J. R. On the rarity of dioecy in flowering plants. Mol. Ecol. 26, 1225–1241 (2017).

Ashman, T. L., Kwok, A. & Husband, B. C. Revisiting the dioecy-polyploidy association: alternate pathways and research opportunities. Cytogenet. Genome Res. 140, 241–255 (2013).

Goldberg, E. E. Macroevolutionary synthesis of flowering plant sexual systems. Evolution 71, 898–912 (2017).

Renner, S. S. The relative and absolute frequencies of angiosperm sexual systems: dioecy, monoecy, gynodioecy, and an updated online database. Am. J. Bot. 101, 1588–1596 (2014).

Heilbuth, J. C. Lower species richness in dioecious clades. Am. Nat. 156, 221–241 (2000).

Charlesworth, B. & Charlesworth, D. A model for the evolution of dioecy and gynodioecy. Am. Nat. 112, 975–997 (1978).

Renner, S. S. & Ricklefs, R. E. Dioecy and its correlates in the flowering plants. Am. J. Bot. 82, 596–606 (1995).

Barrett, S. C. The evolution of plant sexual diversity. Nat. Rev. Genet. 3, 274–284 (2002).

Liu, Z. et al. A primitive Y chromosome in papaya marks incipient sex chromosome evolution. Nature 427, 348–352 (2004).

Wang, J. et al. Sequencing papaya X and Yh chromosomes reveals molecular basis of incipient sex chromosome evolution. Proc. Natl Acad. Sci. USA 109, 13710–13715 (2012).

Kazama, Y. et al. A new physical mapping approach refines the sex-determining gene positions on the Silene latifolia Y-chromosome. Sci. Rep. 6, 18917 (2016).

Krasovec, M., Chester, M., Ridout, K. & Filatov, D. A. The mutation rate and the age of the sex chromosomes in Silene latifolia. Curr. Biol. 28, 1832–1838 (2018).

Torres, M. F., Mohamoud, Y. A., Younuskunju, S., Suhre, K. & Malek, J. A. Evidence of recombination suppression blocks on the Y chromosome of date palm (Phoenix dactylifera). Front. Plant Sci. 12, 634901 (2021).

Akagi, T., Henry, I. M., Tao, R. & Comai, L. A Y-chromosome–encoded small RNA acts as a sex determinant in persimmons. Science 346, 646–650 (2014).

Akagi, T. et al. The persimmon genome reveals clues to the evolution of a lineage-specific sex determination system in plants. PLoS Genet. 16, e1008566 (2020).

Harkess, A. et al. The asparagus genome sheds light on the origin and evolution of a young Y chromosome. Nat. Commun. 8, 1279 (2017).

Harkess, A. et al. Sex determination by two Y-linked genes in garden asparagus. Plant Cell 32, 1790–1796 (2020).

Murase, K. et al. MYB transcription factor gene involved in sex determination in Asparagus officinalis. Genes Cells 22, 115–123 (2017).

Tsugama, D. et al. A putative MYB35 ortholog is a candidate for the sex-determining genes in Asparagus officinalis. Sci. Rep. 7, 41497 (2017).

Akagi, T. et al. A Y-encoded suppressor of feminization arose via lineage-specific duplication of a cytokinin response regulator in kiwifruit. Plant Cell 30, 780–795 (2018).

Akagi, T. et al. Two Y-chromosome-encoded genes determine sex in kiwifruit. Nat. Plants 5, 801–809 (2019).

Tennessen, J. A. et al. Repeated translocation of a gene cassette drives sex-chromosome turnover in strawberries. PLoS Biol. 16, e2006062 (2018).

Torres, M. et al. Genus-wide sequencing supports a two-locus model for sex-determination in Phoenix. Nat. Commun. 9, 3969 (2018).

Massonnet, M. et al. The genetic basis of sex determination in grapes. Nat. Commun. 11, 2902 (2020).

Müller, N. A. et al. A single gene underlies the dynamic evolution of poplar sex determination. Nat. Plants 6, 630–637 (2020).

Comai, L. The advantages and disadvantages of being polyploid. Nat. Rev. Genet. 6, 836–846 (2005).

Akagi, T., Henry, I. M., Kawai, T., Comai, L. & Tao, R. Epigenetic regulation of the sex determination gene MeGI in polyploid persimmon. Plant Cell 28, 2905–2915 (2016).

Van de Peer, Y., Mizrachi, E. & Marchal, K. The evolutionary significance of polyploidy. Nat. Rev. Genet. 18, 411–424 (2017).

Wendel, J. F. Genome evolution in polyploids. Plant Mol. Evol. 42, 225–249 (2000).

Osborn, T. C. et al. Understanding mechanisms of novel gene expression in polyploids. Trends Genet. 19, 141–147 (2003).

Yang, H. W., Akagi, T., Kawakatsu, T. & Tao, R. Gene networks orchestrated by MeGI: a single-factor mechanism underlying sex determination in persimmon. Plant J. 98, 97–111 (2019).

Bawa, K. S. Evolution of dioecy in flowering plants. Annu. Rev. Ecol. Syst. 11, 15–39 (1980).

Akagi, T., Kawai, T. & Tao, R. A male determinant gene in diploid dioecious Diospyros, OGI, is required for male flower production in monoecious individuals of Oriental persimmon (D. kaki). Sci. Hort. 213, 243–251 (2016).

Spongberg, S. A. Notes on persimmons, kakis, date plums, and chapotes. Arnoldia 39, 290–309 (1979).

Wallnöfer, B. The biology and systematics of Ebenaceae: a review. Ann. Nat. Mus. Wien B 103, 485–512 (2001).

Yonemori, K., Yomo, Y. & Sugiura, A. Sexuality in Japanese persimmons. 2. Induction of sex conversion in male flower by cytokinin treatment. J. Jpn. Soc. Hort. Sci. 59, 230–231 (1990).

Yonemori, K. et al. Sequence analyses of the ITS regions and the matK gene for determining phylogenetic relationships of Diospyros kaki (persimmon) with other wild Diospyros (Ebenaceae) species. Tree Genet. Genomes 4, 149–158 (2008).

Akagi, T., Tao, R., Tsujimoto, T., Kono, A. & Yonemori, K. Fine genotyping of a highly polymorphic ASTRINGENCY-linked locus reveals variable hexasomic inheritance in persimmon (Diospyros kaki Thunb.) cultivars. Tree Genet. Genomes 8, 195–204 (2012).

Corley, S. B., Carpenter, R., Copsey, L. & Coen, E. Floral asymmetry involves an interplay between TCP and MYB transcription factors in Antirrhinum. Proc. Natl Acad. Sci. USA 102, 5068–5073 (2005).

Costa, M. M. R., Fox, S., Hanna, A. I., Baxter, C. & Coen, E. Evolution of regulatory interactions controlling floral asymmetry. Development 132, 5093–5101 (2005).

Lucibelli, F., Valoroso, M. C. & Aceto, S. Radial or bilateral? The molecular basis of floral symmetry. Genes 11, 395 (2020).

Hamaguchi, A. et al. A small subfamily of Arabidopsis RADIALIS-LIKE SANT/MYB genes: a link to HOOKLESS1-mediated signal transduction during early morphogenesis. Biosci. Biotechnol. Biochem. 72, 2687–2696 (2008).

Akagi, T. & Charlesworth, D. Pleiotropic effects of sex-determining genes in the evolution of dioecy in two plant species. Proc. R. Soc. B 286, 20191805 (2019).

Rawat, R. et al. REVEILLE1, a Myb-like transcription factor, integrates the circadian clock and auxin pathways. Proc. Natl Acad. Sci. USA 106, 16883–16888 (2009).

Rawat, R. et al. REVEILLE8 and PSEUDO-REPONSE REGULATOR5 form a negative feedback loop within the Arabidopsis circadian clock. PLoS Genet. 7, e1001350 (2011).

Li, S. & Zachgo, S. TCP3 interacts with R2R3-MYB proteins, promotes flavonoid biosynthesis and negatively regulates the auxin response in Arabidopsis thaliana. Plant J. 76, 901–913 (2013).

Yang, Y. et al. UV-B photoreceptor UVR8 interacts with MYB73/MYB77 to regulate auxin responses and lateral root development. EMBO J. 39, e101928 (2020).

Martínez-Fernández, I. et al. The effect of NGATHA altered activity on auxin signaling pathways within the Arabidopsis gynoecium. Front. Plant Sci. 5, 210 (2014).

Wang, L. et al. Arabidopsis ADF1 regulated by MYB73 and is involved in response to salt stress via affecting actin filaments organization. Plant Cell Physiol. 62, 1387–1395 (2021).

Marsch-Martínez, N. & de Folter, S. Hormonal control of the development of the gynoecium. Curr. Opin. Plant Biol. 29, 104–114 (2016).

Roldan, M. V. G. et al. Integrative genome-wide analysis reveals the role of WIP proteins in inhibition of growth and development. Commun. Biol. 3, 239 (2020).

Picq, S. et al. A small XY chromosomal region explains sex determination in wild dioecious V. vinifera and the reversal to hermaphroditism in domesticated grapevines. BMC Plant Biol. 14, 229 (2014).

VanBuren, R. et al. Extremely low nucleotide diversity in the X-linked region of papaya caused by a strong selective sweep. Genome Biol. 17, 230 (2016).

VanBuren, R. et al. Origin and domestication of papaya Yh chromosome. Genome Res. 25, 524–533 (2015).

Van de Peer, Y., Ashman, T. L., Soltis, P. S. & Soltis, D. E. Polyploidy: an evolutionary and ecological force in stressful times. Plant Cell 33, 11–26 (2021).

Li, H. & Durbin, R. Fast and accurate short read alignment with Burrows–Wheeler transform. Bioinformatics 25, 1754–1760 (2009).

Gu, Z., Eils, R. & Schlesner, M. Complex heatmaps reveal patterns and correlations in multidimensional genomic data. Bioinformatics 32, 2847–2849 (2016).

Robinson, M. D., McCarthy, D. J. & Smyth, G. K. edgeR: a Bioconductor package for differential expression analysis of digital gene expression data. Bioinformatics 26, 139–140 (2010).

McCarthy, D. J., Chen, Y. & Smyth, G. K. Differential expression analysis of multifactor RNA-seq experiments with respect to biological variation. Nucleic Acids Res. 40, 4288–4297 (2012).

Langfelder, P. & Horvath, S. WGCNA: an R package for weighted correlation network analysis. BMC Bioinformatics 9, 559 (2008).

Shannon, P. et al. Cytoscape: a software environment for integrated models of biomolecular interaction networks. Genome Res. 13, 2498–2504 (2003).

Gupta, A. et al. Global profiling of phytohormone dynamics during combined drought and pathogen stress in Arabidopsis thaliana reveals ABA and JA as major regulators. Sci. Rep. 7, 4017 (2017).

Shimada, T. L., Shimada, T. & Hara-Nishimura, I. A rapid and non-destructive screenable marker, FAST, for identifying transformed seeds of Arabidopsis thaliana. Plant J. 61, 519–528 (2010).

De Rybel, B. et al. A versatile set of ligation-independent cloning vectors for functional studies in plants. Plant Physiol. 156, 1292–1299 (2011).

Horsch, R. B., Rogers, S. G. & Fraley, R. T. Transgenic plants. Cold Spring Harb. Symp. Quant. Biol. 50, 433–437 (1985).

Smyth, D. R., Bowman, J. L. & Meyerowitz, E. M. Early flower development in Arabidopsis. Plant Cell 2, 755–767 (1990).
Acknowledgements
We thank T. Saito, N. Onoue and R. Matsuzaki (Grape and Persimmon Research Station, NIFTS, Japan) for some plant materials; and Ho-Wen Yang (University of Illinois) for experimental support. This work was supported by PRESTO from Japan Science and Technology Agency (JST) (grant nos. JPMJPR20D1 to T.A.); Grant-in-Aid for Scientific Research on Innovative Areas from JSPS (grant nos. 19H04862 to T.A. and 20H05391 to Y.I.); the Joint Usage/Research Center, Institute of Plant Science and Resources, Okayama University (to Y.I. and T.A.); and Grant-in-Aid for JSPS Fellows (grant nos. 19J23361 to K.M.).
Ethics declarations
Competing interests
The authors declare no competing interests.
Peer review
Peer review information
Nature Plants thanks Mathias Scharmann, Roberta Bergero and Yusuke Kazama for their contribution to the peer review of this work.
Additional information
Publisher's note Springer Nature remains neutral with regard to jurisdictional claims in published maps and institutional affiliations.
Supplementary information
Supplementary Figs. 1–5 and Tables 1–14.
Supplementary Tables 4, 6, 7, 10 and 12.
About this article
Cite this article
Masuda, K., Ikeda, Y., Matsuura, T. et al. Reinvention of hermaphroditism via activation of a RADIALIS-like gene in hexaploid persimmon. Nat. Plants 8, 217–224 (2022). https://doi.org/10.1038/s41477-022-01107-z
Received:

Accepted:

Published:

Issue Date:

DOI: https://doi.org/10.1038/s41477-022-01107-z
This article is cited by
Xiu-qin Hu
Han Song
Yong-qing Zhang

BMC Genomics (2023)

Takashi Akagi
Erika Varkonyi-Gasic
Ikuo Kataoka

Nature Plants (2023)

Nature Plants (2022)