Abstract
In eukaryotic genomes, the transcription units of genes often overlap with other protein-coding and/or noncoding transcription units1,2. In such intertwined genomes, the coordinated transcription of nearby or overlapping genes would be important to ensure the integrity of genome function3,4,5,6; however, the mechanisms underlying this coordination are largely unknown. Here, we show in Arabidopsis thaliana that genes with convergent orientation of transcription are major sources of antisense transcripts and that these genes transcribed on both strands are regulated by a putative Lysine-Specific Demethylase 1 family histone demethylase, FLOWERING LOCUS D (FLD)7,8. Our genome-wide chromatin profiling revealed that FLD, as well as its associating factor LUMINIDEPENDENS9, downregulates histone H3K4me1 in regions with convergent overlapping transcription. FLD localizes to actively transcribed genes, where it colocalizes with elongating RNA polymerase II phosphorylated at the Ser2 or Ser5 sites. Genome-wide transcription analyses suggest that FLD-mediated H3K4me1 removal negatively regulates the transcription of genes with high levels of antisense transcription. Furthermore, the effect of FLD on transcription dynamics is antagonized by DNA topoisomerase I. Our study reveals chromatin-based mechanisms to cope with overlapping transcription, which may occur by modulating DNA topology. This global mechanism to cope with overlapping transcription could be co-opted for specific epigenetic processes, such as cellular memory of responses to the environment10.
Access options
Access Nature and 54 other Nature Portfolio journals
Get Nature+, our best-value online-access subscription
$29.99 / 30 days
cancel any time
Subscribe to this journal
Receive 12 digital issues and online access to articles
$119.00 per year
only $9.92 per issue
Rent or buy this article
Prices vary by article type
from$1.95
to$39.95
Prices may be subject to local taxes which are calculated during checkout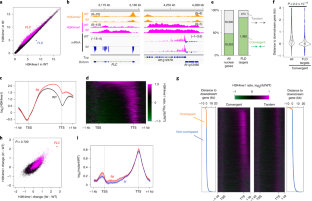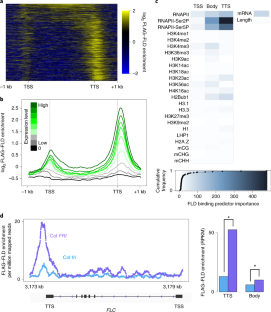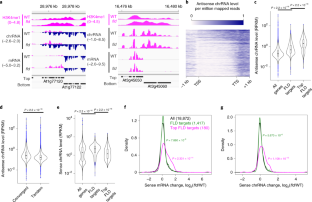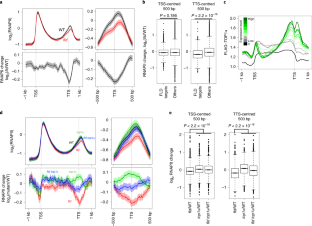 Similar content being viewed by others
Data availability
The high-throughput sequencing data generated in this study are available in the NCBI, EBI and DDBJ databases under the accession number DRA010413.
References
Mellor, J., Woloszczuk, R. & Howe, F. S. The interleaved genome. Trends Genet. 32, 57–71 (2016).

Kapranov, P., Willingham, A. T. & Gingeras, T. R. Genome-wide transcription and the implications for genomic organization. Nat. Rev. Genet. 8, 413–423 (2007).

Pelechano, V. & Steinmetz, L. M. Gene regulation by antisense transcription. Nat. Rev. Genet. 14, 880–893 (2013).

Leng, X., Thomas, Q., Rasmussen, S. H. & Marquardt, S. A G(enomic)P(ositioning)S(ystem) for plant RNAPII transcription. Trends Plant Sci. 25, 744–764 (2020).

Yu, X., Martin, P. G. P. & Michaels, S. D. BORDER proteins protect expression of neighboring genes by promoting 3′ Pol II pausing in plants. Nat. Commun. 10, 4359 (2012).

Venkatesh, S., Li, H., Gogol, M. M. & Workman, J. L. Selective suppression of antisense transcription by Set2-mediated H3K36 methylation. Nat. Commun. 7, 13610 (2016).

He, Y., Michaels, S. D. & Amasino, R. M. Regulation of flowering time by histone acetylation in Arabidopsis. Science 302, 1751–1754 (2003).

Liu, F. et al. The Arabidopsis RNA-binding protein FCA requires a lysine-specific demethylase 1 homolog to downregulate FLC. Mol. Cell 28, 398–407 (2007).

Fang, X. et al. The 3′ processing of antisense RNAs physically links to chromatin-based transcriptional control. Proc. Natl Acad. Sci. USA 117, 15316–15321 (2020).

Ietswaart, R., Wu, Z. & Dean, C. Flowering time control: another window to the connection between antisense RNA and chromatin. Trends Genet. 28, 445–453 (2012).

Calo, E. & Wysocka, J. Modification of enhancer chromatin: what, how, and why? Mol. Cell 49, 825–837 (2013).

Inagaki, S. et al. Gene-body chromatin modification dynamics mediate epigenome differentiation in Arabidopsis. EMBO J. 36, 970–980 (2017).

Nielsen, M. et al. Transcription-driven chromatin repression of intragenic transcription start sites. PLoS Genet. 15, e1007969 (2019).

Shi, Y. et al. Histone demethylation mediated by the nuclear amine oxidase homolog LSD1. Cell 119, 941–953 (2004).

Harlen, K. M. & Churchman, L. S. The code and beyond: transcription regulation by the RNA polymerase II carboxy-terminal domain. Nat. Rev. Mol. Cell Biol. 18, 263–273 (2017).

Wang, Z., Wu, Z., Raitskin, O., Sun, Q. & Dean, C. Antisense-mediated FLC transcriptional repression requires the P-TEFb transcription elongation factor. Proc. Natl Acad. Sci. USA 111, 7468–7473 (2014).

Johanson, U. et al. Molecular analysis of FRIGIDA, a major determinant of natural variation in Arabidopsis flowering time. Science 290, 344–347 (2000).

Schmitz, R. J. & Amasino, R. M. Vernalization: a model for investigating epigenetics and eukaryotic gene regulation in plants. Biochim. Biophys. Acta 1769, 269–275 (2007).

Swiezewski, S., Liu, F., Magusin, A. & Dean, C. Cold-induced silencing by long antisense transcripts of an Arabidopsis Polycomb target. Nature 462, 799–802 (2009).

Kindgren, P., Ivanov, M. & Marquardt, S. Native elongation transcript sequencing reveals temperature dependent dynamics of nascent RNAPII transcription in Arabidopsis. Nucleic Acids Res. 48, 2332–2347 (2020).

Leng, X. et al. Organismal benefits of transcription speed control at gene boundaries. EMBO Rep. 21, e49315 (2020).

Liu, L. F. & Wang, J. C. Supercoiling of the DNA template during transcription. Proc. Natl Acad. Sci. USA 84, 7024–7027 (1987).

Kouzine, F., Levens, D. & Baranello, L. DNA topology and transcription. Nucleus 5, 195–202 (2014).

Achar, Y. J., Adhil, M., Choudhary, R., Gilbert, N. & Foiani, M. Negative supercoil at gene boundaries modulates gene topology. Nature 577, 701–705 (2020).

Baranello, L. et al. RNA polymerase II regulates topoisomerase 1 activity to favor efficient transcription. Cell 165, 357–371 (2016).

Gong, X., Shen, L., Peng, Y. Z., Gan, Y. & Yu, H. DNA topoisomerase Iα affects the floral transition. Plant Physiol. 173, 642–654 (2016).

Neil, H. et al. Widespread bidirectional promoters are the major source of cryptic transcripts in yeast. Nature 457, 1038–1042 (2009).

Xu, Z. et al. Bidirectional promoters generate pervasive transcription in yeast. Nature 457, 1033–1037 (2009).

Gullerova, M. & Proudfoot, N. J. Convergent transcription induces transcriptional gene silencing in fission yeast and mammalian cells. Nat. Struct. Mol. Biol. 19, 1193–1201 (2012).

Latos, P. A. et al. Airn transcriptional overlap, but not its lncRNA products, induces imprinted Igf2r silencing. Science 338, 1469–1472 (2012).

Pontier, D. B. & Gribnau, J. Xist regulation and function explored. Hum. Genet. 130, 223–236 (2011).

Takahashi, T., Matsuhara, S., Abe, M. & Komeda, Y. Disruption of a DNA topoisomerase I gene affects morphogenesis in Arabidopsis. Plant Cell 14, 2085–2093 (2002).

De Rybel, B. et al. A versatile set of ligation-independent cloning vectors for functional studies in plants. Plant Physiol. 156, 1292–1299 (2011).

Hellens, R. P., Edwards, E. A., Leyland, N. R., Bean, S. & Mullineaux, P. M. pGreen: a versatile and flexible binary Ti vector for Agrobacterium-mediated plant transformation. Plant Mol. Biol. 42, 819–832 (2000).

Luo, C. & Lam, E. Quantitatively profiling genome-wide patterns of histone modifications in Arabidopsis thaliana using ChIP–seq. Methods Mol. Biol. 1112, 177–193 (2014).

Stasevich, T. J. et al. Regulation of RNA polymerase II activation by histone acetylation in single living cells. Nature 516, 272–275 (2014).

Gendrel, A. V., Lippman, Z., Martienssen, R. & Colot, V. Profiling histone modification patterns in plants using genomic tiling microarrays. Nat. Methods 2, 213–218 (2005).

Dobin, A. et al. STAR: ultrafast universal RNA-seq aligner. Bioinformatics 29, 15–21 (2013).

Robinson, J. T. et al. Integrative genomics viewer. Nat. Biotechnol. 29, 24–26 (2011).

Quinlan, A. R. & Hall, I. M. BEDTools: a flexible suite of utilities for comparing genomic features. Bioinformatics 26, 841–842 (2010).

Shen, L., Shao, N., Liu, X. & Nestler, E. ngs.plot: quick mining and visualization of next-generation sequencing data by integrating genomic databases. BMC Genomics 15, 284 (2014).

Zhang, Y. et al. Model-based analysis of ChIP–seq (MACS). Genome Biol. 9, R137 (2008).

Ito, T. et al. Genome-wide negative feedback drives transgenerational DNA methylation dynamics in Arabidopsis. PLoS Genet. 11, e1005154 (2015).

Luo, C. et al. Integrative analysis of chromatin states in Arabidopsis identified potential regulatory mechanisms for natural antisense transcript production. Plant J. 73, 77–90 (2012).

Stroud, H. et al. Genome-wide analysis of histone H3.1 and H3.3 variants in Arabidopsis thaliana. Proc. Natl Acad. Sci. USA 109, 5370–5375 (2012).

Wollmann, H. et al. The histone H3 variant H3.3 regulates gene body DNA methylation in Arabidopsis thaliana. Genome Biol. 18, 94 (2017).

Zhang, F. et al. EIN2-dependent regulation of acetylation of histone H3K14 and non-canonical histone H3K23 in ethylene signalling. Nat. Commun. 7, 13018 (2016).

Veluchamy, A. et al. LHP1 regulates H3K27me3 spreading and shapes the three-dimensional conformation of the Arabidopsis genome. PLoS ONE 11, e0158936 (2016).

Bewick, A. J. et al. On the origin and evolutionary consequences of gene body DNA methylation. Proc. Natl Acad. Sci. USA 113, 9111–9116 (2016).

Lu, L., Chen, X., Sanders, D., Qian, S. & Zhong, X. High-resolution mapping of H4K16 and H3K23 acetylation reveals conserved and unique distribution patterns in Arabidopsis and rice. Epigenetics 10, 1044–1053 (2015).

Nassrallah, A. et al. DET1-mediated degradation of a SAGA-like deubiquitination module controls H2Bub homeostasis. eLife 7, e37892 (2018).

Sing, T., Sander, O., Beerenwinkel, N. & Lengauer, T. ROCR: visualizing classifier performance in R. Bioinformatics 21, 3940–3941 (2005).

Martin, M. Cutadapt removes adapter sequences from high-throughput sequencing reads. EMBnet J. 17, 10–12 (2011).

Zhu, J., Liu, M., Liu, X. & Dong, Z. RNA polymerase II activity revealed by GRO-seq and pNET-seq in Arabidopsis. Nat. Plants 4, 1112–1123 (2018).
Acknowledgements
We thank C. Dean and her colleagues for sharing their unpublished results on the physical association of FLD and LD and for comments on the manuscript. We also thank all Kakutani laboratory members for helpful discussion and technical assistance, T. Takahashi for the plant materials and S. Marquardt for the plaNET-seq data. This work used the Vincent J. Coates Genomics Sequencing Laboratory at UC Berkeley, supported by NIH S10 OD018174 Instrumentation Grant. The computations were partially performed on the NIG supercomputer at NIG, Japan. This work was supported by grants from Japan Science and Technology Agency (JST) PRESTO (no. JPMJPR17Q1) to S.I., and JST CREST (no. JPMJCR15O1) and Japan Society for the Promotion of Science (JSPS) (nos. 26221105, 15H05963 and 19H00995) to T.K.
Ethics declarations
Competing interests
The authors declare no competing interests.
Additional information
Peer review information Nature Plants thanks Sebastian Marquardt and the other, anonymous, reviewer(s) for their contribution to the peer review of this work.
Publisher's note Springer Nature remains neutral with regard to jurisdictional claims in published maps and institutional affiliations.
Supplementary information
About this article
Cite this article
Inagaki, S., Takahashi, M., Takashima, K. et al. Chromatin-based mechanisms to coordinate convergent overlapping transcription. Nat. Plants 7, 295–302 (2021). https://doi.org/10.1038/s41477-021-00868-3
Received:

Accepted:

Published:

Issue Date:

DOI: https://doi.org/10.1038/s41477-021-00868-3
This article is cited by
Satoyo Oya
Mayumi Takahashi
Soichi Inagaki

Nature Communications (2022)