Plant elicitor peptides (Peps) enhance immunity against diverse pathogens. Engineering a naturally occurring rhizobacterium to deliver Peps to the plant root system offers a new opportunity in integrated pest management.
Access options
Subscribe to Journal
Get full journal access for 1 year
$119.00
only $9.92 per issue
All prices are NET prices.
VAT will be added later in the checkout.
Tax calculation will be finalised during checkout.
Rent or Buy article
Get time limited or full article access on ReadCube.
from$8.99
All prices are NET prices.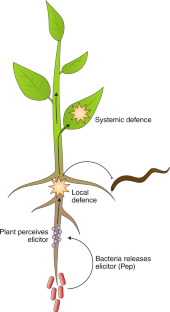 References
1.

Sasser, J. N & Freckman, D. W. In Vistas on Nematology: a Commemoration of the 25th Anniversary of the Society of Nematologists (Ed. Dickinson, D. W.) 7–14 (Society of Nematologists, Inc., 1987).

2.

Jones, J. et al. Mol. Plant Pathol. 14, 946–961 (2013).

3.

Bartels, S. & Boller, T. J. Exp. Bot. 66, 5183–5193 (2015).

4.

Zhang, L. & Gleason, C. Nat. Plants https://doi.org/10.1038/s41477-020-0689-0 (2020).

5.

Lee, M. W., Huffaker, A., Crippen, S., Robbins, R. T. & Goggin, F. L. Mol. Plant Pathol. 19, 858–869 (2018).

6.

Warnock, N. D. et al. PLoS Pathog. 13, e1006237 (2017).

7.

Lori, M. et al. J. Exp. Bot. 66, 5315–5325 (2015).

8.

Jimenez, M., Langer, R. & Traverso, G. J. Exp. Med. 216, 1005–1009 (2019).

9.

Van Dijl, J. M. & Hecker, M. Microb. Cell Fact. 12, 3 (2013).
Ethics declarations
Competing interests
The authors declare no competing interests.
About this article
Cite this article
Hiltl, C., Siddique, S. New allies to fight worms. Nat. Plants 6, 598–599 (2020). https://doi.org/10.1038/s41477-020-0699-y