Abstract
The leaves of the carnivorous plant Venus flytrap, Dionaea muscipula (Dionaea) close rapidly to capture insect prey. The closure response usually requires two successive mechanical stimuli to sensory hairs on the leaf blade within approximately 30 s (refs. 1,2,3,4). An unknown biological system in Dionaea is thought to memorize the first stimulus and transduce the signal from the sensory hair to the leaf blade2. Here, we link signal memory to calcium dynamics using transgenic Dionaea expressing a Ca2+ sensor. Stimulation of a sensory hair caused an increase in cytosolic Ca2+ concentration ([Ca2+]cyt) starting in the sensory hair and spreading to the leaf blade. A second stimulus increased [Ca2+]cyt to an even higher level, meeting a threshold that is correlated to the leaf blade closure. Because [Ca2+]cyt gradually decreased after the first stimulus, the [Ca2+]cyt increase induced by the second stimulus was insufficient to meet the putative threshold for movement after about 30 s. The Ca2+ wave triggered by mechanical stimulation moved an order of magnitude faster than that induced by wounding in petioles of Arabidopsis thaliana5 and Dionaea. The capacity for rapid movement has evolved repeatedly in flowering plants. This study opens a path to investigate the role of Ca2+ in plant movement mechanisms and their evolution.
Access options
Subscribe to Journal
Get full journal access for 1 year
$59.00
only $4.92 per issue
All prices are NET prices.
VAT will be added later in the checkout.
Rent or Buy article
Get time limited or full article access on ReadCube.
from$8.99
All prices are NET prices.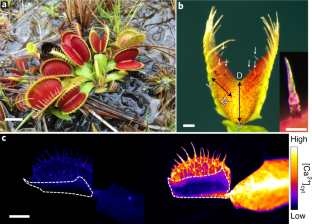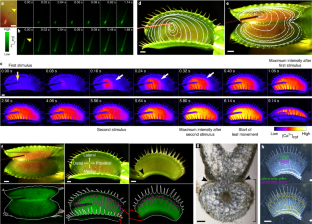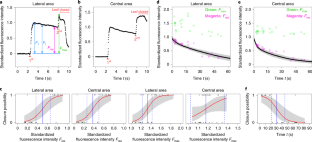 Data availability
The data that support the findings of this study are available from the corresponding author upon reasonable request. Sequence data for genes and plasmids can be found in GenBank under the following accession numbers: sGFP (ABL09837), pSB1 (AB027255) and pSB11 (AB027256). Sequence of GCaMP6f can be found in Addgene data libraries as catalogue no. 40755. Source data are provided with this paper.
References
1.

Macfarlane, J. M. Contributions to the history of Dionaea muscipula Ellis. Contr. Bot. Lab. Univ. Pennsylvania 1, 7–44 (1892).

2.

Juniper, B. B. E., Robins, R. J. & Joel, D. M. The Carnivorous Plants (Academic Press, 1989).

3.

Brown, W. H. & Sharp, L. W. The closing response in Dionaea. Bot. Gaz. 49, 290–302 (1910).

4.

Burri, J. T. et al. A single touch can provide sufficient mechanical stimulation to trigger Venus flytrap closure. PLoS Biol. 18, e3000740 (2020).

5.

Toyota, M. et al. Glutamate triggers long-distance, calcium-based plant defense signaling. Science 361, 1112–1115 (2018).

6.

Taiz, L., Zeiger, E., Møller, I. M. & Murphy, A. Plant Physiology and Development 6th edn (Oxford Univ. Press, 2018).

7.

Benolken, R. M. & Jacobson, S. L. Response properties of a sensory hair excised from Venus's flytrap. J. Gen. Physiol. 56, 64–82 (1970).

8.

Sibaoka, T. Action potentials in plant organs. Symp. Soc. Exp. Biol. 20, 49–73 (1966).

9.

Hodick, D. & Sievers, A. On the mechanism of trap closure of Venus flytrap (Dionaea muscipula Ellis). Planta 179, 32–42 (1989).

10.

Hodick, D. & Sievers, A. The action potential of Dionaea muscipula Ellis. Planta 174, 8–18 (1988).

11.

Fagerberg, W. R. & Allain, D. A quantitative study of tissue dynamics during closure in the traps of Venus's flytrap Dionaea muscipula Ellis. Am. J. Bot. 78, 647–657 (1991).

12.

Hedrich, R. & Neher, E. Venus flytrap: how an excitable, carnivorous plant works. Trends Plant Sci. 23, 220–234 (2018).

13.

Chiu, W. et al. Engineered GFP as a vital reporter in plants. Curr. Biol. 6, 325–330 (1996).

14.

Maekawa, T. et al. Polyubiquitin promoter-based binary vectors for overexpression and gene silencing in Lotus japonicus. Mol. Plant Microbe Interact. 21, 375–382 (2008).

15.

Mano, H., Fujii, T., Sumikawa, N., Hiwatashi, Y. & Hasebe, M. Development of an Agrobacterium-mediated stable transformation method for the sensitive plant Mimosa pudica. PLoS ONE 9, e88611 (2014).

16.

Chen, T.-W. et al. Ultrasensitive fluorescent proteins for imaging neuronal activity. Nature 499, 295–300 (2013).

17.

Knight, H. & Knight, M. R. Imaging spatial and cellular characteristics of low temperature calcium signature after cold acclimation in Arabidopsis. J. Exp. Bot. 51, 1679–1686 (2000).

18.

Pavlovič, A., Jakšová, J. & Novák, O. Triggering a false alarm: wounding mimics prey capture in the carnivorous Venus flytrap (Dionaea muscipula). New Phytol. 216, 927–938 (2017).

19.

Forterre, Y., Skotheim, J. M., Dumais, J. & Mahadevan, L. How the Venus flytrap snaps. Nature 433, 421–425 (2005).

20.

Sibaoka, T. in Plant Growth Substances (Ed. Skoog, F.) 462–469 (Springer, 1980).

21.

Volkov, A. G. Signaling in electrical networks of the Venus flytrap (Dionaea muscipula Ellis). Bioelectrochemistry 125, 25–32 (2019).

22.

Pavlovič, A., Demko, V. & Hudák, J. Trap closure and prey retention in Venus flytrap (Dionaea muscipula) temporarily reduces photosynthesis and stimulates respiration. Ann. Bot. 105, 37–44 (2010).

23.

Pavlovič, A., Slovaková, L., Pandolfi, C. & Mancuso, S. On the mechanism underlying photosynthetic limitation upon trigger hair irritation in the carnivorous plant Venus flytrap (Dionaea muscipula Ellis). J. Exp. Bot. 62, 1991–2000 (2011).

24.

Jensen, M. K. et al. Transcriptome and genome size analysis of the Venus flytrap. PLoS ONE 10, e0123887 (2015).

25.

Komari, T. et al. in Agrobacterium Protocols (ed. Wang, K.) 15–42 (Humana Press, 2015).

26.

Hellens, R., Mullineaux, P. & Klee, H. Technical focus: a guide to Agrobacterium binary Ti vectors. Trends Plant Sci. 5, 446–451 (2000).

27.

Milliken, G. A., Bates, D. M. & Watts, D. G. Nonlinear regression analysis and its applications. Technometrics 32, 219 (1990).

28.

Escalante-Perez, M. et al. A special pair of phytohormones controls excitability, slow closure, and external stomach formation in the Venus flytrap. Proc. Natl Acad. Sci. USA 108, 15492–15497 (2011).
Acknowledgements
We thank the Model Plant Research Facility of National Institute for Basic Biology for plant cultivation, the Japan Tobacco Plant Innovation Center for providing pSB11 and LBA4404 harbouring pSB1, National BioResource Project for supplying Lotus japonicus POLYUBIQUITIN promoter through Frontier Science Research Center of the University of Miyazaki, T. Murata for instructions of microscopy analyses, H. Narukawa for instructions of vibratome sections and Y. Matsuzaki for technical assistance. This work was supported by the JSPS KAKENHI (grant nos. 17J08569 to H.S., 17H05007 and 18H05491 to M.T., 18H04790 to Y.T. and 16K14761 and 17H06390 to M.H.) and DFG-funded Reinhart Koselleck project (HE 1640/42-1 to R.H.).
Ethics declarations
Competing interests
The authors declare no competing interests.
Additional information
Peer review information Nature Plants thanks Edward E. Farmer, Andrej Pavlovic and the other, anonymous, reviewer(s) for their contribution to the peer review of this work.
Publisher's note Springer Nature remains neutral with regard to jurisdictional claims in published maps and institutional affiliations.
Supplementary information
About this article
Cite this article
Suda, H., Mano, H., Toyota, M. et al. Calcium dynamics during trap closure visualized in transgenic Venus flytrap. Nat. Plants 6, 1219–1224 (2020). https://doi.org/10.1038/s41477-020-00773-1
Received:

Accepted:

Published:

Issue Date: