The excess application of nitrogen fertilizer in agriculture and the limitation of nitrogen uptake by crops raise the alarm about the urgency to breed crops with higher nitrogen use efficiency (NUE). Recently, a novel strategy has been developed to enhance NUE and crop production by manipulating nitrate remobilization.
Access options
Subscribe to Journal
Get full journal access for 1 year
$59.00
only $4.92 per issue
All prices are NET prices.
VAT will be added later in the checkout.
Tax calculation will be finalised during checkout.
Rent or Buy article
Get time limited or full article access on ReadCube.
from$8.99
All prices are NET prices.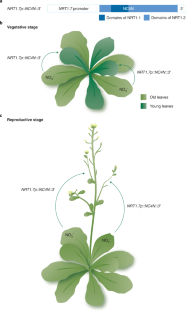 References
1.

Xu, G., Fan, X. & Miller, A. J. Annu. Rev. Plant Biol. 63, 153–182 (2012).

2.

Fan, S.-C., Lin, C.-S., Hsu, P.-K., Shan-Hua Lin, S.-H. & Tsay, Y.-F. Plant Cell 21, 2750–2761 (2009).

3.

Chen, K.-E. et al. Nat. Plants https://doi.org/10.1038/s41477-020-00758-0 (2020).

4.

Liu, K.-H. & Tsay, Y.-F. EMBO J. 22, 1005–1013 (2003).

5.

Ho, C.-H., Lin, S.-H., Hu, H.-C. & Tsay, Y.-F. Cell 138, 1184–1194 (2009).

6.

Hu, B. et al. Nat. Genet. 47, 834–838 (2015).

7.

Sun, H. et al. Nat. Genet. 46, 652–656 (2014).

8.

Li, S. et al. Nature 560, 595–600 (2018).

9.

Wu, K. et al. Science 367, eaaz2046 (2020).
Ethics declarations
Competing interests
The authors declare no competing interests.
About this article
Cite this article
Dong, NQ., Lin, HX. Higher yield with less nitrogen fertilizer. Nat. Plants 6, 1078–1079 (2020). https://doi.org/10.1038/s41477-020-00763-3