Abstract
Purpose
ADP ribosylation factor guanine nucleotide exchange factors (ARFGEFs) are a family of proteins implicated in cellular trafficking between the Golgi apparatus and the plasma membrane through vesicle formation. Among them is ARFGEF1/BIG1, a protein involved in axon elongation, neurite development, and polarization processes. ARFGEF1 has been previously suggested as a candidate gene for different types of epilepsies, although its implication in human disease has not been well characterized.
Methods
International data sharing, in silico predictions, and in vitro assays with minigene study, western blot analyses, and RNA sequencing.
Results
We identified 13 individuals with heterozygous likely pathogenic variants in ARFGEF1. These individuals displayed congruent clinical features of developmental delay, behavioral problems, abnormal findings on brain magnetic resonance image (MRI), and epilepsy for almost half of them. While nearly half of the cohort carried de novo variants, at least 40% of variants were inherited from mildly affected parents who were clinically re-evaluated by reverse phenotyping. Our in silico predictions and in vitro assays support the contention that ARFGEF1-related conditions are caused by haploinsufficiency, and are transmitted in an autosomal dominant fashion with variable expressivity.
Conclusion
We provide evidence that loss-of-function variants in ARFGEF1 are implicated in sporadic and familial cases of developmental delay with or without epilepsy.
Access options
Subscribe to Journal
Get full journal access for 1 year
$399.00
only $33.25 per issue
All prices are NET prices.
VAT will be added later in the checkout.
Tax calculation will be finalised during checkout.
Rent or Buy article
Get time limited or full article access on ReadCube.
from$8.99
All prices are NET prices.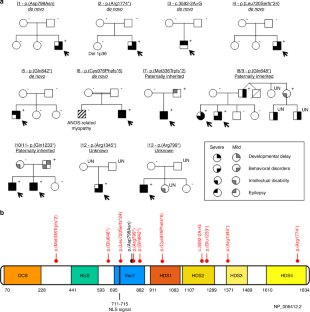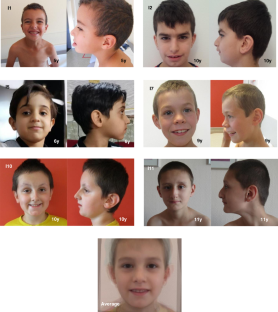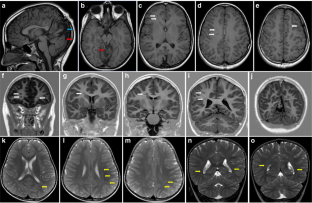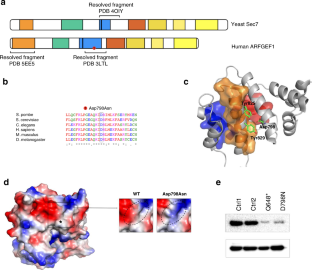 Data availability
Data are available upon request.
Acknowledgements
We thank the families and patients for taking part in the study. We thank the University of Burgundy Centre de Calcul (CCuB) for technical support and management of the informatics platform, and the GeneMatcher platform for data sharing. We thank the Centre de Ressources Biologiques Ferdinand Cabanne (CHU Dijon) for sample biobanking. This work was supported by grants from Dijon University Hospital, the ISITE-BFC (PIA ANR) and the European Union through the FEDER programs. Also supported in part by the US National Institutes of Health, National Human Genome Research Institute (NHGRI) to the Baylor Hopkins Center for Mendelian Genomics (UM1HG006542). This work was supported by the National Institute for Health Research (NIHR) Manchester Biomedical Research Centre. The Deciphering Developmental Disorders (DDD) study presents independent research commissioned by the Health Innovation Challenge Fund (grant number HICF-1009–003). This study makes use of DECIPHER (http://decipher.sanger.ac.uk), which is funded by the Wellcome. See Nature PMID 25533962 or www.ddduk.org/access.html for full acknowledgement. D.M. is also supported by a Medical Genetics Research Fellowship Program through the United States National Institute of Health (T32 GM007526–42). Several authors of this publication are members of the European Reference Network for Developmental Anomalies and Intellectual Disability (ERN-ITHACA) A.J., A-S.D-P., and A.V. are supported by Solve-RD. The Solve-RD project has received funding from the European Union's Horizon 2020 research and innovation program under grant agreement number 779257. J.E.P. was supported by NHGRI K08 HG008986.
Ethics declarations
Ethics declaration
All affected individuals or their legal representative gave informed consent for the sequencing procedures and the publication of their results along with clinical and molecular data. Special consent forms were signed authorizing publication of pictures when relevant. The study was performed within the framework of the GAD ("Génétique des Anomalies du Développement") collection and approved by the appropriate institutional review board of Dijon University Hospital (DC2011‐1332).
Competing interests
J.R.L. has stock ownership in 23andMe, is a paid consultant for Regeneron Genetics Center, and is a co-inventor on multiple United States and European patents related to molecular diagnostics for inherited neuropathies, eye diseases, and bacterial genomic fingerprinting. The Department of Molecular and Human Genetics at Baylor College of Medicine receives revenue from clinical genetic testing conducted at Baylor Genetics (BG) Laboratories. The other authors declare no competing interests.
Additional information
Publisher's note Springer Nature remains neutral with regard to jurisdictional claims in published maps and institutional affiliations.
Supplementary information
About this article
Cite this article
Thomas, Q., Gautier, T., Marafi, D. et al. Haploinsufficiency of ARFGEF1 is associated with developmental delay, intellectual disability, and epilepsy with variable expressivity. Genet Med (2021). https://doi.org/10.1038/s41436-021-01218-6
Received:

Revised:

Accepted:

Published: