Abstract
Purpose
Germline pathogenic variants are estimated to affect 3–5% of renal cell carcinoma (RCC) patients. However, higher mutational prevalence in non–clear cell RCC (non-ccRCC) and advanced disease has been suggested.
Methods
To clarify the prevalence of pathogenic germline variants in metastatic RCC, we sequenced 29 cancer susceptibility genes in 294 unselected metastatic RCC cases plus 21 patients with clinical hereditary features. In 145 tumors, genes frequently mutated in RCC were sequenced and methylation was assessed in selected cases.
Results
Germline variants in RCC predisposition genes (FH, VHL) were detected in 1.4% of the unselected metastatic patients, with higher frequency in non-ccRCC versus ccRCC (6.4% and 0.4%; P = 0.0025) and in younger patients (P = 0.036). Among the 315 studied patients, 14% of non–type 1 papillary cases (4 of 28), all metastatic <1 year after diagnosis, carried a FH germline variant with loss of heterozygosity and tumor genome hypermethylation. Variants in other cancer-associated genes (e.g., MUTYH, BRCA2, CHEK2) occurred in 5.1% of the unselected series, with unclear significance for RCC.
Conclusion
Our findings confirm a high prevalence of pathogenic germline variants in RCC predisposition genes in metastatic non-ccRCC, and highlight that metastatic patients with papillary type 2 or unconventional histologies compatible with FH would benefit from genetic screening.
Access options
Subscribe to Journal
Get full journal access for 1 year
$499.00
only $41.58 per issue
All prices are NET prices.
VAT will be added later in the checkout.
Rent or Buy article
Get time limited or full article access on ReadCube.
from$8.99
All prices are NET prices.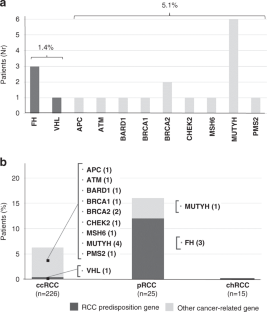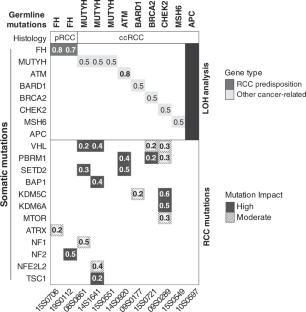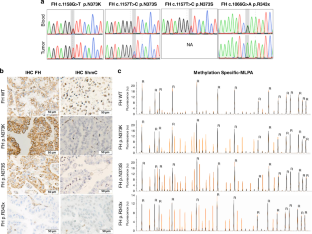 Data availability
Clinical and sequencing data are presented in Supplementary Materials and additional information can be provided upon request.
References
1.

Rini, B. I., Campbell, S. C. & Escudier, B. Renal cell carcinoma. Lancet. 373, 1119–1132 (2009).

2.

Linehan, W. M., Walther, M. M. & Zbar, B. The genetic basis of cancer of the kidney. J. Urol. 170, 2163–2172 (2003).

3.

Lipworth, L., Tarone, R. E. & McLaughlin, J. K. The epidemiology of renal cell carcinoma. J. Urol. 176, 2353–2358 (2006).

4.

Linehan, W. M. The genetic basis of kidney cancer: a metabolic disease. Nat Rev Urol. 7, 277–285 (2010).

5.

Muller, M. et al. Reassessing the clinical spectrum associated with hereditary leiomyomatosis and renal cell carcinoma syndrome in French FH mutation carriers. Clin. Genet. 92, 606–615 (2017).

6.

Nguyen, K. A. et al. Advances in the diagnosis of hereditary kidney cancer: Initial results of a multigene panel test. Cancer. 123, 4363–4371 (2017).

7.

Shuch, B. et al. Defining early-onset kidney cancer: Implications for germline and somatic mutation testing and clinical management. J. Clin. Oncol. 32, 431–437 (2014).

8.

Condon, L. T., Ashman, J. N. E., Ell, S. R., Stafford, N. D., Greenman, J. & Cawkwell, L. A population-based familial aggregation analysis indicates genetic contribution in a majority of renal cell carcinomas. Int. J. Cancer 100, 476–479 (2002).

9.

Wu, J. et al. Germline mutations of renal cancer predisposition genes and clinical relevance in Chinese patients with sporadic, early-onset disease. Cancer. 125, 1060–1069 (2019).

10.

Carlo, M. I. et al. Prevalence of germline mutations in cancer susceptibility genes in patients with advanced renal cell carcinoma. JAMA Oncol. 4, 1228–1235 (2018).

11.

Pritchard, C. C. et al. Inherited DNA-repair gene mutations in men with metastatic prostate cancer. N. Engl. J. Med. 375, 443–453 (2016).

12.

Stuttgen, K. et al. Pathogenic germline variants in patients with metastatic breast cancer. JAMA Oncol. 5, 1506–1508 (2019).

13.

Garcia-Donas, J. et al. Single nucleotide polymorphism associations with response and toxic effects in patients with advanced renal-cell carcinoma treated with first-line sunitinib: a multicentre, observational, prospective study. Lancet Oncol. 12, 1143–1150 (2011).

14.

van der Zanden, L. F. M. et al. Description of the EuroTARGET cohort: a European collaborative project on TArgeted therapy in renal cell cancer—GEnetic- and tumor-related biomarkers for response and toxicity. Urol. Oncol. Semin. Orig. Investig. 35, 529.e9–529.e16 (2017).

15.

Linehan, W. M. et al. Comprehensive molecular characterization of papillary renal-cell carcinoma. N. Engl. J. Med. 374, 135–145 (2016).

16.

Gupta, S. et al. Incidence of succinate dehydrogenase and fumarate hydratase–deficient renal cell carcinoma based on immunohistochemical screening with SDHA/SDHB and FH/2SC. Hum. Pathol. 91, 114–122 (2019).

17.

Skala, S. L., Dhanasekaran, S. M. & Mehra, R. Hereditary leiomyomatosis and renal cell carcinoma syndrome (HLRCC): A contemporary review and practical discussion of the differential diagnosis for HLRCC-associated renal cell carcinoma. Arch. Pathol. Lab. Med. 142, 1202–1215 (2018). https://doi.org/10.5858/arpa.2018-0216-RA

18.

Menko, F. H. et al. Hereditary leiomyomatosis and renal cell cancer (HLRCC): renal cancer risk, surveillance and treatment. Fam. Cancer 13, 637–644 (2014).

19.

Poulsen, M. & Bisgaard, M. MUTYH associated polyposis (MAP). Curr. Genomics 9, 420–435 (2008).
Acknowledgements
This work was supported by the projects RTI2018-095039-B-I00 (Spanish Ministry of Science and Innovation [MCI/AEI], cofunded by the European Regional Development Fund [ERDF]). We thank Dr. Osorio and Dr. Urioste for their work on variant interpretation and Rocío Letón and Fátima Mercadillo for their technical assistance in the MLPA performance. We acknowledge Histopathology Core Unit from the Spanish National Cancer Research Center (CNIO) for their technical support.
Ethics declarations
Ethics Declaration
The project was approved by the institutional review board (IRB) at Instituto de Salud Carlos III (PI 46_2019-v2) and each of the ethical review boards of the participating hospitals (Hospital 12 de Octubre, Hospital Universitario Fundacion Alcorcón, Fundació Althaia-Manresa, Complejo Hospitalario de Navarra, Hospital Universitario HM Sanchinarro, Hospital Clinic i Provincial de Barcelona, Hospital Clinico San Carlos, Complejo Hospitalario de Jaén, Hospital Universitario de Fuenlabrada, Hospital General de Asturias, Hospital Gregorio Marañón, Hospital Infanta Sofía, Hospital Ramón y Cajal, Hospital de la Santa Creu i Sant Pau, Hospital Virgen Rocio, Hospital del Mar, Hospital Universitario Central de Asturias, Hospital Universitario La Paz, Instituto Catalán de Oncología Badalona, Instituto Valenciano de Oncología, Hospital Morales Meseguer, Hospital Universitario Parc Taulí, Hospital Universitario Son Dureta, Hospital Son Llàtzer, Hospital Universitario Virgen de Valme). Written informed consent was obtained from all study patients. The study adheres to the principles set out in the Declaration of Helsinki.
Competing interests
G.A. reports the following competing interests: speakers' bureau (Kyowa kyrin, Janssen, Bristol Myers Squibb, Roche, Sanofi, Rovi); travel grants (Roche, MSD, Pfizer, Novartis, Astellas, Janssen, Bristol Myers Squibb). G.d.V. reports the following competing interests: receipt of grants/research supports (Ipsen, Pfizer, Roche); receipt of honoraria or consultation fees (Ipsen, Pfizer, Roche, MSD, Merk, Astellas, Jannsen, Novartis, Bayer, BMS). The other authors declare no competing interests.
Additional information
Publisher's note Springer Nature remains neutral with regard to jurisdictional claims in published maps and institutional affiliations.
Supplementary information
About this article
Cite this article
Santos, M., Lanillos, J., Roldan-Romero, J.M. et al. Prevalence of pathogenic germline variants in patients with metastatic renal cell carcinoma. Genet Med (2021). https://doi.org/10.1038/s41436-020-01062-0
Received:

Revised:

Accepted:

Published: