Abstract
Purpose
Identifying rare genetic causes of common diseases can improve diagnostic and treatment strategies, but incurs high costs. We tested whether individuals with common disease and low polygenic risk score (PRS) for that disease generated from less expensive genome-wide genotyping data are more likely to carry rare pathogenic variants.
Methods
We identified patients with one of five common complex diseases among 44,550 individuals who underwent exome sequencing in the UK Biobank. We derived PRS for these five diseases, and identified pathogenic rare variant heterozygotes. We tested whether individuals with disease and low PRS were more likely to carry rare pathogenic variants.
Results
While rare pathogenic variants conferred, at most, 5.18-fold (95% confidence interval [CI]: 2.32–10.13) increased odds of disease, a standard deviation increase in PRS, at most, increased the odds of disease by 5.25-fold (95% CI: 5.06–5.45). Among diseased patients, a standard deviation decrease in the PRS was associated with, at most, 2.82-fold (95% CI: 1.14–7.46) increased odds of identifying rare variant heterozygotes.
Conclusion
Rare pathogenic variants were more prevalent among affected patients with a low PRS. Therefore, prioritizing individuals for sequencing who have disease but low PRS may increase the yield of sequencing studies to identify rare variant heterozygotes.
Access options
Subscribe to Journal
Get full journal access for 1 year
$499.00
only $41.58 per issue
All prices are NET prices.
VAT will be added later in the checkout.
Rent or Buy article
Get time limited or full article access on ReadCube.
from$8.99
All prices are NET prices.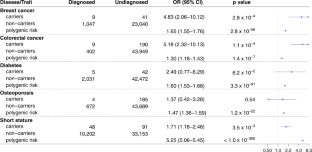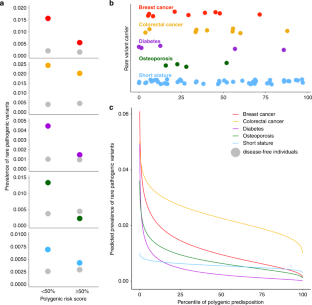 Data availability
Genome-wide genotyping data, exome-sequencing data, and phenotypic data from the UK Biobank are available upon successful project application.
Code availability
Computer codes used to generate the results in this study are available upon reasonable request to the corresponding author.
References
1.

Visscher PM, et al. 10 years of GWAS discovery: biology, function, and translation. Am J Hum Genet. 2017;101:5–22.

2.

Bomba L, Walter K, Soranzo N. The impact of rare and low-frequency genetic variants in common disease. Genome Biol. 2017;18:77.

3.

Esplin ED, Oei L, Snyder MP. Personalized sequencing and the future of medicine: discovery, diagnosis and defeat of disease. Pharmacogenomics. 2014;15:1771–1790.

4.

Shepherd M, et al. A genetic diagnosis of HNF1A diabetes alters treatment and improves glycaemic control in the majority of insulin-treated patients. Diabet Med. 2009;26:437–441.

5.

Khera AV, et al. Genome-wide polygenic scores for common diseases identify individuals with risk equivalent to monogenic mutations. Nat Genet. 2018;50:1219–1224.

6.

Inouye M, et al. Genomic risk prediction of coronary artery disease in 480,000 adults: implications for primary prevention. J Am Coll Cardiol. 2018;72:1883–1893.

7.

Mars N, et al. Polygenic and clinical risk scores and their impact on age at onset and prediction of cardiometabolic diseases and common cancers. Nat Med. 2020;26:549–557.

8.

Pavan S, et al. Recommendations for choosing the genotyping method and best practices for quality control in crop genome-wide association studies. Front Genet. 2020;11:447.

9.

Bycroft C, et al. The UK Biobank resource with deep phenotyping and genomic data. Nature. 2018;562:203–209.

10.

Nagai A, et al. Overview of the BioBank Japan Project: study design and profile. J Epidemiol. 2017;27:S2–S8.

11.

Chen Z, et al. China Kadoorie Biobank of 0.5 million people: survey methods, baseline characteristics and long-term follow-up. Int J Epidemiol. 2011;40:1652–1666.

12.

Fry A, et al. Comparison of sociodemographic and health-related characteristics of UK Biobank participants with those of the general population. Am J Epidemiol. 2017;186:1026–1034.

13.

Yengo L, et al. Meta-analysis of genome-wide association studies for height and body mass index in approximately 700000 individuals of European ancestry. Hum Mol Genet. 2018;27:3641–3649.

14.

Ranke MB. Towards a consensus on the definition of idiopathic short stature. Horm Res. 1996;45:64–66.

15.

Kalia SS, et al. Recommendations for reporting of secondary findings in clinical exome and genome sequencing, 2016 update (ACMG SF v2.0): a policy statement of the American College of Medical Genetics and Genomics. Genet Med. 2017;19:249–255.

16.

Misra S, Owen KR. Genetics of monogenic diabetes: present clinical challenges. Curr Diab Rep. 2018;18:141.

17.

Makitie RE, et al. New insights into monogenic causes of osteoporosis. Front Endocrinol (Lausanne). 2019;10:70.

18.

Rappold G, et al. Genotypes and phenotypes in children with short stature: clinical indicators of SHOX haploinsufficiency. J Med Genet. 2007;44:306–313.

19.

Grunauer M, Jorge AAL. Genetic short stature. Growth Horm IGF Res. 2018;38:29–33.

20.

Cingolani P, et al. A program for annotating and predicting the effects of single nucleotide polymorphisms, SnpEff: SNPs in the genome of Drosophila melanogaster strain w1118; iso-2; iso-3. Fly (Austin). 2012;6:80–92.

21.

Rentzsch P, et al. CADD: predicting the deleteriousness of variants throughout the human genome. Nucleic Acids Res. 2019;47:D886–D894.

22.

Mavaddat N, et al. Polygenic risk scores for prediction of breast cancer and breast cancer subtypes. Am J Hum Genet. 2019;104:21–34.

23.

Njeh CF, et al. Assessment of bone status using speed of sound at multiple anatomical sites. Ultrasound Med Biol. 2001;27:1337–1345.

24.

Forgetta V, et al. Development of a polygenic risk score to improve screening for fracture risk: a genetic risk prediction study. PLoS Med. 2020;17:e1003152.

25.

Wood AR, et al. Defining the role of common variation in the genomic and biological architecture of adult human height. Nat Genet. 2014;46:1173–1186.

26.

Vilhjalmsson BJ, et al. Modeling linkage disequilibrium increases accuracy of polygenic risk scores. Am J Hum Genet. 2015;97:576–592.

27.

Weigl K, et al. Genetic risk score is associated with prevalence of advanced neoplasms in a colorectal cancer screening population. Gastroenterology. 2018;155:88–98 e10.

28.

Dudbridge F. Power and predictive accuracy of polygenic risk scores. PLoS Genet. 2013;9:e1003348.

29.

Antoniou AC, et al. Breast-cancer risk in families with mutations in PALB2. N Engl J Med. 2014;371:497–506.

30.

Southey MC, et al. PALB2, CHEK2 and ATM rare variants and cancer risk: data from COGS. J Med Genet. 2016;53:800–811.

31.

Easton DF, et al. Gene-panel sequencing and the prediction of breast-cancer risk. N Engl J Med. 2015;372:2243–2257.

32.

Greenland S, Pearl J, Robins JM. Causal diagrams for epidemiologic research. Epidemiology. 1999;10:37–48.

33.

Malkin D, et al. Germ line p53 mutations in a familial syndrome of breast cancer, sarcomas, and other neoplasms. Science. 1990;250:1233–1238.

34.

Rivera-Munoz EA, et al. ClinGen Variant Curation Expert Panel experiences and standardized processes for disease and gene-level specification of the ACMG/AMP guidelines for sequence variant interpretation. Hum Mutat. 2018;39:1614–1622.

35.

Martin AR, et al. Clinical use of current polygenic risk scores may exacerbate health disparities. Nat Genet. 2019;51:584–591.
Acknowledgements
This research has been conducted using the UK Biobank Resource under application number 27449. J.B.R.'s research group is supported by the Canadian Institutes of Health Research, the Lady Davis Institute of the Jewish General Hospital, the Canadian Foundation of Innovation, and the Fonds de Recherche Québec Santé (FRQS). T.L. is supported by an FRQS Doctoral Training Fellowship and a McGill University Faculty of Medicine Scholarship. J.B.R. is supported by an FRQS Clinical Research Scholarship. These funding agencies had no role in the design, implementation, or interpretation of this study. This study was enabled in part by support provided by Calcul Québec and Compute Canada.
Ethics declarations
Disclosure
The authors declare no conflicts of interest.
Additional information
Publisher's note Springer Nature remains neutral with regard to jurisdictional claims in published maps and institutional affiliations.
Supplementary information
About this article
Cite this article
Lu, T., Zhou, S., Wu, H. et al. Individuals with common diseases but with a low polygenic risk score could be prioritized for rare variant screening. Genet Med (2020). https://doi.org/10.1038/s41436-020-01007-7
Received:

Accepted:

Published:
Keywords
rare variants

polygenic risk scores

exome sequencing

patient prioritization

risk stratification