Abstract
A formal screening of self-complementary adeno-associated virus (scAAV) vector serotypes in canine joint tissues has not been performed to date. Selecting appropriate serotypes is crucial for successful treatment due to their varying levels of tissue tropism. The objective of this study is to identify the most optimal scAAV vector serotype that maximizes transduction efficiencies in canine cell monolayer cultures (chondrocytes, synoviocytes, and mesenchymal stem cells) and tissue explant cultures (cartilage and synovium). Transduction efficiencies of scAAV serotypes 1, 2, 2.5, 3, 4, 5, 6, 8, and 9 were evaluated in each culture type in three different vector concentrations by encoding a green fluorescent protein. It was found that scAAV2 and 2.5 showed the overall highest transduction efficiency among serotypes with dose-response. Since possible immune response against conventional AAV2 was previously reported in dogs, the chimeric scAAV2.5 may be more suitable to use. Evaluation of the safety and efficacy of the scAAV2.5 vector with an appropriate therapeutic gene in vivo is indicated.
Access options
Subscribe to Journal
Get full journal access for 1 year
$119.00
only $9.92 per issue
All prices are NET prices.
VAT will be added later in the checkout.
Tax calculation will be finalised during checkout.
Buy article
Get time limited or full article access on ReadCube.
$32.00
All prices are NET prices.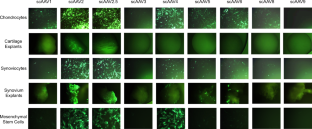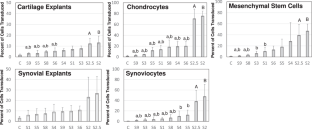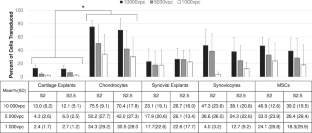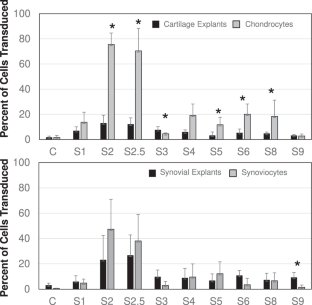 Data availability
All data are available upon reasonable request.
References
Plotnikoff R, Karunamuni N, Lytvyak E, Penfold C, Schopflocher D, Imayama I, et al. Osteoarthritis prevalence and modifiable factors: a population study. BMC Public Health. 2015;15:1195.

Vina ER, Kwoh CK. Epidemiology of osteoarthritis: literature update. Curr Opin Rheumatol. 2018;30:160–7.

O'Neill TW, McCabe PS, McBeth J. Update on the epidemiology, risk factors and disease outcomes of osteoarthritis. Best Pract Res Clin Rheumatol. 2018;32:312–26.

Bendele A, Animal models of osteoarthritis. J Musculoskelet Neuronal Interact. 2001;1:363–76.

Meeson RL, Todhunter RJ, Blunn G, Nuki G, Pitsillides AA. Spontaneous dog osteoarthritis—a One Medicine vision. Nat Rev Rheumatol. 2019;15:273–87.

Klinck MP, Mogil JS, Moreau M, Lascelles BDX, Flecknell PA, Poitte T, et al. Translational pain assessment: could natural animal models be the missing link? Pain. 2017;158:1633–46.

Anderson KL, O'Neill DG, Brodbelt DC, Church DB, Meeson RL, Sargan D, et al. Prevalence, duration and risk factors for appendicular osteoarthritis in a UK dog population under primary veterinary care. Sci Rep. 2018;8:5641.

O'Neill DG, Church DB, McGreevy PD, Thomson PC, Brodbelt DC. Prevalence of disorders recorded in dogs attending primary-care veterinary practices in England. PLoS One. 2014;9:e90501.

Johnston SA. Osteoarthritis: joint anatomy, physiology, and pathobiology. Vet Clin North Am Small Anim Pract. 1997;27:699–723.

Felson DT, Lawrence RC, Hochberg MC, McAlindon T, Dieppe PA, Minor MA, et al. Osteoarthritis: new insights. Part 2: treatment approaches. Ann Intern Med. 2000;133:726–37.

Sandersoln R, Beata C, Flipo R, Genevois J, Macias C, Tacke S, et al. Systematic review of the management of canine osteoarthritis. Vet Rec. 2009;164:418–24.

Zavvar M, Assadiasl S, Soleimanifar N, Pakdel FD, Abdolmohammadi K, Fatahi Y, et al. Gene therapy in rheumatoid arthritis: strategies to select therapeutic genes. J Cell Physiol. 2019;234:16913–24.

Xing D, Kwong J, Yang Z, Hou Y, Zhang W, Ma B, et al. Intra-articular injection of mesenchymal stem cells in treating knee osteoarthritis: a systematic review of animal studies. Osteoarthr Cartil. 2018;26:445–61.

Goodrich LR, Gene therapy and tissue engineering. In: Cole B (ed). Biological knee reconstruction: A surgeon's guide. 1 ed: Slack Incorporated; 2015. p. 233–9.

Evans CH, Ghivizzani SC, Robbins PD. Gene delivery to joints by intra-articular injection. Hum Gene Ther. 2018;29:2–14.

Monahan P, Samulski R. AAV vectors: is clinical success on the horizon? Gene Ther. 2000;7:24–30.

Kodippili K, Hakim CH, Pan X, Yang HT, Yue Y, Zhang Y, et al. Dual AAV gene therapy for Duchenne muscular dystrophy with a 7-kb mini-dystrophin gene in the canine model. Hum Gene Ther. 2018;29:299–311.

Dupont J-B, Guo J, Renaud-Gabardos E, Poulard K, Latournerie V, Lawlor MW, et al. AAV-mediated gene transfer restores a normal muscle transcriptome in a canine model of X-linked myotubular myopathy. Mol Ther. 2019;28:382–93.

Mack DL, Poulard K, Goddard MA, Latournerie V, Snyder JM, Grange RW, et al. Systemic AAV8-mediated gene therapy drives whole-body correction of myotubular myopathy in dogs. Mol Ther. 2017;25:839–54.

French RA, Samelson-Jones BJ, Niemeyer GP, Lothrop CD Jr, Merricks EP, Nichols TC, et al. Complete correction of hemophilia B phenotype by FIX-Padua skeletal muscle gene therapy in an inhibitor-prone dog model. Blood Adv. 2018;2:505.

Sun J, Shao W, Chen X, Merricks EP, Wimsey L, Abajas YL, et al. An observational study from long-term AAV re-administration in two hemophilia dogs. Mol Ther - Methods Clin Dev. 2018;10:257–67.

French R, Martin N, Nichols TC, Niemeyer GP, Lothrop CD, Arruda VR. Complete correction of severe canine hemophilia B by skeletal muscle directed AAV-based FIX-Padua Gene Therapy in inhibitor-prone dogs. Blood. 2015;126:3487.

Lee YM, Conlon TJ, Specht A, Coleman KE, Brown LM, Estrella AM, et al. Long-term safety and efficacy of AAV gene therapy in the canine model of glycogen storage disease type Ia. J Inherit Metab Dis. 2018;41:977–84.

Pichard V, Provost N, Mendes-Madeira A, Libeau L, Hulin P, Tshilenge K-T, et al. AAV-mediated gene therapy halts retinal degeneration in PDE6β-deficient dogs. Mol Ther. 2016;24:867–76.

Mowat F, Breuwer A, Bartoe J, Annear M, Zhang Z, Smith A, et al. RPE65 gene therapy slows cone loss in Rpe65-deficient dogs. Gene Ther. 2013;20:545.

Annear M, Bartoe J, Barker S, Smith A, Curran P, Bainbridge J, et al. Gene therapy in the second eye of RPE65-deficient dogs improves retinal function. Gene Ther. 2011;18:53.

Boyd R, Sledge D, Boye S, Boye S, Hauswirth W, Komáromy A, et al. Photoreceptor-targeted gene delivery using intravitreally administered AAV vectors in dogs. Gene Ther. 2016;23:223.

Gurda BL, De Lataillade ADG, Bell P, Zhu Y, Yu H, Wang P, et al. Evaluation of AAV-mediated gene therapy for central nervous system disease in canine mucopolysaccharidosis VII. Mol Ther. 2016;24:206–16.

Kyostio-Moore S, Berthelette P, Cornell CS, Nambiar B, Figueiredo MD. Hyaluronic acid synthase-2 gene transfer into the joints of Beagles by use of recombinant adeno-associated viral vectors. Am J Vet Res. 2018;79:505–17.

Watkins LR, Chavez RA, Landry R, Fry M, Green-Fulgham SM, Coulson JD, et al. Targeted interleukin-10 plasmid DNA therapy in the treatment of osteoarthritis: toxicology and pain efficacy assessments. Brain Behav Immun. 2020;90:155–66.

Pelletier JP, Caron JP, Evans C, Robbins PD, Georgescu HI, Jovanovic D, et al. In vivo suppression of early experimental osteoarthritis by interleukin‐1 receptor antagonist using gene therapy. Arthritis Rheum. 1997;40:1012–9.

McCarty DM, Monahan PE, Samulski RJ. Self-complementary recombinant adeno-associated virus (scAAV) vectors promote efficient transduction independently of DNA synthesis. Gene Ther. 2001;8:1248–54.

Kay JD, Gouze E, Oligino TJ, Gouze JN, Watson RS, Levings PP, et al. Intra‐articular gene delivery and expression of interleukin‐1Ra mediated by self‐complementary adeno‐associated virus. J Gene Med. 2009;11:605–14.

Goodrich LR, Choi VW, Carbone BA, McIlwraith CW, Samulski RJ. Ex vivo serotype-specific transduction of equine joint tissue by self-complementary adeno-associated viral vectors. Hum Gene Ther. 2009;20:1697–702.

Madry H, Cucchiarini M, Terwilliger EF, Trippel SB. Recombinant adeno-associated virus vectors efficiently and persistently transduce chondrocytes in normal and osteoarthritic human articular cartilage. Hum Gene Ther. 2003;14:393–402.

Hemphill DD, McIlwraith CW, Samulski RJ, Goodrich LR. Adeno-associated viral vectors show serotype specific transduction of equine joint tissue explants and cultured monolayers. Sci Rep. 2014;4:5861.

Goodrich LR, Phillips JN, McIlwraith CW, Foti SB, Grieger JC, Gray SJ, et al. Optimization of scAAVIL-1ra In Vitro and In Vivo to Deliver High Levels of Therapeutic Protein for Treatment of Osteoarthritis. Mol Ther Nucleic Acids. 2013;2:e70.

Goodrich LR, Grieger JC, Phillips JN, Khan N, Gray SJ, McIlwraith CW, et al. scAAVIL-1ra dosing trial in a large animal model and validation of long-term expression with repeat administration for osteoarthritis therapy. Gene Ther. 2015;22:536–45.

Ulrich-Vinther M. Gene therapy methods in bone and joint disorders: Evaluation of the adeno-associated virus vector in experimental models of articular cartilage disorders, periprosthetic osteolysis and bone healing. Acta Orthop. 2007;78:2–64.

Nixon AJ, Lust G, Vernier-Singer M. Isolation, propagation, and cryopreservation of equine articular chondrocytes. Am J Vet Res. 1992;53:2364–70.

Rabinowitz JE, Rolling F, Li C, Conrath H, Xiao W, Xiao X, et al. Cross-packaging of a single adeno-associated virus (AAV) type 2 vector genome into multiple AAV serotypes enables transduction with broad specificity. J Virol. 2002;76:791–801.

Santangelo KS, Baker SA, Nuovo G, Dyce J, Bartlett JS, Bertone AL. Detectable reporter gene expression following transduction of adenovirus and adeno‐associated virus serotype 2 vectors within full‐thickness osteoarthritic and unaffected canine cartilage in vitro and unaffected guinea pig cartilage in vivo. J Orthop Res. 2010;28:149–55.

Watson RS, Broome TA, Levings PP, Rice BL, Kay JD, Smith AD, et al. scAAV-mediated gene transfer of interleukin-1-receptor antagonist to synovium and articular cartilage in large mammalian joints. Gene Ther. 2013;20:670.

Mietzsch M, Broecker F, Reinhardt A, Seeberger PH, Heilbronn R. Differential adeno-associated virus serotype-specific interaction patterns with synthetic heparins and other glycans. J Virol. 2014;88:2991–3003.

Bell CL, Vandenberghe LH, Bell P, Limberis MP, Gao G-P, Van Vliet K, et al. The AAV9 receptor and its modification to improve in vivo lung gene transfer in mice. J Clin Invest. 2011;121:2427–35.

Akache B, Grimm D, Pandey K, Yant SR, Xu H, Kay MA. The 37/67-kilodalton laminin receptor is a receptor for adeno-associated virus serotypes 8, 2, 3, and 9. J Virol. 2006;80:9831–6.

Mason JB, Vandenberghe LH, Xiao R, Wilson JM, Richardson DW. Influence of serotype, cell type, tissue composition, and time after inoculation on gene expression in recombinant adeno-associated viral vector–transduced equine joint tissues. Am J Vet Res. 2012;73:1178–85.

Chanalaris A, Clarke H, Guimond SE, Vincent TL, Turnbull JE, Troeberg L. Heparan sulfate proteoglycan synthesis is dysregulated in human Osteoarthritic Cartilage. Am J Pathol. 2019;189:632–47.

Calcedo R, Franco J, Qin Q, Richardson DW, Mason JB, Boyd S, et al. Preexisting neutralizing antibodies to adeno-associated virus capsids in large animals other than monkeys may confound in vivo gene therapy studies. Hum Gene Ther Methods. 2015;26:103–5.

Rapti K, Louis-Jeune V, Kohlbrenner E, Ishikawa K, Ladage D, Zolotukhin S, et al. Neutralizing antibodies against AAV serotypes 1, 2, 6, and 9 in sera of commonly used animal models. Mol Ther. 2012;20:73–83.

Shin J-H, Yue Y, Smith B, Duan D. Humoral immunity to AAV-6, 8, and 9 in normal and dystrophic dogs. Hum Gene Ther. 2012;23:287–94.

Yuasa K, Yoshimura M, Urasawa N, Ohshima S, Howell J, Nakamura A, et al. Injection of a recombinant AAV serotype 2 into canine skeletal muscles evokes strong immune responses against transgene products. Gene Ther. 2007;14:1249–60.

Bowles DE, McPhee SW, Li C, Gray SJ, Samulski JJ, Camp AS, et al. Phase 1 gene therapy for Duchenne muscular dystrophy using a translational optimized AAV vector. Mol Ther. 2012;20:443–55.

Roach H, Aigner T, Soder S, Haag J, Welkerling H. Pathobiology of osteoarthritis: pathomechanisms and potential therapeutic targets. Curr Drug Targets. 2007;8:271–82.

Brown S, Kumar S, Sharma B. Intra-articular targeting of nanomaterials for the treatment of osteoarthritis. Acta Biomater. 2019;93:239–57.

Hamilton BA, Li X, Pezzulo AA, Abou Alaiwa MH, Zabner J. Polarized AAVR expression determines infectivity by AAV gene therapy vectors. Gene Ther. 2019;26:240–9.
Funding
This study was funded by Morris Animal Foundation (D21CA-086) and 2020 (FY21) College Research Council RFP (#1393) from Colorado State University.
Ethics declarations
Competing interests
The authors declare no competing interests.
Additional information
Publisher's note Springer Nature remains neutral with regard to jurisdictional claims in published maps and institutional affiliations.
Rights and permissions
Springer Nature or its licensor holds exclusive rights to this article under a publishing agreement with the author(s) or other rightsholder(s); author self-archiving of the accepted manuscript version of this article is solely governed by the terms of such publishing agreement and applicable law.
About this article
Cite this article
Kim, A.Y., Duerr, F.M., Phillips, J.N. et al. Serotype-specific transduction of canine joint tissue explants and cultured monolayers by self-complementary adeno-associated viral vectors. Gene Ther (2022). https://doi.org/10.1038/s41434-022-00366-x
Received:

Revised:

Accepted:

Published:

DOI: https://doi.org/10.1038/s41434-022-00366-x