Abstract
Purpose
To compare the foveal microstructures, such as the prevalence of epiretinal proliferation (EP) and residual ellipsoid zone (EZ), in eyes with lamellar macular hole (LMH), epiretinal retinal membrane (ERM) foveoschisis and macular pseudohole (MPH), and to investigate the association of the foveal microstructure with visual functions.
Method
In addition to the prevalence of EP, we calculated the residual EZ index within 1mm and 3 mm (rEZ1 and rEZ3) in all examined eyes. Comparisons were conducted to baseline characteristics (logMAR visual acuity [logMAR VA], metamorphopsia score [Mave], central retinal thickness [CRT], the prevalence of EP, rEZ1 and rEZ3) between MPH, ERM foveoschisis and LMH subgroups. The relationships (1) between logMAR VA and each of age, type (MPH, ERM foveoschisis and LMH), the prevalence of EP, rEZ1, rEZ3, spherical equivalent (SE) and CRT and (2) between Mave and each of variables were investigated.
Results
Fifty-one eyes of 48 patients were enroled. The mean age was 65.2 ± 11.1 years. Ten eyes were diagnosed as LMH, 22 eyes as ERM foveoschisis and 19 eyes as MPH, respectively. There was a significant difference in CRT only between LMH and ERM foveoschisis (p = 0.023). There was a tendency toward significance in rEZ1 between LMH and ERM foveoschisis (p = 0.057), but not in rEZ3. The optimal model for logMAR VA included age, rEZ1, SE and CRT. On the other hand, the optimal model for Mave included the prevalence of EP, rEZ1 and SE.
Conclusion
Microstructural observations are useful to predict visual functions in LMH, ERM foveoshisis and MPH.
Relevant articles
Open Access articles citing this article.
Annegret Hetzel

,

Jonas Neubauer

&

Faik Gelisken

Graefe's Archive for Clinical and Experimental Ophthalmology Open Access 28 December 2022
Access options
Subscribe to Journal
Get full journal access for 1 year
$119.00
only $6.61 per issue
All prices are NET prices.
VAT will be added later in the checkout.
Tax calculation will be finalised during checkout.
Buy article
Get time limited or full article access on ReadCube.
$32.00
All prices are NET prices.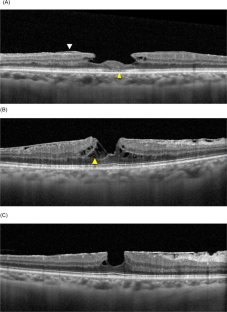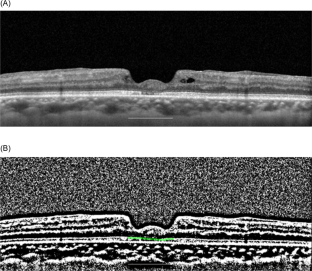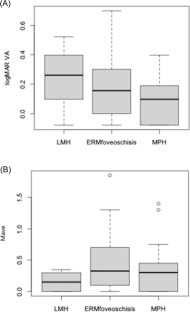 References
Gass JD. Lamellar macular hole: a complication of cystoid macular edema after cataract extraction. Arch Ophthalmol. 1976;94:793–800.

Witkin AJ, Ko TH, Fujimoto JG, Schuman JS, Baumal CR, Rogers AH, et al. Redefining lamellar holes and the vitreomacular interface: an ultrahigh-resolution optical coherence tomography study. Ophthalmology. 2006;113:388–97.

Hubschman JP, Govetto A, Spaide RF, Schumann R, Steel D, Figueroa MS, et al. Optical coherence tomography-based consensus definition for lamellar macular hole. Br J Ophthalmol. 2020;104:1741–7.

Lam M, Philippakis E, Gaudric A, Tadayoni R, Couturier A. Postoperative outcomes of idiopathic epiretinal membrane associated with foveoschisis. Br J Ophthalmol. 2021. https://doi.org/10.1136/bjophthalmol-2020-317982.

Omoto T, Asahina Y, Zhou HP, Fujino R, Takao M, Obata R, et al. Visual outcomes and prognostic factors of vitrectomy for lamellar macular holes and epiretinal membrane foveoschisis. PLoS ONE. 2021;16:e0247509. https://doi.org/10.1371/journal.pone.0247509.

Fujita A, Aoyama Y, Tsuneyoshi S, Sugiura A, Azuma K, Asano-Shimizu K, et al. Association between visual function and the integrity of residual ellipsoid zone in resolved central serous chorioretinopathy. Sci Rep. 2019;9:12433. https://doi.org/10.1038/s41598-019-48825-7.

Hara T, Zhou HP, Kitano M, Kure K, Asaoka R, Inoue T, et al. Quantification of residual ellipsoid zone and its correlation with visual functions in patients with cone-rod dystrophy. Eur J Ophthalmol. 2021;26:1120672121990561. https://doi.org/10.1177/1120672121990561.

Ota M, Tsujikawa A, Murakami T, Yamaike N, Sakamoto A, Kotera Y, et al. Foveal photoreceptor layer in eyes with persistent cystoid macular edema associated with branch retinal vein occlusion. Am J Ophthalmol. 2008;145:273–80.

Inoue M, Morita S, Watanabe Y, Kaneko T, Yamane S, Kobayashi S, et al. Inner segment/outer segment junction assessed by spectral-domain optical coherence tomography in patients with idiopathic epiretinal membrane. Am J Ophthalmol. 2010;150:834–9.

Aizawa S, Mitamura Y, Baba T, Hagiwara A, Ogata K, Yamamoto S. Correlation between visual function and photoreceptor inner/outer segment junction in patients with retinitis pigmentosa. Eye. 2009;23:304–8.

Schumann RG, Hagenau F, Guenther SR, Wolf A, Priglinger SG, Vogt D. Premacular cell proliferation profiles in tangential traction vitreo-maculopathies suggest a key role for hyalocytes. Ophthalmologica. 2019;242:106–12.

Chehaibou I, Pettenkofer M, Govetto A, Rabina G, Sadda SR, Hubschman JP. Identification of epiretinal proliferation in various retinal diseases and vitreoretinal interface disorders. Int J Retin Vitreous. 2020;6:31. https://doi.org/10.1186/s40942-020-00233-0.

dell'Omo R, Virgili G, Bottoni F, Parolini B, De Turris S, Di Salvatore A, et al. Lamellar macular holes in the eyes with pathological myopia. Graefes Arch Clin Exp Ophthalmol. 2018;256:1281–90. https://doi.org/10.1007/s00417-018-3995-8.

Lai TT, Yang CM. Lamellar hole-associated epiretinal proliferation in lamellar macular hole and full-thickness macular hole in high myopia. Retina. 2018;38:1316–23. https://doi.org/10.1097/IAE.0000000000001708.
Ethics declarations
Competing interests
The authors declare no competing interests.
Additional information
Publisher's note Springer Nature remains neutral with regard to jurisdictional claims in published maps and institutional affiliations.
About this article
Cite this article
Nakamura, K., Inoue, T., Nagura, K. et al. Foveal microstructure and visual function in patients with lamellar macular hole, epiretinal membrane foveoschisis or macular pseudohole. Eye 36, 2247–2252 (2022). https://doi.org/10.1038/s41433-021-01818-1
Received:

Revised:

Accepted:

Published:

Issue Date:

DOI: https://doi.org/10.1038/s41433-021-01818-1
This article is cited by
Annegret Hetzel
Jonas Neubauer
Faik Gelisken

Graefe's Archive for Clinical and Experimental Ophthalmology (2022)