Abstract
Background
Water exposure during contact lens wear has been associated with contact lens disease including microbial keratitis and sterile corneal infiltrates. Despite the documented risks, water exposure is common amongst lens wearers. This study aimed to determine the effect of water education in the form of "no-water" lens case stickers on water-contact behaviours and storage case contamination.
Methods
In a prospective, masked, randomised controlled trial, 200 daily lens wearers were randomised to either receive a storage case with a "no-water" sticker (test) or without a "no-water" sticker (control). Both groups received written compliance information. Participants completed a self-administered lens hygiene questionnaire at baseline and after 6 weeks. Microbial analysis of used storage cases, collected at both study visits, was conducted using ATP and limulus amebocyte lysate (LAL) assays for overall microbial contamination and endotoxin levels, respectively. A one-way ANCOVA and multiple logistic regression determined the change in water-contact behaviours and storage case contamination over time.
Results
A total of 188 lens wearers completed both study visits; 128 females and 60 males; average age 29 ± 13 (range 18–78 years); 95 test and 93 control participants. After 6 weeks, the overall water exposure score and endotoxin levels reduced significantly in the test group compared with the control group (p < 0.05). There were no significant changes in individual water-contact behaviours or overall storage case contamination.
Conclusion
A no-water infographic on the contact lens case improved overall water-contact behaviours and reduced storage case endotoxin. Refining the messaging may be beneficial in future to improve other aspects of compliance.
Access options
Subscribe to Journal
Get full journal access for 1 year
$499.00
only $41.58 per issue
All prices are NET prices.
VAT will be added later in the checkout.
Rent or Buy article
Get time limited or full article access on ReadCube.
from$8.99
All prices are NET prices.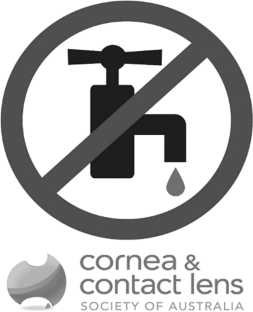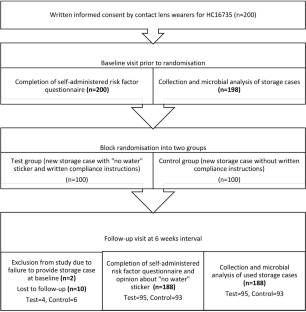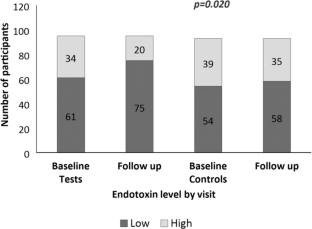 References
1.

Richdale K, Lam DY, Wagner H, Zimmerman AB, Kinoshita BT, Chalmers R, et al. Case-control pilot study of soft contact lens wearers with corneal infiltrative events and healthy controls. Investig Ophthalmol Vis Sci. 2016;57:47–55.

2.

Stapleton F, Keay L, Jalbert I, Cole N. The epidemiology of contact lens related infiltrates. Optom Vis Sci. 2007;84:257–72.

3.

Brown AC, Ross J, Jones DB, Collier SA, Ayers TL, Hoekstra RM, et al. Risk factors for Acanthamoeba keratitis—a multistate case-control study, 2008-2011. Eye Contact Lens. 2017;44 Suppl 1:S173–8.

4.

Lam JS, Tan G, Tan DT, Mehta JS. Demographics and behaviour of patients with contact lens-related infectious keratitis in singapore. Ann Acad Med Singap. 2013;42:499–506.

5.

Cope JR, Collier SA, Schein OD, Brown AC, Verani JR, Gallen R, et al. Acanthamoeba keratitis among rigid gas permeable contact lens wearers in the United States, 2005 through 2011. Ophthalmology. 2016;123:1435–41.

6.

Kilvington S, Gray T, Dart J, Morlet N, Beeching JR, Frazer DG, et al. Acanthamoeba keratitis: the role of domestic tap water contamination in the United Kingdom. Investig Ophthalmol Vis Sci. 2004;45:165–9.

7.

Üstüntürk M, Zeybek Z. Microbial contamination of contact lens storage cases and domestic tap water of contact lens wearers. Wien klinische Wochenschr. 2012;124:17–22.

8.

Wu YT, Tran J, Truong M, Harmis N, Zhu H, Stapleton F. Do swimming goggles limit microbial contamination of contact lenses? Optom Vis Sci. 2011;88:456–60.

9.

Tilia D, Lazon de la Jara P, Zhu H, Naduvilath TJ, Holden BA. The effect of compliance on contact lens case contamination. Optom Vis Sci. 2014;91:262–71.

10.

Minogue E, Tuite NL, Smith CJ, Reddington K, Barry T. A rapid culture independent methodology to quantitatively detect and identify common human bacterial pathogens associated with contaminated high purity water. BMC Biotechnol. 2015;15:6.

11.

Hassan F, Bhatti A, Desai R, Barua A. Analysis from a year of increased cases of Acanthamoeba keratitis in a large teaching hospital in the UK. Contact Lens Anterior Eye. 2019. https://doi.org/10.1016/j.clae.2019.04.009.

12.

Vijay AK, Willcox M, Zhu H, Stapleton F. Contact lens storage case hygiene practice and storage case contamination. Eye Contact Lens. 2015;41:91–7.

13.

Department of Health, National Health Services. Contact lens safety—live well—NHS choices. Department of Health, National Health Services. 2016. http://www.nhs.uk/Livewell/Eyehealth/Pages/Contactlenssafety.aspx. Accessed 6 Jul 2018.

14.

Center for Devices and Radiological Health. Contact lenses. Center for Devices and Radiological Health. 2019 https://www.fda.gov/MedicalDevices/ProductsandMedicalProcedures/HomeHealthandConsumer/ConsumerProducts/ContactLenses/. Accessed 6 Jul 2018.

15.

British Contact Lens Association. Do's & dont's factsheet for healthy contact lens care. British Contact Lens Association. 2017. https://bcla.org.uk/Public/Member_Resources/Professional_Resources/Do_s___Dont_s_Factsheet/Public/Member_Resources/Do_s___Dont_s_Factsheet_of_Contact_Lens_Care.aspx?hkey=5eb42bba-bae4-408a-8c2c-330cfa5608fb. Accessed 6 Jul 2018.

16.

Legarreta JE, Nau AC, Dhaliwal DK. Acanthamoeba keratitis associated with tap water use during contact lens cleaning: manufacturer guidelines need to change. Eye Contact Lens. 2013;39:158–61.

17.

Zimmerman AB, Richdale K, Mitchell GL, Kinoshita BT, Lam DY, Wagner H, et al. Water exposure is a common risk behavior among soft and gas-permeable contact lens wearers. Cornea. 2017;36:995–1001.

18.

Carnt N, Stapleton F. Strategies for the prevention of contact lens-related Acanthamoeba keratitis: a review. Ophthalmic Physiol Opt. 2016;36:77–92.

19.

Carnt N, Keay L, Willcox M, Evans V, Stapleton F. Higher risk taking propensity of contact lens wearers is associated with less compliance. Contact Lens Anterior Eye. 2011;34:202–6.

20.

Radford CF, Minassian D, Dart JK, Stapleton F, Verma S. Risk factors for nonulcerative contact lens complications in an ophthalmic accident and emergency department: a case-control study. Ophthalmology. 2009;116:385–92.

21.

Promega. BacTiter-Glo™ microbial cell viability assay. Promega. 2018 https://www.promega.com.au/products/cell-health-assays/cell-viability-and-cytotoxicity-assays/bactiter_glo-microbial-cell-viability-assay/?catNum=G8231. Accessed 18 Jun 2019.

22.

Wu YT, Willcox MD, Stapleton F. The effect of contact lens hygiene behavior on lens case contamination. Optom Vis Sci. 2015;92:167–74.

23.

Wu YT, Zhu H, Willcox M, Stapleton F. Removal of biofilm from contact lens storage cases. Investig Ophthalmol Vis Sci. 2010;51:6329–33.

24.

Noda K, Goto H, Murakami Y, Ahmed ABF, Kuroda A. Endotoxin assay by bioluminescence using mutant firefly luciferase. Anal Biochem. 2010;397:152–5.

25.

US_FDA. Guidance for industry: pyrogen and endotoxins testing: questions and answers | FDA. US_FDA. 2012 https://www.fda.gov/regulatory-information/search-fda-guidance-documents/guidance-industry-pyrogen-and-endotoxins-testing-questions-and-answers#_Toc315937935. Accessed 18 Jun 2019.

26.

Sakimoto A, Sawa M, Oshida T, Sugaya S, Hirono T, Ishimori A. Minimum endotoxin concentration causing inflammation in the anterior segment of rabbit eyes. Jpn J Ophthalmol. 2009;53:425–32.

27.

Cao Y, Bindslev DA, Kjaergaard SK. Estimation of the in vitro eye irritating and inflammatory potential of lipopolysaccharide (LPS) and dust by using reconstituted human corneal epithelium tissue cultures. Toxicol Mech Methods. 2015;25:402–9.

28.

Bowden T, Nosch DS, Harknett T. Contact lens profile: a tale of two countries. Contact Lens Anterior Eye. 2009;32:273–82.

29.

Choo J, Vuu K, Bergenske P, Burnham K, Smythe J, Caroline P. Bacterial populations on silicone hydrogel and hydrogel contact lenses after swimming in a chlorinated pool. Optom Vis Sci. 2005;82:134–7.

30.

De Beni R, Moè A. Imagery and rehearsal as study strategies for written or orally presented passages. Psychonomic Bull Rev. 2003;10:975–80.

31.

Mayeaux EJ Jr, Murphy PW, Arnold C, Davis TC, Jackson RH, Sentell T. Improving patient education for patients with low literacy skills. Am Fam Physician. 1996;53:205–11.

32.

Ebrahimabadi M, Rezaei K, Moini A, Fournier A, Abedi A. Infographics or video; which one is more effective in asthmatic patients' health? A randomized clinical trial. J Asthma. 2018. https://doi.org/10.1080/02770903.2018.1536143.

33.

Dowse R, Ehlers M. Medicine labels incorporating pictograms: do they influence understanding and adherence? Patient Educ Couns. 2005;58:63–70.

34.

Stapleton F, Keay L, Katiyar S, Edwards K, Naduvilath T. Causative organisms and disease severity in contact lens related microbial keratitis in Australia. Investig Ophthal Vis Sci. 2006;47:4729–4729.

35.

Bourcier T, Thomas F, Borderie V, Chaumeil C, Laroche L. Bacterial keratitis: predisposing factors, clinical and microbiological review of 300 cases. Br J Ophthalmol. 2003;87:834–8.

36.

Carnt NP, Hoffman JM, Verma S, Hau S, Radford CFP, Minassian DC, et al. Acanthamoeba keratitis: confirmation of the UK outbreak and a prospective case-control study identifying contributing risk factors. Br J Ophthalmol. 2018;102:1621–8.

37.

Stapleton F, Naduvilath T, Keay L, Radford C, Dart J, Edwards K, et al. Risk factors and causative organisms in microbial keratitis in daily disposable contact lens wear. PLoS ONE. 2017;12:e0181343.

38.

Lally P, Van Jaarsveld CHM, Potts HWW, Wardle J. How are habits formed: modelling habit formation in the real world. Euro J Soc Psychol. 2010;40:998–1009.

39.

Middleton KR, Anton SD, Perri MG. Long-term adherence to health behavior change. AJLM. 2013;7:395–404.
Acknowledgements
This study was partially funded through an investigator-initiated study supported by Alcon Australia. MA was supported by joint doctoral scholarship from UNSW (tuition fee scholarship) and Higher Education Commission, Pakistan.
Ethics declarations
Conflict of interest
The authors declare that they have no conflict of interest.
Additional information
Publisher's note Springer Nature remains neutral with regard to jurisdictional claims in published maps and institutional affiliations.
Supplementary information
About this article
Cite this article
Arshad, M., Carnt, N., Tan, J. et al. Compliance behaviour change in contact lens wearers: a randomised controlled trial. Eye (2020). https://doi.org/10.1038/s41433-020-1015-9
Received:

Revised:

Accepted:

Published:
Further reading
Marta Vianya-Estopa

,

James S. Wolffsohn

,

Eldre Beukes

,

Mike Trott

,

Lee Smith

&

Peter M. Allen

Contact Lens and Anterior Eye (2020)