Access options
Subscribe to Journal
Get full journal access for 1 year
$119.00
only $9.92 per issue
All prices are NET prices.
VAT will be added later in the checkout.
Tax calculation will be finalised during checkout.
Rent or Buy article
Get time limited or full article access on ReadCube.
from$8.99
All prices are NET prices.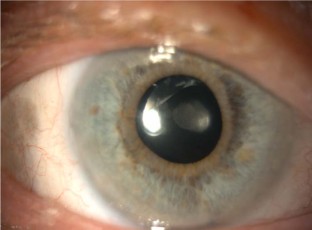 References
1.

Bellucci R. An introduction to intraocular lenses: material, optics, haptics, design and aberration. In: Güell JL, editors. Cataract. Basel, Switzerland: ESASO Course Series, vol. 3.2013. pp. 38–55.

2.

Fellman MA, Werner L, Liu E, Stallings S, Floyd AM, van der Meulen IJE, et al. Calcification of a hydrophilic acrylic intraocular lens after Descemet-stripping endothelial keratoplasty: case report and laboratory analyses. J Cataract Refrac Surg. 2013;39:799–803.

3.

Deng S, Lee B, Hammersmith K, Kuo A, Li J, Shen J, et al. Descemet membrane endothelial keratoplasty: safety and outcomes. A report by American Academy of Ophthalmology. Ophthalmology. 2017;125:295–310.

4.

Giers BC, Tandogan T, Auffarth GU, Choi CY, Auerbach FN, Sel S, et al. Hydrophilic intraocular lens opacification after posterior lamellar keratoplasty—a material analysis with special reference to optical quality assessment. BMC Ophthalmol. 2017;17:1–10.

5.

Ahad MA, Darcy K, Cook SD, Tole DM. Intraocular lens opacification after descemet stripping automated endothelial keratoplasty. Cornea. 2014;13:1307–11.
Ethics declarations
Conflict of interest
The authors declare that they have no conflict of interest.
Additional information
Publisher's note Springer Nature remains neutral with regard to jurisdictional claims in published maps and institutional affiliations.
About this article
Cite this article
Bhalla, M., El-Haddad, O. & Maurino, V. Opacified hydrophilic intraocular lens following DMEK. Eye 34, 1925–1926 (2020). https://doi.org/10.1038/s41433-020-0866-4
Received:

Revised:

Accepted:

Published:

Issue Date: