Access options
Subscribe to Journal
Get full journal access for 1 year
$411.00
only $34.25 per issue
All prices are NET prices.
VAT will be added later in the checkout.
Rent or Buy article
Get time limited or full article access on ReadCube.
from$8.99
All prices are NET prices.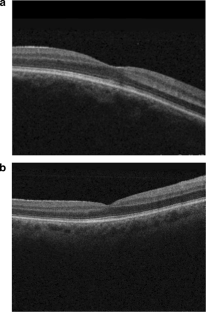 References
1.

Moya R, Chandra A, Banerjee PJ, et al. The incidence of unexplained visual loss following removal of silicone oil. Eye. 2015;29:1477–82.

2.

Roca JA, Lihteh W, Berrocal M, et al. Un‑explained visual loss following silicone oil removal: results of the Pan American Collaborative Retina Study (PACORES). Int J Retina Vitreous. 2017;3:26.

3.

Shalchi Z, Mahroo OA, Shunmugam M, et al. Spectral domain optical coherence tomography findings in long-term silicone oil–related visual loss. Retina. 2015;35:555–63.

4.

Dogramaci M, Williams K, Lee E, Williamson TH. Foveal light exposure is increased at the time of removal of silicone oil with the potential for phototoxicity. Graefes Arch Clin Exp Ophthalmol. 2013;251:35–9.

5.

Scheerlinck LM, Kuiper JJ, Liem AT, et al. Electrolyte composition of retro-oil fluid and silicone oil-related visual loss. Acta Ophthalmol. 2016;94:449–53.
Ethics declarations
Conflict of interest
The authors declare that they have no conflict of interest.
Additional information
Publisher's note: Springer Nature remains neutral with regard to jurisdictional claims in published maps and institutional affiliations.
About this article
Cite this article
Lee, J.Y.X., Sawant, R., Jonas, A. et al. The incidence of silicone oil-related visual loss following the removal of heavy silicone oil. Eye 33, 1969–1970 (2019). https://doi.org/10.1038/s41433-019-0504-1
Received:

Revised:

Accepted:

Published:

Issue Date: