Access options
Subscribe to Journal
Get full journal access for 1 year
$399.00
only $33.25 per issue
All prices are NET prices.
VAT will be added later in the checkout.
Tax calculation will be finalised during checkout.
Rent or Buy article
Get time limited or full article access on ReadCube.
from$8.99
All prices are NET prices.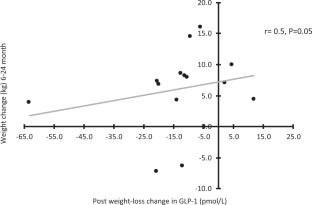 References
1.

Thom G, Dombrowski SU, Brosnahan N, Algindan YY, Rosario Lopez-Gonzalez M, Roditi G, et al. The role of appetite-related hormones, adaptive thermogenesis, perceived hunger and stress in long-term weight-loss maintenance: a mixed-methods study. Eur J Clin Nutr. 2020. https://doi.org/10.1038/s41430-020-0568-9.

2.

Ochner CN, Laferrere B, Afifi L, Atalayer D, Geliebter A, Teixeira J. Neural responsivity to food cues in fasted and fed states pre and post gastric bypass surgery. Neurosci Res. 2012;74:138–43.

3.

Pannacciulli N, Bunt JC, Koska J, Bogardus C, Krakoff J. Higher fasting plasma concentrations of glucagon-like peptide 1 are associated with higher resting energy expenditure and fat oxidation rates in humans. Am J Clin Nutr. 2006;84:556–60.

4.

Stubbs J, Whybrow S, Teixeira P, Blundell J, Lawton C, Westenhoefer J, et al. Problems in identifying predictors and correlates of weight loss and maintenance: implications for weight control therapies based on behaviour change. Obes Rev. 2011;12:688–708.

5.

Rosenbaum M, Agurs-Collins T, Bray MS, Hall KD, Hopkins M, Laughlin M, et al. Accumulating data to optimally predict obesity treatment (ADOPT): recommendations from the biological domain. Obesity. 2018;26:S25–34.

6.

Stock S, Leichner P, Wong ACK, Ghatei MA, Kieffer TJ, Bloom SR, et al. Ghrelin, peptide YY, glucose-dependent insulinotropic polypeptide, and hunger responses to a mixed meal in anorexic, obese, and control female adolescents. J Clin Endocrinol Metab. 2005;90:2161–8.

7.

Adam TCM, Jocken J, Westerterp-Plantenga MS. Decreased glucagon-like peptide 1 release after weight loss in overweight/obese subjects. Obes Res. 2005;13:710–6.
Ethics declarations
Conflict of interest
The authors declare that they have no conflict of interest.
Additional information
Publisher's note Springer Nature remains neutral with regard to jurisdictional claims in published maps and institutional affiliations.
About this article
Cite this article
Thom, G., Dombrowski, S.U., Brosnahan, N. et al. Response to comments on "The role of appetite-related hormones, adaptive thermogenesis, perceived hunger and stress in long-term weight-loss maintenance: a mixed methods study". Eur J Clin Nutr 74, 1115–1116 (2020). https://doi.org/10.1038/s41430-020-0651-2
Received:

Revised:

Accepted:

Published:

Issue Date: