Abstract
Rapid economic growth and urbanization have brought notable changes in China. This trend had dramatic impacts to food industry and diet-related behaviors, which leads to increasing prevalence of overweight and obesity as well as diet-related non-communicable diseases (NCDs). With a rapid development of internet and e-commerce market, another emerging trend that should not be overlooked is the change in food shopping habits induced by the popularity of online-to-offline (O2O) food delivery service in China. The O2O food market is a booming industry in China, the market scale of O2O food industry is increasing with remarkable speed. More than 1/5 of total population in China has already became the users of O2O food delivery market. Development of this new trend in food environment is inevitable. This game-changing trend brings great opportunities to improve food accessibility and availability but meanwhile poses inevitable challenges to the whole public health system and social environment in China. This paper offers a unique perspective of the opportunities and challenges that the new industry brings to food environment, health outcomes caused by related behavior change, and its broader influence on social environment.
Access options
Subscribe to Journal
Get full journal access for 1 year
$499.00
only $41.58 per issue
All prices are NET prices.
VAT will be added later in the checkout.
Rent or Buy article
Get time limited or full article access on ReadCube.
from$8.99
All prices are NET prices.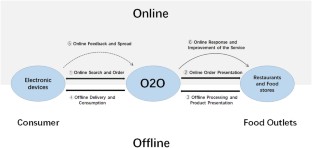 References
1.

Zhou Y, Du S, Su C, Zhang B, Wang H, Popkin BM. The food retail revolution in China and its association with diet and health. Food Policy. 2015;55:92–100.

2.

National Bureau of Statistics of China, 2017. 2017 China Statistical Year Book. Available from: http://www.stats.gov.cn/tjsj/ndsj/2017/indexch.htm

3.

National Bureau of Statistics of China, 2018. Statistical Communiqué of China on 2017 National Economic and Social Development. Available from: http://www.stats.gov.cn/tjsj/zxfb/201802/t20180228_1585631.html

4.

Chan KW. Fundamentals of China's urbanization and policy. China Rev. 2010;10:63–93.

5.

Zhai FY, Du SF, Wang ZH, Zhang JG, Du WW, Popkin BM. Dynamics of the Chinese diet and the role of urbanicity, 1991–2011. Obes Rev. 2014;15:16.

6.

Wang Y, Wang L, Xue H, Qu W. A review of the growth of the fast food industry in china and its potential impact on obesity. Int J Environ Res Public Health. 2016;13:1112.

7.

The World Health Organization, 2017. Prevalence of obesity among adults, BMI ≥ 30, crude estimates by country. Available from: http://apps.who.int/gho/data/node.main.BMI30C?lang=en

8.

Ma RC, Xu L, Jia W. Causes of type 2 diabetes in China. Lancet Diabetes Endocrinol. 2014;2:980–91.

9.

Yang G, Wang Y, Zeng Y, Gao GF, Liang X, Zhou M, et al. Rapid health transition in china, 1990-2010: findings from the global burden of disease study 2010. Lancet. 2013;381:1987–2015.

10.

China E-Commerce Research Center (CECRC), 2017. 2017 China e-commerce market data monitoring report. Available from: http://www.100ec.cn/zt/17jcbg1/

11.

IiMedia Research Group, 2017. 2016-2017 China Online Take-out Market Research Report. Available from: http://www.iimedia.cn/49626.html

12.

China Internet Network Information Center (CNNIC), 2016. 37th Statistical report on the development of China Internet network. Available from: http://www.cnnic.cn/gywm/xwzx/rdxw/2016/201601/W020160122639198410766.pdf

13.

China Internet Network Information Center (CNNIC), 2018. 41th Statistical report on the development of China Internet network. Available from: http://www.cac.gov.cn/2018-01/31/c_1122347026.htm

14.

Cannuscio CC, Tappe K, Hillier A, Buttenheim A, Karpyn A, Glanz K. Urban food environments and residents' shopping behaviors. Am J Prev Med. 2013;45:606–14.

15.

Kamphuis CB, Giskes K, Bruijn GJ, Wendel-Vos W, Brug J, van, Lenthe FJ. Environmental determinants of fruit and vegetable consumption among adults: asystematic review. Br J Nutr. 2006;96:620–35.

16.

Jennings A, Welch A, Jones AP, Harrison F, Bentham G, van Sluijs EM, et al. Local food outlets, weight status, and dietary intake: associations in children aged 9-10 years. Am J Prev Med. 2011;40:405–10.

17.

Gamba RJ, Schuchter J, Rutt C, Seto EY. Measuring the food environment and its effects on obesity in the United States: a systematic review of methods and results. J Community Health. 2015;40:464–75.

18.

Story M, Kaphingst KM, Robinson-O'Brien R, Glanz K. Creating healthy food and eating environments: policy and environmental approaches. Annu Rev Public Health. 2008;29:253–72.

19.

Smith G, Gidlow C, Davey R, Foster C. What is my walking neighborhood? A pilot study of English adults' definitions of their local walking neighbourhoods. Int J Behav Nutr Phys Act. 2010;7:34.

20.

Green SH, Glanz K. Development of the perceived nutrition environment measures survey. Am J Prev Med. 2015;49:50–61.

21.

Gould LH, Rosenblum I, Nicholas D, Phan Q, Jones TF. Contributing factors in restaurant-associated foodborne disease outbreaks, FoodNet site, 2006 and 2007. J Food Prot. 2013;76:1824–8.

22.

Nyachuba DG. Foodborne illness: is it on the rise? Nutr Rev. 2010;68:257–69.

23.

Cunningham A. Toxic leftovers. Sci News. 2006;169:389–90.

24.

Varshavsky JR, Morello-Frosch R, Woodruff TJ, Zota AR. Dietary sources of cumulative phthalates exposure among the U.S. general population in NHANES 2005-2014. Environ Int. 2018. https://doi.org/10.1016/j.envint. e-pub ahead of print February 29

25.

Garciaarias MT, Alvarez PE, Garcialinares MC, Garciafernandez MC, Sanchezmuniz FJ. Cooking–freezing–reheating (cfr) of sardine (sardinapilchardus) fillets. Effect of different cooking and reheating procedures on the proximate and fatty acid compositions. Food Chem. 2003;83:349–56.

26.

First financial business data center (CBNData), 2017. 2016 Online food delivery consumption report. Available from: http://cbndata.com/report/91?isReading=report&page=1&readway=stand

27.

Healy GN, Wijndaele K, Dunstan DW, Shaw JE, Salmon J, Zimmet PZ, et al. Objectively measured sedentary time, physical activity, and metabolic risk: the Australian Diabetes, Obesity and Lifestyle Study (AusDiab). Diabetes Care. 2008;31:369–71.

28.

First financial business data center (CBNData), 2018. 2018 Living consumption trends report. Available from: http://cbndata.com/report/559/detail?isReading=report&page=1

29.

Rothon C, Goodwin L, Stansfeld S. Family social support, community "social capital" and adolescents' mental health and educational outcomes: a longitudinal study in England. Soc Psychiatry Psychiatr Epidemiol. 2012;47:697–709.

30.

Koelmel E, Hughes AJ, Alschuler KN, Ehde DM. Resilience mediates the longitudinal relationships between social support and mental health outcomes in multiple sclerosis. Arch Phys Med Rehabil. 2017;98:1139–48.

31.

Paredes AZ, Persaud E, Shelnutt AKP. Raising healthy children: the importance of family meals. Plant Physiol. 2014;129:1695–9.

32.

Jalil A, Nannu M, Rahman MK. Using plastic bags and its damaging impact on environment and agriculture: an alternative proposal. Int J Learning Dev. 2013;3:1–14.

33.

Verma R, Vinoda KS, Papireddy M, Gowda ANS. Toxic pollutants from plastic waste- a review. Procedia Environ Sci. 2016;35:701–8.

34.

Morét-Ferguson S, Law KL, Proskurowski G, Murphy EK, Peacock EE, Reddy CM. The size, mass, and composition of plastic debris in the western North Atlantic Ocean. Mar Pollut Bull. 2010;60:1873–8.

35.

Women in Europe for a Common Future (WECF), 2004. Dangerous health effects of home burning of plastic and wastes, fact sheet. Available from: http://www.wecf.eu/cms/download/2004-2005/homeburning_plastics.pdf

36.

Kogevinas M. Human health effects of dioxins: cancer, reproductive and endocrine system effects. Hum Reprod Update. 2001;109:331–9.

37.

Wang C, Xu C, Xia J, Qian Z. Modeling faults among e-bike-related fatal crashes in China. Traffic Inj Prev. 2017;18:175–81.

38.

The National People's Congress of China (China NPC), 2015. Food safety law of the People's Republic of China. Available from: http://www.gov.cn/zhengce/2015-04/25/content_2853643.htm
Acknowledgements
This work was supported by grants from China Medical Board (CMB) Collaborating Program (15-216) and Cyrus Tang Foundation (419600-11102)
Ethics declarations
Conflict of interest
The authors declare that they have no conflict of interest.
Additional information
These authors contributed equally: Mayila Maimaiti, Xueyin Zhao.
About this article
Cite this article
Maimaiti, M., Zhao, X., Jia, M. et al. How we eat determines what we become: opportunities and challenges brought by food delivery industry in a changing world in China. Eur J Clin Nutr 72, 1282–1286 (2018). https://doi.org/10.1038/s41430-018-0191-1
Received:

Accepted:

Published:

Issue Date: