Abstract
Bacterial infection caused by multidrug-resistant Pseudomonas aeruginosa has become a challenge in clinical practice. Polymyxins are used as the last resort agent for otherwise untreatable Gram-negative bacteria, including multidrug-resistant P.aeruginosa. However, pharmacodynamic (PD) and pharmacokinetic (PK) data on polymyxins suggest that polymyxin monotherapy is unlikely to generate reliably efficacious plasma concentrations. Also, polymyxin resistance has been frequently reported, especially among multidrug-resistant P.aeruginosa, which further limits its clinical use. A strategy for improving the antibacterial activity of polymyxins and preventing the development of polymyxin resistance is to use polymyxins in combination with other agents. In this study, we have demonstrated that resveratrol, a well tolerated compound, has synergistic effects when tested in vitro with polymyxin B on antibacterial and anti-biofilm activities. However, its' systemic use is limited as the required high plasma levels of resveratrol are not achievable. This suggests that it could be a partner for the combination therapy of polymyxin B in the treatment of topical bacterial infection caused by MDR P.aeruginosa.
Access options
Subscribe to Journal
Get full journal access for 1 year
$119.00
only $9.92 per issue
All prices are NET prices.
VAT will be added later in the checkout.
Tax calculation will be finalised during checkout.
Buy article
Get time limited or full article access on ReadCube.
$32.00
All prices are NET prices.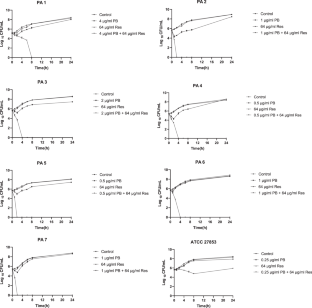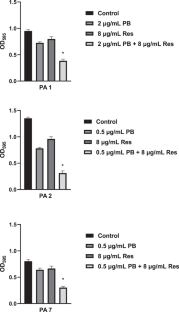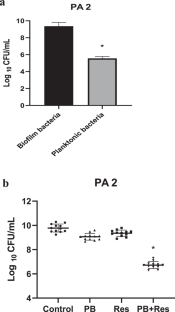 References
Rotschafer JC, Shikuma LR. Pseudomonas aeruginosa susceptibility in a university hospital: recognition and treatment. Drug Intell Clin Pharm. 1986;20:575–81.

Parkins MD, Somayaji R, Waters VJ. Epidemiology, biology, and impact of clonal pseudomonas aeruginosa infections in cystic fibrosis. Clin Microbiol Rev. 2018;31:e00019–18.

World Health Organization. Prioritization of Pathogens to Guide Discovery, Research and Development of New Antibiotics for Drug-Resistant Bacterial Infections, Including Tuberculosis; World Health Organization: Geneva, Switzerland, 2017.

National Nosocomial Infections Surveillance (NNIS). System Report, data summary from January 1992 through June 2004, issued October 2004. Am J Infect Control. 2004;32:470–85.

Dou Y, Huan J, Guo F, Zhou Z, Shi Y. Pseudomonas aeruginosa prevalence, antibiotic resistance and antimicrobial use in Chinese burn wards from 2007 to 2014. J Int Med Res. 2017;45:1124–37.

Obritsch MD, Fish DN, MacLaren R, Jung R. National surveillance of antimicrobial resistance in Pseudomonas aeruginosa isolates obtained from intensive care unit patients from 1993 to 2002. Antimicrob Agents Chemother. 2004;48:4606–10.

Curcio D. Multidrug-resistant Gram-negative bacterial infections: are you ready for the challenge? Curr Clin Pharm. 2014;9:27–38.

Falagas ME, Kasiakou SK. Colistin: the revival of polymyxins for the management of multidrug-resistant gram-negative bacterial infections. Clin Infect Dis. 2005;40:1333–41.

Li J, Nation RL, Turnidge JD, Milne RW, Coulthard K, Rayner CR, et al. Colistin: the re-emerging antibiotic for multidrug-resistant Gram-negative bacterial infections. Lancet Infect Dis. 2006;6:589–601.

Satlin MJ, Lewis JS, Weinstein MP, Patel J, Humphries RM, Kahlmeter G, et al. Clinical and laboratory standards institute and european committee on antimicrobial susceptibility testing position statements on polymyxin b and colistin clinical breakpoints. Clin Infect Dis. 2020;71:e523–e529.

Biswas S, Brunel JM, Dubus JC, Reynaud-Gaubert M, Rolain JM. Colistin: an update on the antibiotic of the 21st century. Expert Rev Anti Infect Ther. 2012;10:917–34.

Poirel L, Jayol A, Nordmann P. Polymyxins: antibacterial activity, susceptibility testing, and resistance mechanisms encoded by plasmids or chromosomes. Clin Microbiol Rev. 2017;30:557–96.

Doi Y, van Duin D. Polymyxin resistance in klebsiella pneumoniae: complexity at every level. Clin Infect Dis. 2020;70:2092–4.

Chen X, Xu J, Zhu Q, Ren Y, Zhao L. Polymyxin B resistance rates in carbapenem-resistant Pseudomonas aeruginosa isolates and a comparison between Etest® and broth microdilution methods of antimicrobial susceptibility testing. Exp Ther Med. 2020;20:762–9.

Tsuji BT, Pogue JM, Zavascki AP, Paul M, Daikos GL, Forrest A, et al. International Consensus Guidelines for the Optimal Use of the Polymyxins: Endorsed by the American College of Clinical Pharmacy (ACCP), European Society of Clinical Microbiology and Infectious Diseases (ESCMID), Infectious Diseases Society of America (IDSA), International Society for Anti-infective Pharmacology (ISAP), Society of Critical Care Medicine (SCCM), and Society of Infectious Diseases Pharmacists (SIDP). Pharmacotherapy. 2019;39:10–39.

Ribera A, Benavent E, Lora-Tamayo J, Tubau F, Pedrero S, Cabo X, et al. Osteoarticular infection caused by MDR Pseudomonas aeruginosa: the benefits of combination therapy with colistin plus β-lactams. J Antimicrob Chemother. 2015;70:3357–65.

Carlson A, Alderete KS, Grant MKO, Seelig DM, Sharkey LC, Zordoky BNM. Anticancer effects of resveratrol in canine hemangiosarcoma cell lines. Vet Comp Oncol. 2018;16:253–61.

Kuršvietienė L, Stanevičienė I, Mongirdienė A, Bernatonienė J. Multiplicity of effects and health benefits of resveratrol. Med (Kaunas). 2016;52:148–55.

Nøhr-Meldgaard K, Ovsepian A, Ingmer H, Vestergaard M. Resveratrol enhances the efficacy of aminoglycosides against Staphylococcus aureus. Int J Antimicrob Agents. 2018;52:390–6.

Singkham-In U, Higgins PG, Wannigama DL, Hongsing P, Chatsuwan T. Rescued chlorhexidine activity by resveratrol against carbapenem-resistant Acinetobacter baumannii via down-regulation of AdeB efflux pump. PLoS One. 2020;15:e0243082.

Liu L, Yu J, Shen X, Cao X, Zhan Q, Guo Y, et al. Resveratrol enhances the antimicrobial effect of polymyxin B on Klebsiella pneumoniae and Escherichia coli isolates with polymyxin B resistance. BMC Microbiol. 2020;20:306.

Feng X, Liu S, Wang Y, Zhang Y, Sun L, Li H, et al. Synergistic activity of colistin combined with auranofin against colistin-resistant gram-negative bacteria. Front Microbiol. 2021;12:676414.

Doern CD. When does 2 plus 2 equal 5? A review of antimicrobial synergy testing. J Clin Microbiol. 2014;52:4124–8.

Lewis K. Riddle of biofilm resistance. Antimicrobial Agents Chemother. 2001;45:999–1007.

Gupta P, Mankere B, Chekkoora Keloth S, Tuteja U, Pandey P, Chelvam KT. Increased antibiotic resistance exhibited by the biofilm of Vibrio cholerae O139. J Antimicrob Chemother. 2018;73:1841–7.

Al-Orphaly M, Hadi HA, Eltayeb FK, Al-Hail H, Samuel BG, Sultan AA, et al. Epidemiology of Multidrug-Resistant Pseudomonas aeruginosa in the Middle East and North Africa Region. mSphere. 2021;6:e00202–21.

Fernández L, Alvarez-Ortega C, Wiegand I, Olivares J, Kocíncová D, Lam JS, et al. Characterization of the polymyxin B resistome of Pseudomonas aeruginosa. Antimicrob Agents Chemother. 2013;57:110–9.

Falagas ME, Rafailidis PI, Matthaiou DK. Resistance to polymyxins: Mechanisms, frequency and treatment options. Drug Resist Updat. 2010;13:132–8.

McPhee JB, Bains M, Winsor G, Lewenza S, Kwasnicka A, Brazas MD, et al. Contribution of the PhoP-PhoQ and PmrA-PmrB two-component regulatory systems to Mg2+-induced gene regulation in Pseudomonas aeruginosa. J Bacteriol. 2006;188:3995–4006.

Liu YY, Wang Y, Walsh TR, Yi LX, Zhang R, Spencer J, et al. Emergence of plasmid-mediated colistin resistance mechanism MCR-1 in animals and human beings in China: a microbiological and molecular biological study. Lancet Infect Dis. 2016;16:161–8.

Zavascki AP, Nation RL. Nephrotoxicity of polymyxins: is there any difference between colistimethate and polymyxin B? Antimicrob Agents Chemother. 2017;61:e02319–16.

Wang P, Sang S. Metabolism and pharmacokinetics of resveratrol and pterostilbene. Biofactors. 2018;44:16–25.

Cannatelli A, Principato S, Colavecchio OL, Pallecchi L, Rossolini GM. Synergistic activity of colistin in combination with resveratrol against colistin-resistant gram-negative pathogens. Front Microbiol. 2018;9:1808.

Boocock DJ, Faust GE, Patel KR, Schinas AM, Brown VA, Ducharme MP, et al. Phase I dose escalation pharmacokinetic study in healthy volunteers of resveratrol, a potential cancer chemopreventive agent. Cancer Epidemiol Biomark Prev. 2007;16:1246–52.

Duan J, Li M, Hao Z, Shen X, Liu L, Jin Y, et al. Subinhibitory concentrations of resveratrol reduce alpha-hemolysin production in Staphylococcus aureus isolates by downregulating saeRS. Emerg Microbes Infect. 2018;7:136.

Zhou X, Ruan Q, Ye Z, Chu Z, Xi M, Li M, et al. Resveratrol accelerates wound healing by attenuating oxidative stress-induced impairment of cell proliferation and migration. Burns 2021;47:133–9.

Varricchio AM, Capasso M, Della Volpe A, Malafronte L, Mansi N, Varricchio A, et al. Resveratrol plus carboxymethyl-β-glucan in children with recurrent respiratory infections: a preliminary and real-life experience. Ital J Pediatr. 2014;40:93.

Bonomo RA, Van Zile PS, Li Q, Shermock KM, McCormick WG, Kohut B. Topical triple-antibiotic ointment as a novel therapeutic choice in wound management and infection prevention: a practical perspective. Expert Rev Anti Infect Ther. 2007;5:773–82.

Thi MTT, Wibowo D, Rehm BHA. Pseudomonas aeruginosa Biofilms. Int J Mol Sci. 2020;21:8671.

She P, Wang Y, Luo Z, Chen L, Tan R, Wang Y, et al. Meloxicam inhibits biofilm formation and enhances antimicrobial agents efficacy by Pseudomonas aeruginosa. Microbiologyopen 2018;7:e00545.

Sharma G, Rao S, Bansal A, Dang S, Gupta S, Gabrani R. Pseudomonas aeruginosa biofilm: potential therapeutic targets. Biologicals 2014;42:1–7.

James GA, Swogger E, Wolcott R, Pulcini ED, Secor P, Sestrich J, et al. Biofilms in chronic wounds. Wound Repair Regen. 2008;16:37–44.

Bjarnsholt T, Kirketerp-Møller K, Jensen PØ, Madsen KG, Phipps R, Krogfelt K, et al. Why chronic wounds will not heal: a novel hypothesis. Wound Repair Regen. 2008;16:2–10.

Anderl JN, Franklin MJ, Stewart PS. Role of antibiotic penetration limitation in Klebsiellapneumoniae biofilm resistance to ampicillin and ciprofloxacin. Antimicrob Agents Chemother. 2000;44:1818–24.

Nethery W, Warner P, Durkee P, Dwyer A, Zembrodt J, Fowler L. Efficacy of topical antimicrobial agents against bacterial isolates from burn wounds. J Burn Care Res. 2020;41:739–42.

Bosscha MI, van Dissel JT, Kuijper EJ, Swart W, Jager MJ. The efficacy and safety of topical polymyxin B, neomycin and gramicidin for treatment of presumed bacterial corneal ulceration. Br J Ophthalmol. 2004;88:25–8.

Decraene V, Ghebrehewet S, Dardamissis E, Huyton R, Mortimer K, Wilkinson D, et al. An outbreak of multidrug-resistant Pseudomonas aeruginosa in a burns service in the North of England: challenges of infection prevention and control in a complex setting. J Hosp Infect. 2018;100:e239–e245.

Vatan A, Saltoglu N, Yemisen M, Balkan II, Surme S, Demiray T, et al. Association between biofilm and multi/extensive drug resistance in diabetic foot infection. Int J Clin Pract. 2018;72:e13060.
Acknowledgements
We are grateful to the Shiyan Renmin Hospital of Hubei University of Medicine and the Jinzhou Medical University.
Funding
This work was supported by the Science Foundation of Hubei Health Commission in Hubei province (Grant No: WJ2021F040).
Ethics declarations
Conflict of interest
The authors declare no competing interests.
Additional information
Publisher's note Springer Nature remains neutral with regard to jurisdictional claims in published maps and institutional affiliations.
Rights and permissions
Springer Nature or its licensor holds exclusive rights to this article under a publishing agreement with the author(s) or other rightsholder(s); author self-archiving of the accepted manuscript version of this article is solely governed by the terms of such publishing agreement and applicable law.
About this article
Cite this article
Qi, L., Liang, R., Duan, J. et al. Synergistic antibacterial and anti-biofilm activities of resveratrol and polymyxin B against multidrug-resistant Pseudomonas aeruginosa. J Antibiot 75, 567–575 (2022). https://doi.org/10.1038/s41429-022-00555-1
Received:

Revised:

Accepted:

Published:

Issue Date:

DOI: https://doi.org/10.1038/s41429-022-00555-1