Abstract
Pelgipeptins are cyclic lipopeptides composed of nine amino acids and a short fatty acid chain. In the present study, we report a novel pelgipeptin peptide that was isolated from Paenibacillus elgii BC34-6 and named pelgipeptin E (PGP-E). The molecular mass of PGP-E was 1072 Da as determined by liquid chromatography-mass spectrometry and the amino acid sequence was elucidated by tandem mass spectrometry. The complete molecular structure of PGP-E was characterized using 2D NMR spectroscopy. PGP-E consisted of a cyclic peptide backbone of Dab1-Val2-Dab3-Phe4-Leu5-Dab6-Val7-Leu8-Ser9 and a lipid chain (-CH2CH2CH3). PGP-E had broad antimicrobial activity against gram-negative and -positive bacteria, including methicillin-resistant Staphylococcus aureus strains. Furthermore, the mode of action of PGP-E was investigated using calcein dye leakage and membrane depolarization assays, which suggest that PGP-E acts via a membrane-active mechanism. The hemolytic activity of PGP-E was significantly lower than that of melittin, a well-known membrane-active peptide derived from bee venom. These results suggest that PGP-E is a potential candidate in the development of new peptide antibiotics.
This is a preview of subscription content
Access options
Subscribe to Journal
Get full journal access for 1 year
$119.00
only $9.92 per issue
All prices are NET prices.
VAT will be added later in the checkout.
Tax calculation will be finalised during checkout.
Buy article
Get time limited or full article access on ReadCube.
$32.00
All prices are NET prices.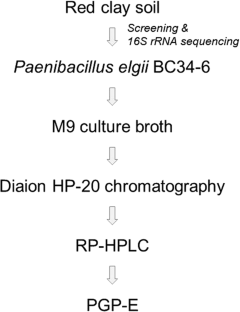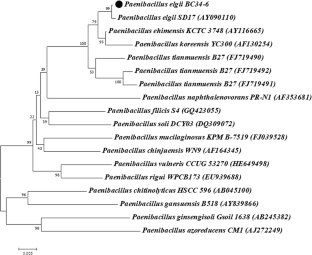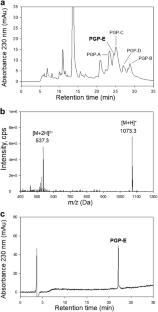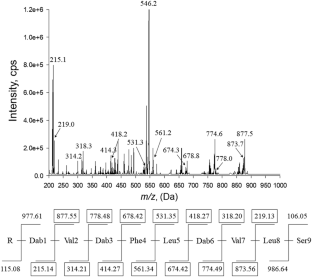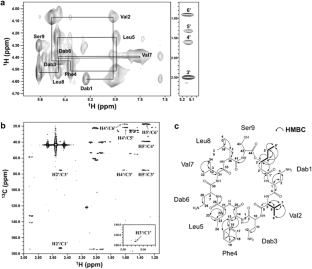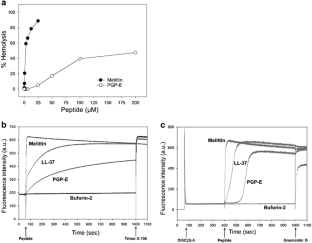 References
Frieri M, Kumar K, Boutin A. Antibiotic resistance. J Infect Public Health. 2017;10:369–78.

Ribeiro SM, et al. New frontiers for anti-biofilm drug development. Pharmacol Ther. 2016;160:133–44.

Mnif I, Ghribi D. Review lipopeptides biosurfactants: mean classes and new insights for industrial, biomedical, and environmental applications. Biopolymers. 2015;104:129–47.

Muto CA, et al. SHEA guideline for preventing nosocomial transmission of multidrug-resistant strains of Staphylococcus aureus and enterococcus. Infect Control Hosp Epidemiol. 2003;24:362–86.

Schneider T, Muller A, Miess H, Gross H. Cyclic lipopeptides as antibacterial agents—potent antibiotic activity mediated by intriguing mode of actions. Int J Med Microbiol. 2014;304:37–43.

Mandal SM, Sharma S, Pinnaka AK, Kumari A, Korpole S. Isolation and characterization of diverse antimicrobial lipopeptides produced by Citrobacter and Enterobacter. BMC Microbiol. 2013;13:152.

Ines M, Dhouha G. Lipopeptide surfactants: production, recovery and pore forming capacity. Peptides. 2015;71:100–12.

Klevens RM, et al. Invasive methicillin-resistant Staphylococcus aureus infections in the United States. JAMA. 2007;298:1763–71.

Sharma D, Mandal SM, Manhas RK. Purification and characterization of a novel lipopeptide from Streptomyces amritsarensis sp. nov. active against methicillin-resistant Staphylococcus aureus. AMB Express. 2014;4:50.

Cochrane SA, Vederas JC. Lipopeptides from Bacillus and Paenibacillus spp.: a gold mine of antibiotic candidates. Med Res Rev. 2016;36:4–31.

Ash C, Priest FG, Collins MD. 3 bacilli (Ash, Farrow, Wallbanks and Collins) using a PCR probe test. Proposal for the creation of a new genus. Paenibacillus Antonie Van Leeuwenhoek. 1993;64:253–60. Molecular identification of rRNA group

Montes MJ, Mercade E, Bozal N, Guinea J. Paenibacillus antarcticus sp. nov., a novel psychrotolerant organism from the Antarctic environment. Int J Syst Evol Microbiol. 2004;54(Pt 5):1521–6.

Saha P, Mondal AK, Mayilraj S, Krishnamurthi S, Bhattacharya A, Chakrabarti T. Paenibacillus assamensis sp. nov., a novel bacterium isolated from a warm spring in Assam, India. Int J Syst Evol Microbiol. 2005;55(Pt 6):2577–81.

Sanchez MM, et al. Paenibacillus barcinonensis sp. nov., a xylanase-producing bacterium isolated from a rice field in the Ebro River delta. Int J Syst Evol Microbiol. 2005;55(Pt 2):935–9.

Yoon JH, Kang SJ, Yeo SH, Oh TK. Paenibacillus alkaliterrae sp. nov., isolated from an alkaline soil in Korea. Int J Syst Evol Microbiol. 2005;55(Pt 6):2339–44.

Wu XC, Shen XB, Ding R, Qian CD, Fang HH, Li O. Isolation and partial characterization of antibiotics produced by Paenibacillus elgii B69. FEMS Microbiol Lett. 2010;310:32–38.

Ding R, et al. Isolation and identification of lipopeptide antibiotics from Paenibacillus elgii B69 with inhibitory activity against methicillin-resistant Staphylococcus aureus. J Microbiol. 2011;49:942–9.

Mountford SJ, et al. The first total synthesis and solution structure of a polypeptin, PE2, a cyclic lipopeptide with broad spectrum antibiotic activity. Org Biomol Chem. 2017;15:7173–80.

Burkhart BM, Gassman RM, Langs DA, Pangborn WA, Duax WL. Heterodimer formation and crystal nucleation of gramicidin D. Biophys J. 1998;75:2135–46.

Manzini MC, et al. Peptide: lipid ratio and membrane surface charge determine the mechanism of action of the antimicrobial peptide BP100. Conformational and functional studies. Biochim Biophys Acta. 2014;1838:1985–99.

Emmert EA, Handelsman J. Biocontrol of plant disease: a (gram-) positive perspective. FEMS Microbiol Lett. 1999;171:1–9.

Roongsawang N, Washio K, Morikawa M. Diversity of nonribosomal peptide synthetases involved in the biosynthesis of lipopeptide biosurfactants. Int J Mol Sci. 2011;12:141–72.

Ongena M, Jacques P. Bacillus lipopeptides: versatile weapons for plant disease biocontrol. Trends Microbiol. 2008;16:115–25.

Meena KR, Kanwar SS. Lipopeptides as the antifungal and antibacterial agents: applications in food safety and therapeutics. Biomed Res Int. 2015;2015:473050.

Heerklotz H, Seelig J. Detergent-like action of the antibiotic peptide surfactin on lipid membranes. Biophys J. 2001;81:1547–54.

Dufour S, Deleu M, Nott K, Wathelet B, Thonart P, Paquot M. Hemolytic activity of new linear surfactin analogs in relation to their physico-chemical properties. Biochim Biophys Acta. 2005;1726:87–95.

Kragh-Hansen U, le Maire M, Moller JV. The mechanism of detergent solubilization of liposomes and protein-containing membranes. Biophys J. 1998;75:2932–46.
Acknowledgements
This study was supported by the Bio-industry Technology Development Program 2012, Ministry for Food, Agriculture, Forestry and Fisheries, (Grant No. 112003-3) and "Cooperative Research Program for Agricultural Science & Technology Development (Project No. PJ012467)", Rural Development Administration, Republic of Korea.
Ethics declarations
Conflict of interest
The authors declare that they have no conflict of interest.
Electronic supplementary material
About this article
Cite this article
Kim, J., Il Kim, P., Bong, K.M. et al. Isolation and structural elucidation of pelgipeptin E, a novel pore-forming pelgipeptin analog from Paenibacillus elgii with low hemolytic activity. J Antibiot 71, 1008–1017 (2018). https://doi.org/10.1038/s41429-018-0095-2
Received:

Revised:

Accepted:

Published:

Issue Date:

DOI: https://doi.org/10.1038/s41429-018-0095-2
Further reading
Aiming Jiang
Chengwu Zou
Jiguang Wei

BMC Genomics (2022)

Thiago Fellipe de Araújo
Daniel Barros Ortega
Cristine Chaves Barreto

Brazilian Journal of Microbiology (2021)

Pulak Kumar Maiti
Sujoy Das
Sukhendu Mandal

Scientific Reports (2020)