Abstract
The conformational changes of molecular chains in a polymer significantly affect the hydrophobicity, biocompatibility, and stimuli responsiveness. Herein, the folding behavior of a poly(2-dimethylaminoethyl methacrylate) (PDMAEMA) surrounded by water molecules was evaluated using molecular dynamics simulations over a wide temperature range (280–360 K). The PDMAEMA chain was simplified as a linear 30 mer with alternately protonated side chains. The radius of gyration (Rg) of the 30 mer was calculated to confirm that it formed a globule state at higher temperatures; the Rg values diminished unexceptionally to ca. 10 Å at higher temperatures (≥320 K), indicating that the DMAEMA oligomer formed a globule structure above the previously reported lower critical solution temperature of a PDMAEMA gel (~308–313 K). Furthermore, radial distribution functions (RDFs) around the geometric center of the 30 mer were evaluated; they indicated that protonated amine groups surrounded the aggregated deprotonated amine groups in the globule state. The calculation of RDFs around the geometric center of a simplified oligomer chain described here is a highly reliable strategy for evaluating the folding behavior of stimuli-responsive polymer gels during coil-to-globule transitions at the molecular level.
Access options
Subscribe to this journal
Receive 12 print issues and online access
$259.00 per year
only $21.58 per issue
Rent or buy this article
Get just this article for as long as you need it
$39.95
Prices may be subject to local taxes which are calculated during checkout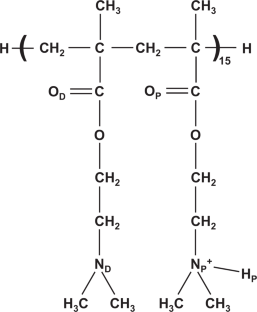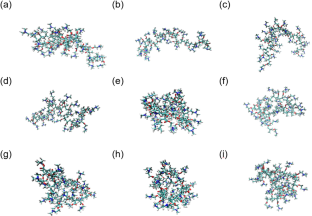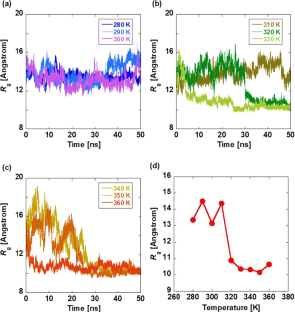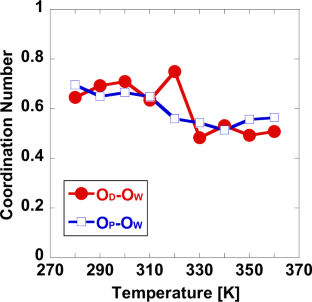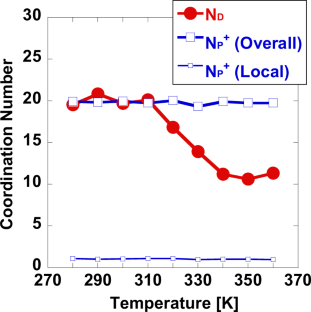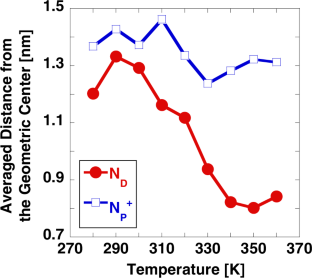 References
Van Vlierberghe S, Dubruel P, Schacht E. Biopolymer-based hydrogels as scaffolds for tissue engineering applications: a review. Biomacromolecules 2011;12:1387–408.

Ward MA, Georgiou TK. Thermoresponsive Polymers for Biomedical Applications. Polymers 2011;3:1215–42.

Qiu Y, Park K. Environment-Sensitive Hydrogels for Drug Delivery. Adv Drug Deliv Rev. 2001;53:321–39.

Roy D, Brooks WLA, Sumerlin BS. New Directions in Thermoresponsive Polymers. Chem Soc Rev. 2013;42:7214–43.

Klouda L. Thermoresponsive hydrogels in biomedical applications: a seven-year update. Eur J Pharm Biopharm. 2015;97:338–49.

Weissman JM, Sunkara HB, Tse AS, Asher SA. Thermally Switchable Periodicities and Diffraction from Mesoscopically Ordered Materials. Science. 1996;274:959–63.

Kobayashi J, Kikuchi A, Sakai K, Okano T. Cross-Linked Thermo Responsive Anionic Polymer-Grafted Surfaces to Separate Bioactive Basic Peptides. Anal Chem. 2003;75:3244–9.

Qin S, Geng Y, Discher DE, Yang S. Temperature-Controlled Assembly and Release from Polymer Vesicles of Poly(Ethylene Oxide)-Block-Poly(N-isopropylacrylamide). Adv Mater. 2006;18:2905–9.

Johnson RP, Jeong YI, John JV, Chung CW, Kang DH, Selvaraj M, et al. Dual Stimuli-Responsive Poly(N-isopropylacrylamide)-b-Poly(L-Histidine) Chimeric Materials for the Controlled Delivery of Doxorubicin into Liver Carcinoma. Biomacromolecules. 2013;14:1434–43.

Halperin A, Kröger M, Winnik FM. Poly(N-isopropylacrylamide) Phase Diagrams: Fifty Years of Research. Angew Chem Int Ed Engl. 2015;54:15342–67.

Nagase K, Yamato M, Kanazawa H, Okano T. Poly(N-Isopropylacrylamide)-Based Thermoresponsive Surfaces Provide New Types of Biomedical Applications. Biomaterials 2018;153:27–48.

Gohy JF, Antoun S, Jérôme R. PH-Dependent Micellization of Poly(2-Vinylpyridine)-Block-Poly((Dimethylamino)Ethylmethacrylate) Diblock Copolymers. Macromolecules 2001;34:7435–40.

Bütün V, Armes SP, Billingham NC. Synthesis and Aqueous Solution Properties of near-Monodisperse Tertiary Amine Methacrylate Homopolymers and Diblock Copolymers. Polymer 2001;42:5993–6008.

Plamper FA, Schmalz A, Ballauff M, Müller AH. Tuning the Thermoresponsiveness of Weak Polyelectrolytes by pH and Light: Lower and Upper Critical-Solution Temperature of Poly(N,N-Dimethylaminoethyl Methacrylate). J Am Chem Soc. 2007;129:14538–9.

Synatschke CV, Schallon A, Jérôme V, Freitag R, Müller AHE. Influence of Polymer Architecture and Molecular Weight of Poly(2-(Dimethylamino)Ethyl Methacrylate) Polycations on Transfection Efficiency and Cell Viability in Gene Delivery. Biomacromolecules 2011;12:4247–55.

Zhu C, Jung S, Luo S, Meng F, Zhu X, Park TG, et al. Co-Delivery of siRNA and Paclitaxel into Cancer Cells by Biodegradable Cationic Micelles Based on PDMAEMA-PCL-PDMAEMA Triblock Copolymers. Biomaterials 2010;31:2408–16.

Lee SB, Russell AJ, Matyjaszewski K. ATRP Synthesis of Amphiphilic Random, Gradient, and Block Copolymers of 2-(Dimethylamino)Ethyl Methacrylate and n-Butyl Methacrylate in Aqueous Media. Biomacromolecules 2003;4:1386–93.

Plamper FA, McKee JR, Laukkanen A, Nykänen A, Walther A, Ruokolainen J, et al. Miktoarm Stars of Poly(Ethylene Oxide) and Poly(Dimethylaminoethyl Methacrylate): Manipulation of Micellization by Temperature and Light. Soft Matter. 2009;5:1812–21.

Liu X, Ni P, He J, Zhang M. Synthesis and Micellization of pH/Temperature-Responsive Double-Hydrophilic Diblock Copolymers Polyphosphoester-Block-Poly[2-(Dimethylamino)Ethylmethacrylate] Prepared via ROP and ATRP. Macromolecules. 2010;43:4771–81.

Cai Y, Shen W, Wang R, Krantz WB, Fane AG, Hu X. CO2 Switchable Dual Responsive Polymers as Draw Solutes for Forward Osmosis Desalination. Chem Commun (Camb). 2013;49:8377–9.

Thavanesan T, Herbert C, Plamper FA. Insight in the Phase Separation Peculiarities of Poly (Dialkylaminoethyl Methacrylate)s. Langmuir 2014;30:5609–19.

Du H, Wickramasinghe R, Qian X. Effects of Salt on the Lower Critical Solution Temperature of Poly (N-Isopropylacrylamide). J Phys Chem B 2010;114:16594–604.

Alaghemandi M, Spohr E. Molecular Dynamics Investigation of the Thermo-Responsive Polymer Poly(N-isopropylacrylamide). Macromol Theory Simul. 2012;21:106–12.

Walter J, Sehrt J, Vrabec J, Hasse H. Molecular Dynamics and Experimental Study of Conformation Change of Poly(N-isopropylacrylamide) Hydrogels in Mixtures of Water and Methanol. J Phys Chem B. 2012;116:5251–9.

Tucker AK, Stevens MJ. Study of the Polymer Length Dependence of the Single Chain Transition Temperature in Syndiotactic Poly(N‑isopropylacrylamide) Oligomers in Water. Macromolecules. 2012;45:6697–703.

Umapathi R, Vepuri SB, Venkatesu P, Soliman ME. Comprehensive Computational and Experimental Analysis of Biomaterial toward the Behavior of Imidazolium-Based Ionic Liquids: An Interplay between Hydrophilic and Hydrophobic Interactions. J Phys Chem B. 2017;121:4909–22.

Narang P, Vepuri SB, Venkatesu P, Soliman ME. An Unexplored Remarkable PNIPAM-Osmolyte Interaction Study: An Integrated Experimental and Simulation Approach. J Colloid Interfac Sci. 2017;504:417–28.

Min SH, Kwak SK, Kim BS. Atomistic Simulation for Coil-to-Globule Transition of Poly(2-Dimethylaminoethyl Methacrylate). Soft Matter. 2015;11:2423–33.

Min SH, Kwak SK, Kim BS. Atomistic Insight into the Role of Amine Groups in Thermoresponsive Poly(2-Dialkylaminoethyl Methacrylate)s. Polymer 2017;124:219–25.

Lee H, Son SH, Sharma R, Won YY. A Discussion of the PH-Dependent Protonation Behaviors of Poly(2-(Dimethylamino)Ethyl Methacrylate) (PDMAEMA) and Poly(Ethylenimine-ran-2-ethyl-2-oxazoline) (P(EI-r-EOz)). J Phys Chem B. 2011;115:844–60.

Case DA, Cerutti DS, Cheatham III TE, Darden TA, Duke RE, Giese TJ, et al. AMBER 2016, University of California, San Francisco; 2016.

Wu Y, Tepper HL, Voth GA. Flexible Simple Point-Charge Water Model with Improved Liquid-State Properties. J Chem Phys. 2006;124:024503.

Nagumo R, Suzuki R, Miyake T, Furukawa H, Iwata S, Mori H. Molecular Dynamics Study of the Correlation between the Solvation Structures and the Antifouling Properties of Three Types of Betaine Moieties. J Chem Eng Jpn. 2017;50:333–8.

Nagumo R, Matsuoka T, Iwata S. Interactions between Acrylate/Methacrylate Biomaterials and Organic Foulants Evaluated by Molecular Dynamics Simulations of Simplified Binary Mixtures. ACS Biomater Sci Eng. 2021;7:3709–17.

Nagumo R, Omori K, Muraki Y, Iwata S, Mori H, Yamada H. Correlation between Macroscopic Diffusion Rates and Microscopic Interactions in Ethylene Glycol-Based Solvents. Ind Eng Chem Res. 2021;60:13368–76.

Humphrey W, Dalke A, Schulten K. VMD: Visual Molecular Dynamics. J Mol Graph. 1996;14:33–38.

Han D, Tong X, Boissiére O, Zhao Y. General Strategy for Making CO2-Switchable Polymers. ACS Macro Lett. 2012;1:57–61.

Skandalis A, Selianitis D, Sory DR, Rankin SM, Jones JR, Pispas S. Poly(2-(Dimethylamino) Ethyl Methacrylate)-b-Poly(Lauryl Methacrylate)-b-Poly(Oligo Ethylene Glycol Methacrylate) Triblock Terpolymer Micelles as Drug Delivery Carriers for Curcumin. J Appl Polm Sci. 2022; https://doi.org/10.1002/app.52899.

Hadiouch S, Maresca M, Gigmes D, Machado G, Maurel-Pantel A, Frik S, et al. A Versatile and Straightforward Process To Turn Plastics into Antibacterial Materials. Polym Chem. 2022;13:69–79.
Acknowledgements
This work was supported by the Salt Science Research Foundation (grant no. 1811) and JSPS KAKENHI (grant no. 19K05120).
Ethics declarations
Conflict of interest
The authors declare no competing interests.
Additional information
Publisher's note Springer Nature remains neutral with regard to jurisdictional claims in published maps and institutional affiliations.
Supplementary information
Rights and permissions
Springer Nature or its licensor holds exclusive rights to this article under a publishing agreement with the author(s) or other rightsholder(s); author self-archiving of the accepted manuscript version of this article is solely governed by the terms of such publishing agreement and applicable law.
About this article
Cite this article
Nagumo, R., Nishikawa, K., Sato, A. et al. Molecular dynamics simulations of the folding structure of a thermoresponsive 2-dimethylaminoethyl methacrylate oligomer in the globule state. Polym J 55, 85–93 (2023). https://doi.org/10.1038/s41428-022-00705-0
Received:

Revised:

Accepted:

Published:

Issue Date:

DOI: https://doi.org/10.1038/s41428-022-00705-0