Abstract
Early and strong interferon type I (IFN-I) responses are usually associated with mild COVID-19 disease, whereas persistent or unregulated proinflammatory cytokine responses are associated with severe disease outcomes. Previous work suggested that monocyte-derived macrophages (MDMs) are resistant and unresponsive to SARS-CoV-2 infection. Here, we demonstrate that upon phagocytosis of SARS-CoV-2-infected cells, MDMs are activated and secrete IL-6 and TNF. Importantly, activated MDMs in turn mediate strong activation of plasmacytoid dendritic cells (pDCs), leading to the secretion of high levels of IFN-α and TNF. Furthermore, pDC activation promoted IL-6 production by MDMs. This kind of pDC activation was dependent on direct integrin-mediated cell‒cell contacts and involved stimulation of the TLR7 and STING signaling pathways. Overall, the present study describes a novel and potent pathway of pDC activation that is linked to the macrophage-mediated clearance of infected cells. These findings suggest that a high infection rate by SARS-CoV-2 may lead to exaggerated cytokine responses, which may contribute to tissue damage and severe disease.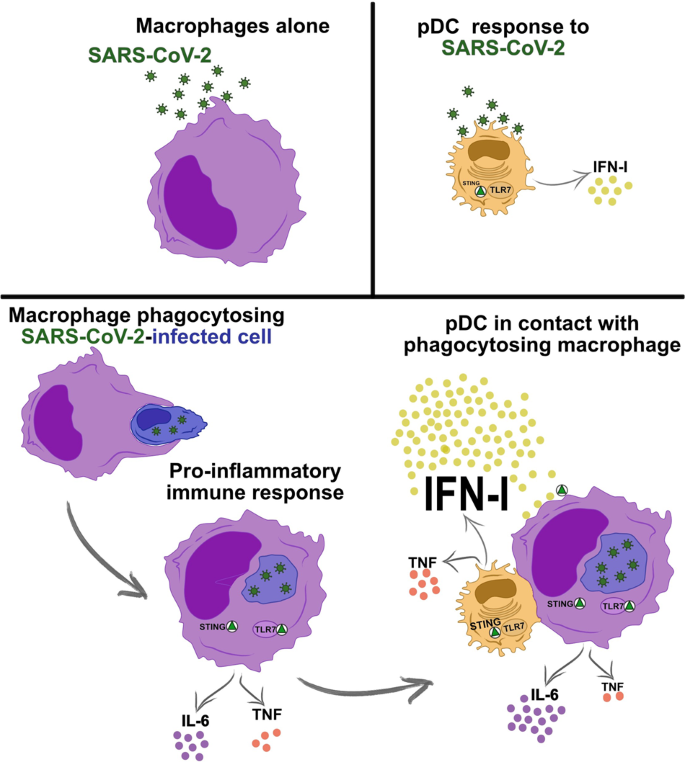 References
Wu F, Zhao S, Yu B, Chen YM, Wang W, Song ZG, et al. Author Correction: A new coronavirus associated with human respiratory disease in China. Nature. 2020;580:E7.

Alefishat E, Jelinek HF, Mousa M, Tay GK, Alsafar HS. Immune response to SARS-CoV-2 variants: a focus on severity, susceptibility, and preexisting immunity. J Infect Public Health. 2022;15:277–88.

Eskandarian Boroujeni M, Sekrecka A, Antonczyk A, Hassani S, Sekrecki M, Nowicka H, et al. Dysregulated interferon response and immune hyperactivation in severe COVID-19: targeting STATs as a novel therapeutic strategy. Front Immunol. 2022;13:888897.

Zanza C, Romenskaya T, Manetti AC, Franceschi F, La Russa R, Bertozzi G, et al. Cytokine storm in COVID-19: immunopathogenesis and therapy. Medicina. 2022;58:144.

Blanco-Melo D, Nilsson-Payant BE, Liu WC, Uhl S, Hoagland D, Moller R, et al. Imbalanced host response to SARS-CoV-2 drives development of COVID-19. Cell. 2020;181:1036–45.e9.

Ye Q, Wang B, Mao J. The pathogenesis and treatment of the 'Cytokine Storm' in COVID-19. J Infect. 2020;80:607–13.

Hadjadj J, Yatim N, Barnabei L, Corneau A, Boussier J, Smith N, et al. Impaired type I interferon activity and inflammatory responses in severe COVID-19 patients. Science. 2020;369:718–24.

Lian Q, Zhang K, Zhang Z, Duan F, Guo L, Luo W, et al. Differential effects of macrophage subtypes on SARS-CoV-2 infection in a human pluripotent stem cell-derived model. Nat Commun. 2022;13:2028.

Aydin Y, Vemuri B, Vajta Gomez JP, Challa PK, Zhang H. Fatal gets more fatal: a COVID-19 infection with macrophage activation syndrome. Cureus. 2022;14:e25591.

Park MD. Macrophages: a Trojan horse in COVID-19? Nat Rev Immunol. 2020;20:351.

Garcia-Nicolas O, V'Kovski P, Zettl F, Zimmer G, Thiel V, Summerfield A. No evidence for human monocyte-derived macrophage infection and antibody-mediated enhancement of SARS-CoV-2 infection. Front Cell Infect Microbiol. 2021;11:644574.

Jalloh S, Olejnik J, Berrigan J, Nisa A, Suder EL, Akiyama H, et al. CD169-mediated restrictive SARS-CoV-2 infection of macrophages induces pro-inflammatory responses. PLoS Pathog. 2022;18:e1010479.

Bastard P, Rosen LB, Zhang Q, Michailidis E, Hoffmann HH, Zhang Y, et al. Autoantibodies against type I IFNs in patients with life-threatening COVID-19. Science. 2020;370:eabd4585.

Lopez J, Mommert M, Mouton W, Pizzorno A, Brengel-Pesce K, Mezidi M, et al. Early nasal type I IFN immunity against SARS-CoV-2 is compromised in patients with autoantibodies against type I IFNs. J Exp Med. 2021;218:jem.2021121108132021c.

Wang EY, Mao T, Klein J, Dai Y, Huck JD, Jaycox JR, et al. Diverse functional autoantibodies in patients with COVID-19. Nature. 2021;595:283–8.

Zhang Q, Bastard P, Liu Z, Le Pen J, Moncada-Velez M, Chen J, et al. Inborn errors of type I IFN immunity in patients with life-threatening COVID-19. Science. 2020;370:eabd4570.

Van der Sluis RM, Holm CK, Jakobsen MR. Plasmacytoid dendritic cells during COVID-19: ally or adversary? Cell Rep. 2022;40:111148.

Kohara H, Omatsu Y, Sugiyama T, Noda M, Fujii N, Nagasawa T. Development of plasmacytoid dendritic cells in bone marrow stromal cell niches requires CXCL12-CXCR4 chemokine signaling. Blood. 2007;110:4153–60.

Liu YJ. IPC: professional type 1 interferon-producing cells and plasmacytoid dendritic cell precursors. Annu Rev Immunol. 2005;23:275–306.

Lowery SA, Sariol A, Perlman S. Innate immune and inflammatory responses to SARS-CoV-2: Implications for COVID-19. Cell Host Microbe. 2021;29:1052–62.

Asano T, Boisson B, Onodi F, Matuozzo D, Moncada-Velez M, Maglorius Renkilaraj MRL, et al. X-linked recessive TLR7 deficiency in ~1% of men under 60 years old with life-threatening COVID-19. Sci Immunol. 2021;6:eabl4348.

Onodi F, Bonnet-Madin L, Meertens L, Karpf L, Poirot J, Zhang SY, et al. SARS-CoV-2 induces human plasmacytoid predendritic cell diversification via UNC93B and IRAK4. J Exp Med. 2021;218:e20201387.

Severa M, Diotti RA, Etna MP, Rizzo F, Fiore S, Ricci D, et al. Differential plasmacytoid dendritic cell phenotype and type I Interferon response in asymptomatic and severe COVID-19 infection. PLoS Pathog. 2021;17:e1009878.

van der Sluis RM, Cham LB, Gris-Oliver A, Gammelgaard KR, Pedersen JG, Idorn M, et al. TLR2 and TLR7 mediate distinct immunopathological and antiviral plasmacytoid dendritic cell responses to SARS-CoV-2 infection. EMBO J. 2022;41:e109622.

Laurent P, Yang C, Rendeiro AF, Nilsson-Payant BE, Carrau L, Chandar V, et al. Sensing of SARS-CoV-2 by pDCs and their subsequent production of IFN-I contribute to macrophage-induced cytokine storm during COVID-19. Sci Immunol. 2022;7:eadd4906.

Kreutmair S, Unger S, Nunez NG, Ingelfinger F, Alberti C, De Feo D, et al. Distinct immunological signatures discriminate severe COVID-19 from non-SARS-CoV-2-driven critical pneumonia. Immunity. 2021;54:1578–93.e5.

Peruzzi B, Bencini S, Capone M, Mazzoni A, Maggi L, Salvati L, et al. Quantitative and qualitative alterations of circulating myeloid cells and plasmacytoid DC in SARS-CoV-2 infection. Immunology. 2020;161:345–53.

Kalil AC, Mehta AK, Patterson TF, Erdmann N, Gomez CA, Jain MK, et al. Efficacy of interferon beta-1a plus remdesivir compared with remdesivir alone in hospitalised adults with COVID-19: a double-bind, randomised, placebo-controlled, phase 3 trial. Lancet Respir Med. 2021;9:1365–76.

Lucas C, Wong P, Klein J, Castro TBR, Silva J, Sundaram M, et al. Longitudinal analyses reveal immunological misfiring in severe COVID-19. Nature. 2020;584:463–9.

Major J, Crotta S, Llorian M, McCabe TM, Gad HH, Priestnall SL, et al. Type I and III interferons disrupt lung epithelial repair during recovery from viral infection. Science. 2020;369:712–7.

Assil S, Coleon S, Dong C, Decembre E, Sherry L, Allatif O, et al. Plasmacytoid dendritic cells and infected cells form an interferogenic synapse required for antiviral responses. Cell Host Microbe. 2019;25:730–45.e6.

Decembre E, Assil S, Hillaire ML, Dejnirattisai W, Mongkolsapaya J, Screaton GR, et al. Sensing of immature particles produced by dengue virus infected cells induces an antiviral response by plasmacytoid dendritic cells. PLoS Pathog. 2014;10:e1004434.

Garcia-Nicolas O, Auray G, Sautter CA, Rappe JC, McCullough KC, Ruggli N, et al. Sensing of porcine reproductive and respiratory syndrome virus-infected macrophages by plasmacytoid dendritic cells. Front Microbiol. 2016;7:771.

Python S, Gerber M, Suter R, Ruggli N, Summerfield A. Efficient sensing of infected cells in absence of virus particles by plasmacytoid dendritic cells is blocked by the viral ribonuclease E(rns.). PLoS Pathog. 2013;9:e1003412.

Takahashi K, Asabe S, Wieland S, Garaigorta U, Gastaminza P, Isogawa M, et al. Plasmacytoid dendritic cells sense hepatitis C virus-infected cells, produce interferon, and inhibit infection. Proc Natl Acad Sci USA. 2010;107:7431–6.

Taddeo A, Veiga IB, Devisme C, Boss R, Plattet P, Weigang S, et al. Optimized intramuscular immunization with VSV-vectored spike protein triggers a superior immune response to SARS-CoV-2. NPJ Vaccines. 2022;7:82.

Kokhanyuk B, Bodo K, Setalo G Jr, Nemeth P, Engelmann P. Bacterial engulfment mechanism is strongly conserved in evolution between earthworm and human immune cells. Front Immunol. 2021;12:733541.

Lancaster CE, Fountain A, Dayam RM, Somerville E, Sheth J, Jacobelli V, et al. Phagosome resolution regenerates lysosomes and maintains the degradative capacity in phagocytes. J Cell Biol. 2021;220:e202005072.

Trivedi V, Zhang SC, Castoreno AB, Stockinger W, Shieh EC, Vyas JM, et al. Immunoglobulin G signaling activates lysosome/phagosome docking. Proc Natl Acad Sci USA. 2006;103:18226–31.

Uronen-Hansson H, Steeghs L, Allen J, Dixon GL, Osman M, van der Ley P, et al. Human dendritic cell activation by Neisseria meningitidis: phagocytosis depends on expression of lipooligosaccharide (LOS) by the bacteria and is required for optimal cytokine production. Cell Microbiol. 2004;6:625–37.

Wang J, Gan M. DNA nanoflowers' amelioration of lupus symptoms in mice via blockade of TLR7/9's signal. Int J Mol Sci. 2022;23:16030.

Domizio JD, Gulen MF, Saidoune F, Thacker VV, Yatim A, Sharma K, et al. The cGAS-STING pathway drives type I IFN immunopathology in COVID-19. Nature. 2022;603:145–51.

Haag SM, Gulen MF, Reymond L, Gibelin A, Abrami L, Decout A, et al. Targeting STING with covalent small-molecule inhibitors. Nature. 2018;559:269–73.

Ulrich L, Halwe NJ, Taddeo A, Ebert N, Schon J, Devisme C, et al. Enhanced fitness of SARS-CoV-2 variant of concern Alpha but not Beta. Nature. 2022;602:307–13.

Acheampong KK, Schaff DL, Emert BL, Lake J, Reffsin S, Shea EK, et al. Subcellular detection of SARS-CoV-2 RNA in human tissue reveals distinct localization in alveolar type 2 pneumocytes and alveolar macrophages. mBio. 2022;13:e0375121.

Honzke K, Obermayer B, Mache C, Fathykova D, Kessler M, Dokel S, et al. Human lungs show limited permissiveness for SARS-CoV-2 due to scarce ACE2 levels but virus-induced expansion of inflammatory macrophages. Eur Respir J. 2022;60:2102725.

Speranza E, Williamson BN, Feldmann F, Sturdevant GL, Perez-Perez L, Meade-White K, et al. Single-cell RNA sequencing reveals SARS-CoV-2 infection dynamics in lungs of African green monkeys. Sci Transl Med. 2021;13:eabe8146.

Percivalle E, Sammartino JC, Cassaniti I, Arbustini E, Urtis M, Smirnova A, et al. Macrophages and monocytes: "Trojan Horses" in COVID-19. Viruses. 2021;13:2178.

Huang C, Wang Y, Li X, Ren L, Zhao J, Hu Y, et al. Clinical features of patients infected with 2019 novel coronavirus in Wuhan, China. Lancet. 2020;395:497–506.

Chen G, Wu D, Guo W, Cao Y, Huang D, Wang H, et al. Clinical and immunological features of severe and moderate coronavirus disease 2019. J Clin Invest. 2020;130:2620–9.

Qin C, Zhou L, Hu Z, Zhang S, Yang S, Tao Y, et al. Dysregulation of immune response in patients with coronavirus 2019 (COVID-19) in Wuhan, China. Clin Infect Dis. 2020;71:762–8.

Zhang W, Zhao Y, Zhang F, Wang Q, Li T, Liu Z, et al. The use of anti-inflammatory drugs in the treatment of people with severe coronavirus disease 2019 (COVID-19): the perspectives of clinical immunologists from China. Clin Immunol. 2020;214:108393.

Na YR, Gu GJ, Jung D, Kim YW, Na J, Woo JS, et al. GM-CSF induces inflammatory macrophages by regulating glycolysis and lipid metabolism. J Immunol. 2016;197:4101–9.

Yun TJ, Igarashi S, Zhao H, Perez OA, Pereira MR, Zorn E, et al. Human plasmacytoid dendritic cells mount a distinct antiviral response to virus-infected cells. Sci Immunol. 2021;6:eabc7302.

Liu Y, Pal M, Bao W, Shi PA, Lobo CA, An X, et al. Type I interferon is induced by hemolysis and drives antibody-mediated erythrophagocytosis in sickle cell disease. Blood. 2021;138:1162–71.

Moore Z, Mobilio F, Walker FR, Taylor JM, Crack PJ. Abrogation of type-I interferon signalling alters the microglial response to Abeta(1-42). Sci Rep. 2020;10:3153.

Read SA, Wijaya R, Ramezani-Moghadam M, Tay E, Schibeci S, Liddle C, et al. Macrophage coordination of the interferon lambda immune response. Front Immunol. 2019;10:2674.

Gottschalk RA, Dorrington MG, Dutta B, Krauss KS, Martins AJ, Uderhardt S, et al. IFN-mediated negative feedback supports bacteria class-specific macrophage inflammatory responses. Elife. 2019;8:e46836.

Zevini A, Olagnier D, Hiscott J. Crosstalk between cytoplasmic RIG-I and STING sensing pathways. Trends Immunol. 2017;38:194–205.

Dhanwani R, Takahashi M, Sharma S. Cytosolic sensing of immuno-stimulatory DNA, the enemy within. Curr Opin Immunol. 2018;50:82–7.

Dreux M, Garaigorta U, Boyd B, Decembre E, Chung J, Whitten-Bauer C, et al. Short-range exosomal transfer of viral RNA from infected cells to plasmacytoid dendritic cells triggers innate immunity. Cell Host Microbe. 2012;12:558–70.

Wieland SF, Takahashi K, Boyd B, Whitten-Bauer C, Ngo N, de la Torre JC, et al. Human plasmacytoid dendritic cells sense lymphocytic choriomeningitis virus-infected cells in vitro. J Virol. 2014;88:752–7.

Herbst C, Harshyne LA, Igyarto BZ. Intracellular monitoring by dendritic cells—a new way to stay informed—from a simple scavenger to an active gatherer. Front Immunol. 2022;13:1053582.

Diamond MS, Lambris JD, Ting JP, Tsang JS. Considering innate immune responses in SARS-CoV-2 infection and COVID-19. Nat Rev Immunol. 2022;22:465–70.

Sefik E, Israelow B, Mirza H, Zhao J, Qu R, Kaffe E, et al. A humanized mouse model of chronic COVID-19. Nat Biotechnol. 2022;40:906–20.
Acknowledgements
We would like to thank all members of the IVI and for their support and helpful discussions, especially Charaf Benarafa, Andrea Marti, Jenny Pego Magalhaes and Christelle Devisme for their technical support. We are grateful to Daniela Niemeyer, Marcel Müller, and Christian Drosten (Charité, Berlin, Germany) for providing the viruses and to the Swiss Transfusion SRC (Swiss Red Cross) Inc. (Regional Transfusion Blood Service, Bern, Switzerland) for providing human buffy coats.
Funding
Open access publication fees were funded by the University of Bern.
Ethics declarations
Competing interests
The authors declare no competing interests.
Ethical approval
Cells were obtained from buffy coats provided by the regional transfusion blood service of the Swiss Red Cross (SRC) (Bern, Switzerland) under the SRC's ethical permission. All blood donors were anonymous and healthy.
Supplementary information
Rights and permissions
Open Access This article is licensed under a Creative Commons Attribution 4.0 International License, which permits use, sharing, adaptation, distribution and reproduction in any medium or format, as long as you give appropriate credit to the original author(s) and the source, provide a link to the Creative Commons licence, and indicate if changes were made. The images or other third party material in this article are included in the article's Creative Commons licence, unless indicated otherwise in a credit line to the material. If material is not included in the article's Creative Commons licence and your intended use is not permitted by statutory regulation or exceeds the permitted use, you will need to obtain permission directly from the copyright holder. To view a copy of this licence, visit http://creativecommons.org/licenses/by/4.0/.
About this article
Cite this article
García-Nicolás, O., Godel, A., Zimmer, G. et al. Macrophage phagocytosis of SARS-CoV-2-infected cells mediates potent plasmacytoid dendritic cell activation. Cell Mol Immunol 20, 835–849 (2023). https://doi.org/10.1038/s41423-023-01039-4
Received:

Accepted:

Published:

Issue Date:

DOI: https://doi.org/10.1038/s41423-023-01039-4
Keywords
This article is cited by
Natalia Eberhardt
Maria Gabriela Noval
Chiara Giannarelli

Nature Cardiovascular Research (2023)