Access options
Subscribe to Journal
Get full journal access for 1 year
$119.00
only $9.92 per issue
All prices are NET prices.
VAT will be added later in the checkout.
Tax calculation will be finalised during checkout.
Buy article
Get time limited or full article access on ReadCube.
$32.00
All prices are NET prices.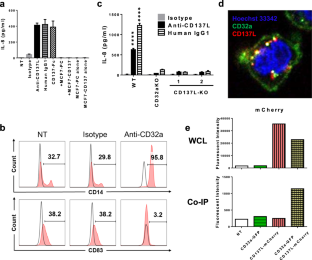 References
Mbanwi, A. N. & Watts, T. H. Costimulatory TNFR family members in control of viral infection: outstanding questions. Sem. Immunol. 26, 210–219 (2014).

Zapata, J. M. et al. CD137 (4-1BB) signalosome: complexity is a matter of TRAFs. Front. Immunol. 9, 2618 (2018).

Lee, S. W. & Croft, M. 4-1BB as a therapeutic target for human disease. Adv. Exp. Med. Biol. 647, 120–129 (2009).

Shao, Z. & Schwarz, H. CD137 ligand, a member of the tumor necrosis factor family, regulates immune responses via reverse signal transduction. J. Leukoc. Biol. 89, 21–29 (2011).

Kwajah, M. M. S. & Schwarz, H. CD137 ligand signaling induces human monocyte to dendritic cell differentiation. Eur. J. Immunol. 40, 1938–1949 (2010).

Harfuddin, Z., Kwajah, S., Chong Nyi Sim, A., Macary, P. A. & Schwarz, H. CD137L-stimulated dendritic cells are more potent than conventional dendritic cells at eliciting cytotoxic T-cell responses. Oncoimmunol. 2, e26859 (2013).

Dharmadhikari, B. et al. CD137L dendritic cells induce potent response against cancer-associated viruses and polarize human CD8(+) T cells to Tc1 phenotype. Cancer Immunol. Immunother. 67, 893–905 (2018).

Tang, Q., Jiang, D., Shao, Z., Martinez Gomez, J. M. & Schwarz, H. Species difference of CD137 ligand signaling in human and murine monocytes. PLoS ONE. 6, e16129 (2011).

Alderson, M. R. et al. Molecular and biological characterization of human 4-1BB and its ligand. Eur. J. Immunol. 24, 2219–2227 (1994).

Harfuddin, Z. et al. Transcriptional and functional characterization of CD137L-dendritic cells identifies a novel dendritic cell phenotype. Sci. Rep. 6, 29712 (2016).
Acknowledgements
This research was supported by a grant (NMRC/BnB/018b/2015) from the National Medical Research Council of Singapore. We thank the LSI core facility, Dr. Paul MacAry for the donation of WT and LALA-mutated antibodies, and the YLLSOM Confocal Microscopy Unit.
Ethics declarations
Competing interests
The authors declare no competing interests.
Supplementary information
About this article
Cite this article
Zeng, Q., Soe, Y.M., Lim, Y. et al. CD137 ligand interacts with CD32a to trigger reverse CD137 ligand signaling. Cell Mol Immunol 17, 1188–1189 (2020). https://doi.org/10.1038/s41423-020-0370-6
Received:

Accepted:

Published:

Issue Date:

DOI: https://doi.org/10.1038/s41423-020-0370-6
This article is cited by
Emily Nickles
Bhushan Dharmadhikari
Herbert Schwarz

Cancer Immunology, Immunotherapy (2022)

David Y. Fann
Emily Pauline Nickles
Thiruma V. Arumugam

NeuroMolecular Medicine (2020)